10-Day Private Iceland Tour Itinerary
How To Spend 10 Days Touring Iceland
Our 10-day private tour of Iceland itinerary is designed to showcase the very best of the country's natural wonders and cultural highlights, ensuring an action-packed adventure that caters to all interests.
From exploring the renowned Golden Circle to delving into the wonders of Iceland's South Coast, glacier hiking, and whale watching, this meticulously curated journey will take you through the awe-inspiring landscapes that make Iceland a must-visit destination for any traveler.
Destinations on our 10-day Iceland Itinerary
This itinerary allows guests to spend multiple nights in the same accommodations during days 1-4 and 7-10. The only exceptions are Day 5 (overnight in Hofn) and Day 6 (overnight in the Eastern Fjords).
This minimizes the need to change accommodations frequently while covering a wide range of exciting activities and experiences across Iceland.
Day 1: Arrival in Reykjavik - Welcome Dinner & Northern Lights Hunt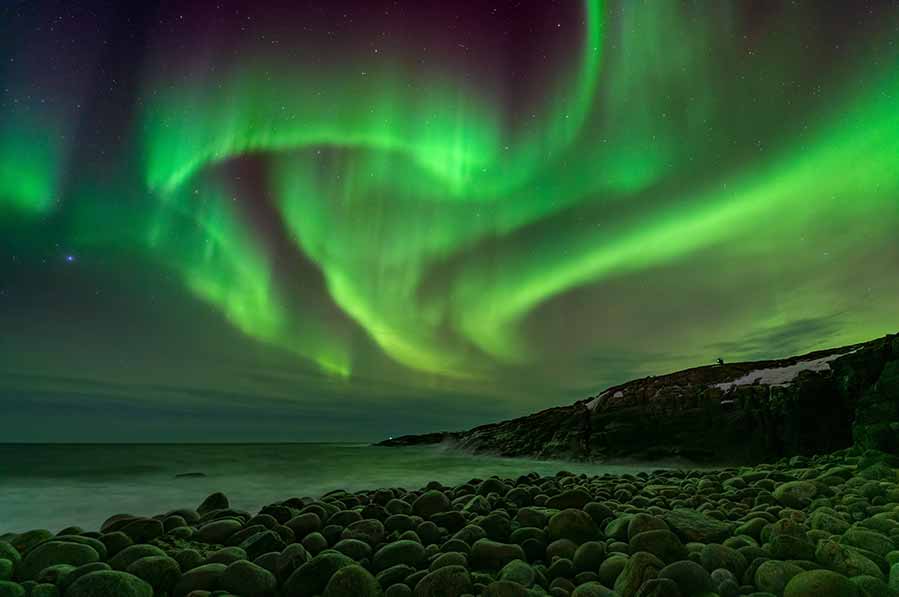 Welcome to Iceland! On the first day of your action-packed, 10-day driver-guided tour, you'll arrive at Keflavik International Airport, where your friendly guide will greet you and accompany you to your accommodation in Reykjavik, the vibrant and picturesque capital of Iceland.
As night falls, bundle up and prepare for the first of many thrilling experiences on this tour: the Northern Lights Hunt.
Your guide will take you away from the city lights to a prime location with optimal viewing conditions. The ethereal beauty of the aurora borealis will leave you in awe as they dance across the night sky in a mesmerizing display of colors.
Your guide will provide interesting facts about this natural phenomenon and tips for capturing the perfect photos to commemorate this once-in-a-lifetime experience.
After marveling at the stunning Northern Lights, you'll head back to your Reykjavik accommodation, where you can rest and recharge for the adventures that await over the next nine days.
Day 2: Exploring the Golden Circle - Þingvellir National Park, Geysir, Gullfoss Waterfall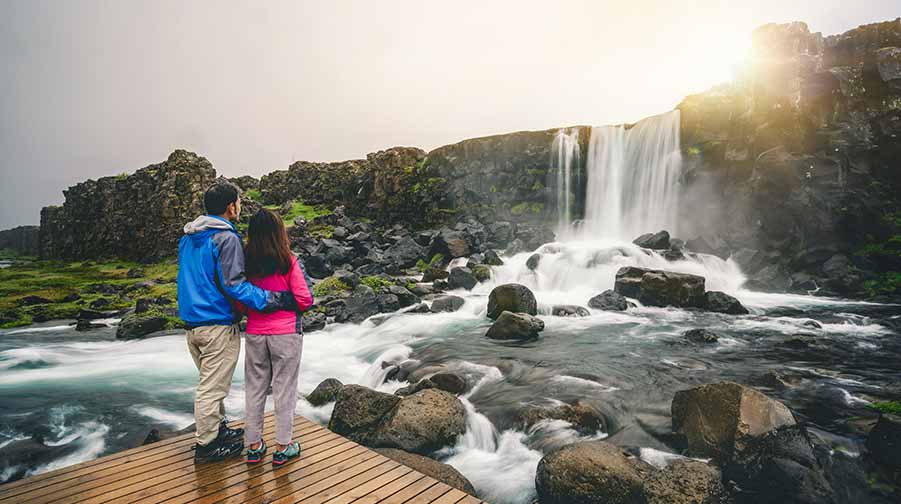 On day two of your exhilarating Icelandic adventure, you'll journey through the famous Golden Circle. This popular tourist route covers some of the most iconic natural wonders in the country. Your experienced guide will provide fascinating insights into the region's geology, history, and culture as you explore its remarkable sites.
First, visit the UNESCO World Heritage Site of Þingvellir National Park, where the North American and Eurasian tectonic plates meet. This breathtaking landscape has played a significant role in Icelandic history, as it was home to the world's first parliament, the Althing, in 930 AD. Then, you'll have the chance to walk between the continents and marvel at the dramatic rift valley.
Next, witness the earth's raw power at Geysir, a geothermal area filled with hot springs and geysers, including the famous Strokkur geyser. Watch in awe as Strokkur erupts every few minutes, spouting water up to 30 meters into the air.
Finally, you'll be captivated by the majestic Gullfoss Waterfall, one of Iceland's most beautiful and powerful waterfalls. Feel the mist on your face as you watch the Hvítá River plunge into a canyon below, creating a spectacular display of nature's force.
As day two comes to a close, return to your Reykjavik accommodation, where you can share stories of the day's experiences and prepare for the next day's adventures.
Day 3: South Coast Adventure - Seljalandsfoss & Skogafoss Waterfalls, Reynisfjara Black Sand Beach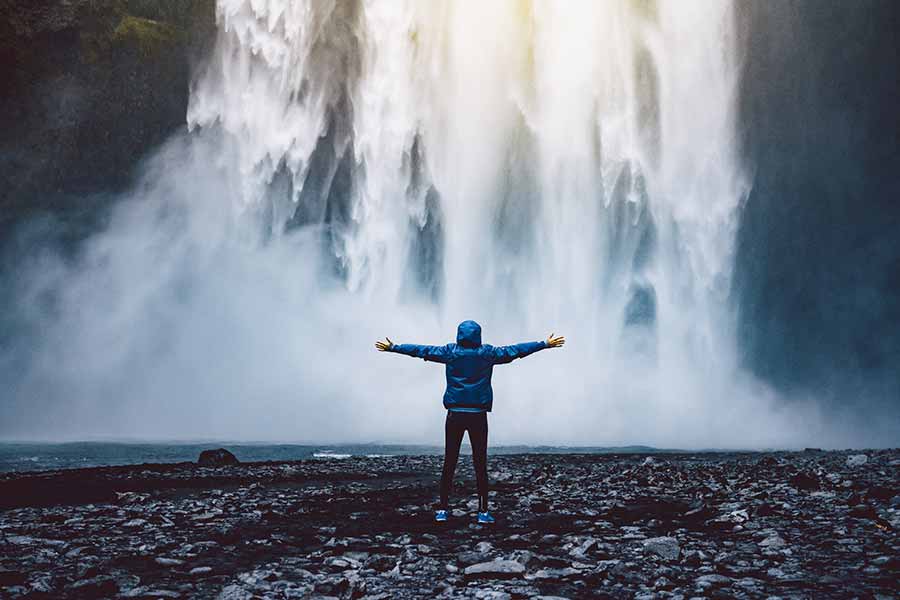 Set off on an unforgettable adventure along Iceland's stunning South Coast.
Your first stop will be Seljalandsfoss Waterfall, a breathtaking 60-meter-high cascade that plunges over a cliff, creating a unique opportunity to walk behind the waterfall and capture unforgettable photos. The gentle spray of water and lush green surroundings create a truly enchanting atmosphere.
We then depart to Skogafoss Waterfall. The thundering water creates a mesmerizing mist and, on sunny days, a vibrant rainbow, making this a must-see attraction.
Finally, you'll visit Reynisfjara Black Sand Beach, a striking shoreline known for its jet-black sands, towering basalt columns, and rugged sea stacks. Marvel at the mighty waves of the Atlantic Ocean as they crash against the shore and take in the beauty of this otherworldly landscape.
Return to your Reykjavik accommodation in the evening.
My husband and I took tours with Doug, one to the Cliffs of Dover and Leeds Castle and another to Stonehenge and Bath. Doug was great driver and tour guide, very knowledgeable about our destinations, he had anything you needed in his car including internet service. I would use this company again for future European tours.
Day 4: Glacier Hiking & Ice Cave Experience - Sólheimajökull Glacier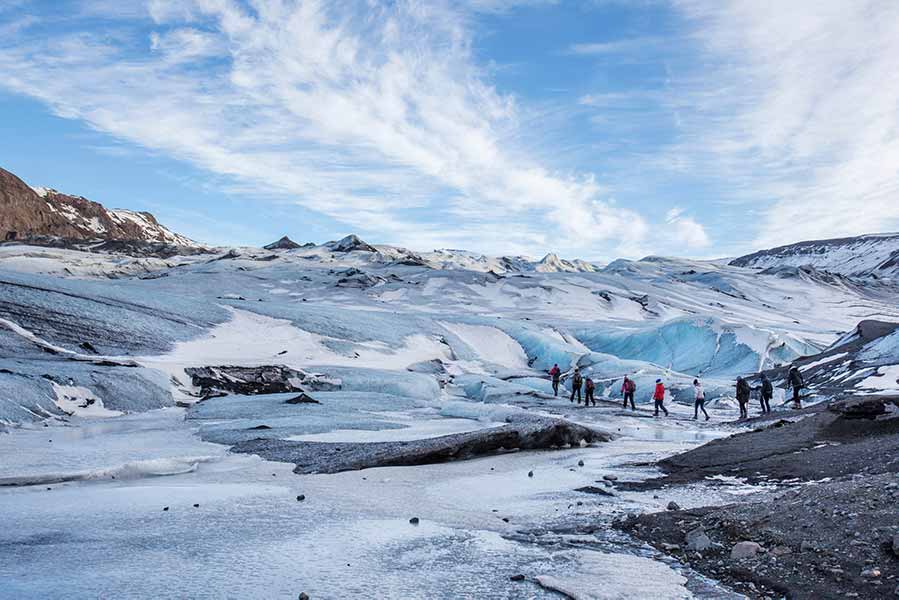 Join your driver guide in the morning to journey to the awe-inspiring Sólheimajökull Glacier for an exhilarating day of glacier hiking and ice cave exploration.
This breathtaking, ever-changing landscape of ice, snow, and rock will leave you spellbound as you delve into its unique features.
After a safety briefing and equipment fitting, your expert guide will lead you onto the glacier, teaching you about the glacial formations and the effects of climate change on the environment. As you hike across the glacier, you'll encounter crevasses, ice ridges, and stunning blue ice formations, providing a once-in-a-lifetime experience and incredible photo opportunities.
Next, you'll explore the enchanting world of ice caves beneath the glacier's surface. These captivating, naturally-formed ice structures feature mesmerizing shades of blue and intricate patterns. Your guide will share fascinating insights into their formation and evolution, enhancing your appreciation for this extraordinary environment.
Overnight in Reykjavik.
Day 5: Jokulsarlon Glacier Lagoon & Diamond Beach - Overnight in Hofn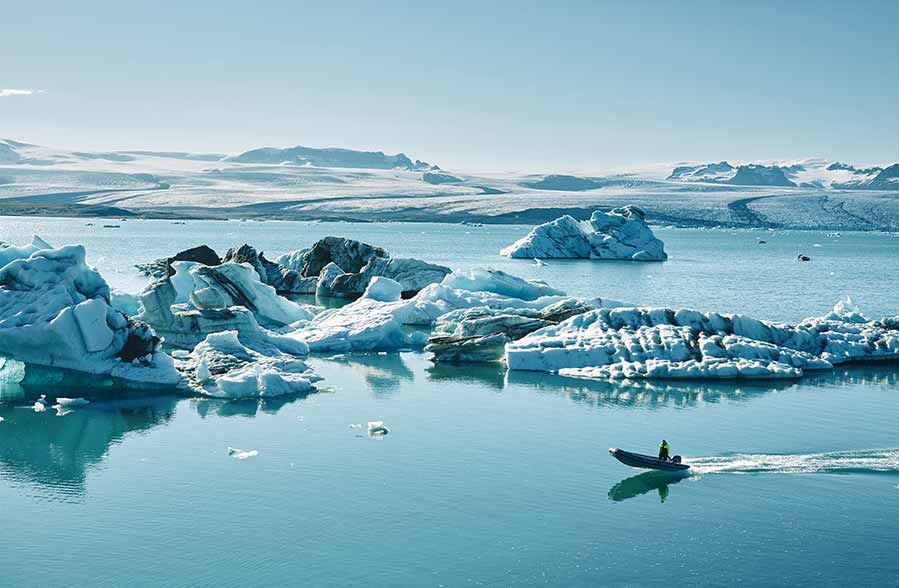 Begin your journey today by departing from Reykjavik and heading east towards the enchanting Jokulsarlon Glacier Lagoon, one of Iceland's most popular attractions.
This serene lagoon is filled with glistening icebergs that have calved from the Breiðamerkurjökull glacier, creating a magical sight that you won't soon forget.
Upon arrival, you'll embark on an unforgettable boat tour of the lagoon, where you can admire the majestic icebergs up close and learn about their formation from your knowledgeable guide. Watch for seals playfully swimming in the icy waters or resting on the floating ice.
Following your boat tour, you'll visit the nearby Diamond Beach, aptly named for the glittering ice chunks that dot the black sand shore. These icebergs sparkle like gems under the sun, creating a striking contrast against the volcanic sand and providing a perfect backdrop for stunning photographs.
As the day comes to an end, you'll continue east to the charming coastal town of Hofn, where you'll spend the night. Savor a delicious seafood dinner at a local restaurant before resting up for another exciting day of exploration and adventure.
Day 6: Eastern Fjords Scenic Drive - Petra's Stone Collection, Seydisfjordur Village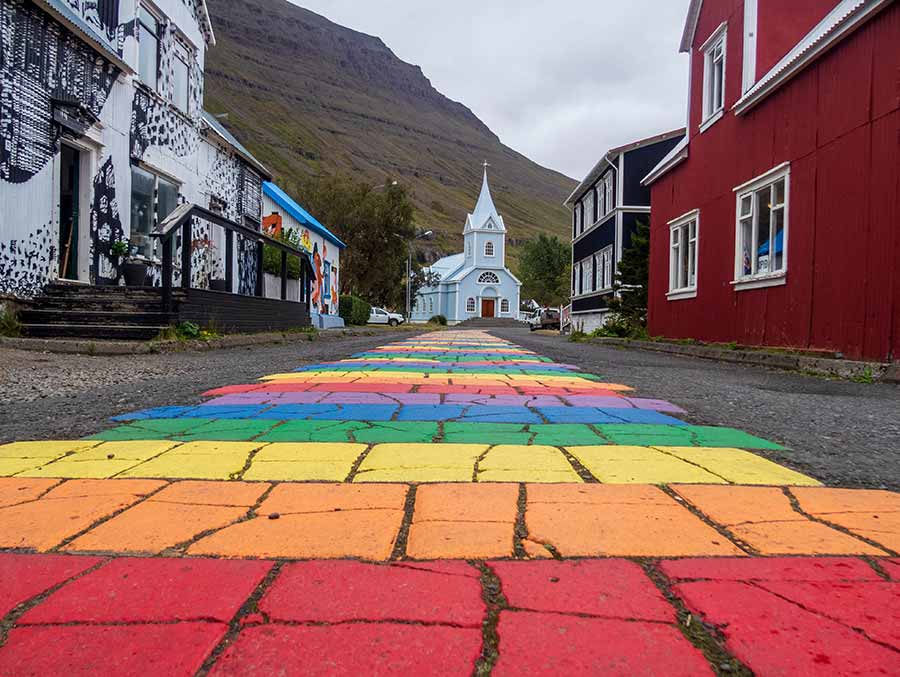 On day six, prepare for a picturesque journey along Iceland's Eastern Fjords, where you'll experience the region's rugged beauty and charming villages. The scenic drive offers breathtaking views of dramatic fjords, towering mountains, and tranquil fishing villages.
Your first stop will be at Petra's Stone Collection in the quaint village of Stöðvarfjörður. This fascinating exhibit showcases the lifetime collection of Icelandic minerals and stones gathered by the late Petra Sveinsdóttir. Marvel at the incredible variety of colors and shapes while learning about the region's geology.
Next, you'll continue to the idyllic village of Seydisfjordur, nestled between the mountains and the fjord. This picturesque settlement is renowned for its colorful wooden houses, artistic atmosphere, and iconic blue church. Stroll through the charming streets, visit local galleries, and immerse yourself in the peaceful ambiance of this delightful village.
As the day draws to a close, you'll head to your accommodation in the Eastern Fjords, where you can rest and recharge for the next day's adventures. Reflect on the day's stunning landscapes and unforgettable experiences as you prepare for the journey ahead.
Amazing Travel Agency! Marta helped us plan our whole trip and it was absolutely amazing! We did private walking tours, private winery tours, and everything was great! Marta made the itinerary with our interests in mind and was extremely helpful! The tour guides (Viola and Jessica to name two of the many) were outstanding! Marta also helped plan the perfect engagement! We highly recommend this company and will be using them again!
Day 7: Lake Mývatn & Geothermal Wonderland - Húsavík Whale Watching
As we reach the one-week point of our 10-day itinerary, you'll venture to the captivating Lake Mývatn region, known for its diverse geothermal and volcanic features. The area boasts a stunning landscape of lava formations, hot springs, and geysers that showcase the raw power of nature.
Begin by exploring the unique geological formations at Dimmuborgir, a collection of lava fields that host an array of peculiar rock structures. Your guide will share the fascinating folklore associated with the area, adding to the mystique of this surreal landscape.
Visit the vibrant geothermal area of Hverir, where you'll witness boiling mud pools, steaming fumaroles, and colorful mineral deposits. The otherworldly atmosphere is a testament to Iceland's nickname, "The Land of Fire and Ice."
In the afternoon, you'll head to the picturesque town of Húsavík, often considered the whale-watching capital of Iceland. Embark on a thrilling boat tour in search of majestic humpback whales, playful dolphins, and curious porpoises. Your experienced guide will provide insights into the behaviors and habitats of these incredible marine creatures.
Day 8: North Iceland Exploration - Akureyri, Godafoss Waterfall
Your Icelandic adventure continues by exploring the wonders of North Iceland, starting with a visit to Akureyri, the charming "Capital of the North." This picturesque town is nestled at the base of the Eyjafjörður fjord, offering breathtaking views and a vibrant cultural scene.
Stroll through the quaint streets and explore the local shops, cafes, and galleries, taking in the warm atmosphere of this cozy town. Don't miss the opportunity to visit the iconic Akureyri Church, an architectural gem that overlooks the town and fjord.
You will surely be captivated by the magnificent Godafoss Waterfall, also known as the "Waterfall of the Gods." This powerful cascade is steeped in history, named for an event in the year 1000 when Iceland officially converted to Christianity. Marvel at the 12-meter high falls as they stretch 30 meters across the Skjálfandafljót River, creating a dramatic spectacle and fantastic photo opportunities.
Return to your North Iceland accommodation, where you can share stories of the day's discoveries and anticipate the excitement of your upcoming journey to West Iceland and the Snæfellsnes Peninsula.
Day 9: West Iceland & Snæfellsnes Peninsula - Kirkjufell Mountain, Djúpalónssandur Beach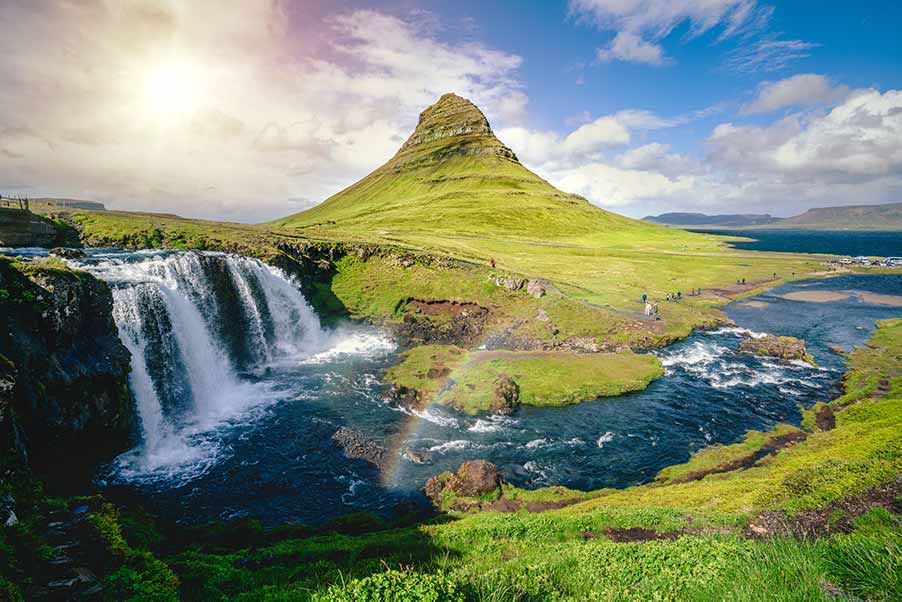 Prepare for an unforgettable exploration of West Iceland and the Snæfellsnes Peninsula, a region often referred to as "Iceland in Miniature" for its diverse and breathtaking landscapes. Your journey will take you to some of the peninsula's most iconic and picturesque attractions.
Kirkjufell Mountain, your next destination, is a beautifully shaped and symmetrical peak that has become a favorite among photographers and nature enthusiasts. Standing 463 meters tall, this impressive landmark is surrounded by a serene landscape of waterfalls and lush greenery, providing a striking backdrop for unforgettable memories and photographs.
Before heading back to Reykjavik, your guide will take you to Djúpalónssandur Beach, a stunning black pebble beach known for its unique features, including dramatic lava rock formations and the remnants of a shipwreck that washed ashore in 1948. Stroll along the shoreline, taking in the powerful waves crashing against the striking lava formations, and explore this captivating location's fascinating history and folklore.
Head back to your Reykjavik accommodation for a final night's rest.
We just returned from a trip that was organized through Travel by Luxe. It was one of the best trips we ever took and it was organized brilliantly. A special thank you to Francesca, she not only helped plan the itinerary, but was available throughout the trip to assist and make any tweaks and adjustments. Overall, a great experience and highly recommend.
Day 10: Farewell Reykjavik - Blue Lagoon & Departure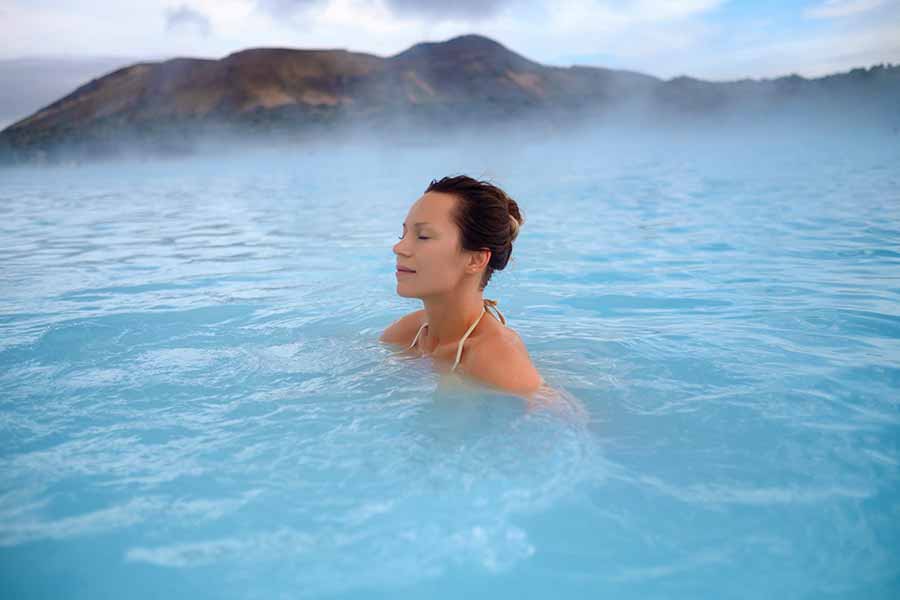 On the final day of your action-packed Icelandic adventure, you'll bid farewell to Reykjavik and head towards one last unforgettable experience: a relaxing visit to the world-famous Blue Lagoon. This geothermal spa, situated in a lava field on the Reykjanes Peninsula, offers the perfect opportunity to unwind and reflect on your incredible journey.
Upon arrival, you'll slip into the soothing, mineral-rich waters of the Blue Lagoon, which are known for their healing properties and skin-enhancing benefits. The milky blue waters, set against the stark black lava landscape, create a surreal and tranquil atmosphere that will leave you feeling rejuvenated and refreshed.
As you soak in the warm waters and enjoy the luxurious spa amenities, take the time to reminisce about the unforgettable experiences, breathtaking landscapes, and new friendships forged during your 10-day Icelandic adventure.
After your visit to the Blue Lagoon, your guide will escort you to Keflavik International Airport for your departure flight.
Specialist 10-Day Iceland Tour Planners
We are certain that our incredible 10-day guided Iceland tour itinerary through the land of fire and ice will leave you with an indelible impression and an insatiable desire to return.
If this itinerary has piqued your interest and you'd like a tailored version to suit your specific preferences and requirements, please don't hesitate to contact us. Our experienced travel experts will be delighted to create a personalized itinerary for your dream Icelandic adventure completely free of charge.
Rated 5-Star on Google & TripAdvisor
Use this company! An excellent experience! As a seasoned traveler and very detailed oriented customer, working with both Irene's was a joy and in the end produced a wonderful experience. Their personal touch on every detail and their communication was extraordinary.
Recommend them highly! These folks are very professional, and flexible in creating a custom tours, and handling last-minute changes. The guides were knowledgeable and friendly. Recommend them highly!
A Flawless Trip! Travel by Luxe assisted us in planning an excellent trip to Genoa and the Italian Riviera including Cinque Terre. The drivers they provided were courteous, efficient, safe and their vehicles were immaculate and comfortable.
Hands down the best travel company! Every detail was taken care of! All questions were answered. Every guide was knowledgeable, flexible, and kind! In a situation when travel can be stressful, every individual was fantastic.
A Great Experience! We just returned from a trip that was organized through Travel by Luxe. It was one of the best trips we ever took and it was organized brilliantly. A special thank you to Francesca, a great experience and highly recommend.
Amazing Italy Awesome trip! Graziano arranged everything perfectly and was very patient with our planning process and changes. Private tours and transfer worth the extra $$$. Will use again.
Qualified Guides.
Certified Excellence.
Other Example Iceland Tour Itineraries You Might Like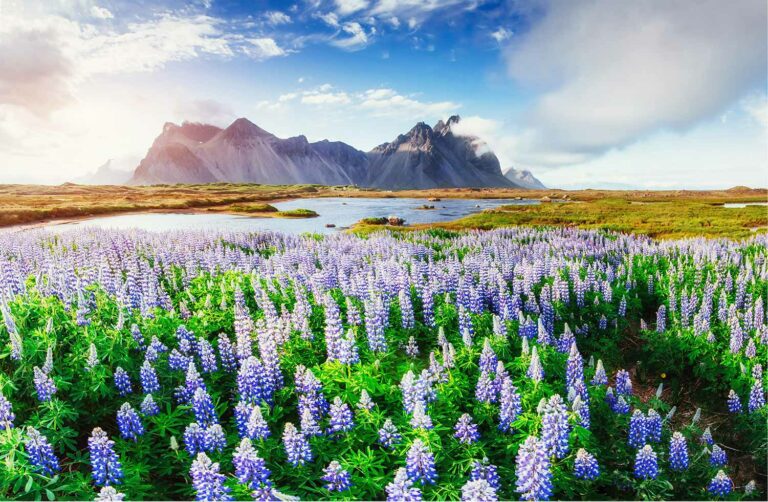 This 5 day itinerary takes you through the iconic Golden Circle, the enchanting East Fjords, the mesmerizing North Iceland region, & more!
Most popular tour destinations