7 Days in Iceland Private Tour Itinerary
How To Spend 7 Days In Iceland
This one-week Iceland guided tour itinerary has been designed to showcase the country's diverse landscapes, natural wonders, and cultural treasures, providing an unparalleled experience for travelers seeking the ultimate Icelandic adventure.
Throughout the tour, you'll enjoy the comfort and convenience of a private driver guide, who will provide insightful commentary, share local knowledge, and ensure your journey is as smooth and enjoyable as possible. Whether you're a nature enthusiast, a history buff, or simply seeking an extraordinary escape, this 7-day driver-guided tour promises an unforgettable Icelandic experience tailored to your interests and desires.
Destinations on our 1-week Iceland tour itinerary
From the vibrant city of Reykjavik, with its iconic landmarks and rich history, to the breathtaking Golden Circle, the picturesque South Coast, the serene East Fjords, and the captivating North, this tour offers a perfect blend of sightseeing, relaxation, and discovery. Delight in the awe-inspiring beauty of waterfalls, glaciers, volcanoes, and geothermal wonders, and explore quaint villages that reveal the heart and soul of Icelandic culture.
By organizing the tour this way, guests will only have to stay in four hotels: one in Reykjavik, one in Vík or nearby, one in Egilsstaðir or nearby, and one in Akureyri or nearby. This minimizes the number of hotel changes while still allowing guests to experience the diverse landscapes and attractions Iceland has to offer.
Day 1: Reykjavik Exploration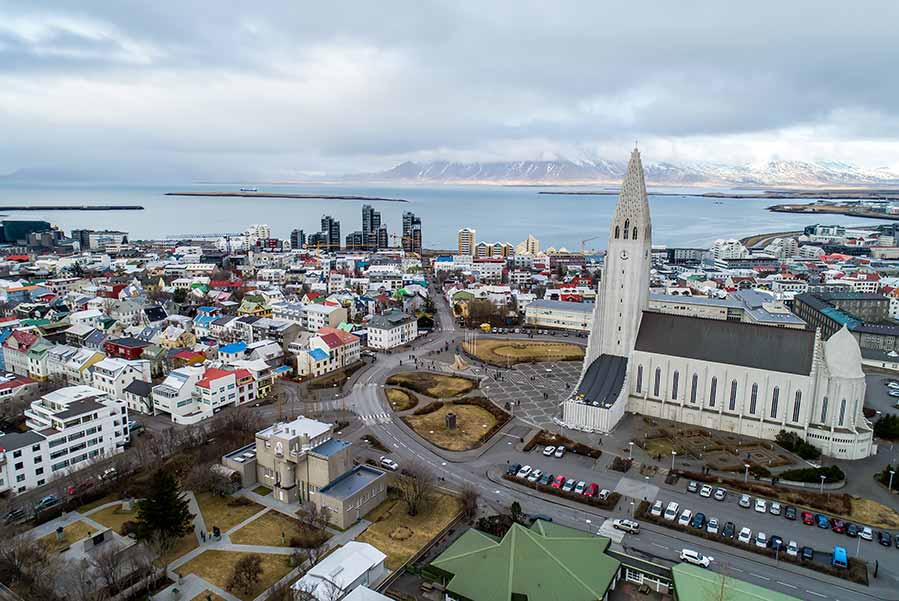 Guests will arrive in Reykjavik, the charming capital of Iceland, and transfer to their hotel. The day will start with a leisurely pace to allow time for guests to settle in and recover from their journey.
After some rest, guests will embark on a guided tour of Reykjavik's highlights. This walking tour will cover the city's history, culture, and architecture, providing an excellent introduction to Iceland's capital.
The tour will include a visit to Hallgrímskirkja, an iconic church that is one of Reykjavik's most recognizable landmarks. Inspired by Iceland's basalt columns, its unique design is an architectural marvel that offers stunning panoramic views of the city from its observation deck.
Next, guests will explore Harpa Concert Hall, a stunning glass structure that serves as a cultural and artistic hub in Reykjavik. It's modern design and cutting-edge technology make it a must-see attraction.
The tour will continue with a visit to the Sun Voyager, an impressive steel sculpture located by the sea. This ode to the sun symbolizes the promise of undiscovered territory and serves as a reminder of Iceland's rich maritime history.
Dinner at Local Restaurant
To conclude the first day, guests will be treated to a welcome dinner at a local restaurant. This will be a chance to sample authentic Icelandic cuisine and mingle with fellow travelers, setting the tone for a memorable and enjoyable week ahead in Iceland.
Day 2: Golden Circle and Secret Lagoon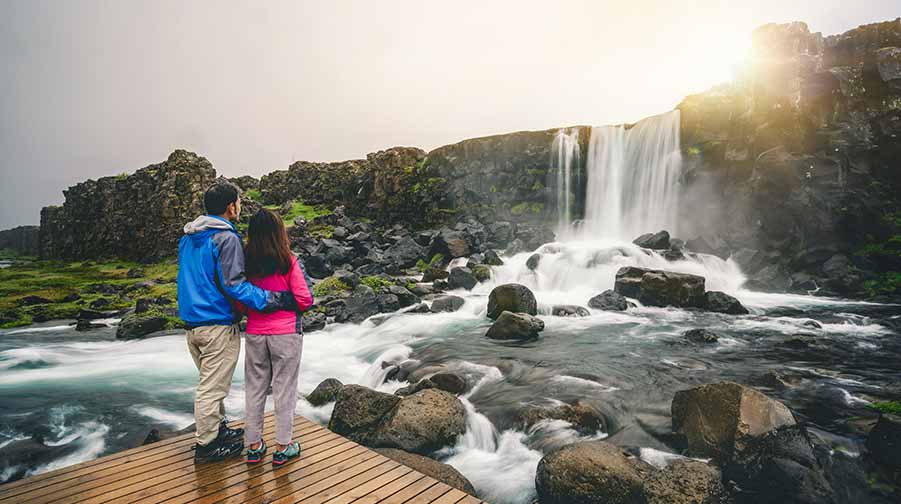 Join your driver guide in the morning to explore The Golden Circle, which includes stops at the Þingvellir National Park, Geysir geothermal area, and Gullfoss waterfall.
Your next destination, The Secret Lagoon, is a natural hot spring located in Flúðir and surrounded by beautiful natural scenery.
The day begins with a visit to the UNESCO World Heritage site, Þingvellir National Park. This significant location is not only a geological wonder, sitting between the North American and Eurasian tectonic plates, but also a historical treasure, as the site of the world's first parliament, the Althing, established in 930 AD.
Guests can explore the park's stunning landscapes, learn about its historical importance, and witness the powerful Silfra fissure, a popular spot for snorkeling and diving.
Next, the tour proceeds to the Geysir Geothermal Area, home to the famous Great Geysir and its active neighbor, Strokkur.
Marvel at the geothermal activity, witnessing Strokkur's regular eruptions that can reach heights of up to 30 meters. The area also offers various walking paths, allowing visitors to admire the geothermal features, hot springs, and vibrant colors created by minerals and algae.
The Golden Circle tour continues with a visit to the breathtaking Gullfoss Waterfall. Known as the "Golden Falls," this powerful two-tiered cascade plunges into a deep canyon, creating a dramatic spectacle.
In the afternoon, guests will unwind at the Secret Lagoon, a natural hot spring in the small village of Flúðir.
This geothermal pool offers a relaxing and authentic Icelandic experience, complete with picturesque surroundings and rejuvenating warm waters. Relax as you soak in the pool, enjoy the serene environment, and watch the nearby geyser erupting every few minutes.
Return to Reykjavik and Overnight Stay
After a day of exploration and relaxation, your driver will return you to Reykjavik in the evening.
Day 3: South Coast Adventure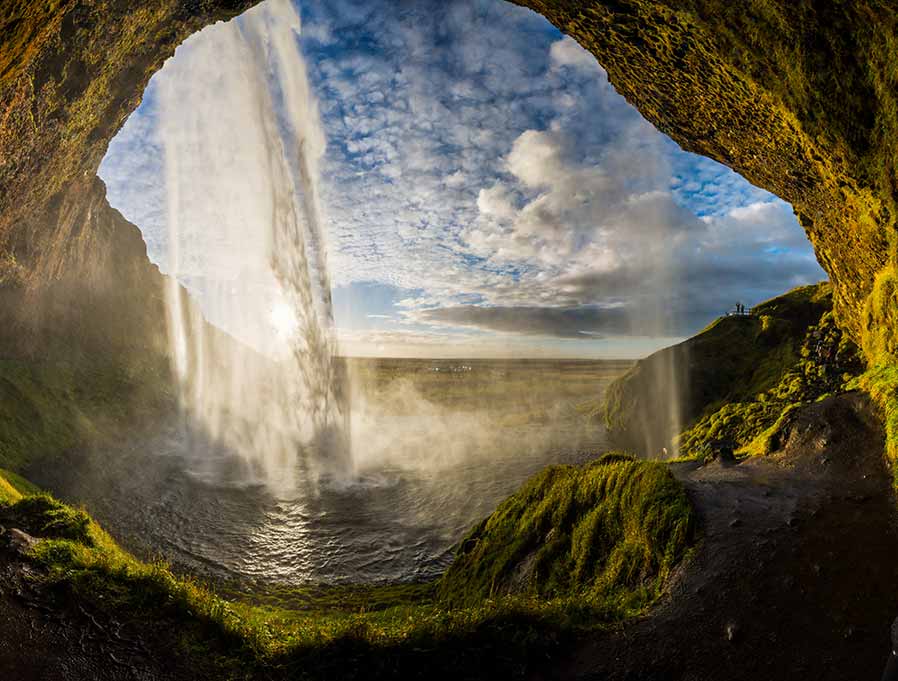 Explore the highlights of the southern coast of Iceland, including the Skógafoss and Seljalandsfoss waterfalls, black sand beaches, glaciers, and the charming coastal town of Vik.
Seljalandsfoss and Skógafoss Waterfalls
The day begins with visits to two of Iceland's most iconic waterfalls, Seljalandsfoss and Skógafoss.
Seljalandsfoss is a 60-meter-high waterfall that allows guests to walk behind the cascading water, offering an extraordinary perspective and unforgettable photo opportunities. Skógafoss, another stunning waterfall, is characterized by its impressive width and powerful 60-meter drop.
A staircase nearby allows guests to climb to the top for panoramic views of the surrounding landscapes.
Reynisfjara Black Sand Beach
Next, the tour heads to the striking Reynisfjara Black Sand Beach, renowned for its remarkable geological formations and powerful waves.
Guests will explore the beach's iconic basalt columns, marvel at the Reynisdrangar sea stacks, and observe the rich birdlife nesting on the cliffs, including puffins and fulmars.
The journey continues to Vík, a quaint village on the South Coast.
Vík's picturesque location, surrounded by lush green hills, black sand beaches, and dramatic sea cliffs, makes it a perfect stop for lunch and exploration. Guests can visit the local church atop a hill overlooking the village or shop for traditional Icelandic woolen products and souvenirs.
After a day filled with adventure and stunning scenery, guests will check in at a hotel in Vík.
My husband and I took tours with Doug, one to the Cliffs of Dover and Leeds Castle and another to Stonehenge and Bath. Doug was great driver and tour guide, very knowledgeable about our destinations, he had anything you needed in his car including internet service. I would use this company again for future European tours.
Day 4: Glacier Lagoon and Diamond Beach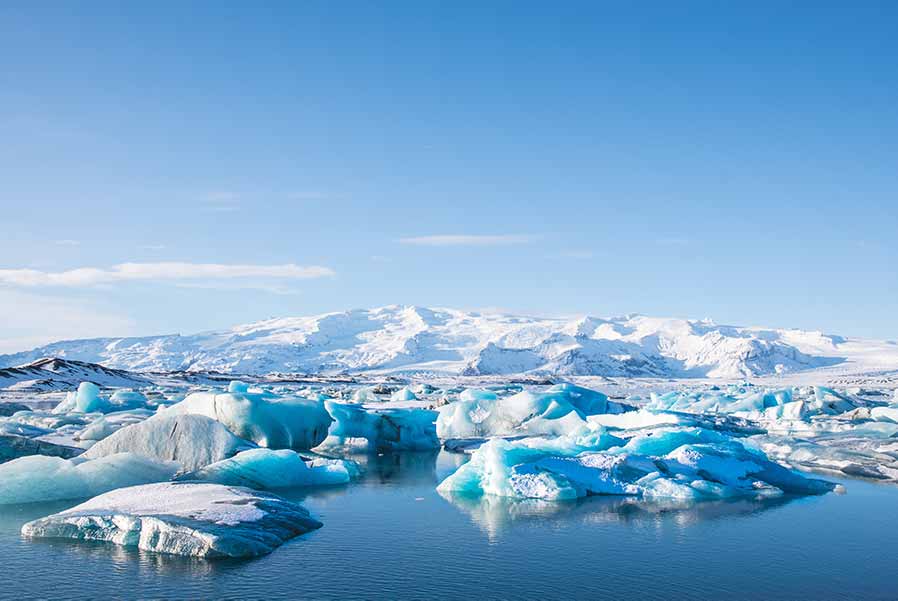 A special day awaits you as you set off for Glacier Lagoon, a large glacial lake in southeastern Iceland filled with icebergs from the nearby Breiðamerkurjökull glacier.
The nearby Diamond Beach is a black sand beach where the icebergs from the Glacier Lagoon wash ashore, creating a stunning and unique landscape of crystal-clear ice formations.
The day begins with a visit to the enchanting Fjaðrárgljúfur Canyon, a geological wonder carved by glacial rivers over millions of years. This 100-meter-deep and 2-kilometer-long canyon features steep cliffs, lush green vegetation, and the meandering Fjaðrá River. Guests can hike along the canyon's rim, capturing breathtaking views and photographs of the awe-inspiring landscape.
Jökulsárlón Glacier Lagoon
Next, the tour heads to the mesmerizing Jökulsárlón Glacier Lagoon, a must-see attraction in Iceland. This vast glacial lake is filled with floating icebergs that have broken away from the nearby Breiðamerkurjökull Glacier. Guests can witness the ever-changing scenery, with icebergs in various shades of blue and white, and occasionally spot seals swimming or lounging on the ice. An optional amphibious boat tour provides a closer look at the icebergs and a chance to learn more about the glacier and its surroundings.
Just across the road from Jökulsárlón, guests will discover Diamond Beach, named for the glistening ice chunks scattered across its black sand shoreline. These ice fragments, resembling diamonds, create a stunning contrast against the dark volcanic sands. Visitors can stroll along the beach, admiring this unique spectacle and capturing remarkable photographs.
Return to Vík for Overnight Stay
After a day filled with natural wonders and unforgettable experiences, the tour will return to Vík.
Guests can spend the evening sharing their experiences with fellow travelers, exploring the local surroundings, or simply relaxing at the hotel, rejuvenating for the upcoming day's adventures.
Day 5: East Fjords Scenic Drive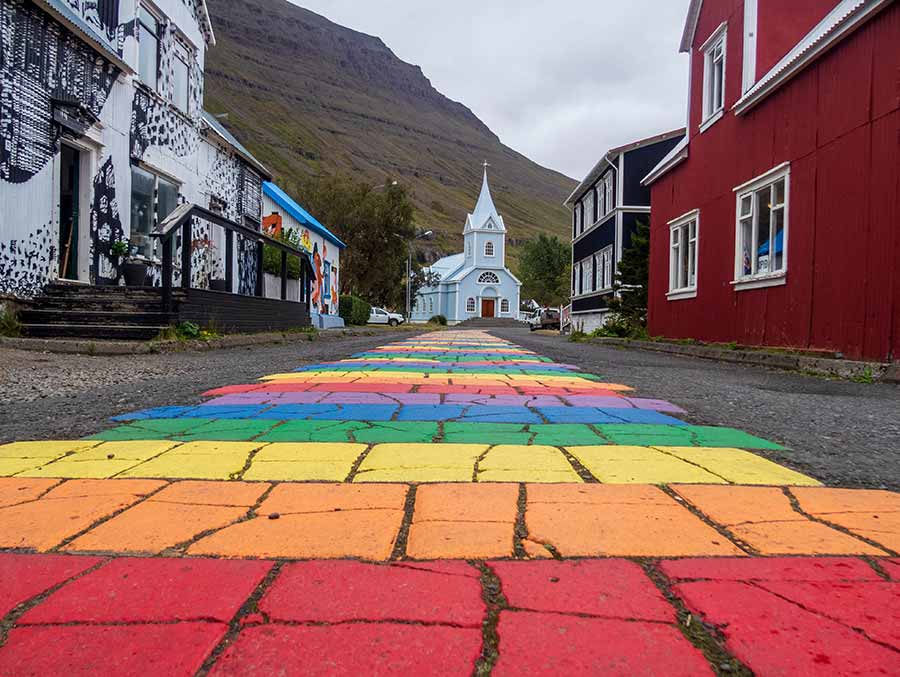 The East Fjords of Iceland is a region of spectacular natural beauty characterized by towering mountains, dramatic fjords, and quaint fishing villages. Visitors to the area can enjoy a variety of outdoor activities, such as hiking, skiing, and wildlife watching, as well as experience the local culture and cuisine.
East Fjords Coastal Route
The day begins with a scenic drive along Iceland's stunning East Fjords. This coastal route offers breathtaking views of towering mountains, deep fjords, and charming fishing villages. Guests can enjoy numerous photo stops, capturing the majestic landscapes, and observing the region's diverse wildlife, including seabirds, seals, and even reindeer.
The tour continues with a visit to Petra's Stone Collection, a fascinating exhibit of Icelandic minerals and stones in the small village of Stöðvarfjörður. Collected by local resident Petra Sveinsdóttir over her lifetime, this impressive display showcases Iceland's geological diversity and beauty. Visitors can explore the garden and museum, learning about the various stones and their origins.
Next, the journey takes guests to the picturesque village of Seydisfjordur, nestled at the end of a 17-kilometer fjord. Known for its colorful wooden houses, artsy atmosphere, and rich cultural heritage, this idyllic village is a delight to explore. Guests can stroll along the waterfront, visit the local church and art galleries, and enjoy the serene ambiance of the village.
Check-in at Hotel in Egilsstaðir or nearby
After a day of exploration and scenic drives, guests will check in at a hotel in Egilsstaðir or nearby. The chosen accommodation will provide a comfortable and relaxing environment, allowing guests to unwind and prepare for the next day's activities. With its convenient location, the hotel also offers easy access to the attractions of the East Fjords, enabling guests to further explore the region at their own pace during their free time.
Day 6: Myvatn and Akureyri
On day 6, join your guide again in the morning as you make your way to Myvatn, a stunning lake situated in the north of Iceland, then onto Akureyri, the second-largest city in Iceland, located near the Arctic Circle and a hub for cultural activities, outdoor adventures, and winter sports.
The day starts with a visit to Dettifoss, Europe's most powerful waterfall. This awe-inspiring natural wonder, with a thundering 100-meter wide and 45-meter high cascade, creates an extraordinary spectacle. Guests can appreciate Dettifoss from different viewpoints, feeling the raw power of the waterfall and capturing stunning photographs.
Next, the tour heads to the Mývatn Geothermal Area, a diverse and otherworldly landscape filled with volcanic craters, lava fields, and hot springs. Highlights include the pseudocraters at Skútustaðir, the lava formations at Dimmuborgir, and the colorful geothermal area of Námafjall. Guests will have the chance to explore these unique geological features and learn about the area's volcanic history.
Húsavík Whale Watching (optional)
An optional detour takes guests to Húsavík, Iceland's whale-watching capital. Here, visitors can embark on a thrilling whale-watching tour, with the opportunity to spot humpback whales, minke whales, and even orcas. For those who choose not to participate, additional time can be spent exploring the Mývatn Geothermal Area or relaxing in the Mývatn Nature Baths.
The day concludes with a city tour of Akureyri, Iceland's "Capital of the North." This charming town is known for its vibrant cultural scene, picturesque location, and historic architecture. The guided tour will cover Akureyri's main attractions, including the Akureyri Church, the botanical garden, and the old town area.
Check-in at Hotel in Akureyri or nearby
After a day filled with exploration and stunning scenery, guests will check in at a hotel in Akureyri or nearby.
Amazing Travel Agency! Marta helped us plan our whole trip and it was absolutely amazing! We did private walking tours, private winery tours, and everything was great! Marta made the itinerary with our interests in mind and was extremely helpful! The tour guides (Viola and Jessica to name two of the many) were outstanding! Marta also helped plan the perfect engagement! We highly recommend this company and will be using them again!
Day 7: Return to Reykjavik and Farewell
Our one-week tour ends in Reykjavik, bringing guests back to where their Icelandic adventure began. You can spend your final evening in the city, enjoying leisure time to revisit favorite spots, discover new hidden gems, or simply relax and reminisce about their unforgettable journey.
Farewell Dinner and Overnight Stay
To conclude the tour, enjoy a farewell dinner at a local restaurant in Reykjavik. This will be an opportunity to share memories, exchange contact information with newfound friends, and savor one last taste of authentic Icelandic cuisine.
Your Complimentary 7 Day Iceland Itinerary
Our 7-day driver-guided Iceland tour offers a unique and unforgettable experience, taking guests on a journey through the diverse landscapes, natural wonders, and cultural highlights of this incredible country.
From the bustling city of Reykjavik to the serene East Fjords, the picturesque South Coast, and the geothermal marvels of Myvatn, this comprehensive itinerary ensures guests experience the best Iceland offers.
The tour's carefully planned activities and destinations cater to a wide range of interests, with opportunities to explore geological wonders, relax in hot springs, and discover charming villages, ensuring that each day brings new adventures and unforgettable memories.
If this tour has piqued your interest, but you'd like to make adjustments to better suit your preferences, please do not hesitate to contact our tour planners. We'd be delighted to provide a free custom version of the itinerary tailored to your needs and interests, ensuring your Icelandic adventure is truly unique.
Rated 5-Star on Google & TripAdvisor
Use this company! An excellent experience! As a seasoned traveler and very detailed oriented customer, working with both Irene's was a joy and in the end produced a wonderful experience. Their personal touch on every detail and their communication was extraordinary.
Recommend them highly! These folks are very professional, and flexible in creating a custom tours, and handling last-minute changes. The guides were knowledgeable and friendly. Recommend them highly!
A Flawless Trip! Travel by Luxe assisted us in planning an excellent trip to Genoa and the Italian Riviera including Cinque Terre. The drivers they provided were courteous, efficient, safe and their vehicles were immaculate and comfortable.
Hands down the best travel company! Every detail was taken care of! All questions were answered. Every guide was knowledgeable, flexible, and kind! In a situation when travel can be stressful, every individual was fantastic.
A Great Experience! We just returned from a trip that was organized through Travel by Luxe. It was one of the best trips we ever took and it was organized brilliantly. A special thank you to Francesca, a great experience and highly recommend.
Amazing Italy Awesome trip! Graziano arranged everything perfectly and was very patient with our planning process and changes. Private tours and transfer worth the extra $$$. Will use again.
Qualified Guides.
Certified Excellence.
Other Example Iceland Tour Itineraries You Might Like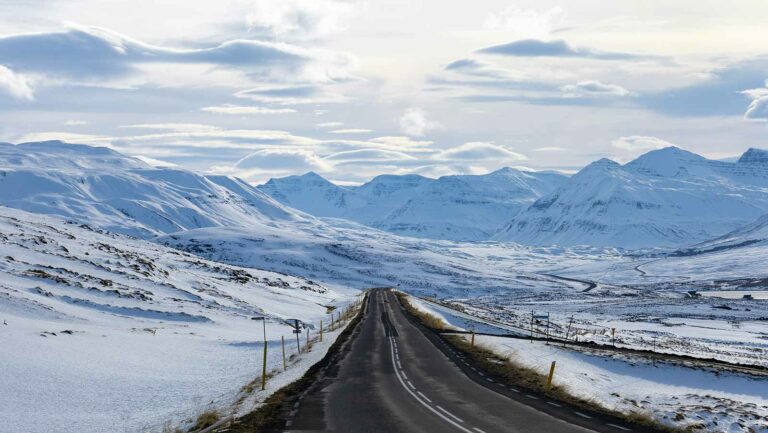 Discover mesmerizing waterfalls, dramatic volcanic landscapes, glaciers, & black sand beaches on our 14-day guided tour of Iceland itinerary!
Most popular tour destinations