By Amy Doherty - Owner & Founder of Travel By Luxe
They say a journey of a thousand miles begins with a single step, so let's jump back in time to when I took my first not so tentative step into the world of delivering guided tours for clients from around the world.
The year was 2013, after ten years working in the corporate world in my native Australia, I had finally taken the plunge to move to Rome and founded Travel by Luxe, becoming an official, licensed guide of Rome & the Vatican City in the process.
Although daunting at the time, it was truly a case of the heart knowing what was best. 
I had been in love with Italy since I was a little girl. I first visited Rome on a family holiday when I was 14 and had been instantly enamored by the sheer beauty of the ancient Roman architecture and monuments that decorate the city, the countless masterpieces by iconic artists, and the historic legends and lore that just gripped me and refused to let go. 
Yet, after graduating with a Bachelor of Arts majoring in Roman history & Italian from the University of Melbourne, I found myself working in a variety of management roles in publishing and advertising for companies such as News Corporation and Pacific Magazines. Certainly an enjoyable lifestyle, but the desire to travel, start a life in Rome, and explore the rest of the country was a constant throughout those years.
Despite more than a few unexpected hiccups and speed bumps along the way, those early days of starting out the business are still some of my fondest. The opportunity to draft customized tour plans for my guests and then actually deliver those tours, sharing my passion for this wonderful city, and to see it ignite the same interest in others was such a thrill. Indeed, it wasn't long until I began to branch out into guided tours of other regions and cities as my early guests had made sure to return to see more of Italy and began their research by asking me if I could put them in contact with someone who shared my infectious enthusiasm for their city!
As Travel by Luxe grew and expanded into England, Scotland, Ireland, Spain, Portugal, Morocco, Iceland, Switzerland and France, our fundamental philosophy remained the same: crafting the vacation of a lifetime for our guests, to touch their hearts and create memories they will cherish forever, just the same way I was struck by my first visit to Rome all those years ago.
Travel by Luxe: European Tour Planners and Private Guides
Regardless of whether a guest wishes to use our services for 1 day or 1 month, we believe every aspect of their tour should be tailored and suited to their exact needs. That is why we offer every client a complimentary itinerary service to provide them with a curated menu of options and experiences for their vacation. 
Sometimes this involves private drivers to take clients between cities or across borders, often it means recommending the most suitable accommodation for their needs, frequently evening entertainment and gastronomy options after our guide has retired for the night, but it always involves strict attention to detail and putting our guests needs first.
 Our luxury private tours are designed to go beyond 'tick the box' visits to sites like the Vatican Museums, the Eiffel Tower, or the Tower of London. If it's just for the photo op then any large group or bus tour could provide that. We aim to elevate the experience into one that will leave an indelible mark that will stay with you long after your travel home. The way we do this is simple: only work with the most experienced, qualified, and entertaining private guides, chosen for their storytelling abilities just as much as their subject knowledge.
Alongside iconic locations such as Edinburgh Castle, Buckingham Palace, The canals of Venice, or the Louvre Museum, we also want to deliver off-the-beaten-track excursions, hidden gems that those without our intimate local knowledge will likely be aware of and creating a money-can't-buy experience like savouring a wine tasting after an in-depth explanation of art and architecture inside the Sistine Chapel!
We specialize in child-friendly and family-friendly tours; private tours for conference and professional groups, couples, individuals, and first-time and seasoned travellers to England, Scotland, Ireland, Spain, Portugal, Morocco, Iceland, Switzerland, France, and more.
Please feel free to contact me directly at hello@travelbyluxe.com, and my team and I will be delighted to assist you.
Meet The Travel by Luxe Team!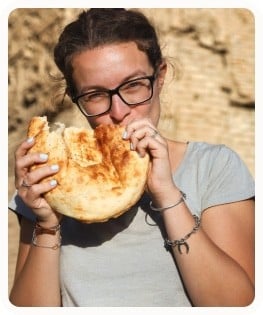 Ciao! My name is Marta and I'm originally from Sesto Fiorentino, a small town in Florence, which is famous for being the birthplace of Carlo Collodi, the author of "Pinocchio".
After living in London for a couple of years and fulfilling my childhood dream of becoming a sailor (well, I worked on a Cruise Ship for a while!) I returned to Italy and to my hometown to be close to my family, where I now live with my boyfriend, two adorable baby bunnies, and hundreds of souvenirs from my travels.
I have a passion for all things travel-related. I love trying new international recipes and celebrating festivals from around the world, from Diwali, to Thanksgiving, to Chinese New Year. My other love is reading and then going on to follow in the footsteps of the characters of these books, such as Odysseus, the novels of Agatha Christie, and Don Quixote. I even enjoy the logistical side of planning trips and creating detailed itineraries, whether they are for me or our guests at Travel by Luxe.
Some of my most cherished memories come from my own travel experiences, and I'm excited to help others create their own special memories through my role at Travel by Luxe.
Tell us about your favourite vacation Argh, such a difficult question! The first that come to mind are my recent vacation to Uzbekistan, my solo camping tour to Greece and traveling around Europe on the Interrail with my dad!
What country have you not visited yet that you would love to see? There are many destinations I want to see, but India is top of my list: I have developed  a tight bond with the culture, and have met lots of friends there online, so I can't wait to meet them!
Favorite thing about planning tours for customers? I really love designing personalized itineraries that meet the specific needs and preferences of my clients, and I take great care in ensuring that every aspect of the trip is well-planned and carefully considered, as if I were preparing for my own travels.
What's your favourite day trip? Considering I'm based out of Florence, my favourite day trip would be a tour to Val d'Orcia. Both my boyfriend and I are foodies: I love cheese and he loves wine, so this is the best place for us to spend a lazy Sunday wandering through small ancient villages and eating the whole time!
Finally, If you could only eat one food for the rest of your life, what would you choose? This question kills me! I guess if I really had to pick one it would be lasagne: this is the dish my grandmother used to cook for me when coming back from a trip and it's the first dish she taught me to cook when I moved abroad. If this means something, it's also the first one in my recipe book!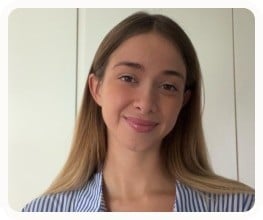 Hi, my name is Francesca and I am originally from Rome, but I also have Venezuelan roots. Growing up, I had the opportunity to live in several different countries, including Italy, Venezuela, and the United States, which I think played a huge role in growing my curiosity about experiencing and understanding different cultures.
I have always been a passionate traveler, drawn to experiencing new places, meeting different people, observing animals in their natural habitats, and trekking in dreamy places. Most of all, however, I love that feeling of wonder and amazement that comes with visiting somewhere new and discovering its unique character.
Through my work, I hope to share some of my extensive travel experience with others by carefully planning and organizing customized trips to exceed their expectations. I'm very detail oriented and the tour planning aspect is something I have always enjoyed, crafting itineraries to ensure every detail is thoughtfully considered and nothing is overlooked. 
My goal at Travel by Luxe is to help others experience the same sense of wonder and adventure that I do when visiting a new country.
My name is Irene and I live in the northeast of Italy. 
Travel has been a constant in my life, I even like to say I must have inherited it from my parents! I have been fortunate enough to visit many places, but my favourite trip so far was to Namibia four years ago. It was an incredible experience that allowed me to learn about the culture, nature, people, and food of the country. This experience also brought into focus just how much value an experienced, friendly, and knowledgeable guide can bring to a trip!
While I have seen many wonderful places, there is still so much more of the world that I want to explore. India, with its vibrant colors, diverse landscapes, rich culture, and delicious food, is the next big vacation I have planned .
As someone who works in travel, I understand that visiting a foreign country can be both exciting and intimidating. That's why I take great care in planning itineraries for my clients, making sure that all the pieces fit together seamlessly. I also try to get to know my clients' interests so that I can create an experience that is tailored to their personality. 
One of my favorite types of trip to plan is food tours, as I love introducing people to lesser-known Italian delicacies. As a foodie myself, I relish the opportunity to try local specialties when I travel, although I have to admit that Italian pizza will always have a special place in my heart!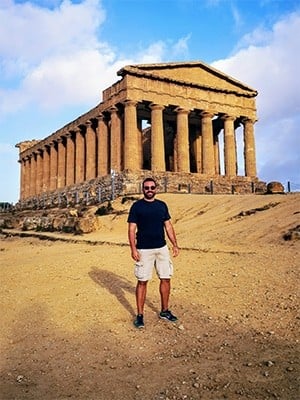 I am an Italian based in Milan who is passionate about travel, photography, and the ocean. 
I was born in a town in the region of Le Marche in the center of Italy, but I have also lived in London for 8 years and spent a year in Melbourne. 
My travels have taken me to over 40 countries, where I have had the opportunity to go skydiving in Australia, trek through the Italian and Swiss Alps, sleep in an overwater bungalow in French Polynesia, snorkel with sharks and turtles in the open ocean off the coast of Hawaii, sail through the Greek islands, and so much more.
As someone who has a deep love for travel, it was always my dream to work in the industry, and I am delighted to be able to say I have been living this dream as a travel designer since 2016.
I believe in the transformative power of travel and want to help others experience the magic of discovering new places. My goal is to inspire others to explore the world and provide them with the information and resources they need to make their ideal vacation a reality.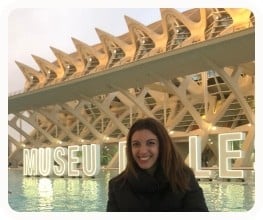 I'm Irene Perrone and I live near the beautiful 'Lago Maggiore' in the north of Italy.
My biggest goal in life has always been to find a career that aligns with my passions: traveling, learning about different cultures, and interacting with people from all over the world.
At first this took the form of working at the airport, where my interest in travel only grew as I found myself gazing up at the departures board and dreaming about exploring the myriad of fascinating destinations constantly cascading down the display. 
As a dynamic person who likes to break out of the same daily routine and stay motivated, I took the opportunity to enroll in a travel design course during the lockdown and began working with an Asian tour operator that gave me hope of fully achieving my dreams, and valuable experience designing itineraries for exclusive private tours.
I am grateful to have found Travel by Luxe, which has helped me fulfill my goals. One of the things I love most about my job is getting to know our clients and the sense of pride and accomplishment that comes from knowing I have hand crafted a vacation plan that will just be absolutely perfect for my clients.
"Travel makes one modest. You see what a tiny place you occupy in the world." – Gustave Flaubert
Hey there! I'm Vittoria, and I call the vibrant city of Genova my home, just a hop, skip, and a jump away from the stunning Portofino and picturesque Cinque Terre!
I've been fortunate enough to explore all five continents and make memories in a bunch of different countries. My journey began at a German school where I picked up French, German, and English, before moving on to study Hospitality in Switzerland, earning a degree in Business Management.
My adventures then took me to places like Portugal, Paris, Amsterdam, and even sailing the high seas on a luxurious yacht for four fabulous years! I'm so thankful to have had the opportunity to travel all over the world and visit some of the most remote places such as Antarctica and Borneo!
Travelling means more than just visiting beautiful places; it's all about connecting with amazing people, diving into their customs, cultures, and beliefs. I think it's a never-ending adventure that enriches our mind and body. 
I'm beyond grateful for the chance to use my experiences to craft one-of-a-kind adventures for our clients. Let's make memories together!
Hello, I'm Giulia, your go-to travel expert, coming to you from the enchanting city of Rome!
After graduating in Arabic and English languages, I spent the next period of my life exploring as much of the World as I could. My passion for travel has led me to unforgettable experiences like dozing under the stars in the Sahara desert, trekking through the majestic Dolomites, wandering through Europe's iconic cities, and savoring incredible local cuisine at every opportunity!
To me, travel is the ultimate soul food, a chance to immerse ourselves in diverse cultures and expand our minds. I adore exploring foreign lands, but also treasure getting lost in my own beautiful backyard – Italy's breathtaking mountains, charming medieval villages, ancient Roman ruins, serene lakes, and pristine coastlines.
As a bona fide travel enthusiast, I decided it was time to level up and turn my passion into a career in tourism. I studied diligently to become the expert travel planner I am today.
I know that a well-planned trip is the key to a hassle-free and unforgettable experience. That's why I'm committed to going the extra mile for our clients, crafting awe-inspiring journeys that leave you absolutely breathless!
My name is Chiara, your expert travel planner, hailing from the bustling city of Milan in northern Italy!
My  career began with my university studies in Tourism Sciences and Local Management. I then honed my skills as a Travel Designer, laying the groundwork for my future in the world of tourism. 
Ever since I was a kid, I've been bitten by the travel bug, thanks to my family's globe-trotting adventures. 
For me, there's nothing better than getting wonderfully lost in a new place, connecting with nature and the locals, and soaking up their customs and traditions. When I return home from a trip, I don't need souvenirs much, what remains in my memories is the experience I lived and the people I met who will remain forever in my heart.
Inspired by the saying, "Choose a job you love, and you will never have to work a day in your life," I followed my heart into the travel industry and joined Travel by Luxe. 
Contact Our Team Our Private Tour Planners in Europe
To talk to your tour planner and discuss ideas and suggestions for your private tour in Europe, then simply send our team an online inquiry below. Just let us know where you want to visit and give us an idea of locations and activities that inspire you, and we will get to work crafting your tailored itinerary.
Rated 5-Star on Google & TripAdvisor
Use this company! An excellent experience! As a seasoned traveler and very detailed oriented customer, working with both Irene's was a joy and in the end produced a wonderful experience. Their personal touch on every detail and their communication was extraordinary.
Recommend them highly! These folks are very professional, and flexible in creating a custom tours, and handling last-minute changes. The guides were knowledgeable and friendly. Recommend them highly!
A Flawless Trip! Travel by Luxe assisted us in planning an excellent trip to Genoa and the Italian Riviera including Cinque Terre. The drivers they provided were courteous, efficient, safe and their vehicles were immaculate and comfortable.
Hands down the best travel company! Every detail was taken care of! All questions were answered. Every guide was knowledgeable, flexible, and kind! In a situation when travel can be stressful, every individual was fantastic.
A Great Experience! We just returned from a trip that was organized through Travel by Luxe. It was one of the best trips we ever took and it was organized brilliantly. A special thank you to Francesca, a great experience and highly recommend.
Amazing Italy Awesome trip! Graziano arranged everything perfectly and was very patient with our planning process and changes. Private tours and transfer worth the extra $$$. Will use again.
Example Itineraries You Might Like
Join us on a mesmerizing 21-day driver-guided journey through Spain and Portugal's vibrant cities, charming villages, and breathtaking landscapes.
Most popular tour destinations