10 Day Private Driver-Guided Tour of Scotland and Ireland
Customize Your Tour of Scotland and Ireland To Suit Your Private Group
Day 1: Welcome On Arrival – Glasgow – Loch Lomond – Glencoe – Fort William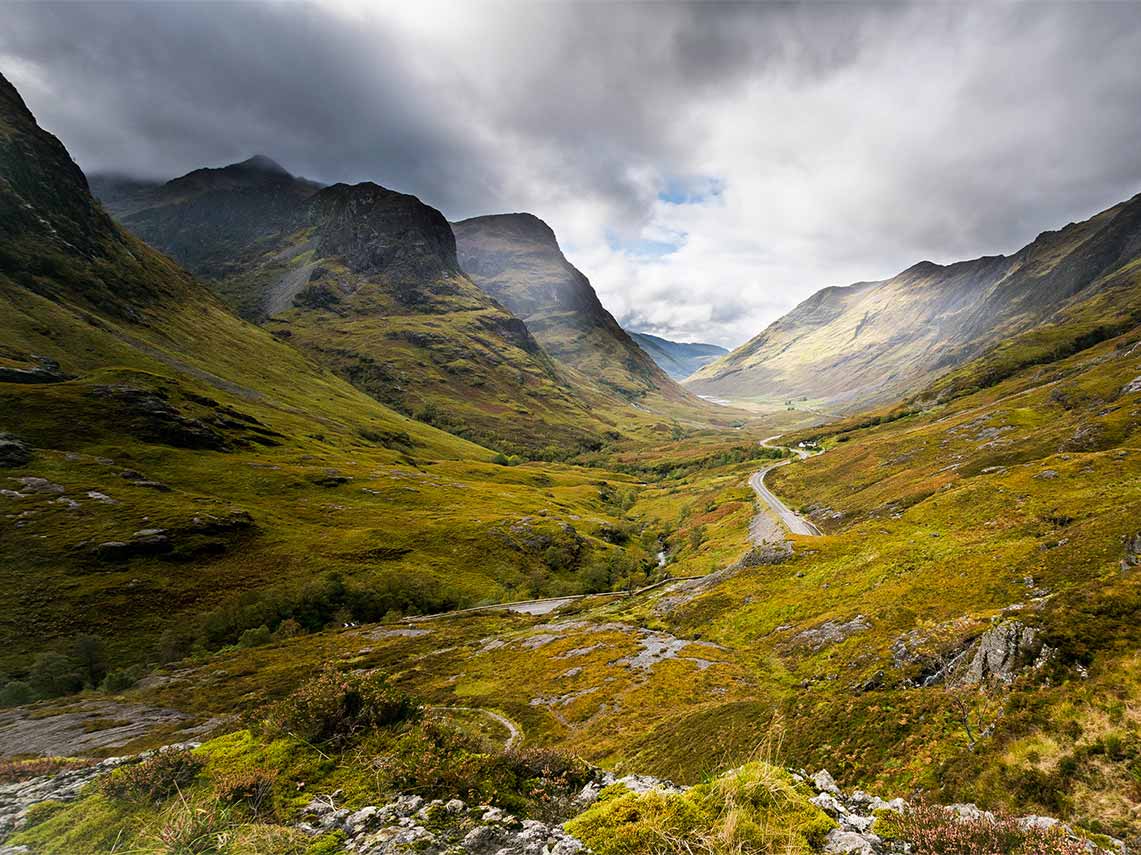 Your private tour starts in Scotland in the country's cultural hub and largest city: Glasgow. Your private driver-guide will there to collect you off of your flight and welcome your group to the most beautiful 'wee' country in the world.
We'll begin with a visit to Glasgow's bustling West End to sample some traditional Scottish cuisine (and perhaps toast to the trip ahead with some local whisky) before touring around some of the city's best sites, including:
Glasgow Cathedral
Glasgow University
Kelvingrove Art Gallery & Museum


In the afternoon, we'll depart Glasgow and drive north to the bonnie, bonnie lochs of Loch Lomond – the largest freshwater lake in the UK. Here we'll stop at the charming village of Luss (frequently voted the most beautiful village in the UK), which lies on the banks of the famous loch, before continuing our scenic drive through the highlands of Scotland where we'll pass through the stunning Glencoe Mountains (where you may wish to pause to capture a few photographs of the wonderful Three Sisters).
Finally, we'll bring the first day of your private tour to an end as your driver-guide delivers you to your accommodation in the coastal town of Fort William from which you may wish to spend the evening exploring the town's charming local pubs and restaurants.
Day 2: Glenfinnan Viaduct – Mallaig – Isle of Skye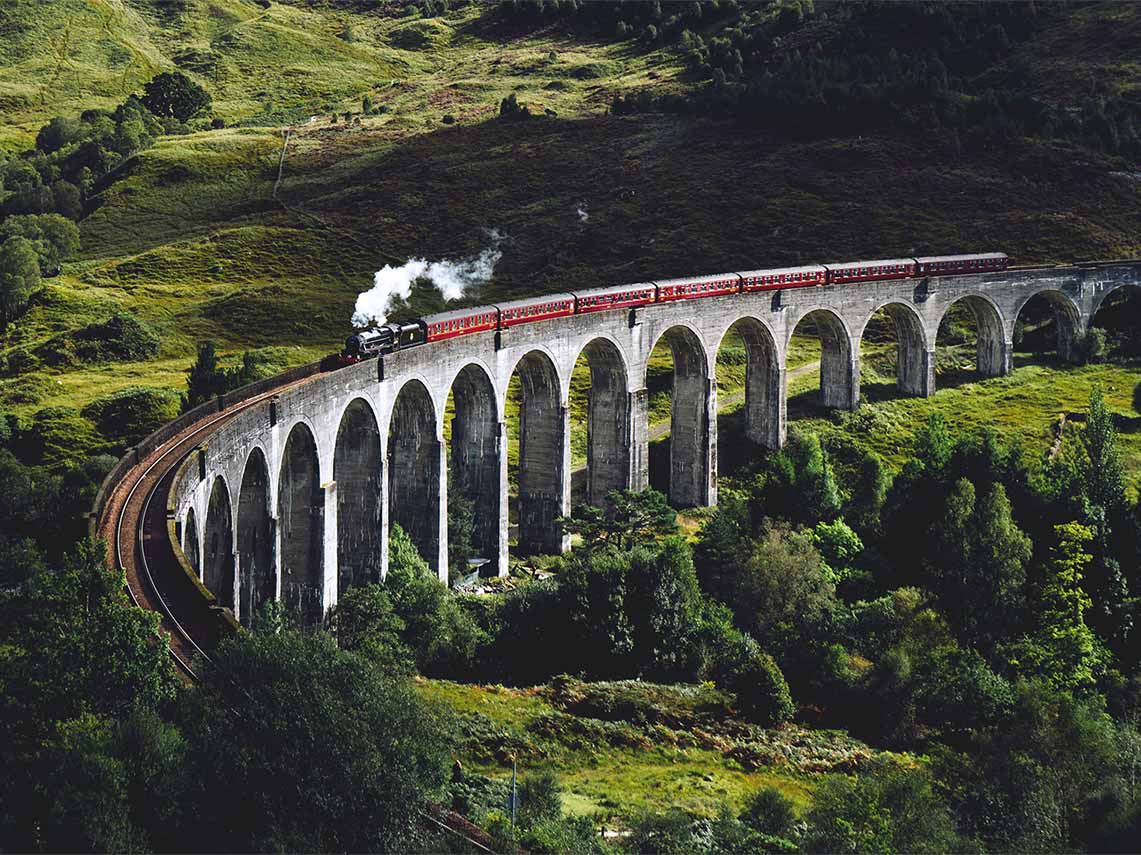 Day Two starts straight after breakfast as your driver-guide collects your group from your accommodation in Fort William and heads for the beautiful Scottish Isles! 
While most routes to the Scottish Isles would be considered scenic, your journey from Fort William will be magical as you board the Jacobite Express Steam Train (also known as the 'Hogwarts Express' in the Harry Potter movies) and cross over the historic Glenfinnan Viaduct.
Your first-class experience onboard the Jacobite Express will come to an end as you reach the quaint fishing village of Mallaig where your driver-guide will be waiting for you before you all board a ferry bound for the stunning Isle of Skye. 
When you reach the island you may wish to go for a hike up the stunning Old Man of Storr, or perhaps enjoy a guided tour of Dunvegan Castle before we head to your accommodation in Portree for the evening.
The town of Portree itself has a wonderful selection of bars and restaurants for your group to explore in the evening where you'll most likely experience some traditional folk songs and tales from the interesting local islanders.
My husband and I took tours with Doug, one to the Cliffs of Dover and Leeds Castle and another to Stonehenge and Bath. Doug was great driver and tour guide, very knowledgeable about our destinations, he had anything you needed in his car including internet service. I would use this company again for future European tours.
Day 3: Eilean Donan Castle – Loch Ness – Inverness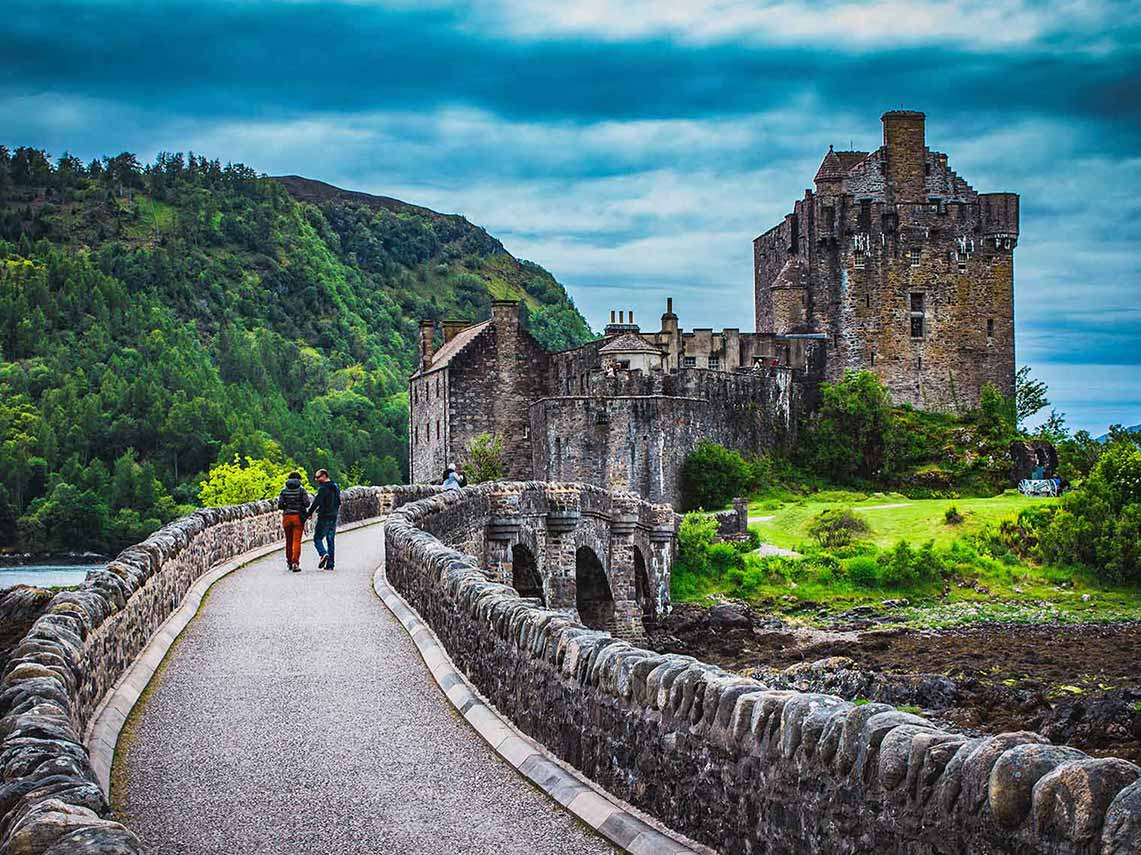 On the morning of Day Three, your driver-guide will take your group for a delightful walk to see Skye's Fairy Pools (a series of stunning waterfalls that produce vibrant colors) before we return to your Scottish mainland via the Skye bridge. 
Once we reach the mainland, we'll pay a visit to Scotland's most photographed castle: Eilean Donan. And you'll soon realize precisely wise Eilean Donan attracts so many snaps… This incredible structure is built on a small, yet historically vital, tidal island where three different great Scottish lochs meet: Loch Duich, Loch Long, and Loch Alsh. 
Indeed it's not just tourists' eyes and cameras the castle has seduced over the years… Eilean Donan has featured in Hollywood movies such as Highlander and James Bond.
Once you've enjoyed a tour of the castle, your driver-guide will take your group to the storied great Loch Ness – where if you're lucky, you might just catch a glimpse of Nessie the Monster. 
We'll start our Loch Ness tour with a trip to Urquhart Castle – a beautiful ruined castle that dates back to the 1400s and offers stunning panoramic views – before you set off on a private chartered boat ride across the great loch where you'll be treated to a selection of traditional Scottish tasting platters and some of the country's finest whiskies.
Once you've arrived safely back on shore your driver-guide will escort your group to your accommodation in the city of Inverness.
Day 4: Inverness – Stirling Castle – Wallace Monument – Falkirk Wheel – Forth Bridges – Edinburgh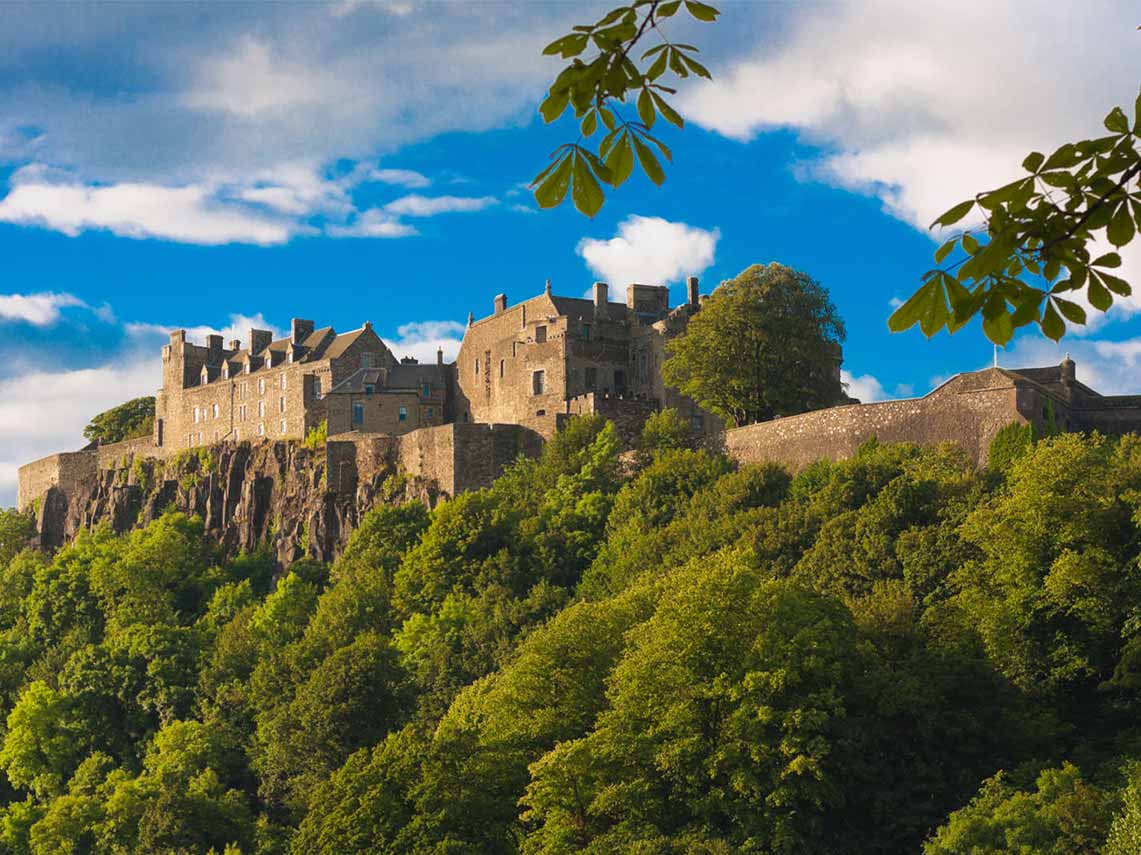 On the fourth day of your private tour, we leave the proclaimed capital of the North and drive straight through the heart of Scotland to the historic delight that is Stirling. When we arrive we'll take a short tour around the town before visiting Stirling Castle.
One of the most important and largest castles in Scotland, Stirling Castle sits dramatically atop Castle Hill (an intrusive crag that forms part of the Stirling Sill geological formation) and is surrounded on three sides by steep, sharp cliffs; in the past, Stirling Castle was the ideal defensive fortress, but today thankfully welcomes visitors from all over the world to learn about its turbulent history and royal lineage.
Once you've explored the castle with your guide, we'll continue our journey through Scotland's past by visiting the nearby Wallace Monument and learning about the life of perhaps the country's most celebrated and nationally admired icon, the Guardian of Scotland: William Wallace.
From Stirling, we'll head drive to the nearby Falkirk Wheel, the only rotating boat lift of its kind in the world and a true marvel of modern engineering, before setting course for your accommodation for the night in Scotland's famed capital city of Edinburgh.
You can spend the evening exploring Edinburgh's seemingly neverending supply of fantastic bars and restaurants, or if you'd like, your guide can organize a private whisky tasting experience for your group
Amazing Travel Agency! Marta helped us plan our whole trip and it was absolutely amazing! We did private walking tours, private winery tours, and everything was great! Marta made the itinerary with our interests in mind and was extremely helpful! The tour guides (Viola and Jessica to name two of the many) were outstanding! Marta also helped plan the perfect engagement! We highly recommend this company and will be using them again!
Day 5: Edinburgh City Tour – Flight to Belfast – Guide Welcome and Transfer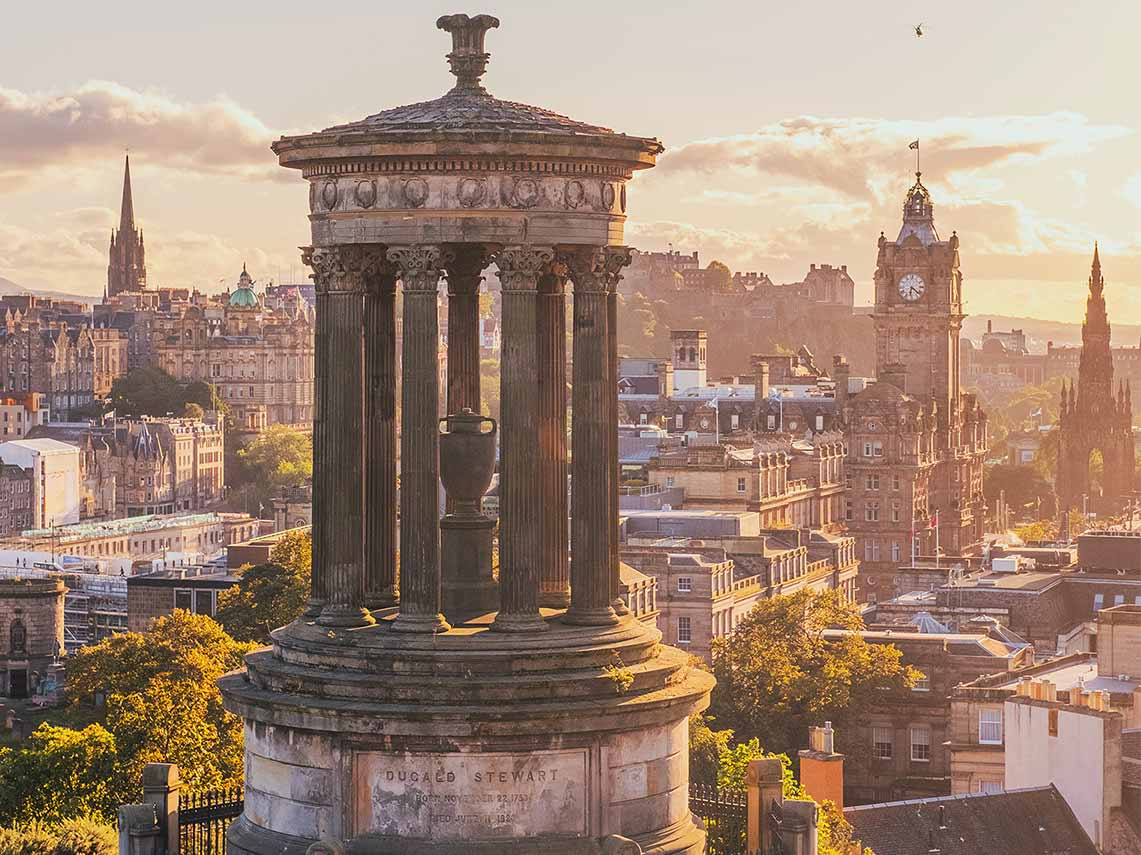 Day five starts early as your group are guided on a morning walk up to Arthur's Seat – an extinct volcano that offers stunning views over the city – to watch the sunrise on your last day in Scotland. 
It's then time to start exploring some of Edinburgh's greatest sites, including Edinburgh Castle, Holyrood Palace, or the Royal Yacht Britannia before we finish our tour with a walk down the winding cobblestone streets of the Royal Mile to pick up any final souvenirs. Your driver-guide will then take your group to Edinburgh airport in time for your flight to Belfast.
When you arrive in Belfast you'll again be greeted by your own private driver-guide who will escort your group to your accommodation in the city center for a well-deserved rest. 
If you've still got some energy, however, there are ample traditional bars and restaurants for your group to explore throughout the evening in Belfast – you might even want to arrange an Irish whiskey tasting experience to explore the difference between it and its Scottish counterpart.
Day 6: Belfast City Tour – Dublin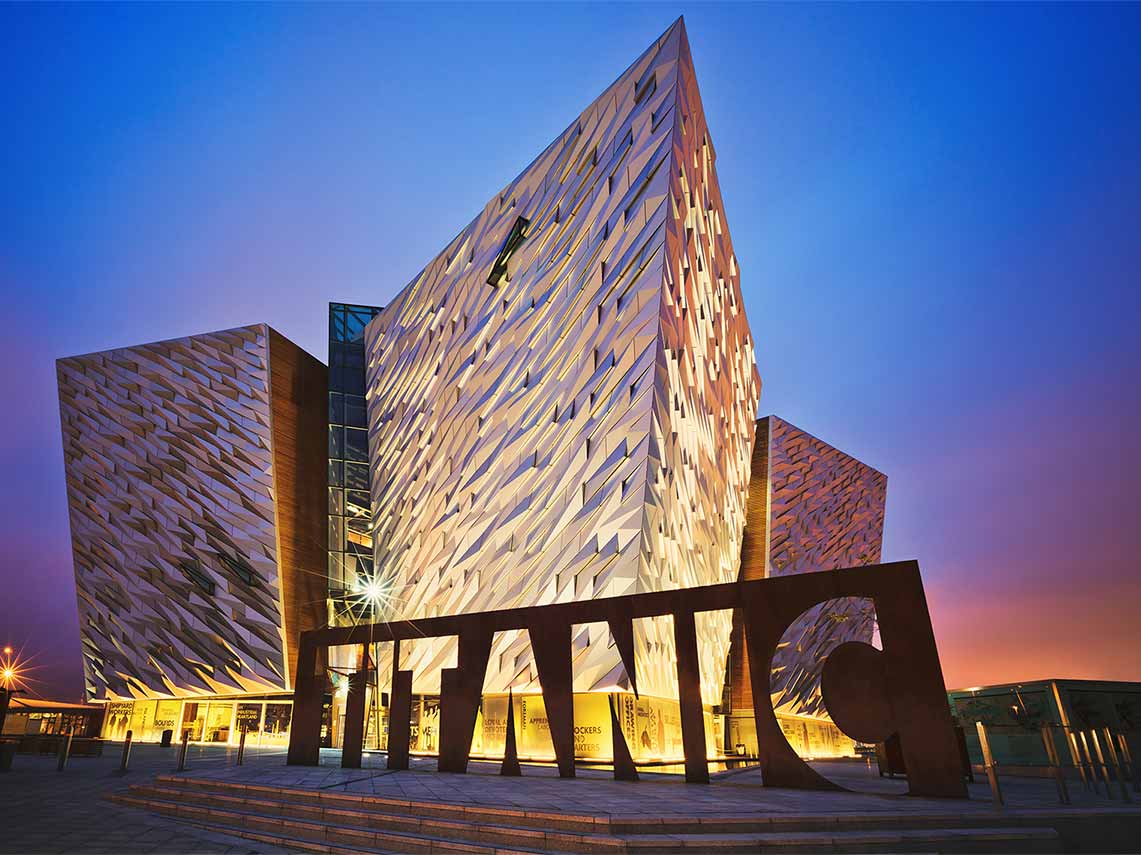 Your driver will collect you from your Belfast hotel in the morning and whisk you away for an incredible tour of the capital of the North. 
We'll begin with a visit to St George's Market for a traditional breakfast before exploring the Titanic Quarter – where you'll visit the world-class interactive museum on the site where the fateful ship was built back in 1911 – before visiting the Gaeltacht Quarter where you will hear the locals speaking in their traditional Gaelic Irish language.
We'll finish up our day discovering Belfast with a political mural tour where you'll learn the complicated history of the troubles explored through a series of famous murals throughout the city, and eventually arriving at the Peacewall – where you can even write your own message! 
In the evening, your driver-guide will take your group south to your accommodation in Dublin.
We just returned from a trip that was organized through Travel by Luxe. It was one of the best trips we ever took and it was organized brilliantly. A special thank you to Francesca, she not only helped plan the itinerary, but was available throughout the trip to assist and make any tweaks and adjustments. Overall, a great experience and highly recommend.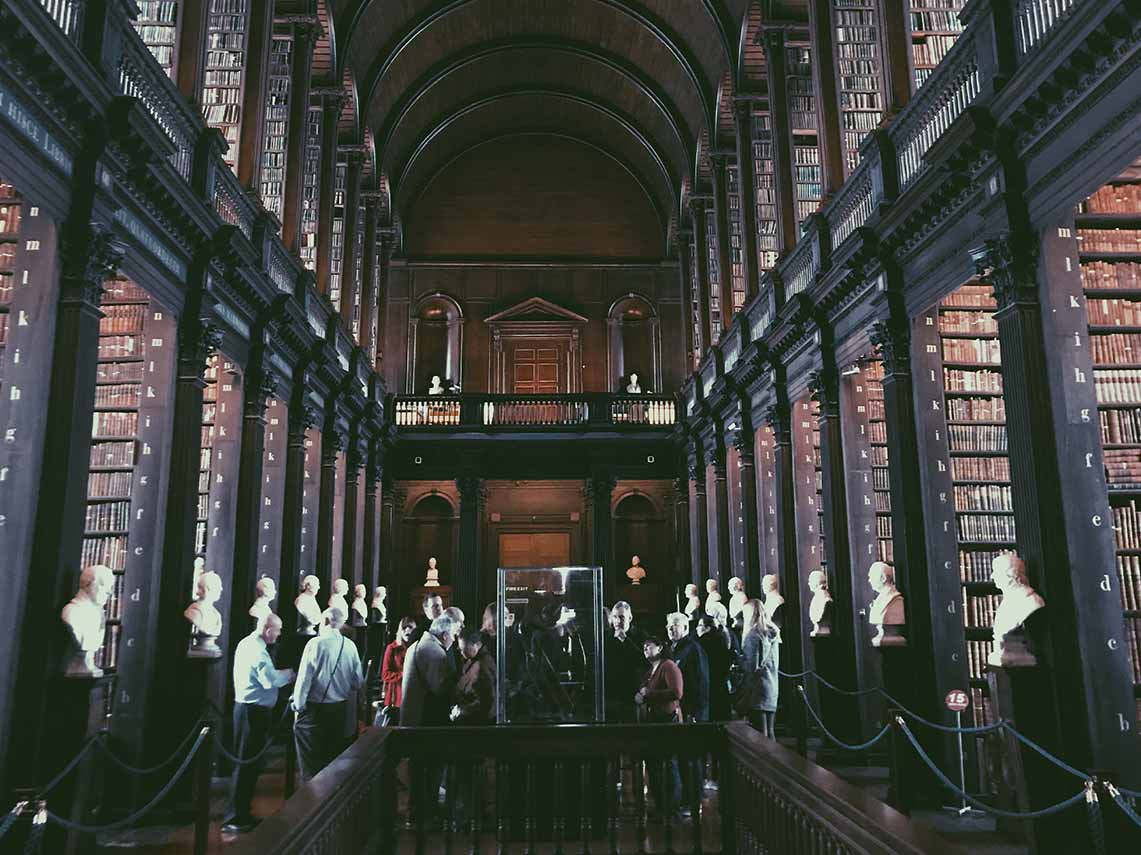 No trip to Ireland would be complete without visiting our capital city of Dublin – a city that combines centuries of fascinating history, a huge cast of influential and significant figures, and modern cafe culture, architecture, and fine dining options.
Your chauffeur will provide you with oral history and a guide to as many of the famous sights of Dublin as you desire. We would recommend that you should visit:
O'Connell Street and the General Post Office (GPO), where the 1916 rebellion which would lead to Irish independence started.
Trinity College, the oldest university in Ireland and where the hallowed 'Book of Kells' which dates back to 384AD is stored.
The Doors of Dublin – you'll never see two identical doors as you wander through Dublin City, and their unique and colorful charm gives the city an unmistakable character.
Christ Church Cathedral, originally a Viking Church, is almost 1,000 years old. It was founded circa 1028, is Dublin's oldest working structure, and is the spiritual heart of Dublin.
Enjoy the traditional bars and music in the city's Temple Bar District.
After a busy day of touring Dublin's delights, your driver-guide will take you back to your accommodation for the evening.
For more information on what's on offer in the Irish Capital, check out our Dublin Tours page here.
Day 8: Dublin – Kilkenny – Kilkenny Castle – Cork – Blarney Castle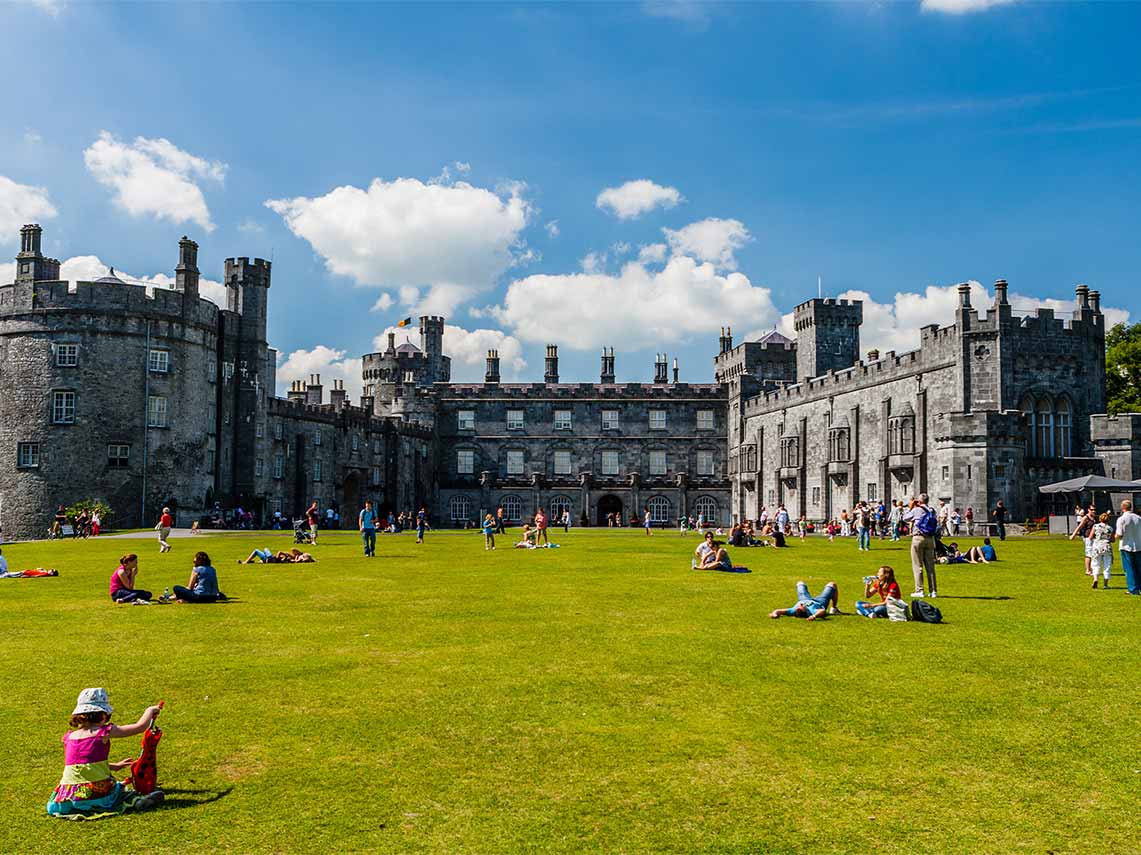 With so much more to discover, we set off from Dublin in the morning to the undisputed heart and soul of Viking and Medieval Ireland, Kilkenny. 
First up, we've got a visit to Kilkenny Castle. Constructed in 1195, the castle was featured in Oliver Cromwell's re-conquest of Ireland in 1650 and was besieged during the Irish Civil War in 1922.
Once you've finished touring around the castle and grounds, we'll visit St. Mary's Medieval Mile Museum – which really brings to life Kilkenny's history as a medieval city. Displays of Kilkenny's civic treasures and replicas of some of the High Crosses of Ossory illustrate the local Gaelic monastic heritage and the ancient city's historic role in Ireland.
In the afternoon your driver-guide will take you south to County Cork where you'll be staying for the evening after visiting Blarney Castle – an early 13th Century castle and home to the famous 'Blarney Stone'.
Legend has it that those brave enough to lean over the edge and kiss the stone will be granted the gift of eloquence and verbal dexterity. I'm sure you'll agree that would be a better souvenir of your trip than anything you could find in a gift shop!
After a busy day exploring medieval Ireland we'll retire to your accommodation in Cork for the evening.
Day 9: Ring of Kerry – Sheepdog Demonstration – Dingle Bay – Killarney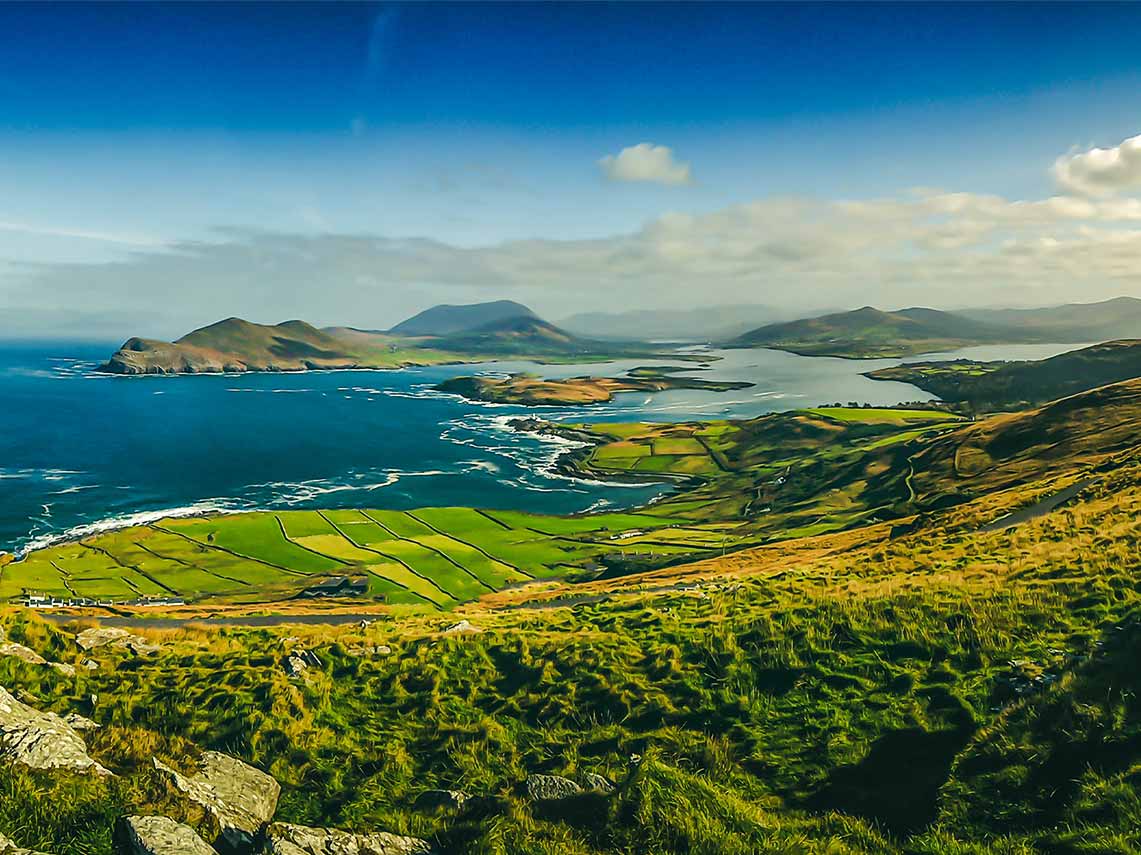 The incredible scenery of the Coast of Kerry beckons you today as you travel along the road better known as the Ring of Kerry: a circular route that forms part of The Wild Atlantic Way.
First-stop is Killorglin, en route you might opt to stop by Brendan Farris – an Irish border collie trainer who will provide your group with an incredible sheepdog demonstration which is quite the experience!
Or if you'd prefer to do a bit of exercise yourself, your guide will take you on one of the many excellent hiking trails throughout the route.
Next, we take a quick stop at Dingle Bay, before taking the beautiful mountain pass up through Molls Gap. Here you will see the staggering views of Skellig Island – a key location for the Star Wars films – before your driver-guide takes you to your accommodation in Killarney for a well-earned rest.
Recommend them highly! These folks are very professional, and flexible in creating a custom tours, and handling last-minute changes. The guides were knowledgeable and friendly. Recommend them highly!
Day 10: Cliffs of Moher – Village of Doolin – Shannon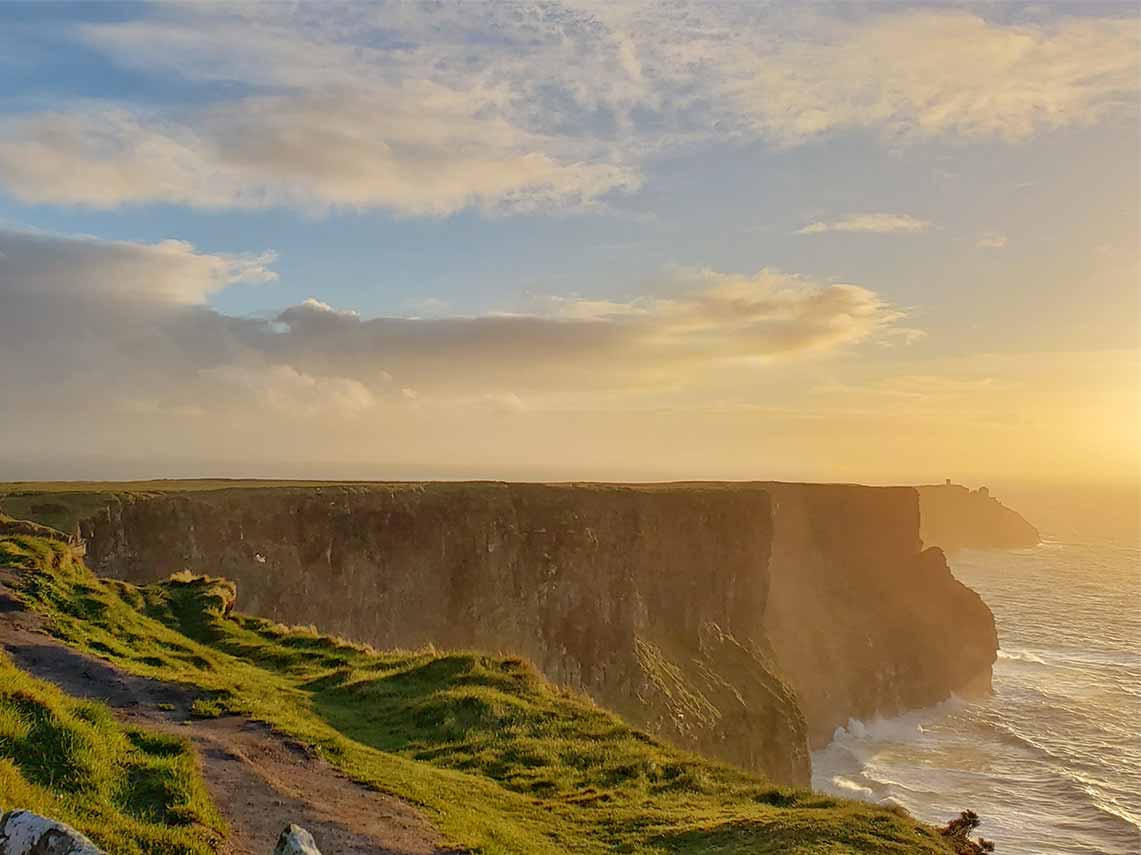 Today you will make your way from Killarney up the west coast of Ireland, up through Listowel, and across the Shannon Estuary at Tarbut before arriving at the Cliffs of Moher.
Neither words nor pictures can fully capture the power and grace of the cliffs.
Rising over 200 meters high and spanning 8 kilometers along the wild Atlantic coast, the cliffs provide stunning views of the Aran Islands with the ocean crashing below. Your driver-guide will be able to inform you of all the folklore and myths that surround this incredible testament to the beauty of nature.
It is not just the setting of the Cliffs of Moher that will blow you away, fans of wildlife and bird watching will want to spend hours here appreciating the puffins, razorbills, kittiwakes, and occasional peregrine falcons that call the area home.
Take a break and enjoy a spot of lunch in the picturesque coastal village of Doolin. Tradition is the name of the game here, so be advised that you will not find any chain restaurants or modern coffee shops in the tiny little village, but your guide will direct you to the best places to enjoy a traditional Irish meal.
All good things must, unfortunately, come to an end as your driver-guide will leave you at your hotel in Shannon before you take your flight the following day.
Transfer available to the airport if required.
Request Your Custom Tour Itinerary Here
Our experts understand that no two clients are the same, so whether you want to personalize one of our private tours, or have us design an itinerary from scratch for you, fill out our inquiry form below to get started:
Rated 5-Star on Google & TripAdvisor
Use this company! An excellent experience! As a seasoned traveler and very detailed oriented customer, working with both Irene's was a joy and in the end produced a wonderful experience. Their personal touch on every detail and their communication was extraordinary.
Recommend them highly! These folks are very professional, and flexible in creating a custom tours, and handling last-minute changes. The guides were knowledgeable and friendly. Recommend them highly!
A Flawless Trip! Travel by Luxe assisted us in planning an excellent trip to Genoa and the Italian Riviera including Cinque Terre. The drivers they provided were courteous, efficient, safe and their vehicles were immaculate and comfortable.
Hands down the best travel company! Every detail was taken care of! All questions were answered. Every guide was knowledgeable, flexible, and kind! In a situation when travel can be stressful, every individual was fantastic.
A Great Experience! We just returned from a trip that was organized through Travel by Luxe. It was one of the best trips we ever took and it was organized brilliantly. A special thank you to Francesca, a great experience and highly recommend.
Amazing Italy Awesome trip! Graziano arranged everything perfectly and was very patient with our planning process and changes. Private tours and transfer worth the extra $$$. Will use again.
Qualified Guides.
Certified Excellence.
Other Example UK Tour Itineraries You Might Like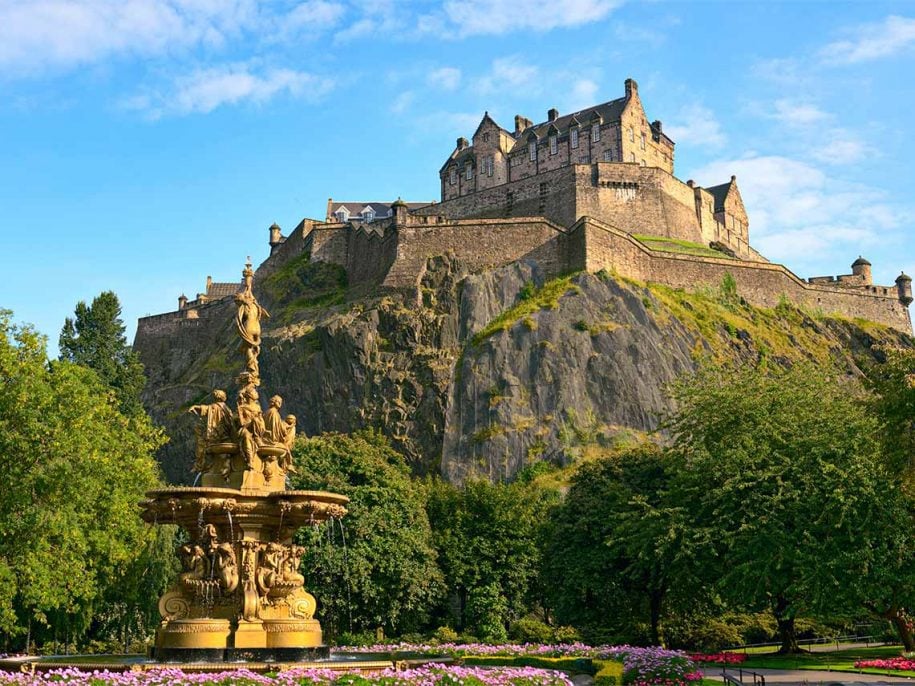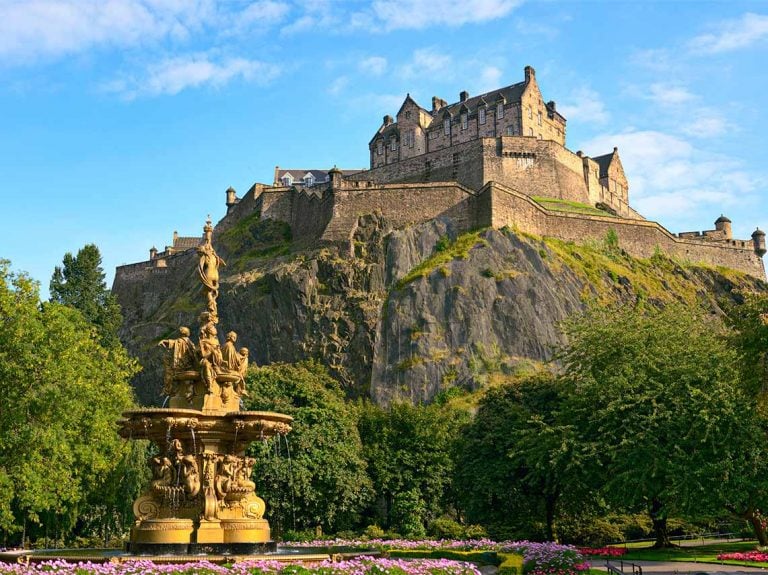 Explore Scotland & Ireland your way with local private driver-guides to chauffeur you from destination to destination. Fully customizable tour itinerary.
Most popular tour destinations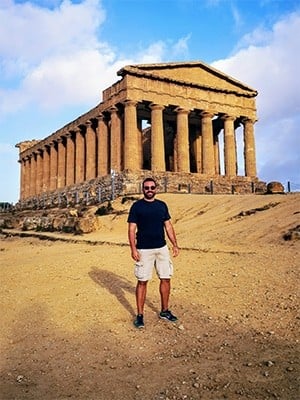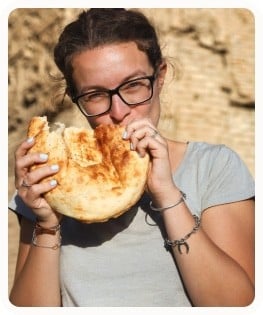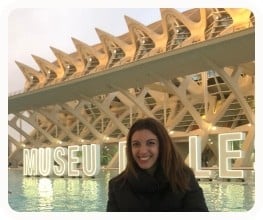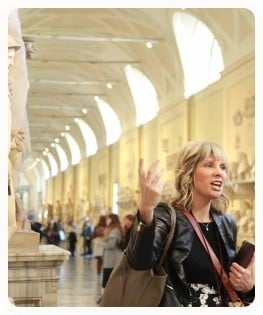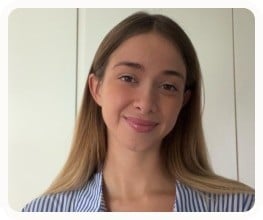 Our ethos is centered around creating the ultimate vacation experience for our guests, that is why we have specialist tour planners across Europe ready to provide you with the low down on the best times to arrive, local specialties and events, and armed with a Rolodex of the finest English speaking private guides in the country.
Get in touch with your local expert today by completing the contact form below and they will get started tailoring any of our tour experiences exactly to your tastes and requirements… all on a completely complimentary basis!