10 Day Private Whiskey Tour of Scotland & Ireland
Customize Your Whiskey Tour of Scotland & Ireland To Suit You
If you're going to spend 10 days exploring your love of whiskey, is there truly anywhere better than the two countries that love the spirit the most? What about the regions with the highest concentrate of whiskey producers, or perhaps even a pilgrimage to the place where your favorite brands were born?
Well, you're in luck… This incredible tour will give you more than a taste of the wonderful world of whiskey in Scotland & Ireland!
Before we get into this magical 10-day tour itinerary, please remember that all our itineraries on the website are a guide and can be completely customized to suit you and your group – just fill in the form at the bottom of the page to get your own custom itinerary and quote today!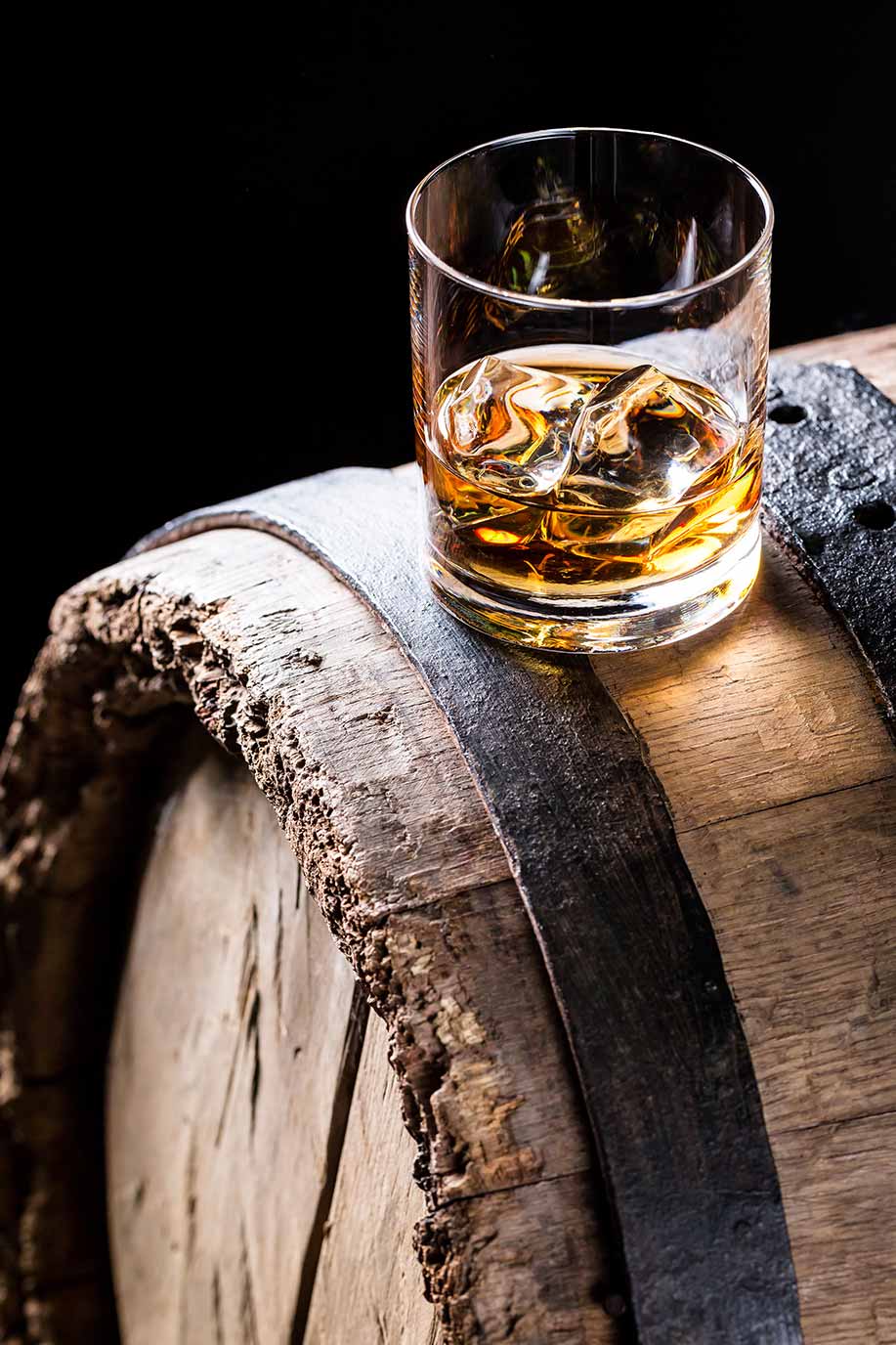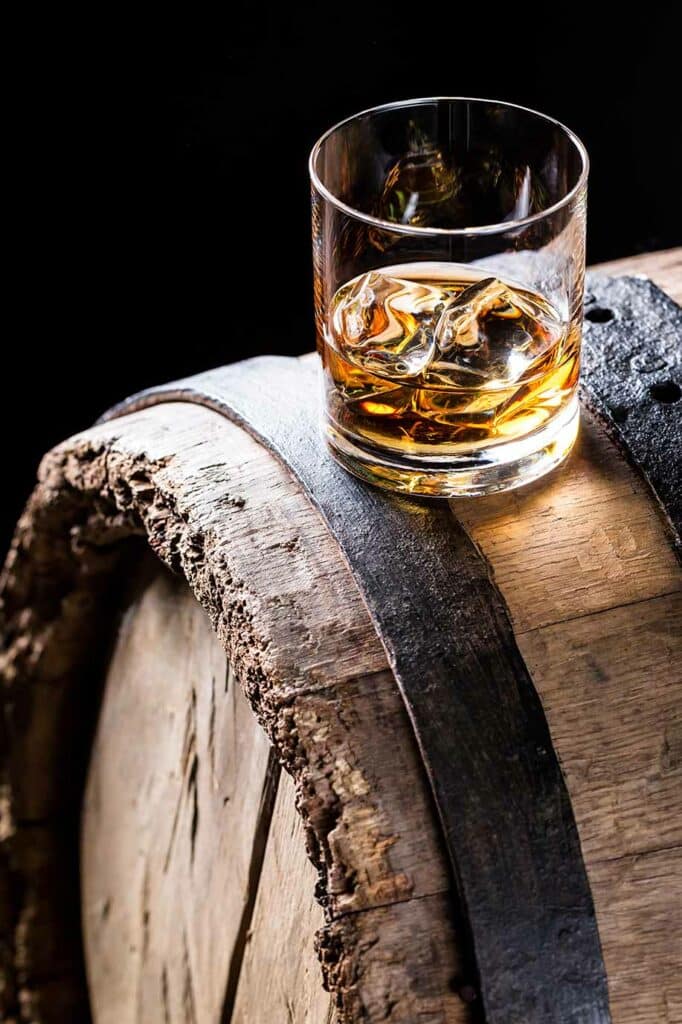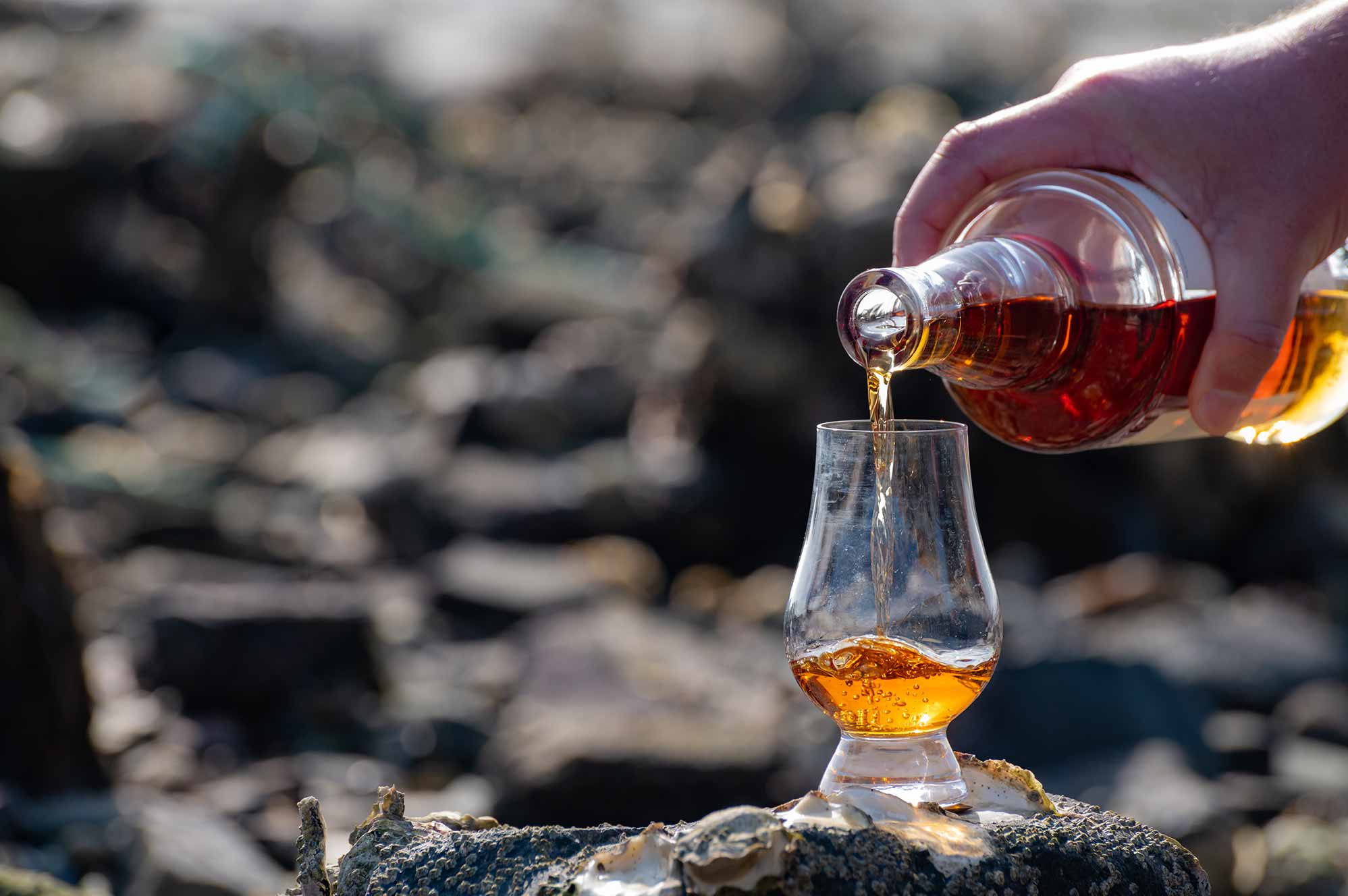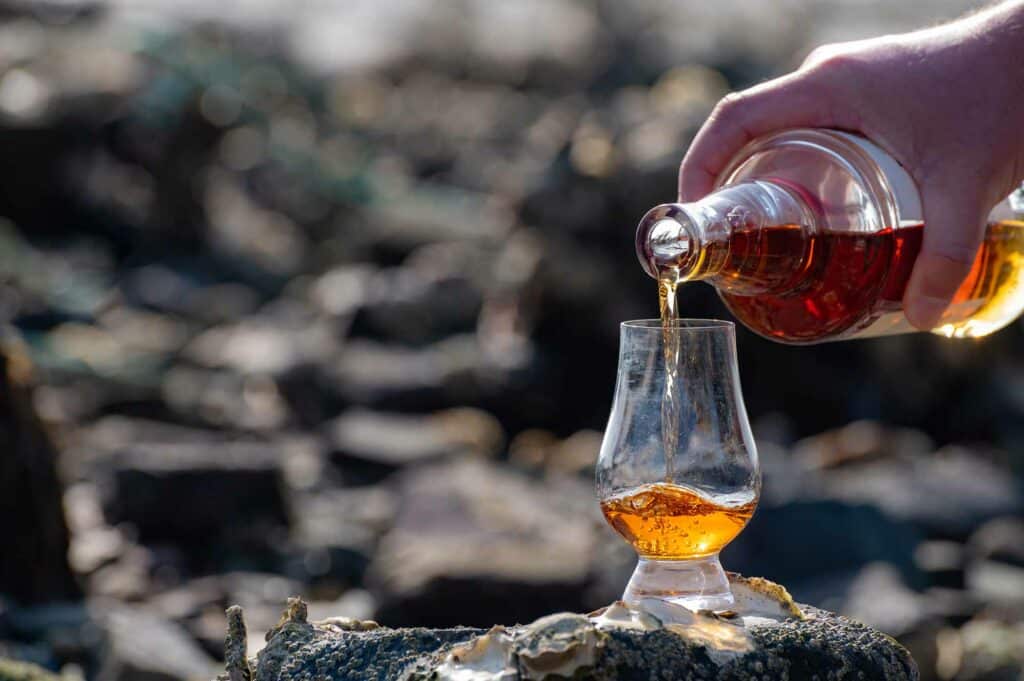 Day 1: Arrival in Dublin – City Tour – Teeling Distillery Tour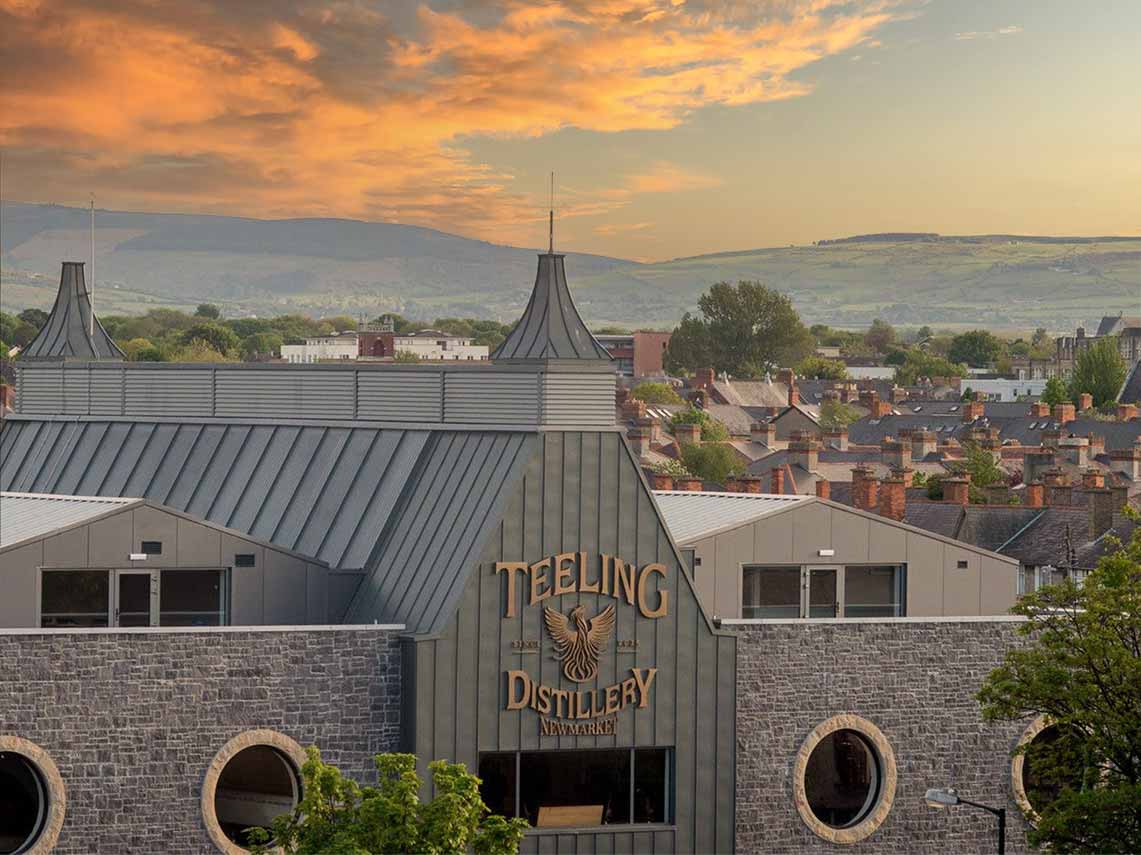 Your 10-day whiskey tour of Scotland and Ireland will start as your private driver-guide greets you at Dublin airport and welcomes you to Ireland! 
You'll be escorted to your luxury tour vehicle and driven through the city center for a quick tour where you will see the Garden of Remembrance, The Custom House, and Dublin Castle (dating back to the 13th Century), as well as the colorful Doors of Dublin – a very significant part of Dublin''s rich history.
Now that we're slightly better acquainted with the city, we'll head to our first whiskey activity of your vacation with a visit, tasting, and tour at The Teeling Distillery.
Although The Teeling Family has been distilling whiskey since 1782, The Teeling Distillery and Visitors Center only opened in Dublin in 2015, hoping to immerse locals and tourists alike in the family's incredible history and the story of its Irish whiskey.
Once you've finished your tour and tasting at The Teeling Distillery, we'll head back to your accommodation for the night in the center of Dublin – perfectly located for you to make the most of the city's famously vibrant bars and restaurants.
Day 2: Walsh Distillery at Royal Oak – Tullamore Distillery – Sean's Bar – Galway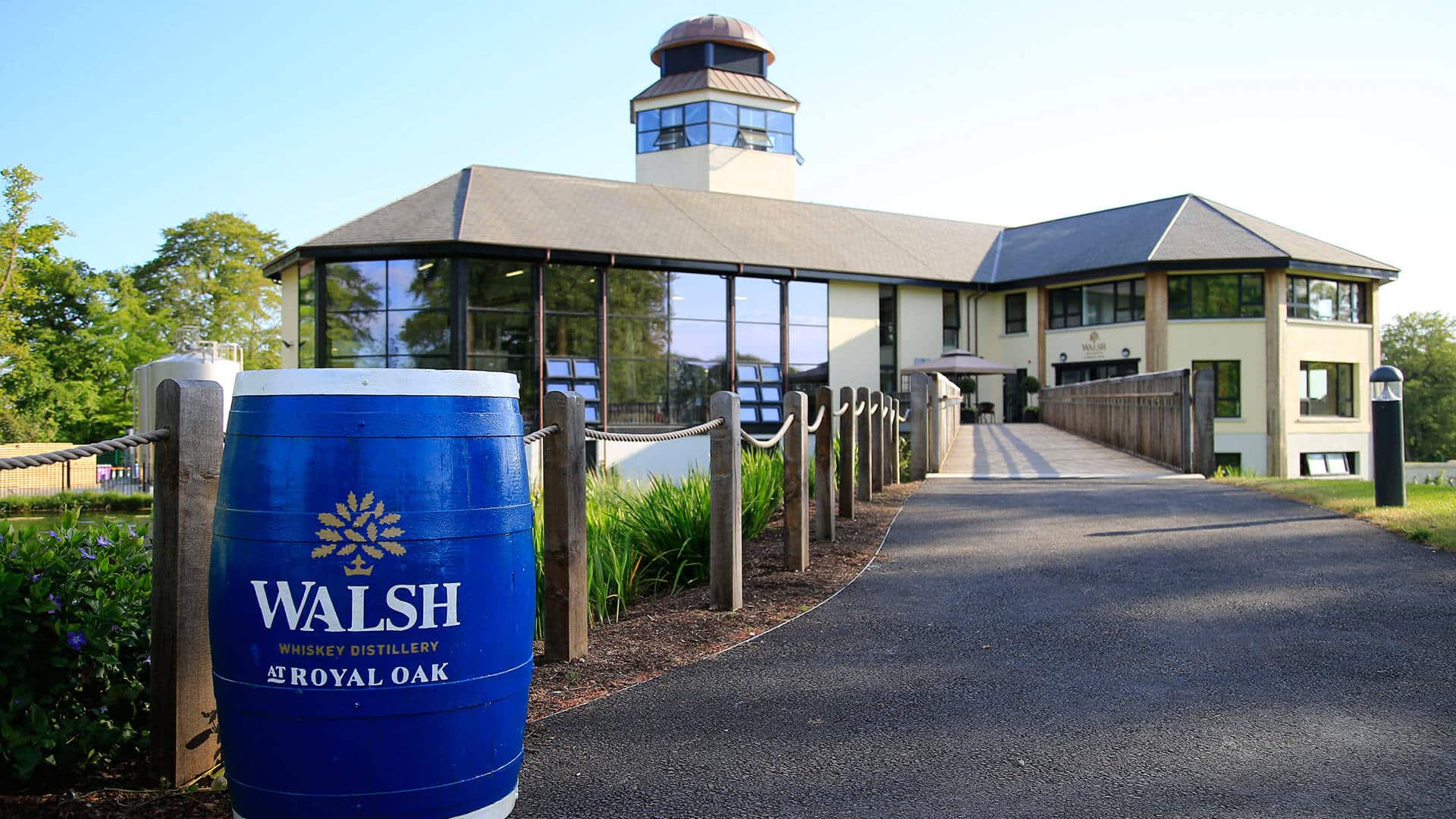 On the second day of your whiskey tour, we'll head down from Dublin to visit the Walsh Distillery at Royal Oak. Another incredible tour experience, The Walsh Distillery at Royal Oak opened in 2016, although Walsh has been distilling since 1999. 
Once your group is finished with their immersive tour and tasting experience, we'll head north to the world-famous Tullamore Dew Distillery. Tullamore Dew has been active since 1829 and offers fans from around the world the chance to get up-close and personal with one of the world's most famous distillers.
Finally, once you've explored the distillery and enjoyed its comprehensive tasting menu, we'll head further north still to Sean's Bar (the oldest bar in Ireland), before finishing your day with a drive to your accommodation in Galway.
Galway itself is a wonderfully charismatic and picturesque harbor town that, despite being small in size, is bustling with character and is known as the cultural heart of Ireland for good reason.
My husband and I took tours with Doug, one to the Cliffs of Dover and Leeds Castle and another to Stonehenge and Bath. Doug was great driver and tour guide, very knowledgeable about our destinations, he had anything you needed in his car including internet service. I would use this company again for future European tours.
Day 3: Cliffs of Moher – Jameson Distillery Midleton – Cork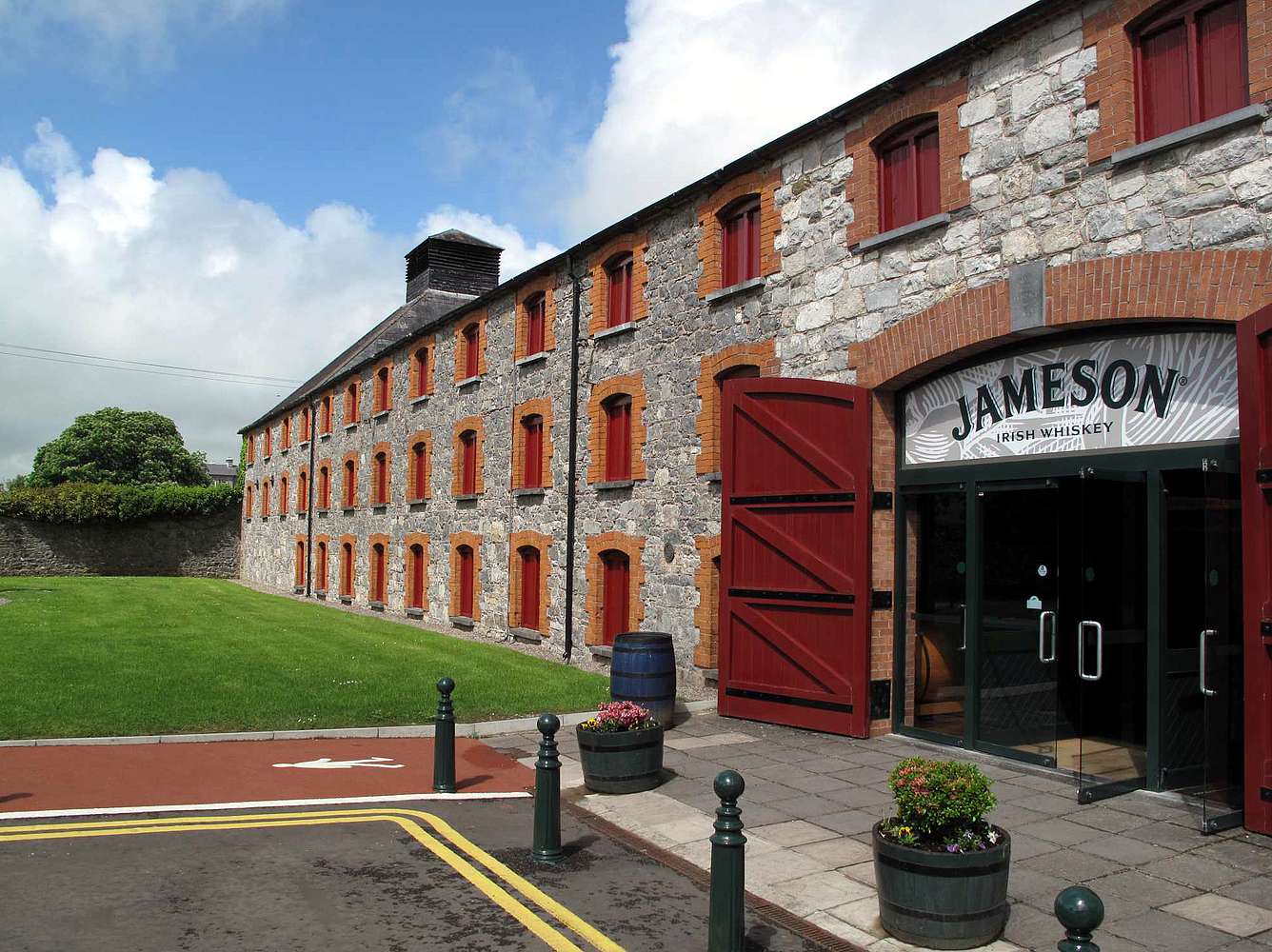 After breakfast at your accommodation and a short stroll around Galway City in the morning, your driver-guide will take you down the coast to visit the famous Cliffs of Moher.
The cliffs stretch for five miles around the Atlantic coast, reaching an incredible 668 feet at their peak, and are without doubt one of the most impressive coastlines that Ireland has to offer.
We'll take a short hike to see the cliffs in all their glory before driving to the Jameson Distillery Midleton Museum. Based on the site of the Old Midleton Distillery, this incredible tasting tour and experience is one of our favorites as it gives visitors a taste of the distillery's rich past. 
Finally, your driver-guide will take you to your accommodation in Cork, with enough time left in the evening to take advantage of some of the excellent dining options and vibrant bars in the city.
Day 4: Cork – Rock of Cashel – Kilkenny Castle – Glendalough Distillery – Dublin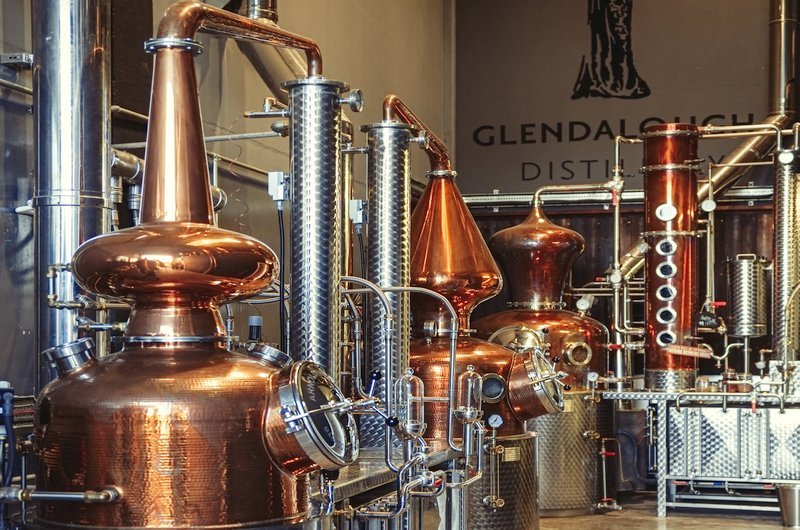 On Day Four of your whiskey tour, we'll head north towards Dublin, stopping en route at the famous Rock of Cashel. 
The Rock of Cashel is a historically significant group of medieval fortifications situated on prominent limestone outcrops in Golden Vale and is famous for being the place where St Patrick chose to make the head of his church in Ireland. 
Once you've finished exploring the beautifully dramatic church, you might want to squeeze in a quick visit to Kilkenny Castle before we drive to Glendalough Distillery for a tour and tasting; Glendalough is one of Ireland's newest whiskey producers but is certainly making a splash in the Irish whiskey market with their impressive blends and interactive tour and tasting experience. 
From Glendalough, we'll head back to your accommodation in the center of Dublin – if you'd like to have one last Irish whiskey experience, we can organize a private tasting at one of the city's wonderful whiskey bars.
Amazing Travel Agency! Marta helped us plan our whole trip and it was absolutely amazing! We did private walking tours, private winery tours, and everything was great! Marta made the itinerary with our interests in mind and was extremely helpful! The tour guides (Viola and Jessica to name two of the many) were outstanding! Marta also helped plan the perfect engagement! We highly recommend this company and will be using them again!
Day 5: Flight To Edinburgh – Edinburgh Tour – Glenkinchie Distillery Tour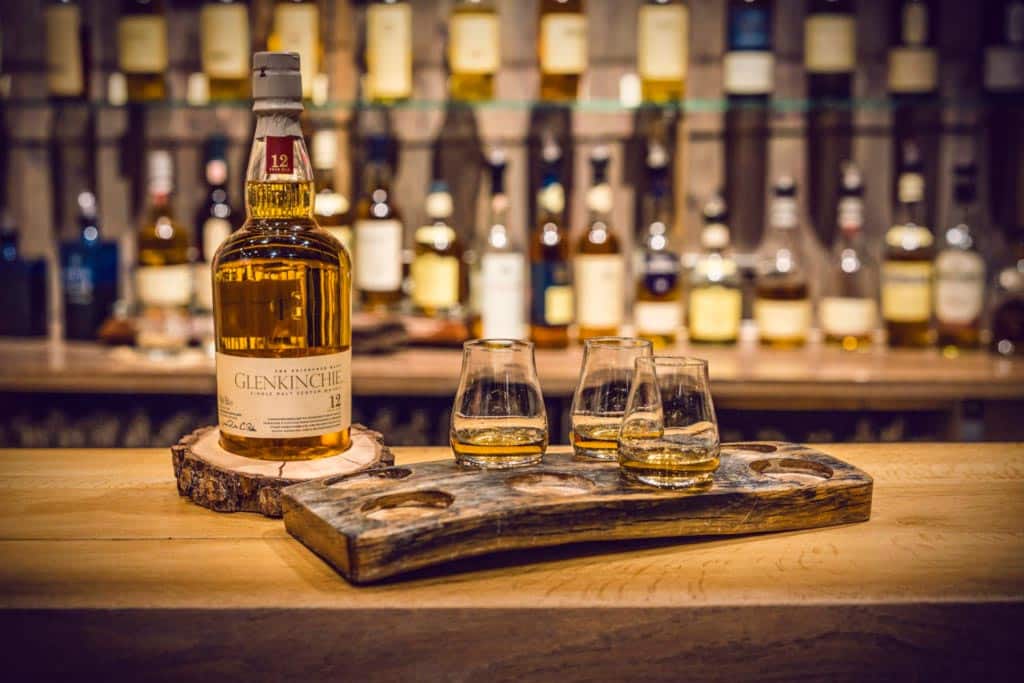 As we reach the midpoint of your whiskey tour, we drop the 'e' and head over to Scotland, the home of Scotch whisky! Your local Scottish driver-guide will be waiting to collect you off your short flight from Dublin to Edinburgh and welcome you to the greatest wee country in the world! 
From the airport, your driver-guide will take you on a short tour of Edinburgh city center, where you will see the famous Edinburgh Castle, Holyrood Palace, and drive the Royal Mile before we drive over to Pencaitland to visit Glenkinchie Distillery for a tour and tasting experience. 
Glenkinchie's tour is one of the country's oldest tour/tasting experiences after it converted two factory floors of the distillery into a museum of malt whisky – combining incredible flavor with more than a hint of historical significance!
Once your group has finished the Glenkinchie museum tour, your driver-guide will take you back into Edinburgh and drop you off at your hotel in the city center where you can explore the city's fine array of bars and restaurants ahead of your first full day in Scotland.
Day 6: Edinburgh – Blair Atholl Distillery – Edradour Distillery – Pitlochry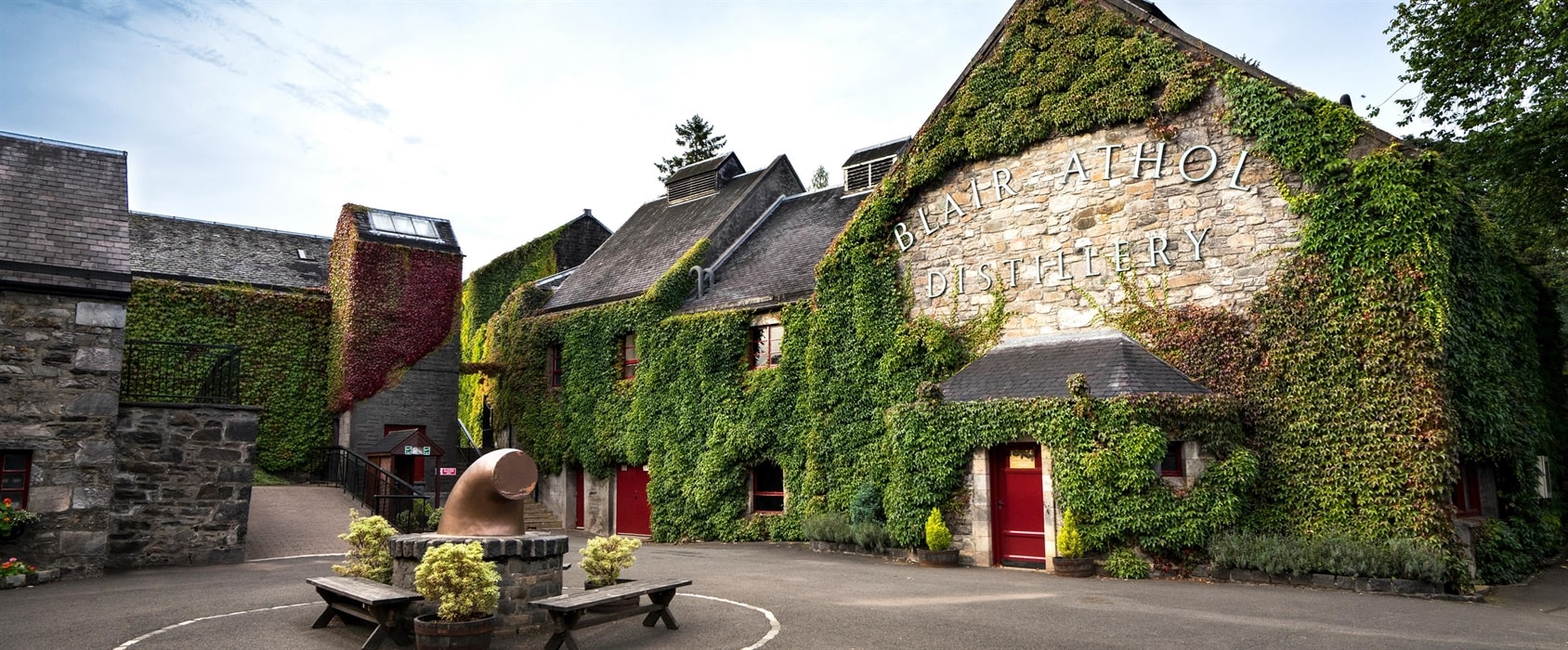 On Day Six of our whisky tour of Scotland and Ireland, we'll head north from Edinburgh to Blair Athol Distillery. 
Blair Athol Distillery distills its namesake 'Blair Athol Single Malt' as well as Bell's Whisky and has been open since 1798. Once you've finished your tour (as well as your tutored tasting of 5 Single Malts), we'll make the short trip to our second distillery of the day: Edradour. 
The smallest traditional distillery in Scotland, Edradour is an incredible experience to include in any whisky tour – giving visitors an insight into traditional and smaller distillery which are vitally significant to the whisky market and whisky culture in Scotland. 
Finally, once you're finished your tour and have taken a small walk around the picturesque distillery compound, we'll take the short drive to your accommodation in Pitlochry.
We just returned from a trip that was organized through Travel by Luxe. It was one of the best trips we ever took and it was organized brilliantly. A special thank you to Francesca, she not only helped plan the itinerary, but was available throughout the trip to assist and make any tweaks and adjustments. Overall, a great experience and highly recommend.
Day 7: Dalwhinnie Distillery – Ben Nevis Distillery – Gondola Trip – Fort William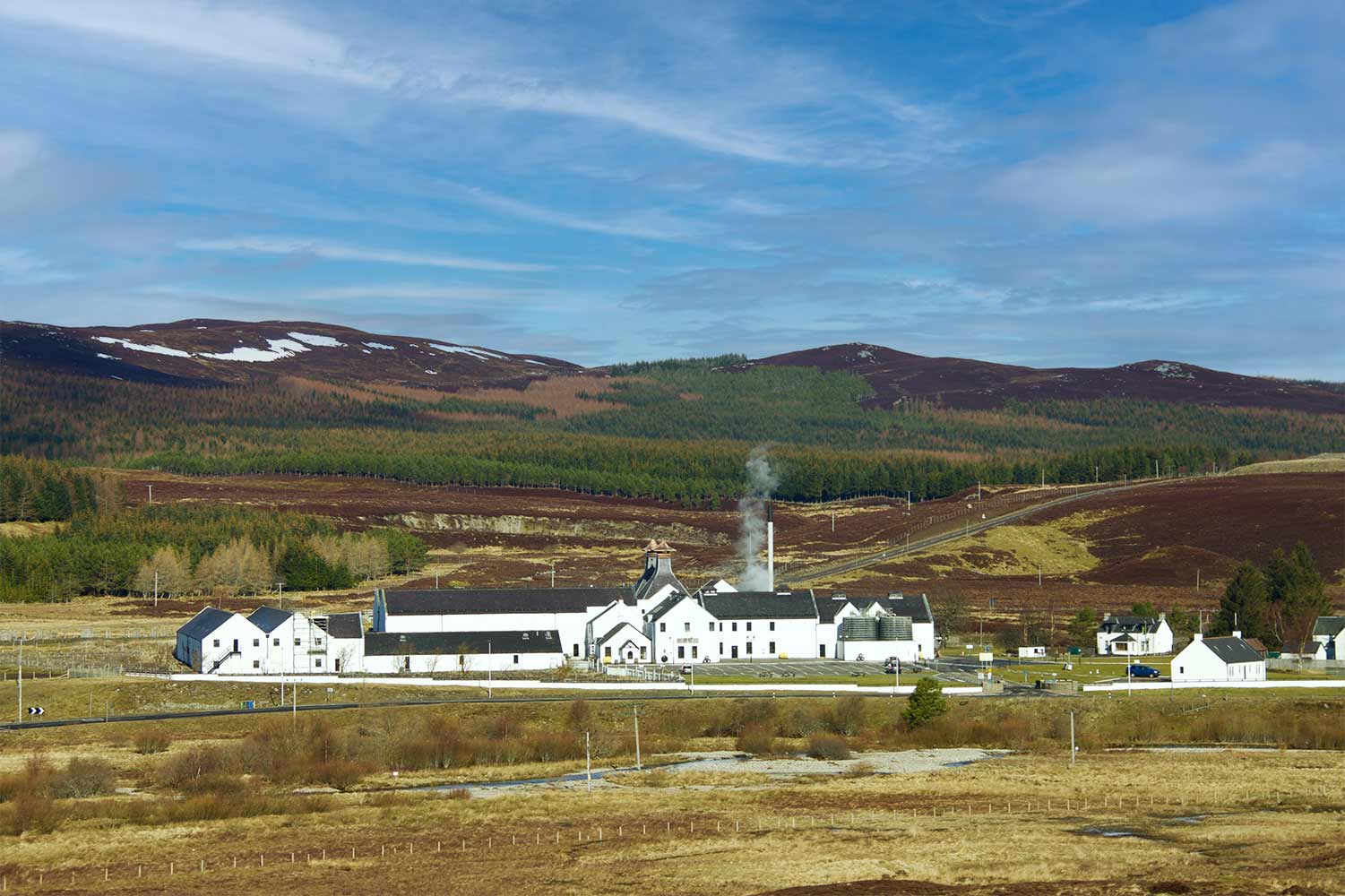 Today we'll leave the beautiful town of Pitlochry and head for a morning visit to Dalwhinnie Distillery – where you'll have the chance to taste the distillery's unique blends and accompanying artisanal chocolates. 
Next, we'll head across to the stunning West Coast of Scotland and to the Nevis Range. Here we'll find the Ben Nevis Distillery (one of the oldest licensed distillery in Scotland) and take part in their tasting and tour before going on a short gondola trip up Ben Nevis for some incredible views over one of our favorite regions of our wee country! 
Finally, we'll drive to the vibrant town of Fort William where you'll find your accommodation for Day 7.
Day 8: Glenfinnan Viaduct – Isle of Skye – Talisker Distillery – Torabhaig Distillery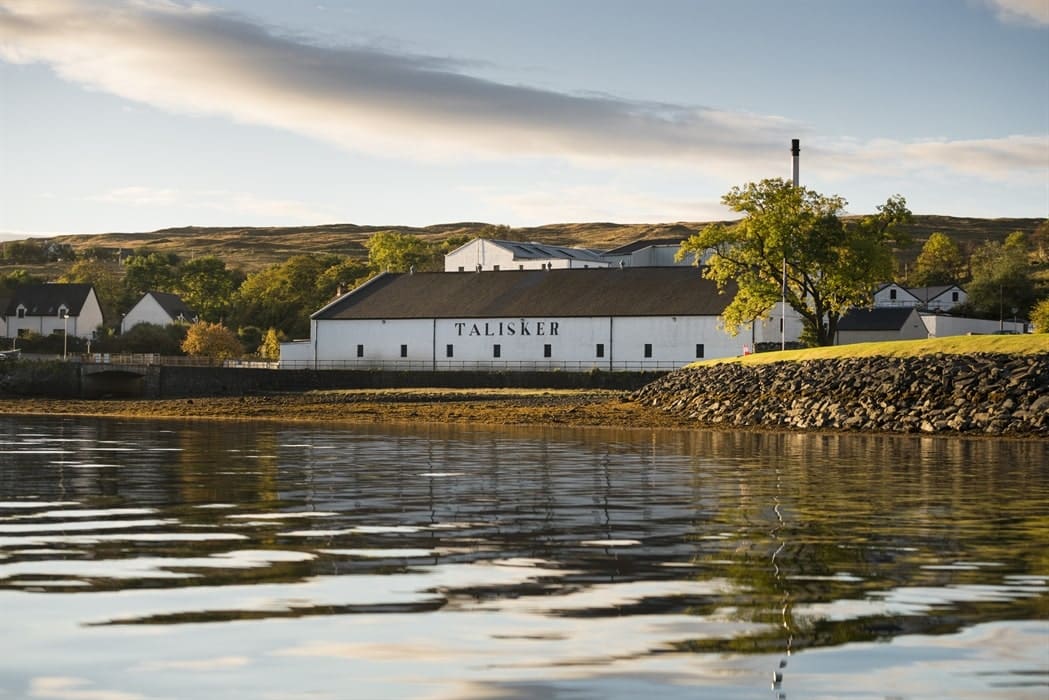 Today we finally venture out toward the famous Isle of Skye. En route from Fort William, we'll head past the Glenfinnan Viaduct (made famous for its appearance in numerous Harry Potter movies) before arriving at the beautiful fishing port of Mallaig to get a ferry over to the Isle of Skye. 
Once we reach Skye we'll take a short scenic drive to Talisker Distillery to take part in their tour and tasting before continuing our Skye whisky adventure with a visit to Torabhaig Distillery. 
Finally, after a busy day of sightseeing and whisky-drinking, we'll head to your accommodation on Skye for the night.
Day 9: Eilean Donan Castle – Speyside Distillery – Glenlivet – Cairngorms National Park – Aviemore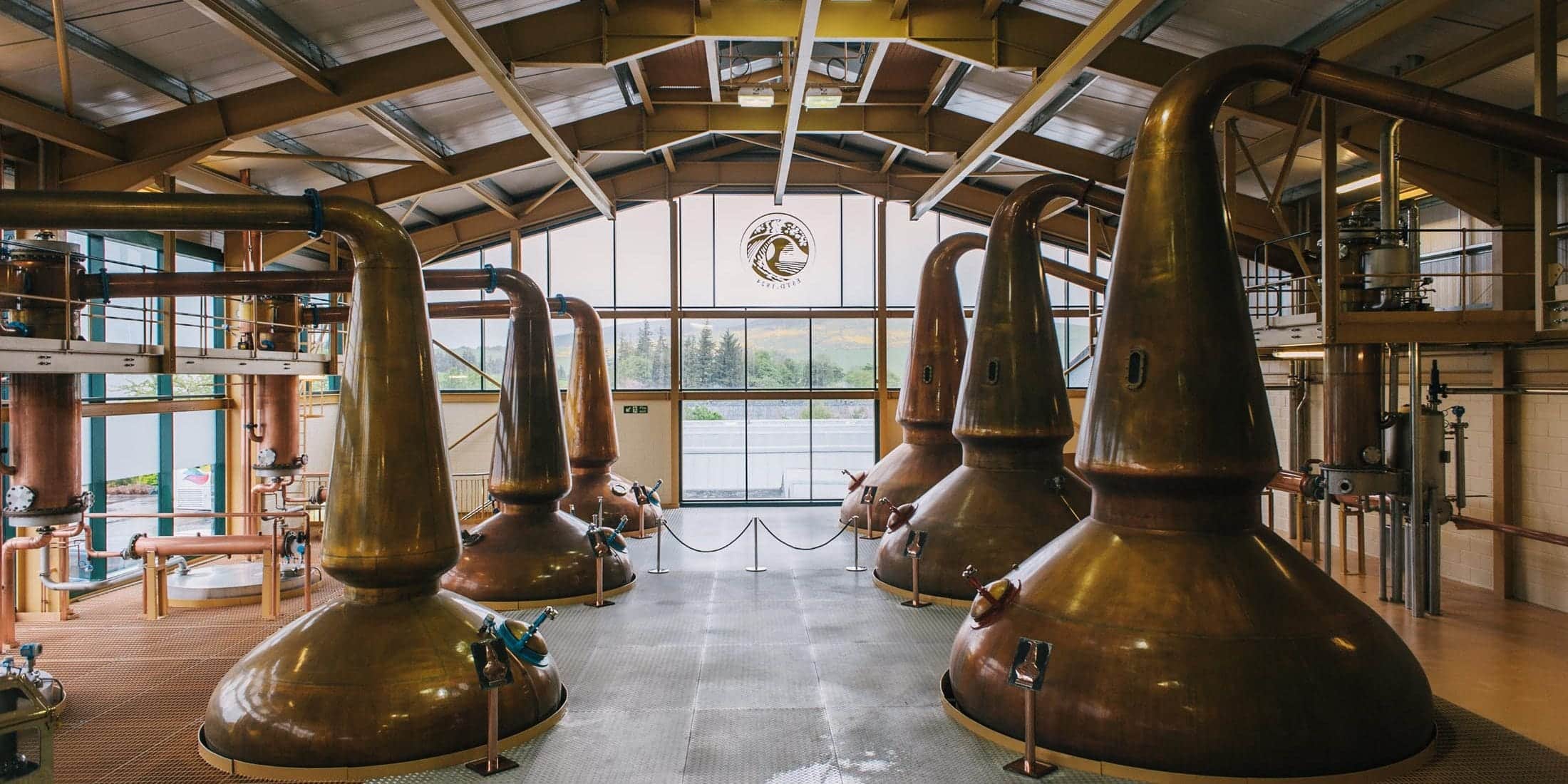 Today we'll start early by leaving the Isle of Skye via the Skye Bridge and stop at Eilean Donan Castle – the most photographed castle in Scotland (and for good reason!). 
Our first distillery of the day will be Speyside, which we will reach at the end of a scenic drive across the Highlands. Speyside Distillery is situated in the magnificent Cairngorm Mountains – and is known as Scotland's prettiest distillery! 
Next on our distillery list is Glenlivet; founded back in 1824, Glenlivet Distillery is one of Scotland's favorite whisky producers and its incredible tour and tasting experience is truly a must-do for any Scotch fan! 
Finally, we'll drive through the Cairngorms to the town of Aviemore and to your accommodation for your final night in Scotland.
Recommend them highly! These folks are very professional, and flexible in creating a custom tours, and handling last-minute changes. The guides were knowledgeable and friendly. Recommend them highly!
Day 10: Lindores Abbey Distillery – St Andrews – Edinburgh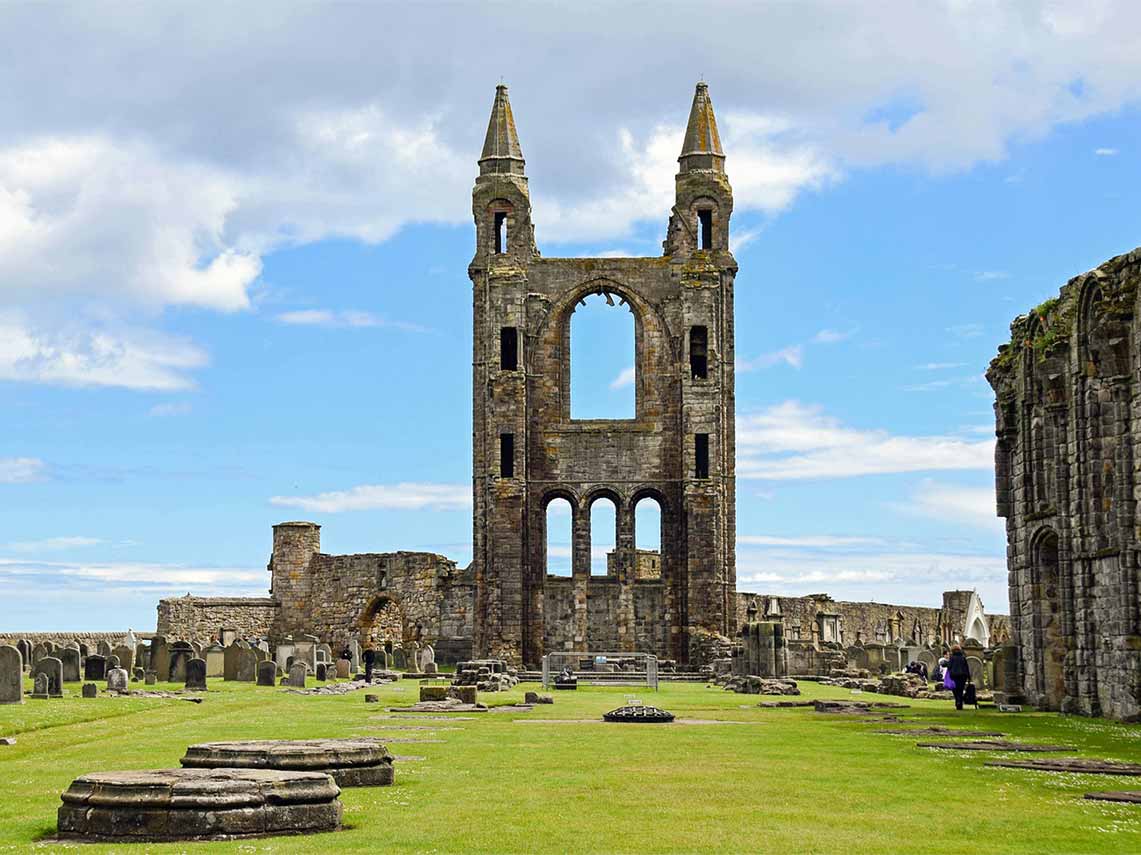 On the last day of your tour, we climb off of the Highlands and drive back down towards Edinburgh.
En route though, we'll have one last whisky stop for you to remember us by at Lindores Abbey Distillery. With the distillery's links to the earliest written reference to Scotch Whisky, Lindores Abbey is a pilgrimage for any whisky lover and a fantastic final stop on our tour. 
Once you're finished exploring the distillery and tasting its beautiful blends, your driver-guide will drive towards the coast to visit St Andrews, 'The Home of Golf', to visit the Old Course and the Cathedral before we finally heading back to the capital Edinburgh where your tour will come to a close… until next time that is!
Request Your Custom Tour Itinerary Here
Our experts understand that no two clients are the same, so whether you want to personalize one of our private tours, or have us design an itinerary from scratch for you, fill out our inquiry form below to get started:
Rated 5-Star on Google & TripAdvisor
Use this company! An excellent experience! As a seasoned traveler and very detailed oriented customer, working with both Irene's was a joy and in the end produced a wonderful experience. Their personal touch on every detail and their communication was extraordinary.
Recommend them highly! These folks are very professional, and flexible in creating a custom tours, and handling last-minute changes. The guides were knowledgeable and friendly. Recommend them highly!
A Flawless Trip! Travel by Luxe assisted us in planning an excellent trip to Genoa and the Italian Riviera including Cinque Terre. The drivers they provided were courteous, efficient, safe and their vehicles were immaculate and comfortable.
Hands down the best travel company! Every detail was taken care of! All questions were answered. Every guide was knowledgeable, flexible, and kind! In a situation when travel can be stressful, every individual was fantastic.
A Great Experience! We just returned from a trip that was organized through Travel by Luxe. It was one of the best trips we ever took and it was organized brilliantly. A special thank you to Francesca, a great experience and highly recommend.
Amazing Italy Awesome trip! Graziano arranged everything perfectly and was very patient with our planning process and changes. Private tours and transfer worth the extra $$$. Will use again.
Qualified Guides.
Certified Excellence.
Other Example UK Tour Itineraries You Might Like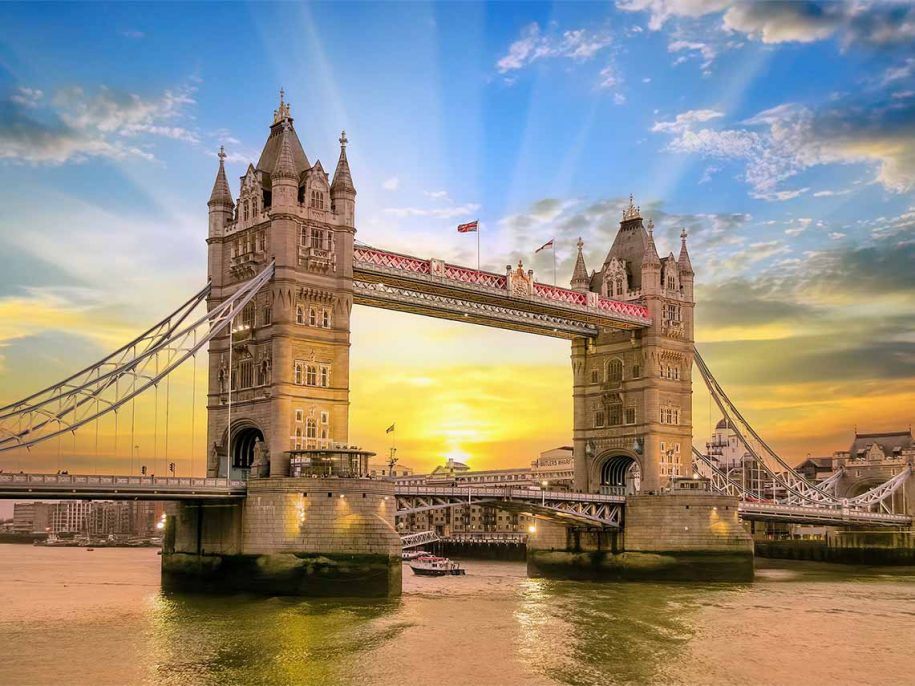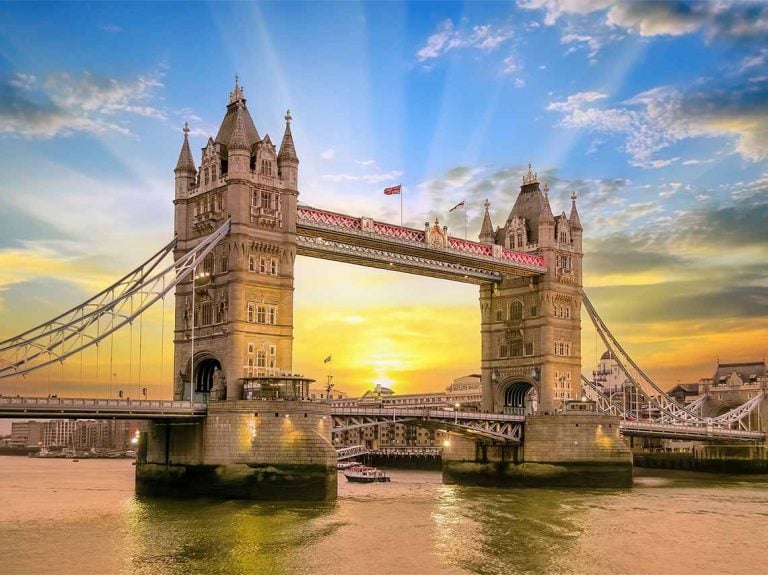 Spend nearly a month touring the UK's premier sites with a private driver-guide & personal luxury vehicle to transport you safely along the route.
Most popular tour destinations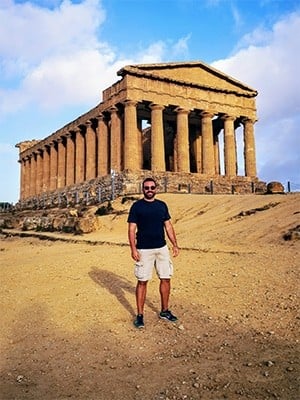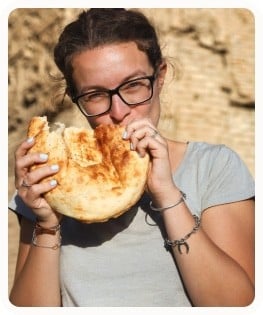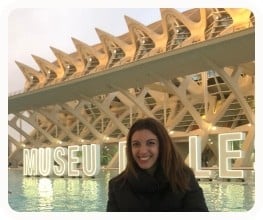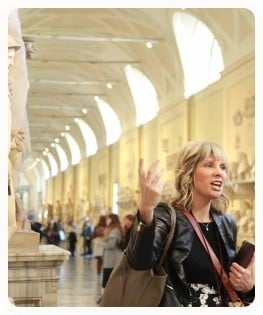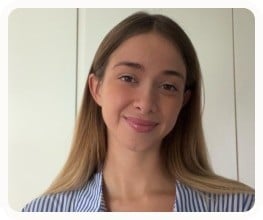 Our ethos is centered around creating the ultimate vacation experience for our guests, that is why we have specialist tour planners across Europe ready to provide you with the low down on the best times to arrive, local specialties and events, and armed with a Rolodex of the finest English speaking private guides in the country.
Get in touch with your local expert today by completing the contact form below and they will get started tailoring any of our tour experiences exactly to your tastes and requirements… all on a completely complimentary basis!