7 Day Driver-Guided Tour of Scotland
Customize Your Tour of Scotland To Suit You
Day 1: Glasgow Airport – Loch Lomond – Inveraray Castle – Glencoe – Fort William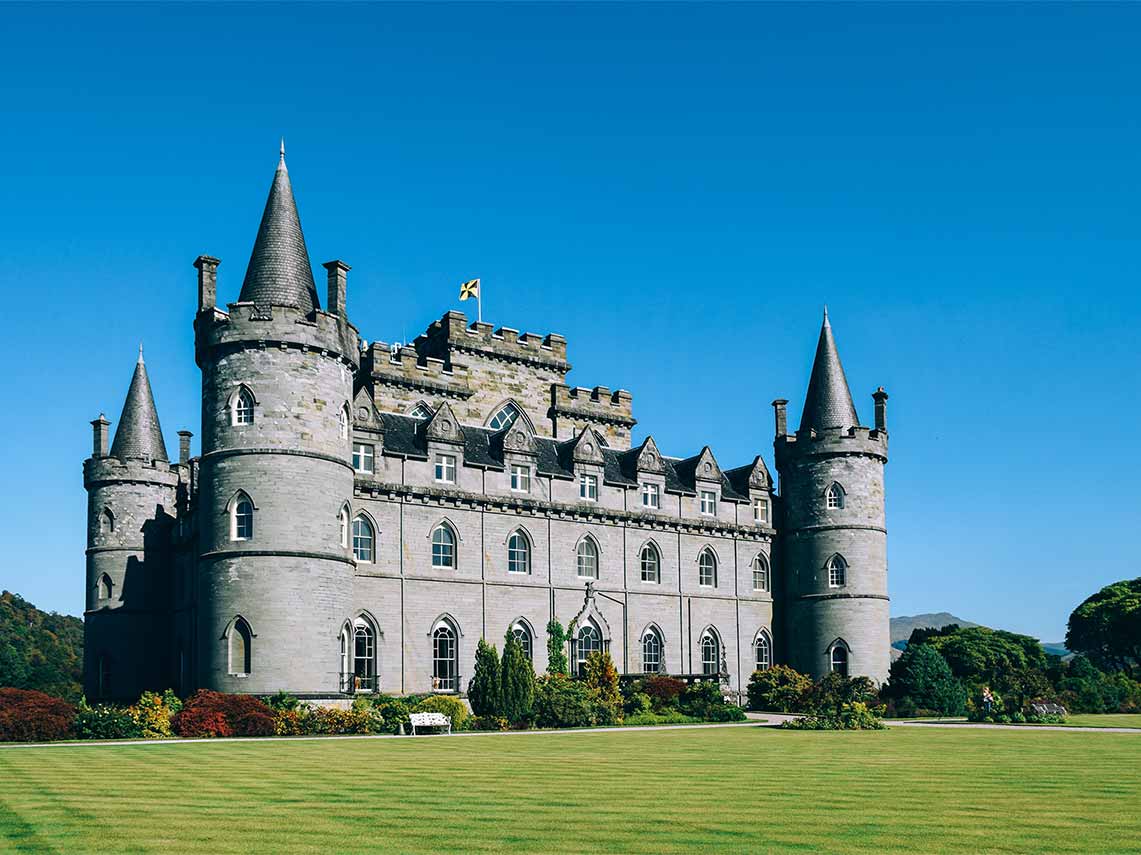 This private tour of Scotland begins as your driver-guide collects your group from the airport and whisks you off for a week of exploring the greatest wee country in the world!
We'll start with a short drive through Glasgow City Center – Scotland's largest city and cultural hub – stopping at Glasgow Cathedral (as well as some other city location if you wish) to take a quick guided tour before heading north and into the famed Scottish countryside.
Our first destination outside of Glasgow will be the beautiful town of Luss which sits on the edge of the bonnie banks of Loch Lomond. We'll take a short tour of the town including the local parish church which is a surprising home to an ancient Viking burial stone; the current church dates back to the late 1800s, but the site has hosted a structure there since 514AD so there is plenty of history to immerse yourself in! 
Once you're finished exploring Luss, we'll drive over the 'Rest and be Thankful' road (your driver will explain precisely why it is named as so) before we arrive at Loch Fyne where you'll get the chance to sample some world-famous fresh oysters straight from the crystal clear waters of the local loch! 
We'll spend the rest of our afternoon exploring the nearby Inveraray Castle which is Home of the Duke of Argyle (and was recently used as one of the filming locations for the hit TV series Downton Abbey), before continuing our journey north to Fort William where you'll be spending the first night of your tour in Scotland.
We'll take the picturesque coastal route to Fort William, passing through perhaps the most dramatic of Scotland's landscapes: Glencoe Mountain Range. We'll stop at the famous Three Sisters to take some pictures and perhaps a short hike if there is time (routes are suitable for a wide variety of fitness and activity levels). 
The town of Fort William has ample choice of traditional pubs and restaurants for your group to visit throughout the evening, your driver-guide as always will be there to help advise you on the best options for your particular group.
Day 2: Nevis Range – Glenfinnan Viaduct – Mallaig – Isle of Skye – Portree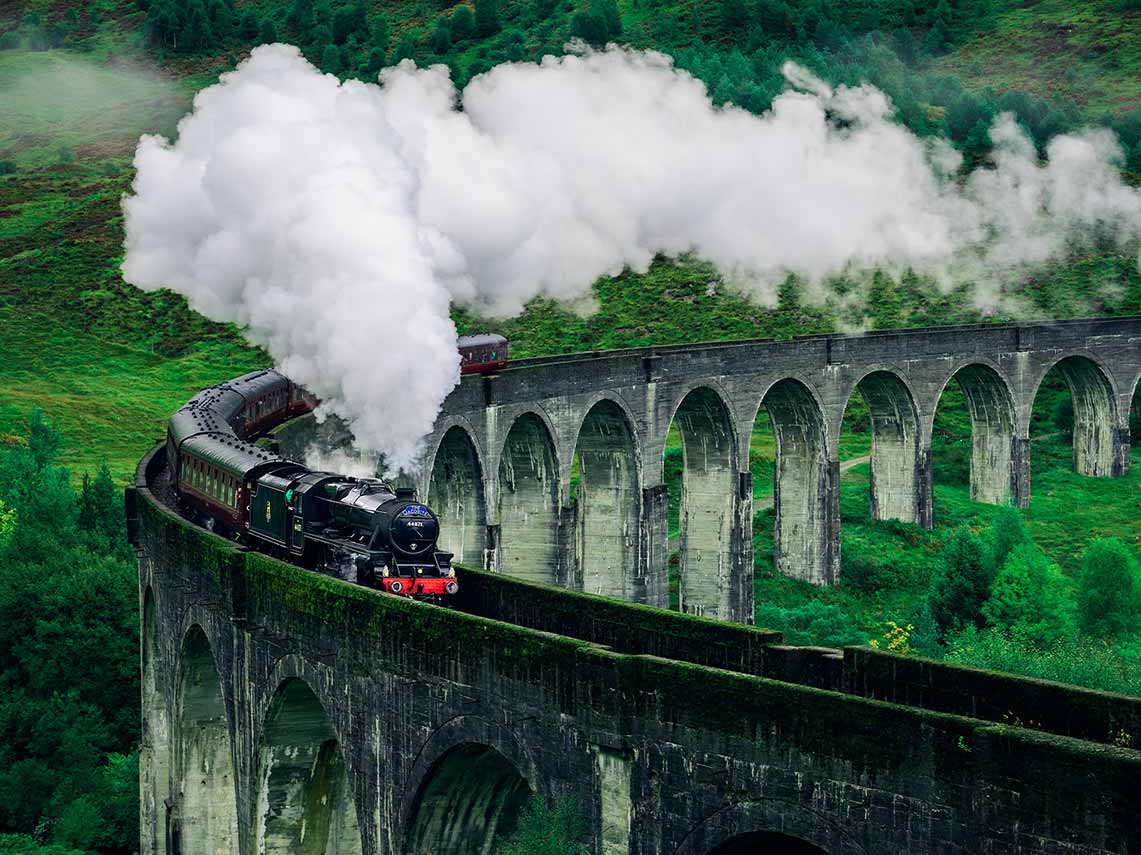 We start Day Two of this tour with a morning gondola trip up the Nevis Range to see Ben Nevis – the highest mountain in the UK. We'll pause at the top to take in the unparalleled views of the rugged Scottish Highlands before eventually returning to the ground as you have a train to catch! 
And this is not just any train… It's a magical train powered by witchcraft and wizardry!
This morning you'll have the honor of riding on the Jacobite Express Steam Train – more commonly known to Harry Potter fans as the 'Hogwarts Express'. With first-class seats and some themed snacks on board, you'll transcend this beautiful rail route in style, crossing the famous Glenfinnan Viaduct (which featured in a number of the Harry Potter movies), before arriving at the quaint fishing village of Mallaig, where your driver-guide will be dutifully waiting for you at the end of the track.
You and your driver-guide will have a bit of time to explore the town before you board a ferry to the awe-inspiring Isle of Skye. Known for its particularly stunning landscapes, picturesque fishing villages, and medieval castles, Skye is one of the greatest Scottish islands to tour around, and certainly not something you'd want to miss on your own Scottish discovery.
Your driver-guide will take your group on a scenic drive around parts of the island, stopping whenever you'd like to take in the magnificent views and snap a picture or two as a memento, before we arrive at the delightful village of Portree – your base for exploring the island for the next day.
In the evening, you may wish to wander the town's harbourside pubs and boutiques, or if you're still feeling active after a long day, your driver-guide could take your group on a scenic evening walk up one of the island's many trails or viewpoints to watch the sunset over the Scottish Inner Hebrides.
We just returned from a trip that was organized through Travel by Luxe. It was one of the best trips we ever took and it was organized brilliantly. A special thank you to Francesca, she not only helped plan the itinerary, but was available throughout the trip to assist and make any tweaks and adjustments. Overall, a great experience and highly recommend.
Day 3: Old Man of Storr – Fairy Pools – Dunvegan Castle – Eilean Donan Castle – Inverness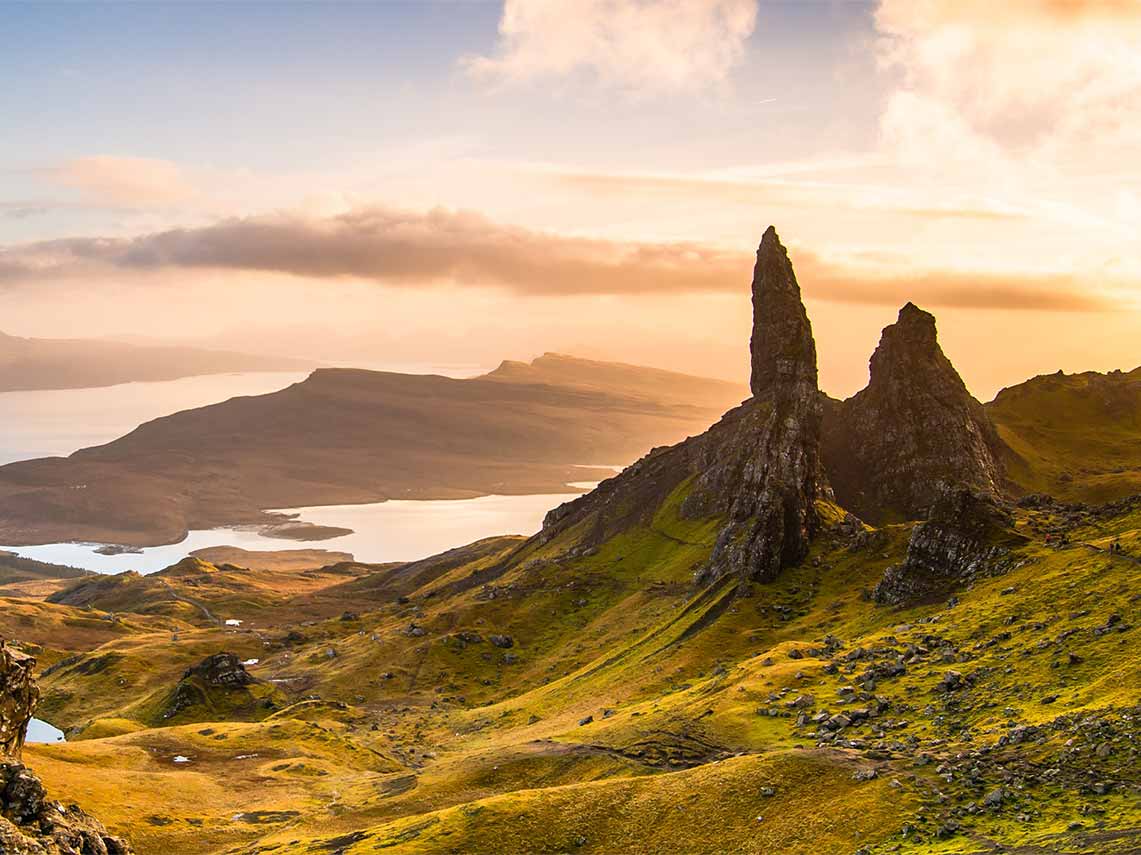 The third day of your Scottish tour starts early (depending on just how much "exploring" of the local pubs your group undertook the night before) as we take a morning hike up the Old Man of Storr – you'll quickly understand why this large standing formation of rock attracts hill walkers and photographers the world over.
From Storr, your driver-guide will take you to the famous Fairy Pools on Skye – a collection of stunning waterfalls which produce magnificently vibrant colors – before continuing on to Dunvegan Castle for a guided tour.
Dunvegan Castle is the ancestral home of the Chiefs of the Clan MacLeod – and has been for the last 800 years! Having been originally designed as an island fortress to keep invaders out, the castle opened its doors to visitors in 1933 so we could learn all about the extraordinary history and clan legends of this glorious Highland estate.
After touring the castle and taking a leisurely stroll through the surrounding gardens, your driver-guide will take your group over the Skye Bridge (connecting the island to the mainland), to pay a visit to perhaps the most famous – or at least the most photographed – castle in Scotland: Eilean Donan. 
Dramatically seated at the meeting point of three great lochs, Eilean Donan is as stunning as it is historically intriguing; this seductive castle has stood strong on its wee bit of land and sea from as early as the 13th century (playing host to many a clan battle and feud since) and continues to entice almost every visitor that lays eyes on her to this day.
Indeed, the castle's beauty is not just reserved for tourism as it's also caught the eye of Hollywood; most notably featuring in the original "Highlander" as well as a number of the James Bond films in recent years.
Finally, after a long day touring around some of Scotland's premier sites, your driver-guide will take your group to your accommodation in the proclaimed Capital of the Highlands: Inverness.
Day 4: Loch Ness Tour – Urquhart Castle – Private Boat Ride & Tasting – Cairngorms National Park – Pitlochry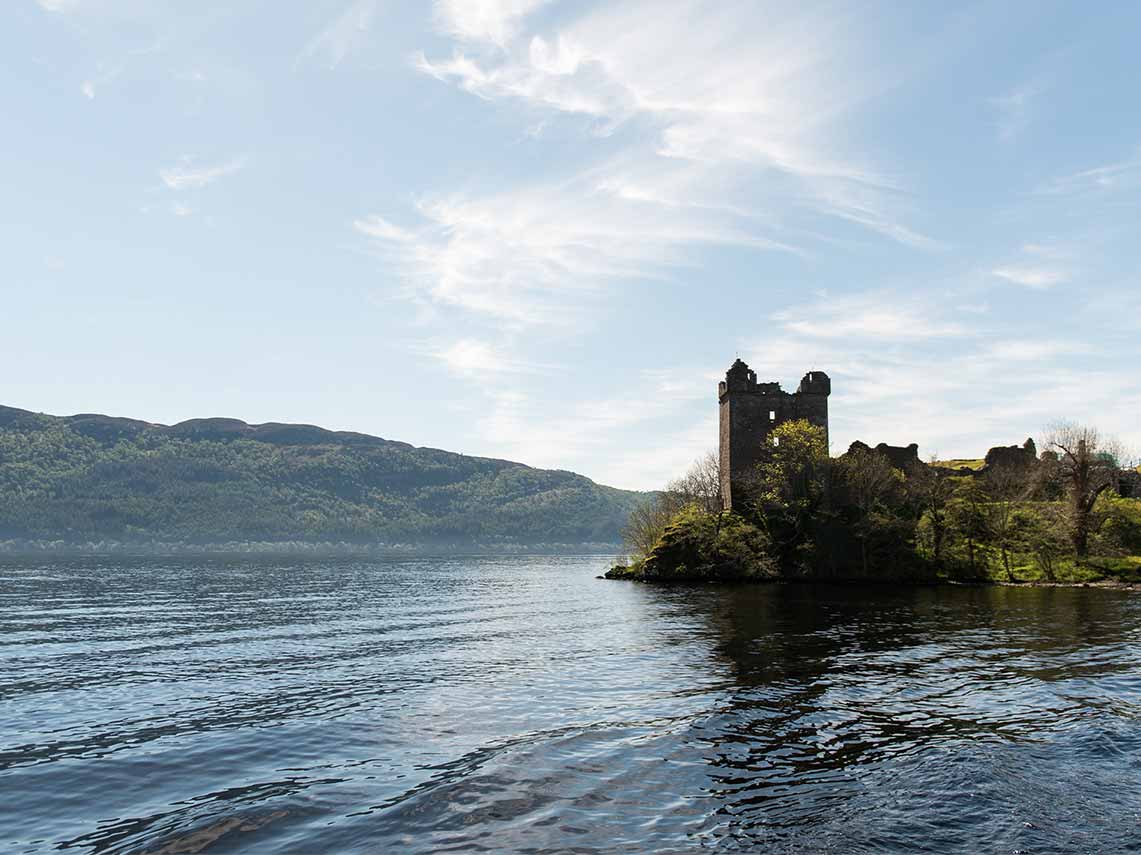 Few tales (or 'tails' rather) are as famous in Scotland as Nessie The Loch Ness Monster, and today you'll get to tour the home of the notorious beast – you might even catch a glimpse of Nessie herself!
We start our morning with a beautiful drive around Loch Ness, eventually reaching Urquhart Castle – a stunning set of ruins perched on the banks of the loch. You'll tour the castle with your private guide and learn about the castle's historic significance to the region before taking a private boat trip onto the loch itself!
Collected by the shore of Urquhart Castle, you'll glide through the famous loch accompanied by your own crew and ample complimentary ample whiskies to taste as well as a traditional food platter – statistically, you're 80% more likely to see sightings of Nessie after finishing a few wee drams of local whisky… no one quite knows why. 
In the afternoon we'll swap sea for land as we leave Loch Ness and enter into the stunning Cairngorms National Park. Here you'll have your choice of some of Scotland's most beautiful nature trails and woodlands – for the more adventurous among you, we can also arrange 4×4 off-roading, quad-biking, clay pigeon shooting, and more at some of the excellent local outdoors centers.
Finally, our last stop of the day will be Dalwhinnie Distillery – a Single Malt Scotch producer just south of the Cairngorms – where you'll get the chance to tour the facilities and learn all about how Scotland's famous spirit is created!
Once you've had your fill of Dalwhinnie's undeniable delights, we'll finish the day with a short scenic drive to the charming town of Pitlochry – the location of your accommodation for the fourth night on your tour.
Amazing Travel Agency! Marta helped us plan our whole trip and it was absolutely amazing! We did private walking tours, private winery tours, and everything was great! Marta made the itinerary with our interests in mind and was extremely helpful! The tour guides (Viola and Jessica to name two of the many) were outstanding! Marta also helped plan the perfect engagement! We highly recommend this company and will be using them again!
Day 5: Glamis Castle – St Andrews Tour – Edinburgh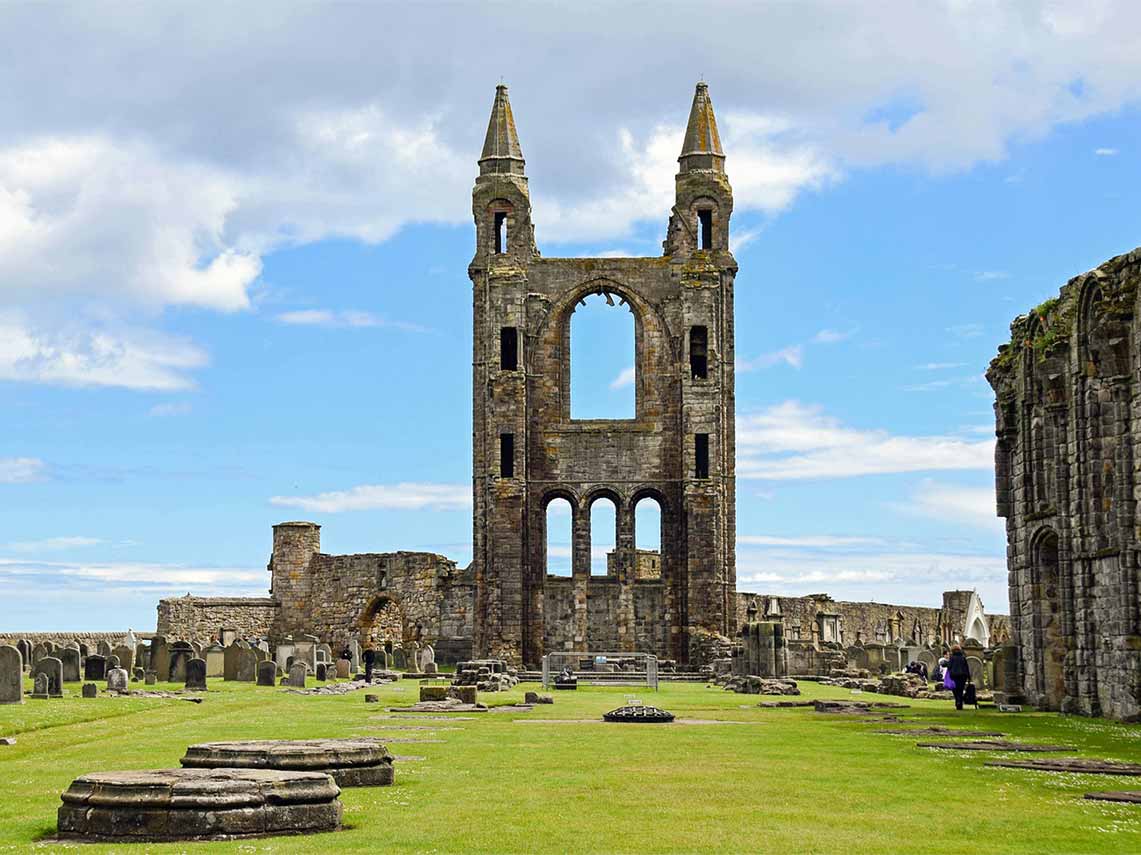 We'll spend today touring some of the grandest sites in Scotland, beginning with a tour of Glamis Castle – the childhood home of Queen Elizabeth The Queen Mother. 
Glamis has been home to the Lyon family (The Queen Mother's maiden family) since the 14th century, but its roots and importance seem to date back far further than that… 
Indeed, the castle's vicinity even features prehistoric traces (most notably an intricately carved Pictish stone from around the 8th century AD) as well as playing host to some early royal drama (King Malcolm II was murdered there in 1034) and amassing more than a few ghost stories over the years as a result (well, it wouldn't be a Scottish castle without them).
Once you've toured the castle and immersed yourself in its storied history, we'll drive to the true "Home of Golf": St Andrews. 
We'll spend the afternoon exploring this beautiful town. You'll get the chance to see the iconic Swilcan Bridge on the Old Course's 18th hole, where so many golfing greats have crossed over the years; enjoy a guided tour of the famous university (where Royal Prince William, The Duke of Cambridge met his future wife); as well as explore the ruined Cathedral of St Andrew – which was built in 1158 and quickly became the center of the Medieval Catholic Church in Scotland.
Once you've finished touring St Andrews your driver-guide will take you on a beautiful coastal drive, passing over the Forth River via the newly renovated Queensferry Crossing, before arriving in the nation's treasured capital city: Edinburgh.
Throughout the evening we'd encourage you to make the most of Edinburgh's incredible selection of restaurants and bars – as always, your guide would be delighted to recommend some of the best options in the city for your group's tastes – before getting a good night's rest ahead of a busy day touring the capital! 
Day 6: Edinburgh Castle – Holyrood Palace – Royal Yacht Britannia – Old Town & New Town – Arthur's Seat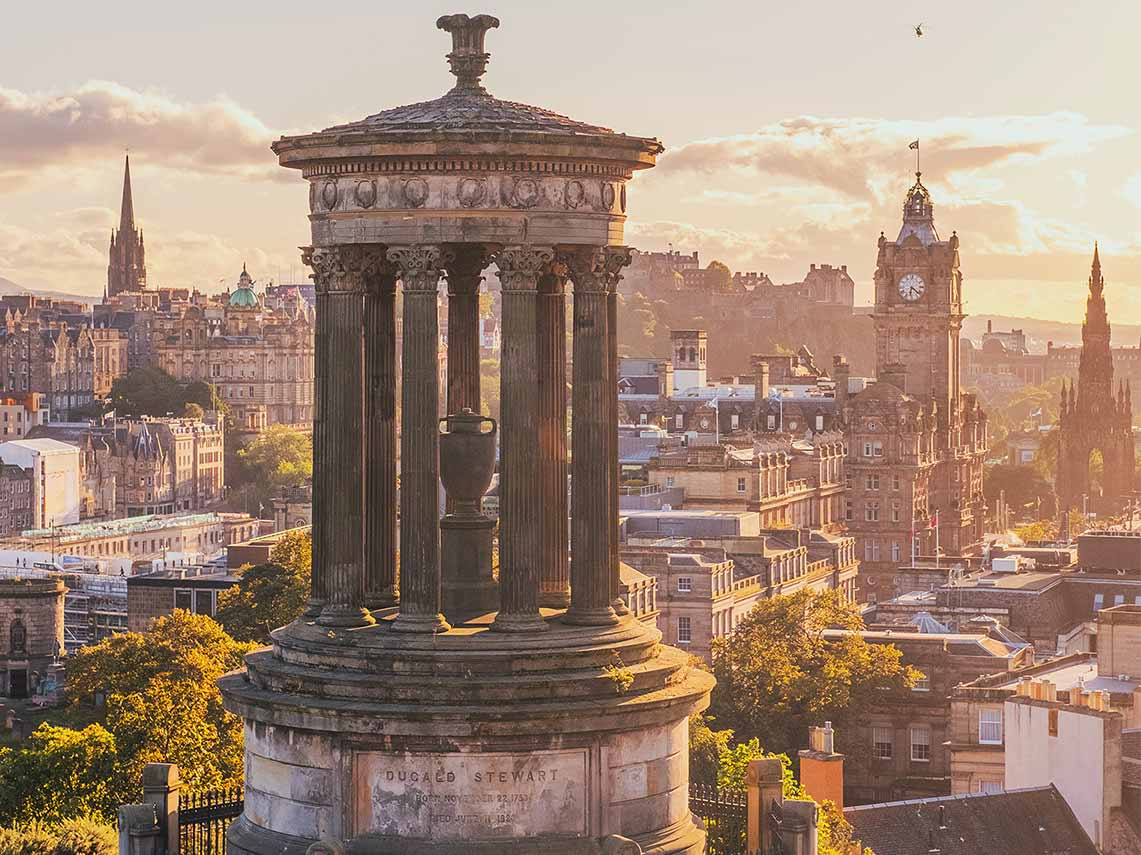 With so much to do and see in Edinburgh, we'll waste no time on the morning of Day Six and head straight to Edinburgh Castle for a guided tour.
This historic fortress dominates the skyline of Edinburgh – perched proudly above the capital on Castle Rock – so you'll likely have caught a glimpse of its beauty while traveling through the city before we embark on your guided tour of the interior. When inside the castle, we'll find out all about its turbulent history, its importance to the people of Scotland as well as the kings and queens who called the stone fortress home in yesteryears.
Once we've safely descended down Castle Rock, we'll visit the glorious Holyrood Palace – the official residence of the British monarch in Scotland, Queen Elizabeth II. 
We'll spend an hour or so exploring the palace – including the 16th-century historic apartments of Mary, Queen of Scots – and its impressive surrounding grounds before continuing our Edinburgh adventure with a visit to perhaps one of the most famous (unsunk) ships in the world: The Royal Yacht Britannia. 
This former floating palace spent 43 years traveling more than a million nautical miles around the globe in service of Her Majesty The Queen before (thankfully for us) being permanently berthed in Edinburgh – allowing the public to tour and explore this magnificent piece of engineering history. 
Finally, we'll spend the rest of the afternoon exploring some more of the city's distinct Old & New towns, where you can witness the architectural history of Edinburgh first-hand before we finish the day with a beautiful evening hike up to Arthur's Seat where you'll have unparalleled views over the sun setting over the city ahead of your final day on tour in Scotland.
Hands down the best travel company! Every detail was taken care of! All questions were answered. Every guide was knowledgeable, flexible, and kind! In a situation when travel can be stressful, every individual was fantastic. I can not stress enough how much they added to our trip. I would be happy to answer any questions someone would have about my experience with this company. Will use their services in the future for sure.
Day 7: Stirling Castle & Wallace Monument – Glasgow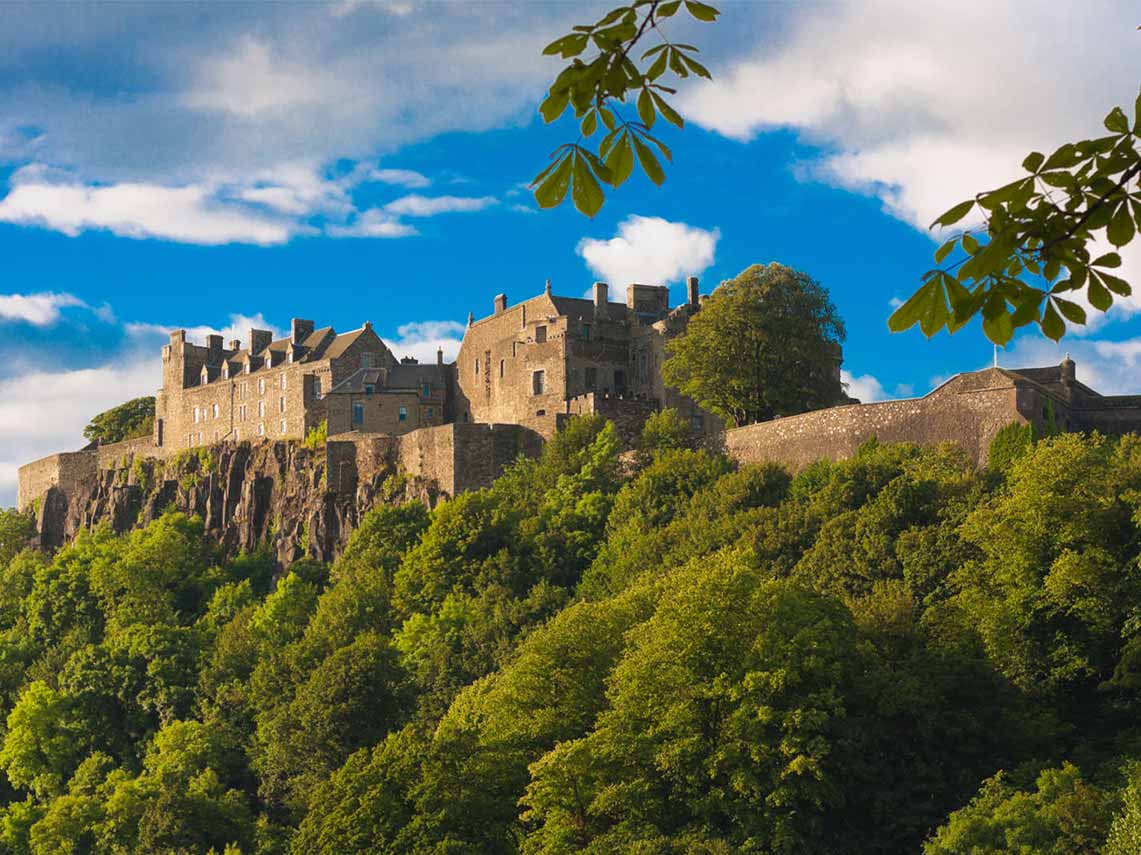 And alas, all good things must eventually come to an end as we enter the final day of your private tour of Scotland.
We'll spend the morning in Edinburgh, collecting some last-minute gifts from the Royal Mile before driving about an hour north-west to Stirling.
We'll be visiting two incredible and fascinating sites in this historic town: Stirling Castle and The Wallace Monument. 
We'll start at Stirling's imposing 12th-century fortress: sitting atop Castle Hill, Stirling Castle is one of the most historically and architecturally important structures in Scotland. Its fascinating past features more failed sieges than one could possibly recount and served as the crowning destination of Scottish Kings and Queens (most famously Mary, Queen of Scots) for centuries before the union with England.
Next up, we'll head to The Wallace Monument – a striking 19th-century commemoratory structure that pierces through the Stirling skyline (rather fittingly) like a sword! You'll be given a guided tour of the monument where you'll learn more about the life, death, and memory of the Guardian of Scotland: Sir William Wallace. 
Finally, in the late afternoon, your driver-guide will return you to the airport in Glasgow or Edinburgh in time for your onward flight – hopefully leaving you with fond memories of your time together in Scotland and looking forward to your next tour of the greatest wee country in the world!
Request Your Custom Tour Itinerary Here
Our experts understand that no two clients are the same, so whether you want to personalize one of our private tours, or have us design an itinerary from scratch for you, fill out our inquiry form below to get started:
Rated 5-Star on Google & TripAdvisor
Use this company! An excellent experience! As a seasoned traveler and very detailed oriented customer, working with both Irene's was a joy and in the end produced a wonderful experience. Their personal touch on every detail and their communication was extraordinary.
Recommend them highly! These folks are very professional, and flexible in creating a custom tours, and handling last-minute changes. The guides were knowledgeable and friendly. Recommend them highly!
A Flawless Trip! Travel by Luxe assisted us in planning an excellent trip to Genoa and the Italian Riviera including Cinque Terre. The drivers they provided were courteous, efficient, safe and their vehicles were immaculate and comfortable.
Hands down the best travel company! Every detail was taken care of! All questions were answered. Every guide was knowledgeable, flexible, and kind! In a situation when travel can be stressful, every individual was fantastic.
A Great Experience! We just returned from a trip that was organized through Travel by Luxe. It was one of the best trips we ever took and it was organized brilliantly. A special thank you to Francesca, a great experience and highly recommend.
Amazing Italy Awesome trip! Graziano arranged everything perfectly and was very patient with our planning process and changes. Private tours and transfer worth the extra $$$. Will use again.
Qualified Guides.
Certified Excellence.
Other Example Scotland Tour Itineraries You Might Like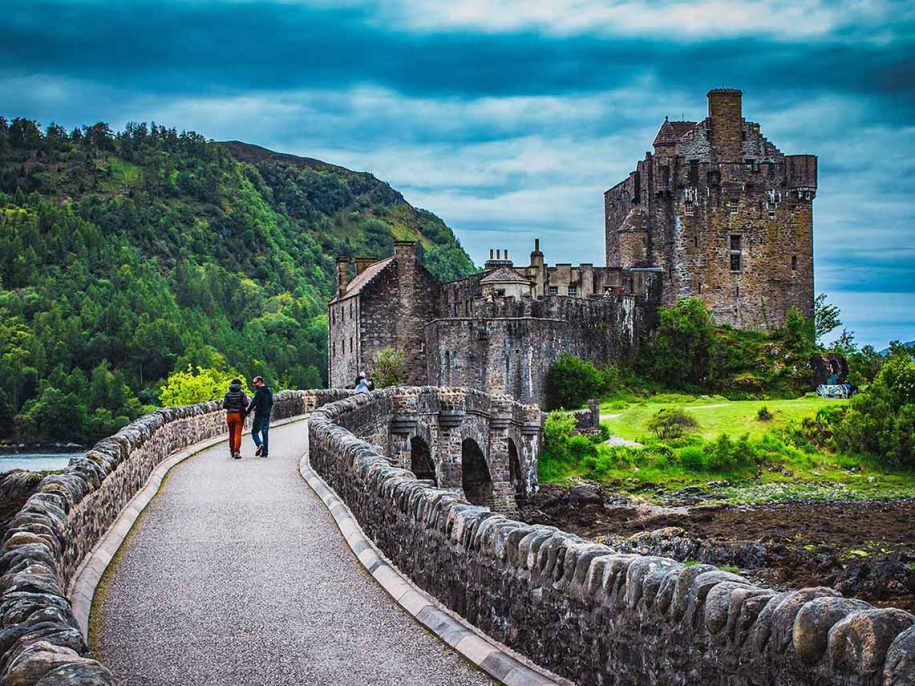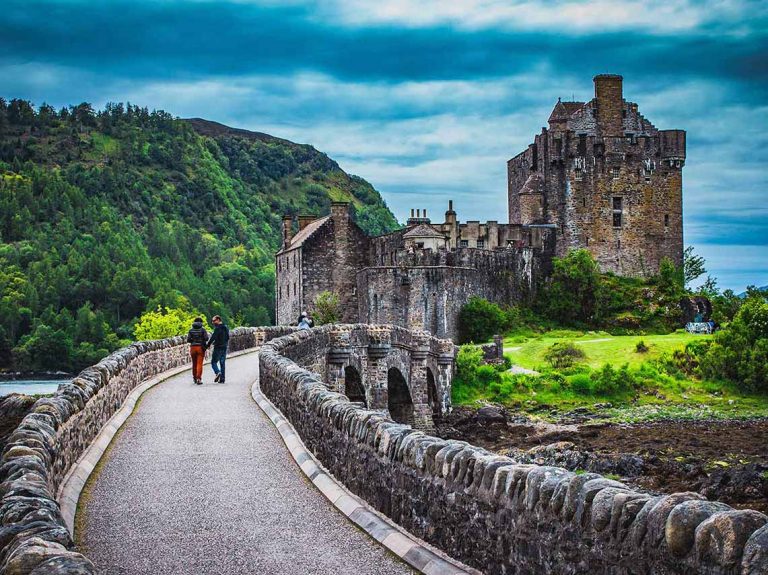 Discover the beauty of Scotland in a mere 5 days with the help of a private driver-guide & in the comfort of a luxury tour vehicle. Explore Scotland your way.
Most popular tour destinations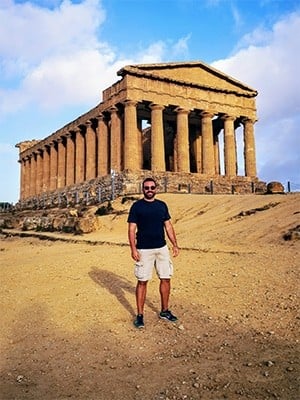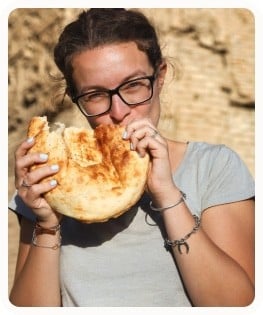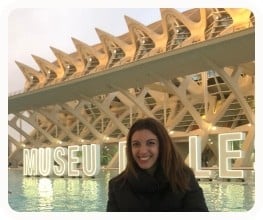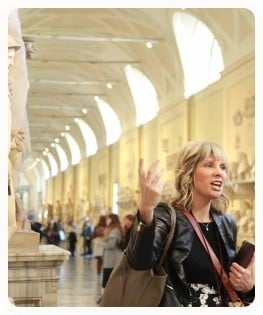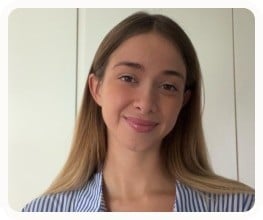 Our ethos is centered around creating the ultimate vacation experience for our guests, that is why we have specialist tour planners across Europe ready to provide you with the low down on the best times to arrive, local specialties and events, and armed with a Rolodex of the finest English speaking private guides in the country.
Get in touch with your local expert today by completing the contact form below and they will get started tailoring any of our tour experiences exactly to your tastes and requirements… all on a completely complimentary basis!