A Royal London Walking Tour Including The Changing of the Guard
Royal London Walking Tour
What visit to London is complete without understanding one of the world's most important institutions, the British monarchy? On this tour, you will see 3 of London's most important palaces while learning all about the Royal Family, past & present. 
Your tour will be topped off by not only seeing the famous 'changing of the guard' but understanding its history and tradition with your private guide.
Continue reading for more information on our Royal London Walking Tour before getting in touch with our expert tour planners to request your customized tour itinerary!
Highlights of Our Royal London Walking Tour
Be met by your professional Blue Badge Guide 
See 3 of London's most historical Palaces, including Buckingham Palace, St James' Palace & the Palace of Westminster.
Stroll through 2 of London's most beautiful Royal Parks, Green Park & St James' park (keep your eyes peeled for the pelicans) 
See the famous Changing of the Guard Ceremony from an excellent location
Luxe's Royal London Walking Tour Itinerary: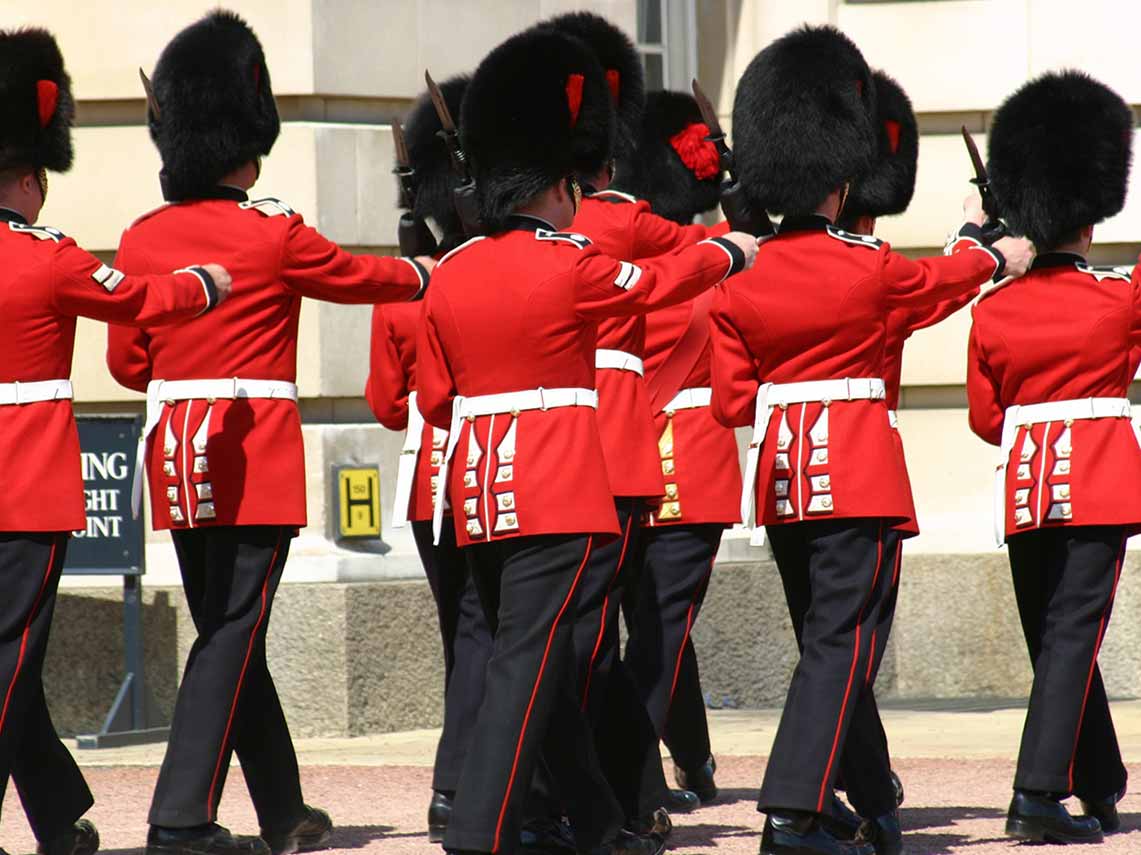 The home and office belonging to Her Majesty the Queen is called Buckingham Palace and has been home to the Monarchs of England since 1837. Because of this, it needs to be guarded 24 hours a day. But by who? Well, book this tour and all will be revealed!
On this tour, your guide will take you on a walk through the royal parks which hug Buckingham Palace and you will hear how the Palace and area came to be. Along your walk, your guide will point out important sites, which are linked to the Royal family and then situate you in a prime location to watch the Changing of the Guard. The Guard change occurs every 48 hours and is a ceremony full of tradition, pomp, and drum beats, marching feet at the ready.
Why You Should Choose Our Royal Walking Tour
Don't just view the changing of the guard, understand the history behind the tradition 
Your private guide will be able to navigate the crowds and ensure you see the event in prime position!
Understand the inner workings of the Royal Family both past & present
Ask as many questions as you like! It's your tour!
Tour Duration: 4 hours 
Meeting point: At your centrally located London accommodation 
Start Planning Your Own Royal London Walking Tour
At London by Luxe we understand that no two private tours will be the same, and we endeavor to tailor every tour exactly to the tastes and requirements of our guests. So if there is anything we can do to customize your tour, just let our friendly planners know in the form below.
Rated 5-Star on Google & TripAdvisor
Qualified Guides.
Certified Excellence.
Other Guided Day Tours from London by Luxe
Or view our multi-day UK tour itineraries: