28-Day Private Tour of Italy Itinerary
How To Spend 1 Month In Italy
Welcome to our 28-day private Italy tour itinerary. This tour is a sublime journey through the heart and soul of Italy, taking you from the ancient ruins of Rome to the Renaissance beauty of Florence, the serene waters of Lake Como, the vibrant streets of Milan, and beyond. It's not just about crossing off places from your bucket list; it's about diving deep into the Italian way of life, discovering its hidden gems, and creating memories that will last a lifetime.
We take you on an intimate journey far from the well-trodden tourist paths. With a private guide and driver at your disposal, you'll explore Italy's iconic sights and hidden corners, meet local artisans, savor regional cuisines and wines, and soak in the timeless charm of the country.
This is Italy, as you've never seen it before. This is Italy By Luxe.
Destinations on our 4-week Italy Itinerary
Whether standing in awe of Rome's Colosseum, gazing at the sun-kissed vineyards of Tuscany, or being serenaded on a gondola in the magical canals of Venice, every day of this tour offers something unique and unforgettable.
And it's not just about the destinations; it's about the journey in between – the languid drives through the stunning Italian countryside, the delightful surprises at every turn, the heartwarming encounters with the locals – that's what makes this tour truly special.
Day 1: Warm Welcome to Rome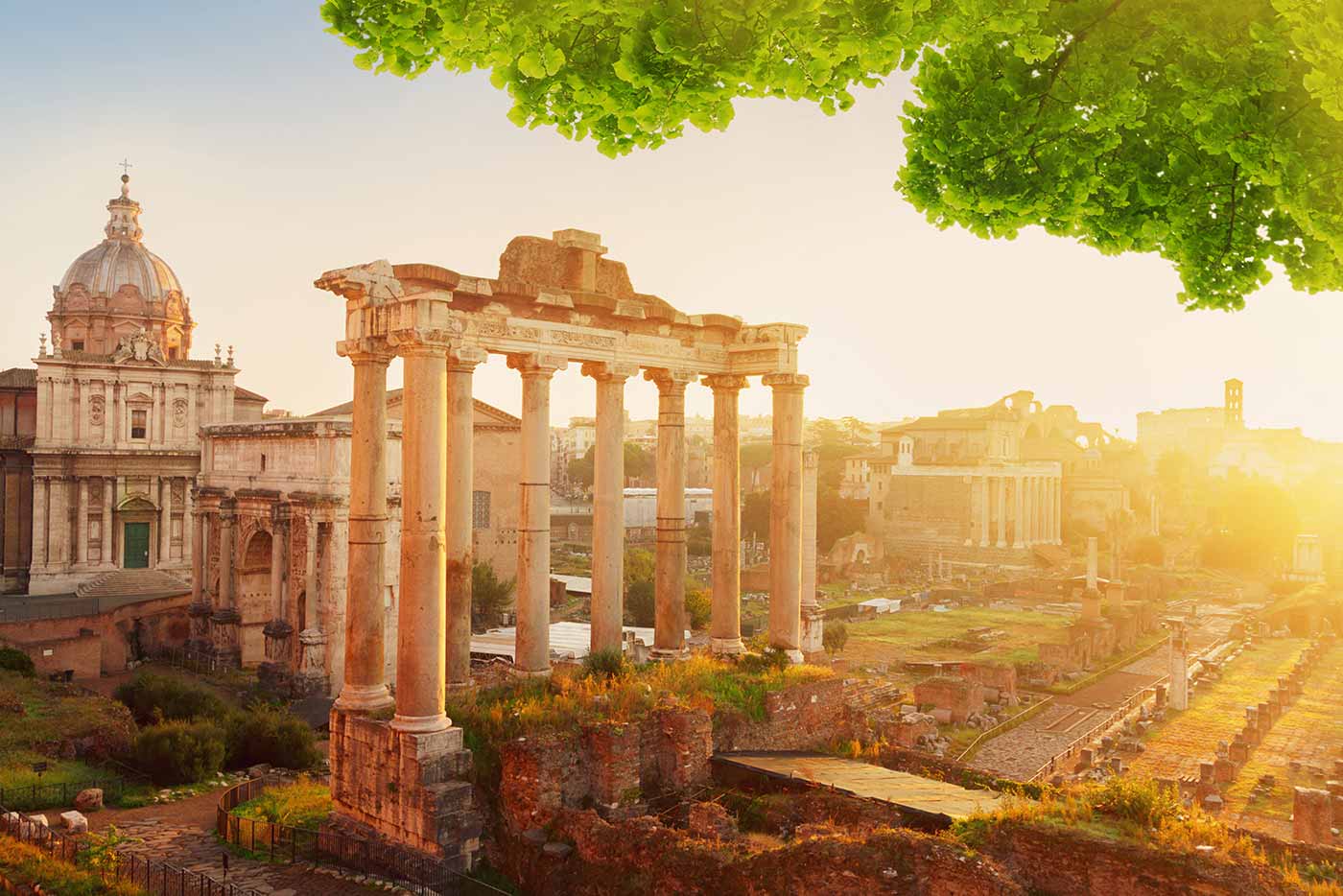 Your Italian journey begins with your arrival in Rome, the Eternal City.
A private driver will be waiting to greet you and transport you to your luxury hotel. Here, you can take some time to relax, unpack, and freshen up.
Private Evening Walking Tour of Rome
As twilight descends, your guide will take an intimate walking tour of Rome's stunning streets.
You'll wander through winding lanes and expansive piazzas, each holding centuries of stories. Marvel at the unique blend of ancient ruins, Renaissance palaces, and vibrant street life that characterize Rome's urban landscape.
Your guide will provide insightful commentary, spotlighting hidden gems and lesser-known historical anecdotes, ensuring you deeply understand Rome's rich and complex past.
Day 2: Guided Tours of the Colosseum & Vatican
Begin your day stepping into the world of gladiators, emperors, and Roman citizens with a guided tour of the Colosseum and the Roman Forum.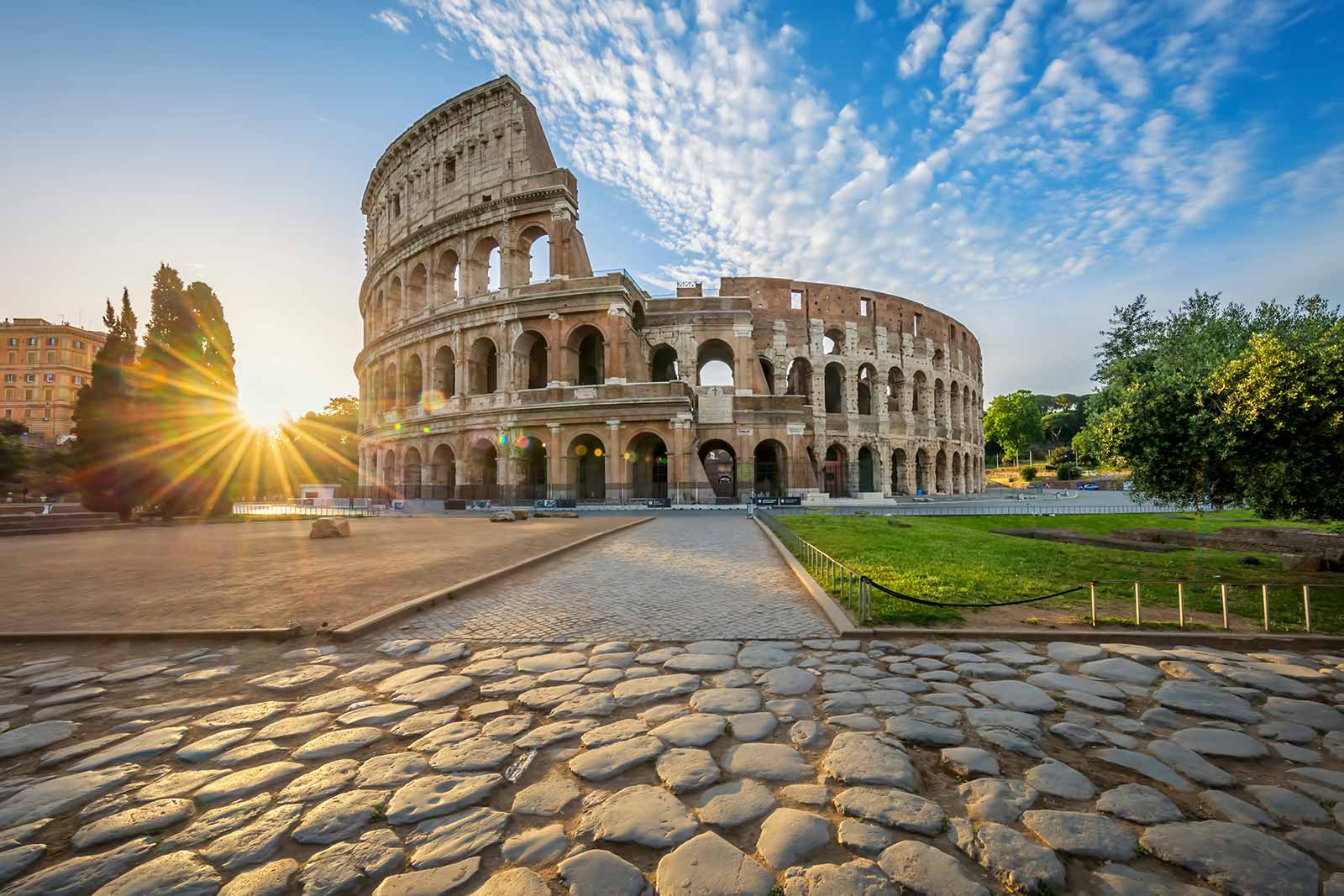 As you traverse the imposing amphitheater of the Colosseum, your guide will recreate vivid images of spectacular gladiatorial contests and public spectacles. Then, moving onto the Roman Forum, you'll wander amidst the ruins of ancient government buildings, temples, and markets that once formed the political, commercial, and social hub of the Roman Empire.
Authentic Italian Lunch in Trastevere
After a morning immersed in history, retreat to the picturesque neighborhood of Trastevere, celebrated for its local food culture. In a traditional trattoria, enjoy a leisurely lunch featuring regional dishes crafted from fresh, locally sourced ingredients. Experience Roman dining culture's genuine warmth and hospitality in this charming locale.
Private Tour of the Vatican City and St. Peter's Basilica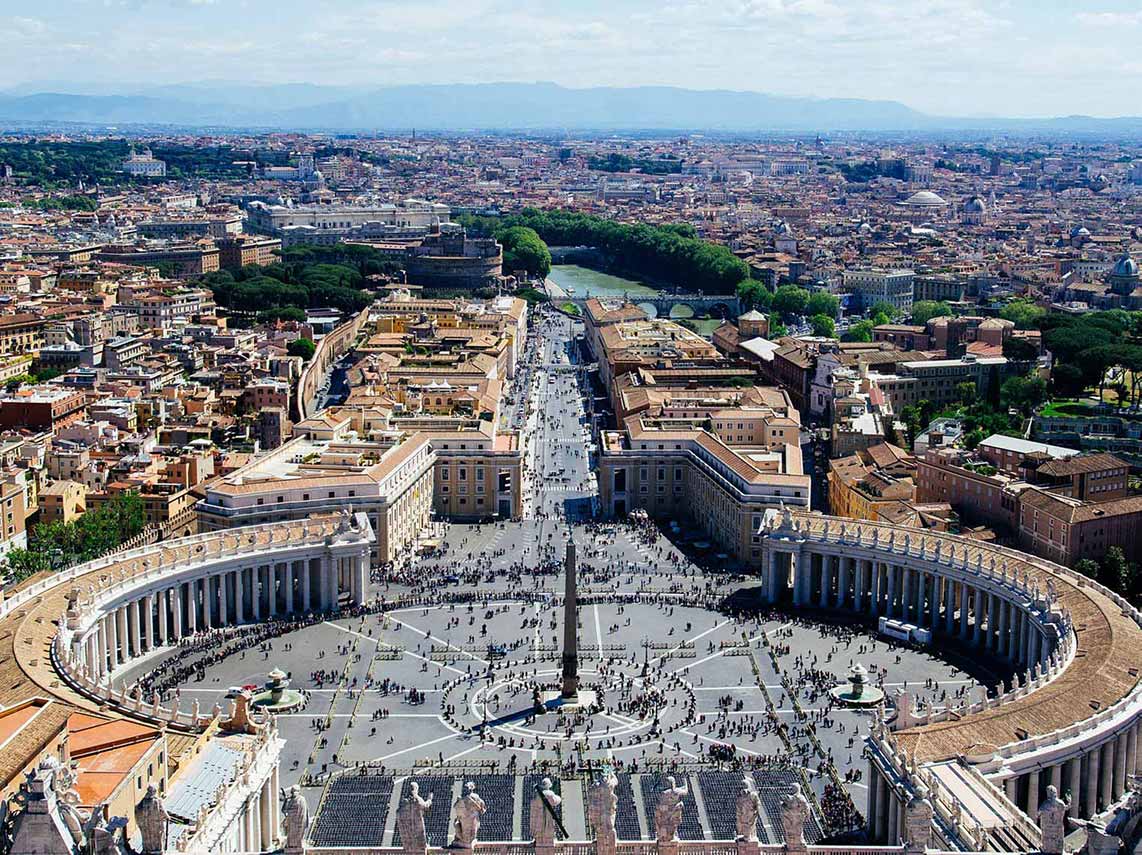 In the afternoon, your guide will lead you into the heart of the Vatican City.
Discover the spiritual and artistic treasures of St. Peter's Basilica, from the awe-inspiring Pieta sculpture to the stunning architectural design of its dome. Next, wander through the vast collection of art and antiquities in the Vatican Museums, culminating in the Sistine Chapel, where Michelangelo's majestic frescoes await.
Simply outstanding! We visited Italy in September & used Luxe for all our tours and we can honestly say, they were the best! Right from the start, communication was easy and professional. Amy and her guides were able to customize their tours to suit our interests! If you want bespoke tours, I wouldn't use anyone else. We would highly recommend Luxe & will definitely use them again when we next visit Italy!
Day 3: The Cultural and Artistic Soul of Rome
Start your day with a guided exploration of the Pantheon, one of the best-preserved monuments of Roman antiquity.
Private Tour of the Pantheon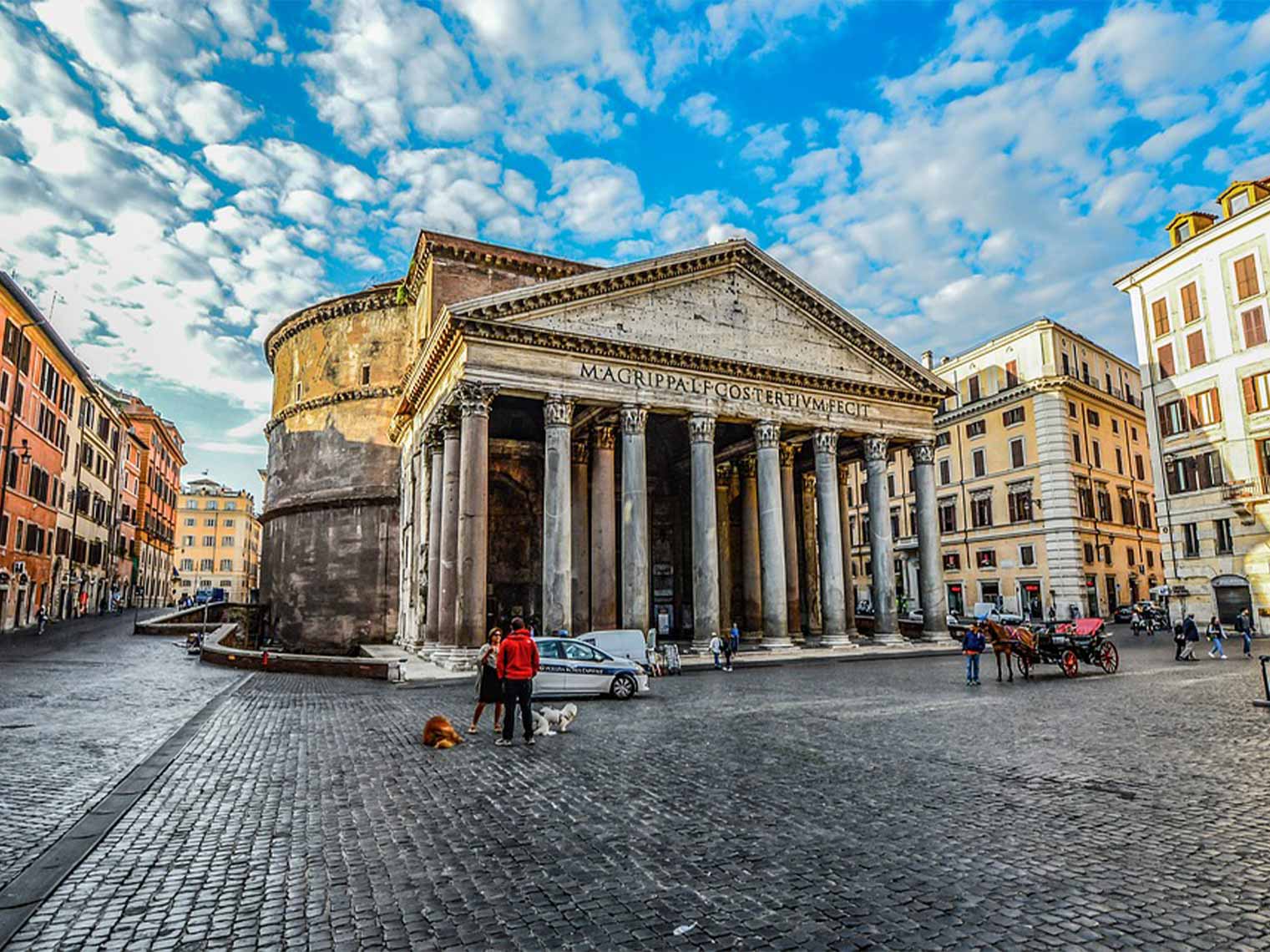 Today your guide will deliver you to The Pantheon, one of the city's most iconic landmarks, as they discuss its intriguing transformation from a pagan temple to a Christian church over centuries. 
Allow your guide to reveal the history and significance of the Pantheon with you as you visit:
The Portico: The grand entrance of the Pantheon is marked by a portico with 16 granite Corinthian columns. Each column, imported from Egypt, is over 39 feet tall and weighs 60 tons.
The Oculus: The oculus, or "eye," is an opening at the center of the dome. It's the only source of natural light in the building, creating a unique lighting effect that changes throughout the day.
The Rotunda: The rotunda, or circular interior hall, is a perfectly proportioned sphere, symbolizing the cosmos. The height of the oculus and the diameter of the interior circle are the same, 142 feet.
Interior Niches: The rotunda has seven niches, each containing chapels or statues. These niches were once filled with statues of Roman gods and emperors.
Tomb of Raphael: The Pantheon also serves as a tomb. The most famous person buried there is Renaissance artist Raphael. His fiancée, Maria Bibbiena, and Queen Margherita of Italy are also buried there.
Bronze Doors: The massive original Roman bronze doors, each weighing 20 tons, still guard the entrance and are an engineering marvel in their own right.
The Floor: The Pantheon's floor, made up of a pattern of squares and circles, is a marvel of Roman geometric design. It features original Roman concrete and is slightly convex to allow for rainwater to drain.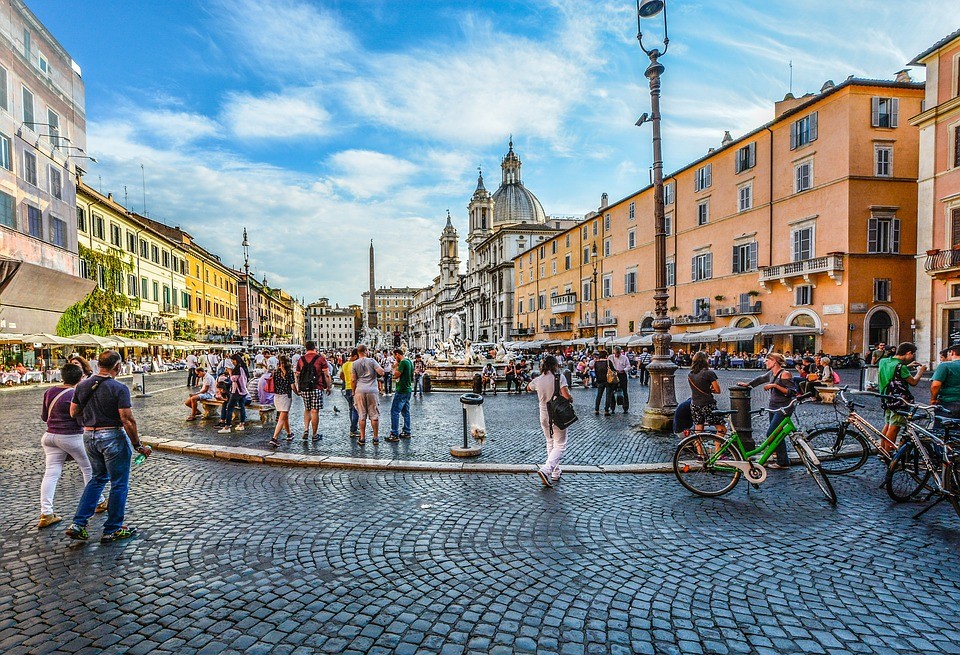 Walk outside to the cobblestone streets of Piazza Navona, a lively square that was once the site of the Stadium of Domitian in ancient times.
Today, it stands as a testament to Rome's baroque artistry, adorned with striking fountains, stately buildings, and bustling outdoor cafes. Street artists add a vibrant touch to the piazza with their colorful displays. Your guide will explain the history of the square, its evolution over time, and the significance of its notable features, such as Bernini's majestic Fountain of the Four Rivers, an embodiment of baroque sculpture's theatricality and grandeur.
Villa Borghese: An Oasis of Culture and Nature
As the afternoon unfolds, your journey continues to the tranquil haven of Villa Borghese, the third-largest public park in Rome.
This sprawling green space is a harmonious blend of nature and culture, offering an escape from the city's hustle and bustle. Artfully landscaped gardens meet numerous museums, a charming lake, and antique villines, creating a unique realm where man-made beauty and natural charm coexist.
As you explore Villa Borghese with your guide, you will meander through ornamental gardens adorned with statues, fountains, and a diverse array of plant species, each corner revealing a new vista to marvel at. Your guide will highlight these features' historical and artistic significance, enhancing your understanding of their place in Rome's cultural tapestry.
A must-visit within the park is the Borghese Gallery, a treasure trove of masterpieces from artists like Caravaggio, Bernini, and Titian. Each room unveils breathtaking sculptures, intricate mosaics, and vivid paintings that narrate different chapters of art history.
As the day draws to a close, your guide will lead you to the Spanish Steps, one of Rome's most iconic sites.
Famous for its unique design and elegance, the Spanish Steps have long been a meeting place for Romans and tourists alike. Sit on the famous steps and observe the bustling city life while your guide shares captivating stories and insights about the area. As you ascend the monumental stairway, you'll reach the Trinità dei Monti church, offering a breathtaking view of the Roman sunset.
The vibrant colors of the evening sky, coupled with the city's illuminating lights, create a truly magical atmosphere, perfect for wrapping up your exploration of Rome.
Day 4: A Timeless Journey to Tivoli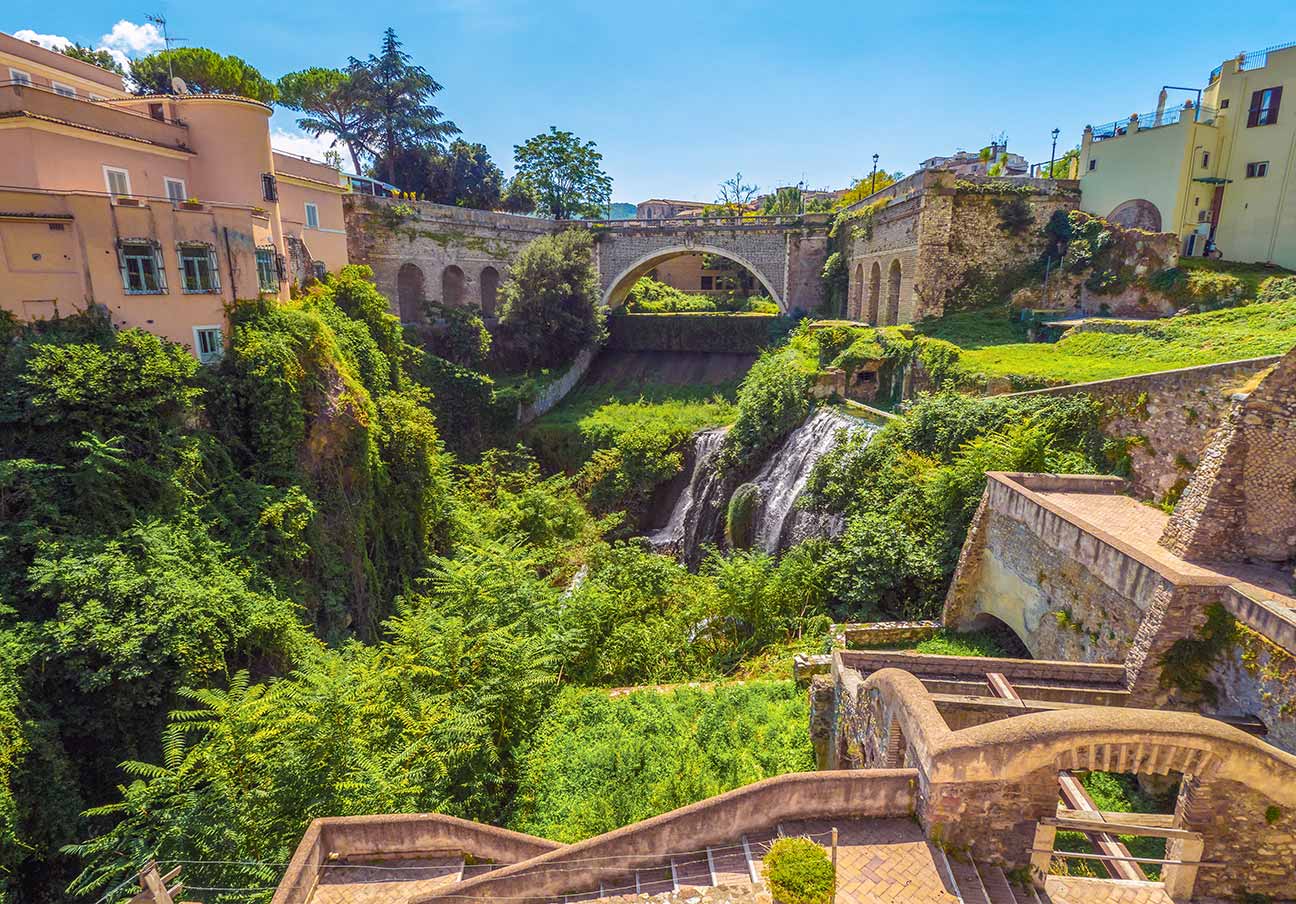 Your private driver will transport you from Rome to Tivoli, a charming town nestled in the hills of Lazio. Here, you'll explore two UNESCO World Heritage Sites: Villa d'Este and Hadrian's Villa.
Private Tour of Villa d'Este
The Villa d'Este is a 16th-century villa in Tivoli, near Rome, famous for its terraced hillside Italian Renaissance garden and especially for its profusion of fountains. It is now an Italian state museum listed as a UNESCO World Heritage site.
The villa was commissioned by Cardinal Ippolito II d'Este, son of Alfonso I d'Este and Lucrezia Borgia and grandson of Pope Alexander VI. He had the Villa designed and built to serve as a lavish summer residence where he could entertain dignitaries and other guests.
The Villa d'Este is perhaps best known for its stunning gardens, filled with beautiful plants, numerous fountains, nymphs, grottoes, plays of water, and music. These gardens influenced garden design throughout Europe, marking the transition from classical Roman gardens to the innovative garden architectures of the Renaissance.
Some of the most notable features of the Villa d'Este's gardens include the Oval Fountain, the Hundred Fountains, and the impressive organ fountain, which plays music through water pressure passing through pipes. The entire garden, set against the backdrop of the Roman Campagna, is a magnificent sight to behold.
Inside the Villa itself, visitors can explore rooms adorned with stunning frescoes, sculptures, and artwork, many of which depict scenes from ancient mythology and history. The Villa's design, with its integration of the garden and the accessibility of the garden from the Villa, was novel for the time and would influence many European villas that followed.
Lunch at a Local Trattoria
Following your morning exploration, savor a traditional Italian meal at a local trattoria. Nestled in Tivoli's picturesque streets, enjoy the flavors of regional cuisine made with fresh local ingredients. This authentic dining experience is a culinary journey in itself, offering a taste of Tivoli's food culture.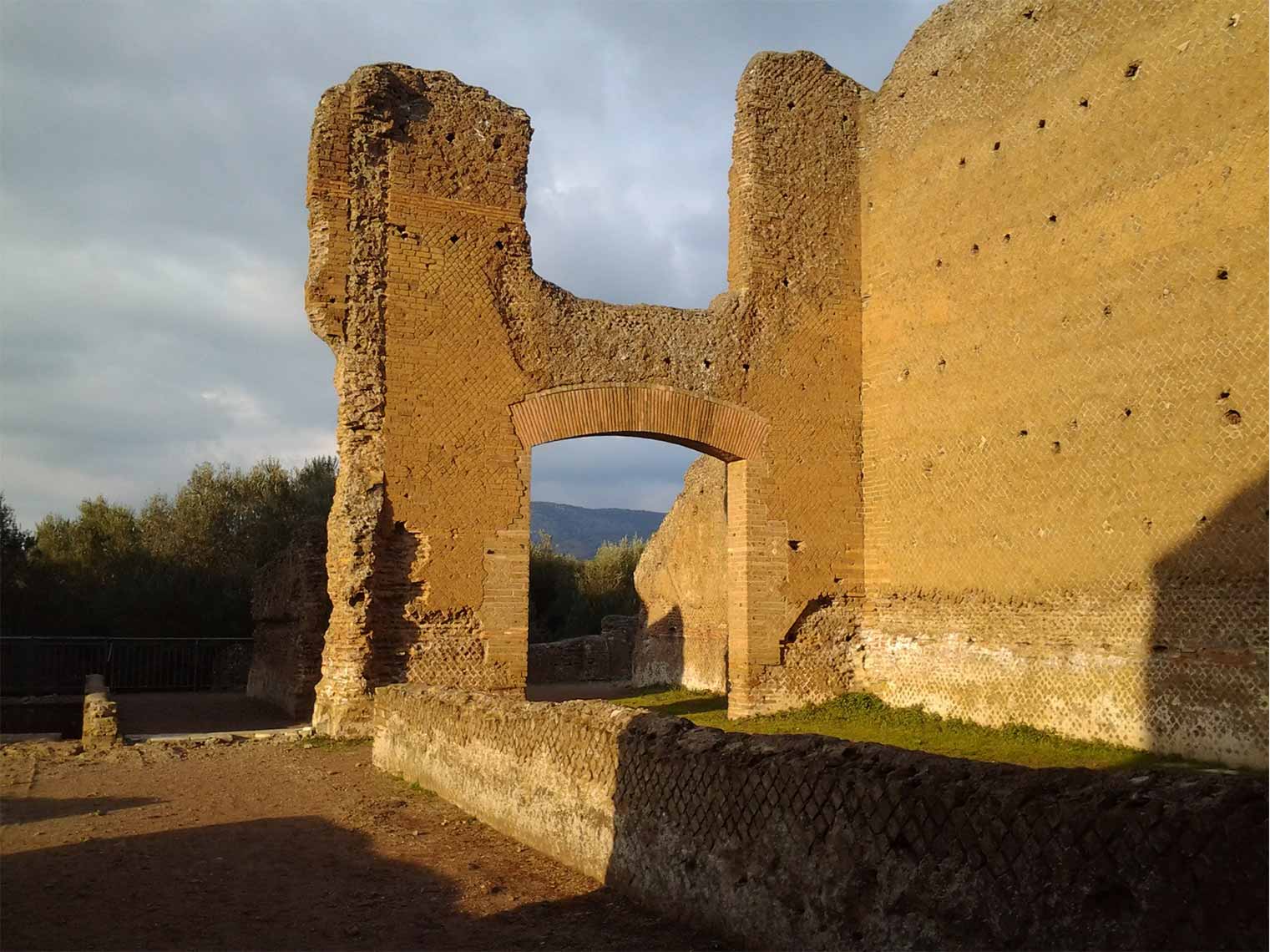 Hadrian's Villa, also known as Villa Adriana, is an ancient Roman archaeological complex located in Tivoli, Italy, which was once the opulent estate of Emperor Hadrian. It was constructed as a retreat from Rome for Emperor Hadrian during the second and third decades of the 2nd century AD.
This UNESCO World Heritage Site spans approximately 250 acres and is a significant example of an Alexandrian garden, where architectural elements and garden sculpture are integrated into a seamless whole. The structures, a mix of Greek, Egyptian, and Roman architectural styles, reflected Hadrian's tastes and love for travel.
Among the most noteworthy features of Hadrian's Villa are:
Maritime Theatre: Also known as Teatro Marittimo, it's an artificial island that served as the private residence of the Emperor within the complex. It features a circular portico with a central island.
The Canopus: Inspired by an Egyptian city, it's a large pool surrounded by sculptures and colonnades. It was used for grand banquets and summer parties.
The Pecile: This was a vast garden surrounded by a colonnaded walkway, with a pool in the center.
The Greek and Latin Libraries: They demonstrate Hadrian's intellectual interests.
The Imperial Palace: It includes private and public sections, baths, and several service buildings.
The Golden Square: Also known as Piazza d'Oro, it's a grand complex of ceremonial rooms and gardens.
Temple of Venus: This structure is a homage to the goddess of love, beauty, desire, and fertility.
The structures at Hadrian's Villa were often named after the places that Hadrian visited during his travels. The site provides a fascinating glimpse into the life and times of one of Rome's most important emperors and the architectural innovation and grandeur of the Roman Empire.
Return to Rome in the evening.
Day 5: Florence – Cradle of the Renaissance
Wave goodbye to Rome as your private driver transports you to Florence, the birthplace of the Renaissance.
Private Guided Tour of Florence's Historic Center
The center of Florence is a UNESCO World Heritage Site, a trove of history and culture that has shaped the course of Western civilization. You'll navigate through a labyrinth of narrow, cobblestoned alleys, each revealing captivating stories and architectural gems.
Revel in the Splendor of Florence Cathedral
A highlight of the tour is the iconic Florence Cathedral or the Cattedrale di Santa Maria del Fiore.
Its grandeur is unmistakable with its striking red dome designed by Filippo Brunelleschi, one of the greatest feats of Renaissance architecture. Explore the cathedral's awe-inspiring interior, featuring elaborate stained glass windows and frescoes, all while your guide enriches your experience with intriguing tales of the cathedral's construction and historical importance.
A Stroll through Piazza della Signoria
Next, saunter over to the Piazza della Signoria, the city's political heart since the middle ages. Surrounded by grand structures like Palazzo Vecchio and Loggia dei Lanzi, the square hosts an open-air sculpture exhibit, including the replica of Michelangelo's David. As you walk, your guide will paint a vivid picture of the political intrigues and public ceremonies that once took place here.
Crossing the Iconic Ponte Vecchio
No tour of Florence is complete without a visit to Ponte Vecchio. The oldest bridge in the city, it's famed for its shops, traditionally occupied by goldsmiths.
The view from the bridge of the Arno River framed by ancient buildings is a sight to behold as you delve into its fascinating history marked by floods, wars, and economic highs and lows.
An Evening Panorama from Piazzale Michelangelo
As day gives way to dusk, journey up to Piazzale Michelangelo, perched on a hill south of the historic center.
The panoramic vista from here is truly breathtaking. The entire city unfurls beneath you, bathed in the soft glow of the setting sun. Iconic structures, from the commanding Duomo to the serene Arno River, sparkle against the lush backdrop of the Tuscan hills.
10 day trip to Italy Planned a 10 day trip in Italy with Travel by Luxe. The experience did not disappoint. We had wonderful guides and terrific drivers. Initially spoke to Amy but then dealt with Marta in planning trip. Best parts of the trip included trip to Pisa and Lucca with Viola. Luxe arranged for tickets to climb the leaning tower which my son said was the highlight of the trip. In Lucca we took a leisurely bike ride on the walls of the city and had one of our best lunches at restaurant Viola took us to. Also had Viola for a tour of Florence. She was very adaptive to our family that included two teenagers and made sure to include activities that kept their attention. Also great experience with Kylie in Rome who took us on a fantastic food tour. Finally, perhaps a bit off the beaten path but did a tour of a prosciutto factory near Parma and then had lunch cooked by our guide, Stefani, that our boys really enjoyed. Would also recommend the bike tour of Appian Way with Glenn- would suggest the e-bikes but we did with regular bikes and didn't feel it was too difficult. Marta was also very responsive to our questions while we were in Italy. Our hotel in Rome (Rome Life), in Venice (Sina Centurion Palace) and in Modena (Best Western) were all terrific. Wonderful trip which I would not have been able to plan without Luxe.
Day 6: Uffizi Gallery & Florence Cooking Tour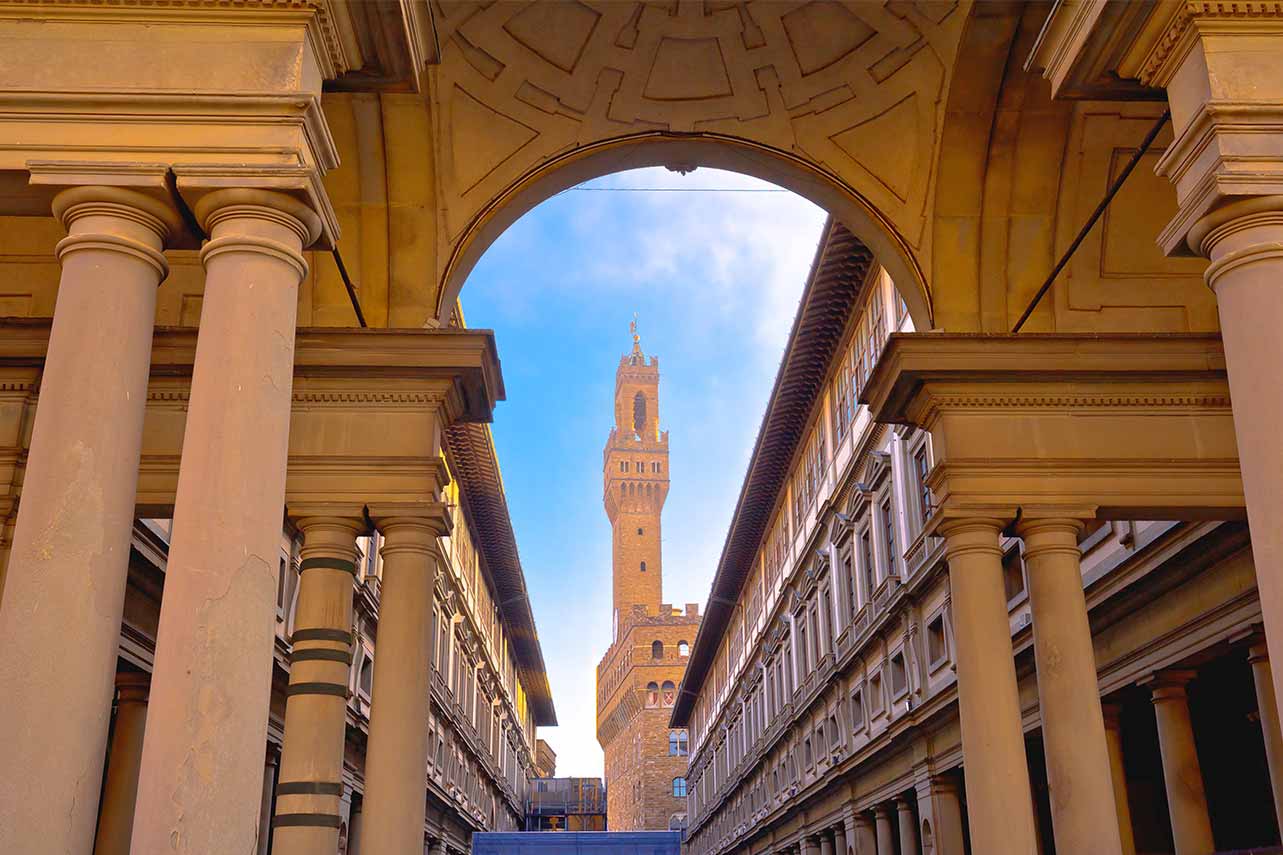 Allow your guide to take you through the mesmerizing artistic heritage of the Renaissance era with a private tour of the Uffizi Gallery, often considered a nirvana for art enthusiasts.
Amid the gallery's antiquated ambiance, encounter an array of masterpieces that carry the brilliance of epoch-defining artists such as Botticelli, Michelangelo, and da Vinci.
Under the insightful guidance of your expert companion, you will have the chance to appreciate these artworks' aesthetic charm and delve into their profound significance.
Each painting, sculpture, or artifact within the Uffizi Gallery is a conduit of compelling narratives, encapsulating the artist's techniques, inspirations, and the historical backdrop that shaped their creation. The blend of beauty, craft, and history that comes alive in this exceptional space truly underscores why the Uffizi Gallery is revered globally, creating a captivating experience that leaves lasting impressions.
Afternoon Visit to the Boboli Gardens
After lunch, escape to the tranquillity of the Boboli Gardens. This expansive green space, adorned with statues, fountains, and grottoes, offers a peaceful retreat from the city bustle. Enjoy a leisurely stroll amidst its manicured paths and hidden corners, gaining insight into its historical and artistic significance from your guide.
Evening Cooking Class with a Local Chef
Top off the day with a hands-on cooking class led by a local Florentine chef. This is your chance to delve into the secrets of Tuscan cuisine, preparing traditional dishes using fresh local ingredients.
Whether you're a seasoned home cook or a novice in the kitchen, this experience promises fun, learning, and a delicious homemade dinner. As you savor the fruits of your labor, toast to your culinary success with a glass of local wine.
Day 7: A Journey into the Heart of Tuscany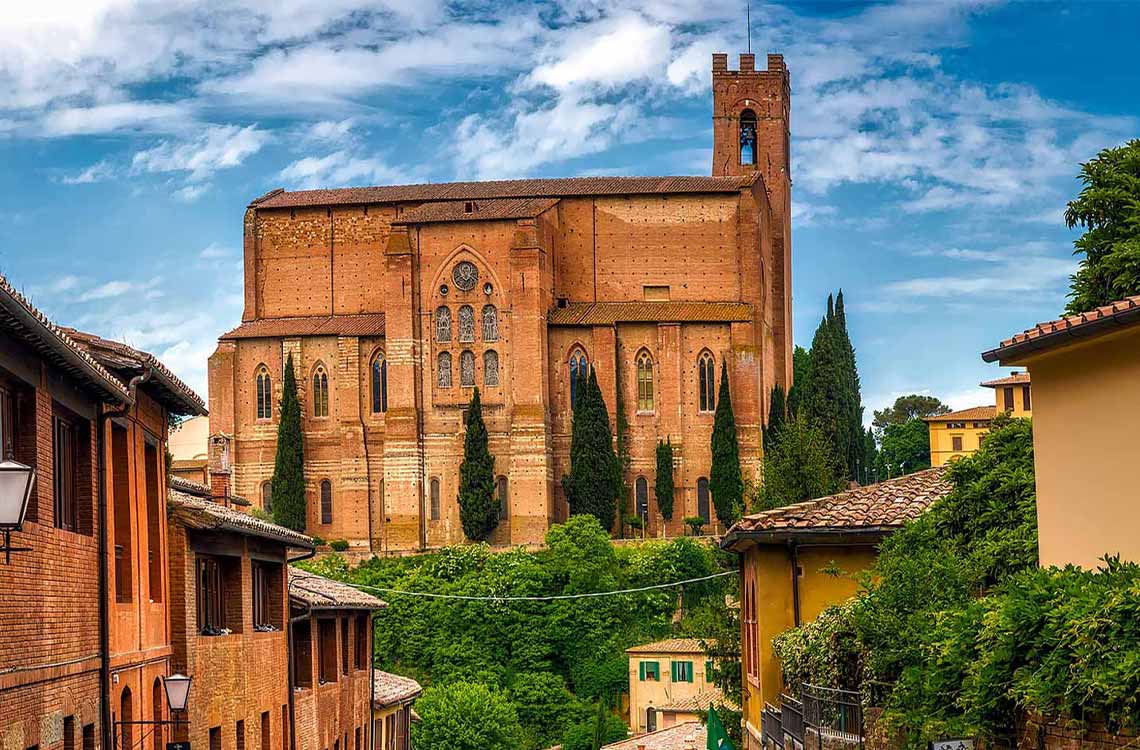 At the end of your first week of our itinerary, you make your way through the Tuscan countryside to Siena, a medieval city renowned for its Gothic architecture and the famous Palio horse race.
Private Guided Tour of Siena
A private guide will lead you through its winding streets, pointing out historic sites such as the majestic Siena Cathedral and the bustling Piazza del Campo.
You'll gain insights into Siena's unique thirteen "contrade" or districts, each with its own traditions and loyalties. The city's enchanting atmosphere and well-preserved heritage will transport you back to the Middle Ages.
After your exploration of Siena, enjoy a well-deserved lunch at a traditional Osteria. Here, you'll savor Tuscan specialties prepared with locally-sourced ingredients, paired with delightful local wines.
Evening Return to Florence
As the Tuscan sun sets, you'll return to Florence, allowing you to unwind and reflect on the day's discoveries.
Trip to Italy We just returned from a trip that was organized through Travel by Luxe. It was one of the best trips we ever took and it was organized brilliantly. A special thank you to Francesca, she not only helped plan the itinerary, but was available throughout the trip to assist and make any tweaks and adjustments. Overall, a great experience and highly recommend.
Day 8: Statue of David & Chianti Wine Region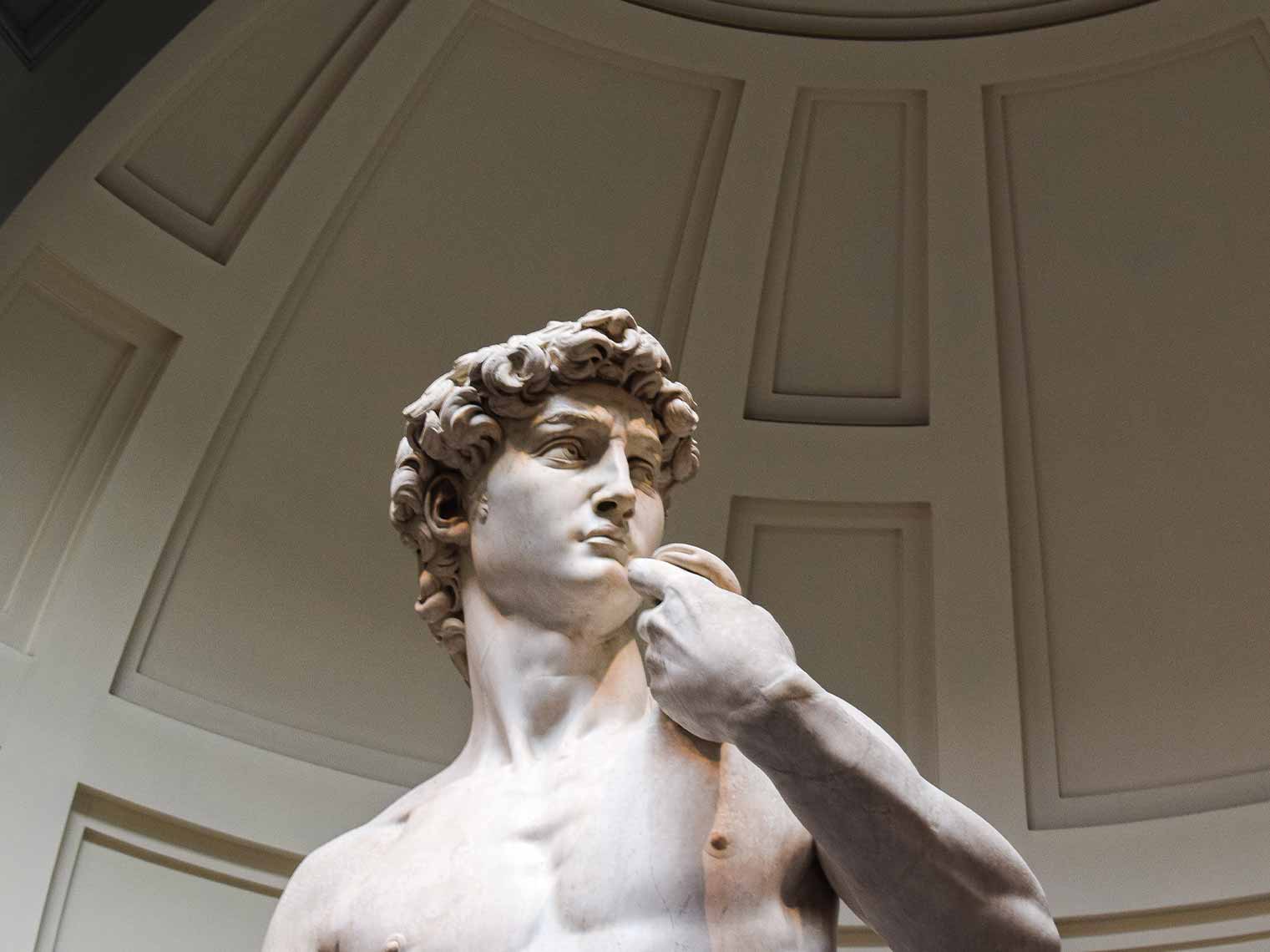 Today we delve into the creative brilliance of the Renaissance at the Accademia Gallery, a treasure trove of Italian art. The star of the gallery is undoubtedly Michelangelo's David, a sculpture that has become a global icon of strength and beauty.
A knowledgeable guide will accompany you, unraveling the intriguing details behind the making of this masterpiece, its powerful symbolism, and its lasting influence on the course of art history.
Exploring the Diverse Collections
The Accademia Gallery is not just about Michelangelo's David. It also holds a multitude of artworks that span from the Middle Ages to the Renaissance era. As you meander through the gallery's rooms, you'll encounter an exquisite assortment of paintings, sculptures, and historical musical instruments. Each piece has a story to tell, enriching your understanding of the artistic evolution of this period. Your guide's expertise will add depth to your experience, making this visit a journey through time and creativity.
Wine Tasting in the Chianti Region
Once you have finished viewing the masterpieces in the gallery, your driver will take you into the rolling hills of Chianti, one of Italy's most famous wine regions.
Visit a local vineyard where you'll learn about the winemaking process and participate in a curated wine tasting, sampling the region's renowned Chianti Classico while enjoying breathtaking views of the Tuscan landscape.
Day 9: Bologna – A Gastronomic Haven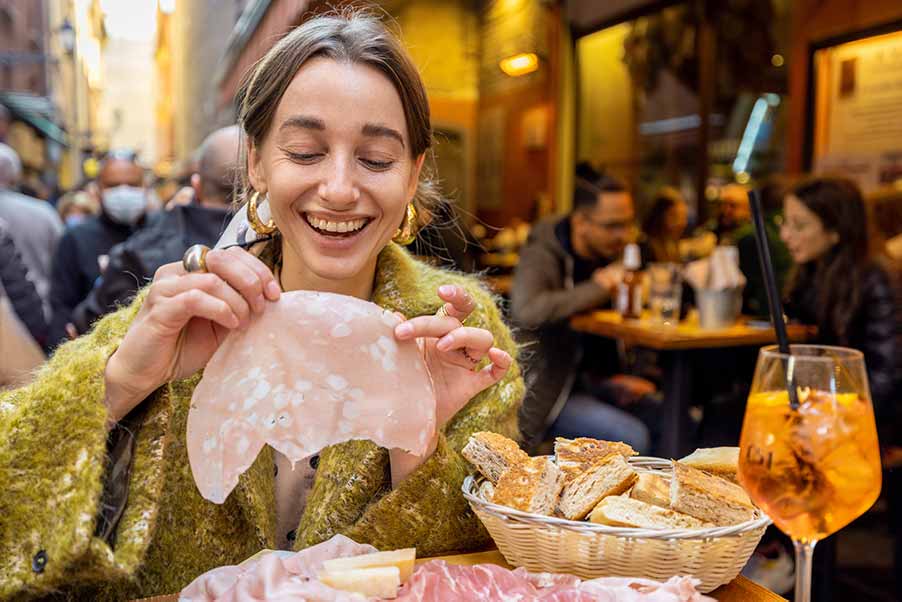 Our itinerary now takes you to Bologna, a city revered for its culinary traditions.
Join a private guide for a tour of Bologna's historic center, known for its well-preserved medieval architecture, charming porticoes, and bustling piazzas. Key highlights include the grand Piazza Maggiore, the towering Asinelli and Garisenda Towers, and the University of Bologna, the oldest University in the Western world.
Visit the Quadrilatero for a Food Tour
Your guide will lead you to the Quadrilatero, Bologna's historic market district. Here, you'll embark on a food tour, sampling local delicacies from traditional bakeries, cheese shops, and wine bars. From tortellini to mortadella, experience the flavors that have earned Bologna its reputation as Italy's gastronomic capital.
Day 10: Delving Deeper into Bologna's Intellectual and Culinary Legacy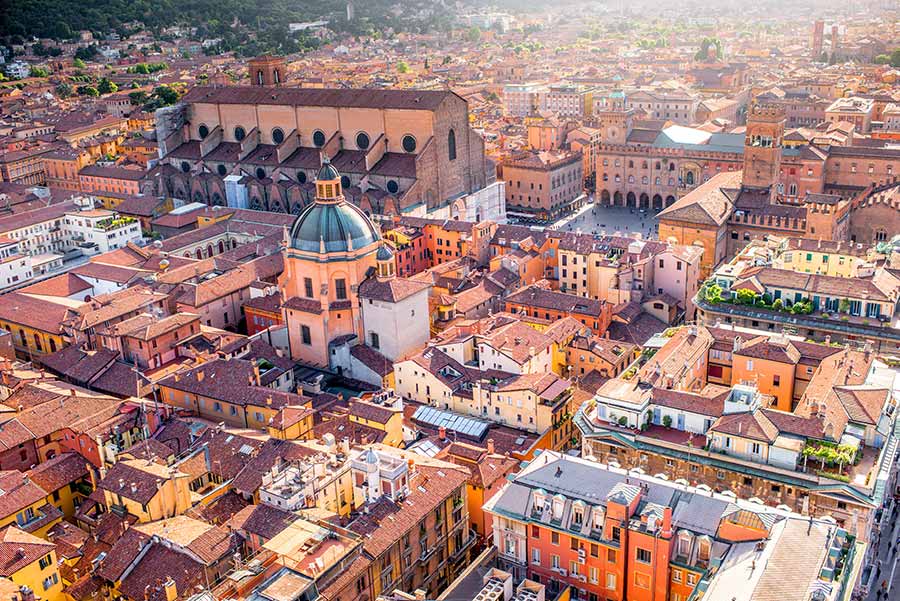 Your day starts with a guided tour of the University of Bologna, known as the oldest University in the Western world.
Private Tour of the University of Bologna
Walk through the University's historic halls, absorbing centuries of academic tradition, and admire the ornate Archiginnasio, the University's former main building.
Your guide will illuminate the University's influential role in Europe's intellectual history, creating a fascinating narrative that intertwines education, politics, and culture.
Afternoon at the Bologna National Gallery
In the afternoon, switch gears to appreciate the city's artistic heritage at the Bologna National Gallery (Pinacoteca Nazionale di Bologna).
The gallery's extensive collection spans eight centuries, featuring works from the 13th-century Bolognese school to the Renaissance and Baroque periods. This artful journey offers a deep dive into Italy's rich and varied artistic traditions bolstered by your guide's expert commentary.
Evening Cooking Class Focused on Bolognese Cuisine
The day concludes with a hands-on cooking class focusing on Bolognese cuisine. Learn how to prepare classic dishes such as tagliatelle al ragù (the true "Bolognese" sauce) and tortellini under the guidance of a local chef.
Day 11: A Glimpse into Modena's Unique Offerings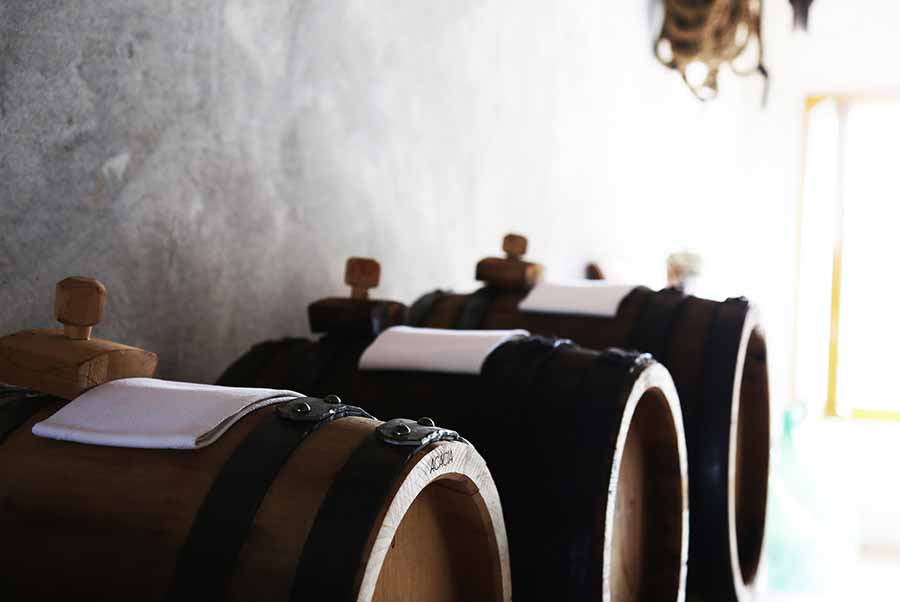 Embark on a day trip to Modena, a city renowned for its balsamic vinegar and automotive history.
Private Tour of a Balsamic Vinegar Producer
Your itinerary for the day begins with a private tour of a traditional balsamic vinegar producer. Learn about the painstaking process of creating this culinary treasure, from the aging process in wooden barrels to the final rich, syrupy product.
Of course, a tasting session follows, letting you savor the vinegar's unique sweet-tart flavor profile.
Lunch at a Local Trattoria
Relish the flavors of Modena over lunch at a local trattoria, where you'll be treated to traditional dishes like cotechino (slow-cooked pork sausage) and zampone (stuffed pig's trotter), both Modena specialties.
Post-lunch, gear up for a thrilling visit to the Ferrari Museum. This high-octane experience showcases a collection of iconic cars, chronicling the evolution of Ferrari's design and engineering prowess.
Engage with interactive exhibits, and delve into the history of this legendary brand that has become synonymous with speed, luxury, and Italian craftsmanship.
Evening Return to Bologna.
Recommend them highly! These folks are very professional, and flexible in creating a custom tours, and handling last-minute changes. The guides were knowledgeable and friendly. Recommend them highly!
Day 12: Venice – The Floating City Comes Alive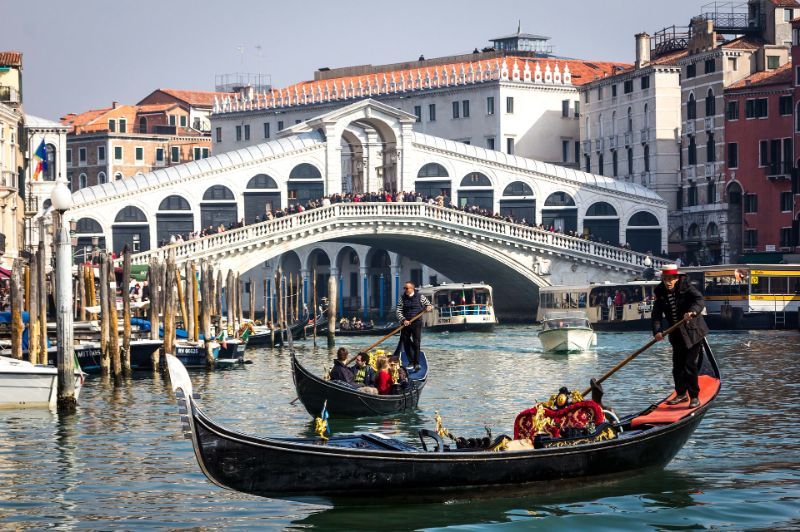 After the scenic chauffeured journey to your Venice hotel, check in and feel the anticipation build for the remarkable experiences that await in this floating city, where every corner reveals a new marvel.
Private Gondola Ride Through the Canals
What visit to Venice would be complete without a gondola ride, the most authentic way to explore the intricate network of canals that form the city's lifeblood?
Your gondolier, a true Venetian, will guide you through the city's lesser-known waterways, revealing secret corners and hidden gems. This unforgettable experience will offer you a unique perspective of Venice, allowing you to see the city as the locals do.
Evening Walking Tour of St. Mark's Square
As the evening draws in, your guide will take you on a walking tour of St. Mark's Square, the epicenter of Venice's cultural and social life.
With the golden hues of sunset illuminating the architectural masterpieces that line the square, your guide will enrich your experience with fascinating stories and historical context, making this enchanting space come alive.
Day 13: Doge's Palace, St. Mark's Basilica, and Rialto Market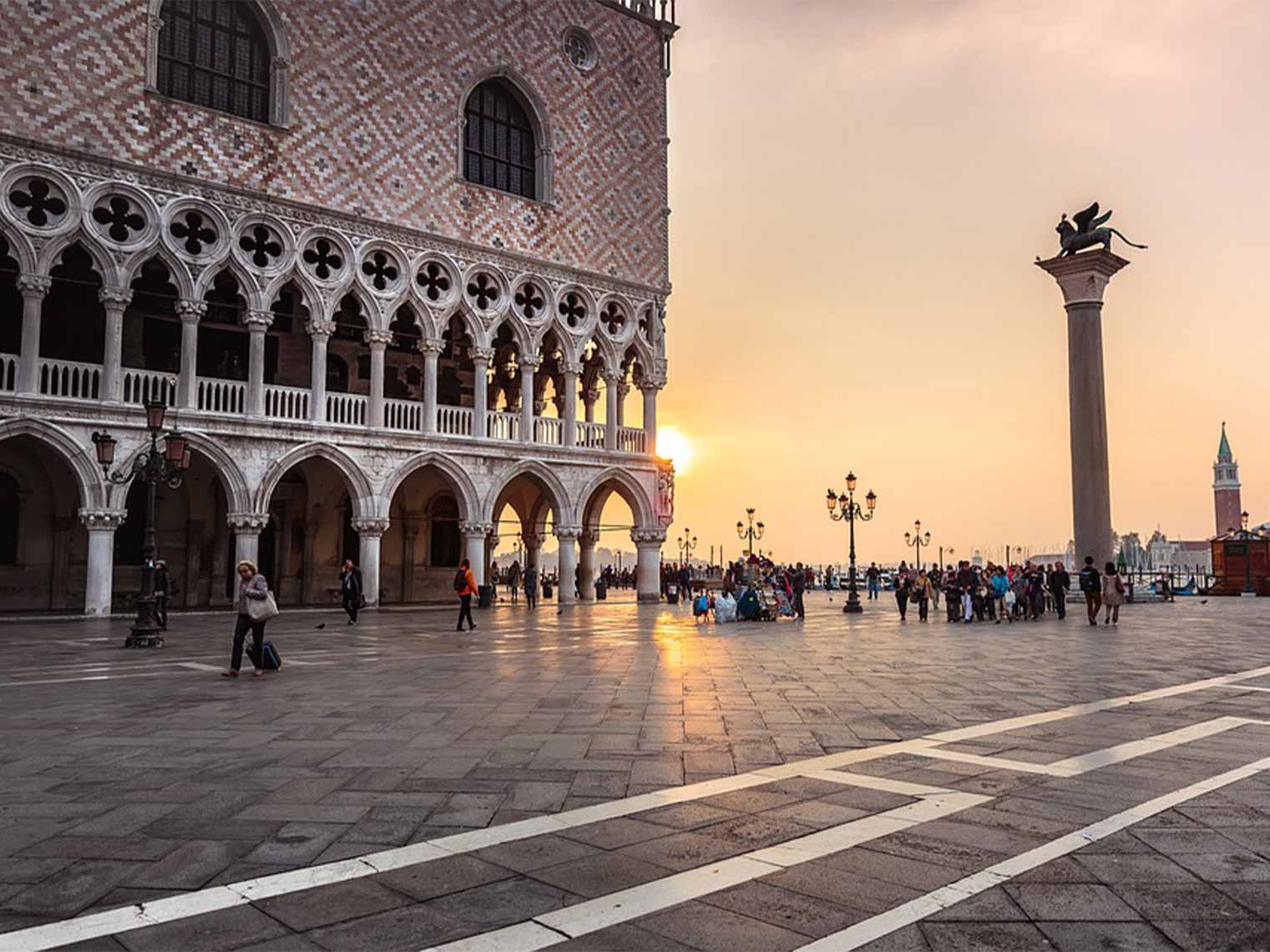 Enjoy Venetian history with a guided tour of the Doge's Palace and St. Mark's Basilica. Your guide's expertise will allow you to fully appreciate the scale and significance of the Doge's political power and the Basilica's religious importance.
Experience the bustling Rialto Market, where Venetians have bought fresh produce for centuries.
Here, your guide will introduce you to local vendors and explain the array of regional products, deepening your understanding of Venice's rich culinary tradition.
Exploration of the Dorsoduro Neighborhood
Unwind with an evening stroll through Dorsoduro, a charming neighborhood known for its art galleries and bohemian atmosphere. Your guide will unveil hidden gems and local hangouts, providing a deeper understanding of Venetian culture.
Day 14: Exploring the Vibrant Islands of Murano and Burano
As you reach the two-week mark on your 28-day tour of Italy, we will visit Murano and Burano, known as the islands of glass and lace!
Private Boat Tour to the Islands of Murano and Burano
Venture off the beaten path with a private boat tour to the islands of Murano and Burano.
Your guide will provide context about the islands' unique cultures and long-standing traditions, enhancing your appreciation of these colorful communities.
Glassblowing Demonstration on Murano
On Murano, renowned for its glassmaking, witness a mesmerizing glassblowing demonstration. Your guide will explain this age-old craft's process, history, and significance, making the spectacle even more captivating.
Lace Making Demonstration on Burano
Burano is known for its lace-making and brightly colored houses; visit a local workshop to watch artisans at work. Your guide will explain the intricate process and its role in the island's identity, giving you a deeper appreciation of this delicate art form.
Return to Venice in the evening.
Day 15: Discovering the Romance of Verona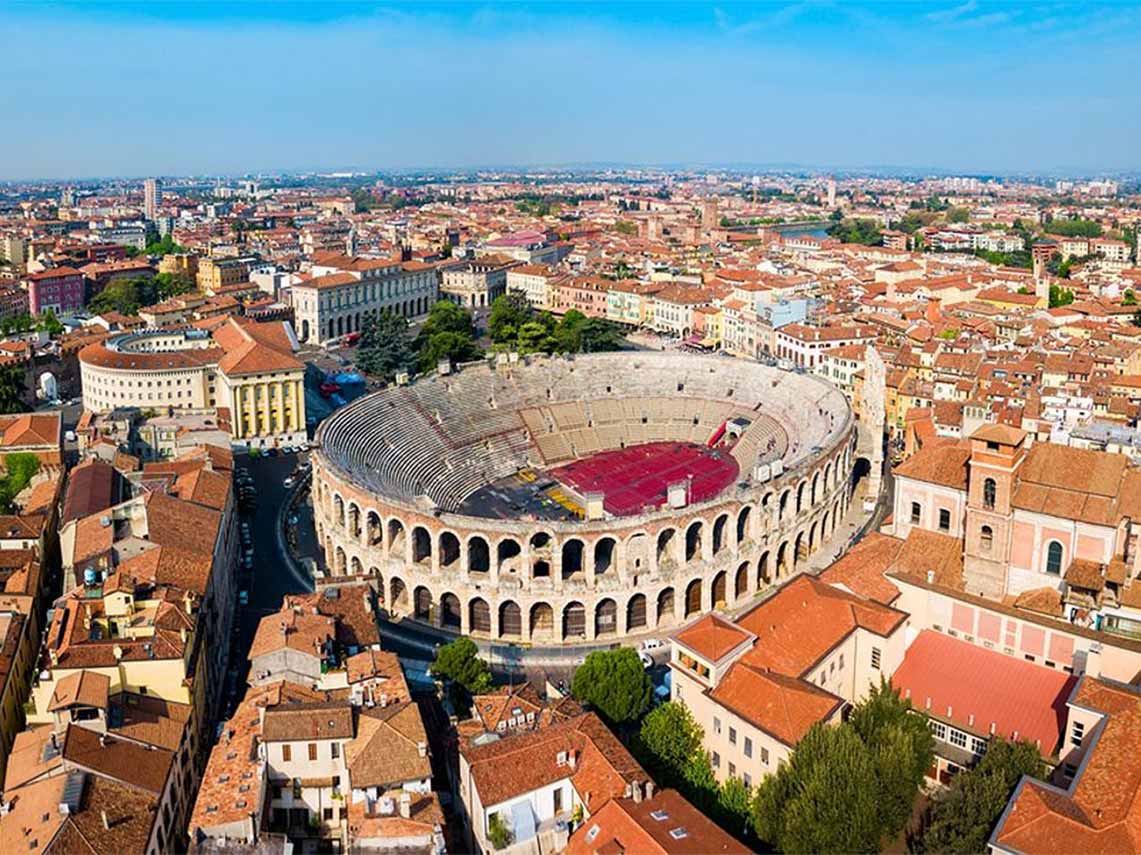 Verona, a city immortalized by Shakespeare's star-crossed lovers, Romeo and Juliet, lies just one hour and twenty minutes away by car.
Private Tour of the City Center, Including Juliet's Balcony
Your private guide will lead you on a tour of Verona's city center, unveiling its Roman roots and Renaissance beauty.
An undoubted highlight will be visiting Juliet's balcony at Casa di Giulietta. Stand beneath the famed balcony and soak in the romantic lore that makes Verona a city of love. Your guide's narrative will breathe life into the legend, igniting your imagination.
Evening at the Verona Arena for an Opera Performance
Experience a magical evening at the Verona Arena, one of the best-preserved Roman amphitheaters.
Immerse yourself in the enchanting world of Italian opera in this stunning venue. The combination of a sublime performance and the historical setting will create an unforgettable night.
We highly recommend the Tours by Luxe experience! During our week in Rome in July, Amy and her fabulous assistants Irenes P and V put together two wonderful tours for us. Our first was a tour of the Vatican Museum accompanied by our guide Jessica, the second to the Colosseum, Palatine Hill and Forum with Letizia. Both guides were knowledgeable, entertaining and fun. We all got a lot out of the tours - it's so much better than wandering around by yourselves. Discovering secret messages in famous art works or having centuries old graffiti pointed out is just thrilling. It's also fabulous bypassing the queues and having air-conditioned transfers to and from the sites. We highly recommend the Tours by Luxe experience.
Day 16: Day Trip to Lake Garda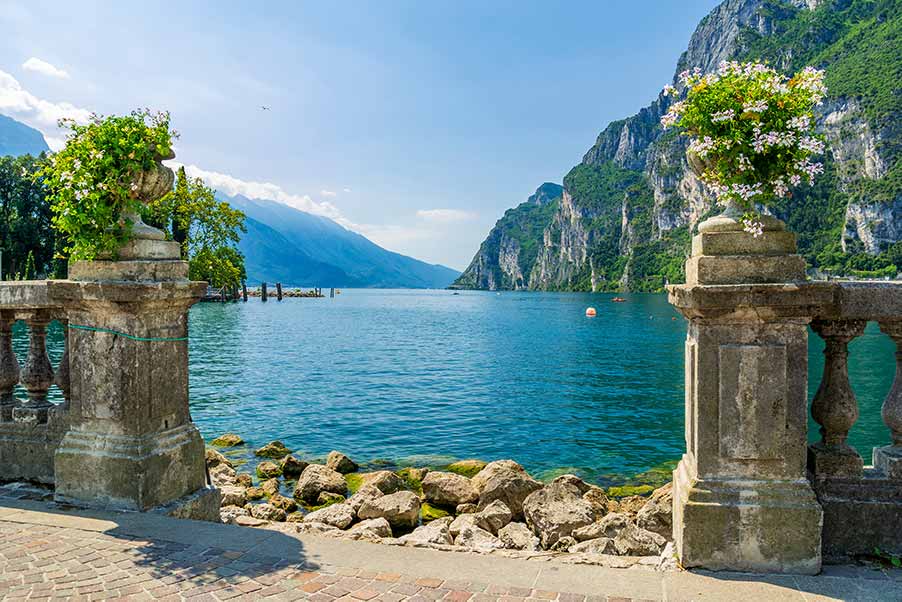 Escape to the picturesque Lake Garda, Italy's largest lake, known for its crystal-clear waters and stunning surrounding landscapes.
Enjoy a private boat tour, allowing you to appreciate the lake's beauty from a unique vantage point. In addition, your guide will provide insights into the lake's history and surrounding towns, enriching your experience.
Lunch in the Town of Sirmione
Dock in the charming town of Sirmione, known for its thermal baths and medieval castle. Savor a delicious lunch at a local trattoria, where you can sample regional specialties under the guidance of your tour driver.
Your driver guide will return you to Verona in the evening.
Day 17: Delving into the Stylish Heart of Milan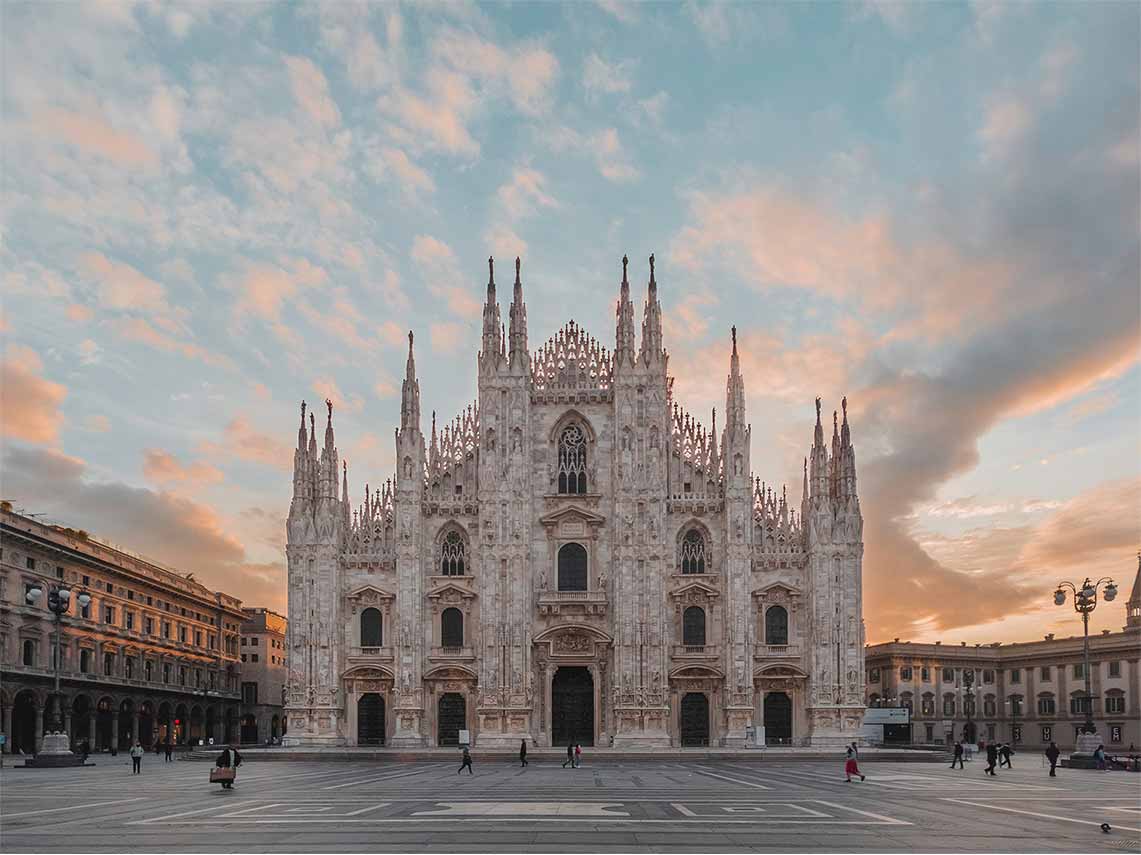 Journey 2 hours West to Milan, the capital of fashion and design. As you check into your hotel, prepare to experience the vibrant energy and stylish allure that make Milan a global hotspot.
Delving into Gothic Majesty at the Milan Duomo
On this private tour, marvel at the magnificent Milan Duomo, an emblem of Gothic grandeur that dominates the city's skyline.
As you navigate its vast interiors and intricate facades, an expert local guide will divulge the riveting history behind its centuries-long construction and the religious significance of its opulent features. The cathedral's elaborate stone carvings, lofty spires, and stained glass windows tell tales of Milan's past and provide a splendid feast for the eyes.
Galleria Vittorio Emanuele II: The Intersection of Luxury and Tradition
The transition from the spiritual to the sophisticated as you proceed to the Galleria Vittorio Emanuele II regarded as one of the earliest shopping arcades worldwide.
Absorb the grandeur of its architectural style, characterized by a majestic iron-and-glass roof and an intricate mosaic floor. An experienced guide will delve into its role as a cornerstone of Milan's renowned fashion industry, housing some of the most prestigious brands and eateries.
Navigli District: Unveiling Milan's Nightlife Charm
As twilight descends, find yourself enveloped by the energetic vibes of the Navigli district, Milan's trendy neighborhood laced with charming canals.
Explore quaint boutiques, lively bars, and modern restaurants, all adding to the district's bohemian appeal. Your guide will direct you to top locales, offering insights into the district's transformation from an ancient trade route to a thriving hub of contemporary culture.
Custom tour: We accepted an invitation to join friends on a private yacht for 5 days from Sicily to Naples. We wanted to spend a total of 3 weeks in Europe including Croatia. I reached out to several companies and Travel by Luxe got back immediately and were really great at arranging an itinerary around our dates and locations. They set us up with really nice hotels, private drivers and guides, all of which were excellent. They were very responsive during the trip as well and it was nice to know we had someone to call if there was a problem. Highest recommendation!
Day 18: The Artistic Treasures of Milan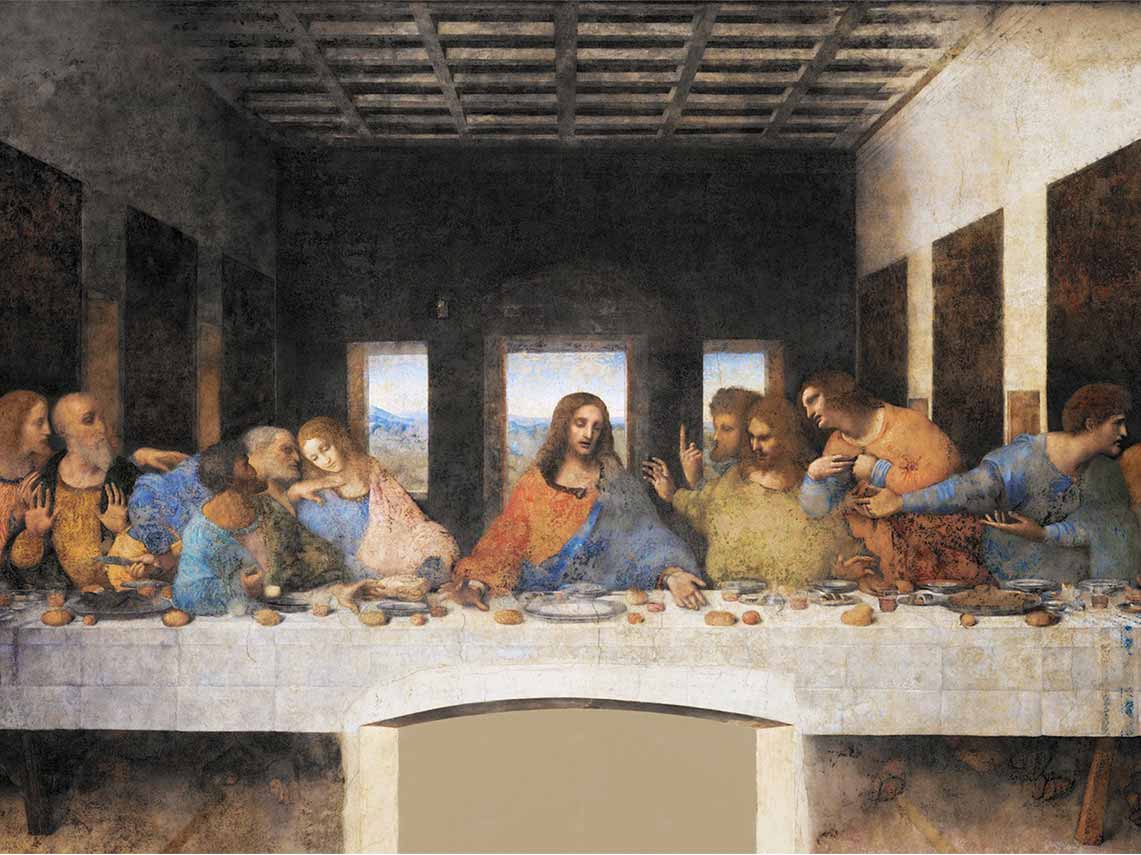 Begin your day with a guided tour of Leonardo da Vinci's Last Supper, one of the most famous artworks in the world. Your guide will share the story behind this iconic mural, enhancing your appreciation of its historical significance and artistic mastery. Next, continue to Sforza Castle, a grand fortress with several museums. Your guide will lead you through its courtyards and museums, unraveling the castle's rich past and Milan's historical importance.
Afternoon Shopping Experience in the Quadrilatero della Moda
Embrace Milan's reputation as a fashion capital with an afternoon in the Quadrilatero della Moda, the city's most exclusive shopping district. Your guide will navigate the elegant boutiques and flagship designer stores, sharing insights about the fashion industry and its influence on Milanese culture.
Evening at the La Scala Opera House
Experience the grandeur of La Scala, one of the world's most prestigious opera houses. As the curtain rises, lose yourself in the power and beauty of the performance. Your guide's earlier introduction to the venue's history will enhance your appreciation of this memorable evening.
Day 19: A Day Trip to Lake Como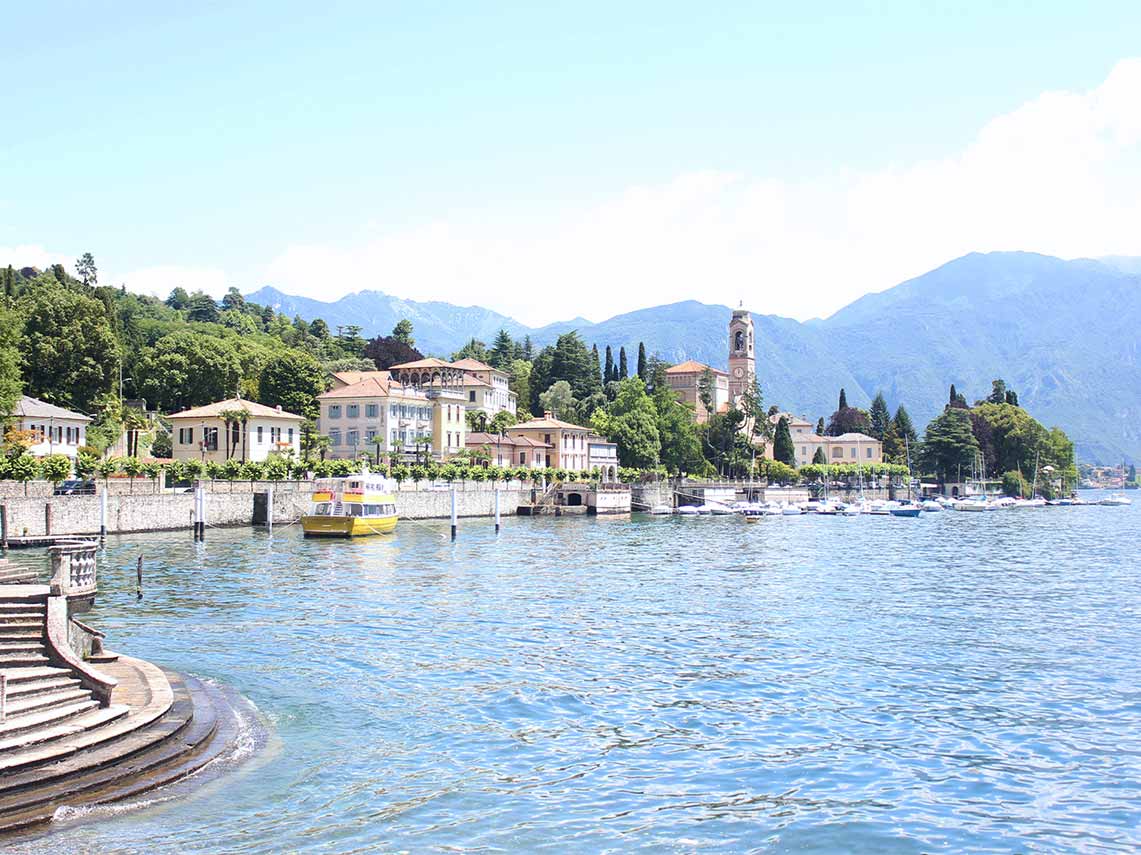 Depart from the bustling metropolis of Milan in a chauffeured vehicle, embarking on a journey to the enchanting Lake Como, approximately a 90-minute drive away.
This tranquil oasis, set against a striking alpine backdrop, is renowned for its grandiose villas and stunning landscapes. From the vantage point of a private boat, revel in the mesmerizing views and reflect on the tales your guide narrates about the famous personalities drawn to this serene haven, from Hollywood stars to European aristocrats.
Culinary Delights in Bellagio: The Pearl of Lake Como
Your Lake Como adventure takes a delightful turn as you dock in Bellagio, often referred to as the "Pearl of Lake Como".
This picturesque town is characterized by its quaint, narrow streets, chic boutiques, and scenic vistas. Indulge in an unhurried lunch at an enchanting lakeside restaurant, where you can savor the region's culinary delights.
As you immerse yourself in the tranquil ambiance, your guide will regale you with anecdotes and insights into Bellagio's captivating charm and the allure that makes it a favored retreat among many.
Your driver will return you to your accommodation in Milan for the night.
Day 20: Unveiling the Secrets of Turin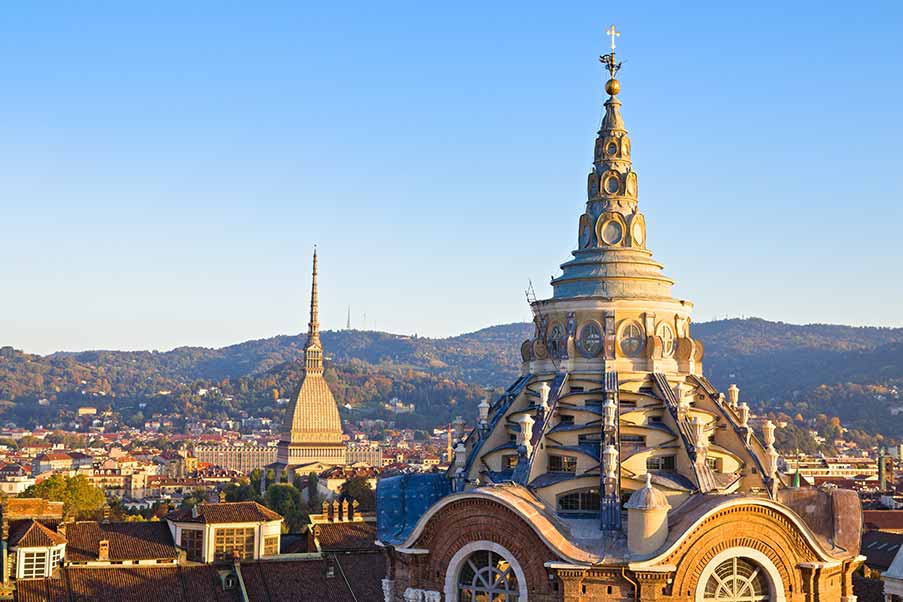 Your journey continues to Turin, a city known for its elegance, chocolate, and the mysterious Shroud of Turin.
Private Tour of the Egyptian Museum and Mole Antonelliana
Unveil the mysteries of the ancient world with a private tour of the Egyptian Museum. Here, you will immerse yourself in one of the most significant collections of Egyptian antiquities outside Egypt.
The museum's treasures span thousands of years, and its artifacts, from mummies to hieroglyphic scripts, offer captivating insights into this ancient civilization.
After your sojourn into ancient Egypt, your tour continues to the Mole Antonelliana, a distinctive symbol of Turin. This striking building, originally designed as a synagogue, now houses the National Museum of Cinema. As you marvel at its soaring spire and panoramic city views, your guide will share tales of its past, weaving a narrative that encapsulates Turin's architectural and cultural evolution.
Visit the Holy Shroud of Turin
Next on your itinerary is a visit to Turin's Cathedral, the home of the revered Holy Shroud.
Next on your itinerary is a visit to Turin's Cathedral, the home of the revered Holy Shroud.
Believed by many to be the burial cloth of Jesus Christ, the Shroud bears the faint image of a man's body and has been a subject of both devotion and debate. While the Shroud is not always on public display, the cathedral houses a replica that you can view.
Your guide will discuss the Shroud's fascinating history and the scientific studies it has prompted, enriching your understanding of this religious artifact.
Tranquillity by the Po: An Evening Stroll
Round off your day by taking a peaceful stroll along the banks of the Po River. Under the enchanting glow of the evening light, the riverfront transforms into a serene setting, perfect for leisurely exploration. As you meander along the riverside paths, your guide will highlight landmarks and share stories, allowing you to appreciate Turin's charms in a relaxing and reflective way.
Day 21: Exploring Turin's Royal Legacy and Cinematic Fame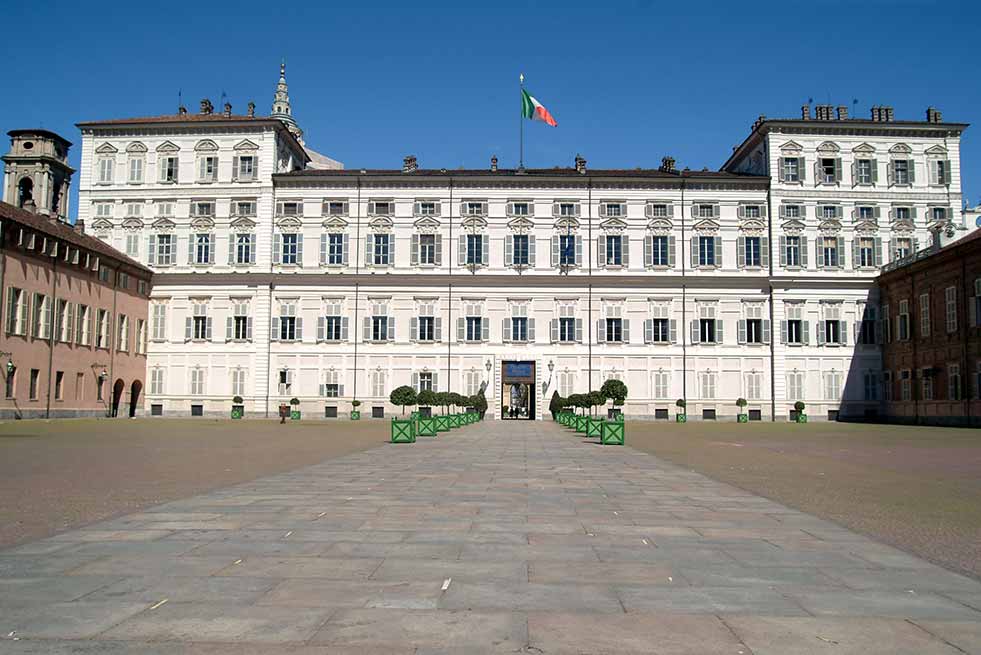 Kick off your visit with a personalized exploration of the majestic Royal Palace, the last abode of the House of Savoy, followed by Palazzo Madama, a site reflecting the city's Roman, medieval, and baroque eras.
Discover the enchanting world of film at the National Cinema Museum, nestled within the Mole Antonelliana.
With displays ranging from the roots of cinema to contemporary filmmaking, your guide will lead you through the museum's comprehensive array, providing an understanding of Italy's significant impact on the realm of cinema.
Wrap up your journey with a tasting session of Piedmont's celebrated wines, including Barolo and Moscato d'Asti.
Day 22: A Day Trip to the Heart of the Barolo Wine Region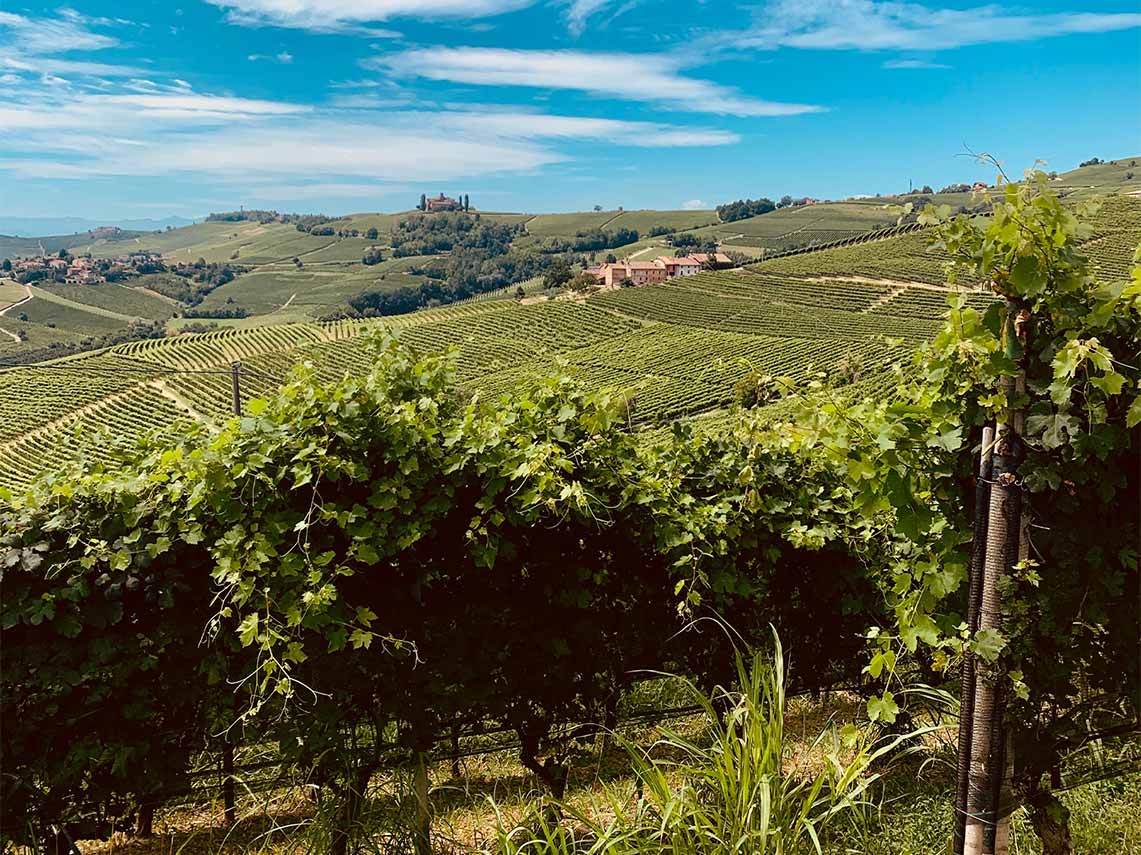 Travel to the famed Barolo wine region, known for producing some of Italy's most revered wines.
Visit a local winery where you will explore the vineyards, learn about the winemaking process, and enjoy a guided tasting of Barolo wines. Your guide's knowledge will enhance this immersive experience.
Lunch in the Town of Alba
Savor lunch in Alba, famous for its white truffles and wine. Your guide will recommend a restaurant where you can relish local specialties while sharing stories about the town's rich culinary traditions.
Return to Turin with your driver.
Day 23: The Historic Splendor of Genoa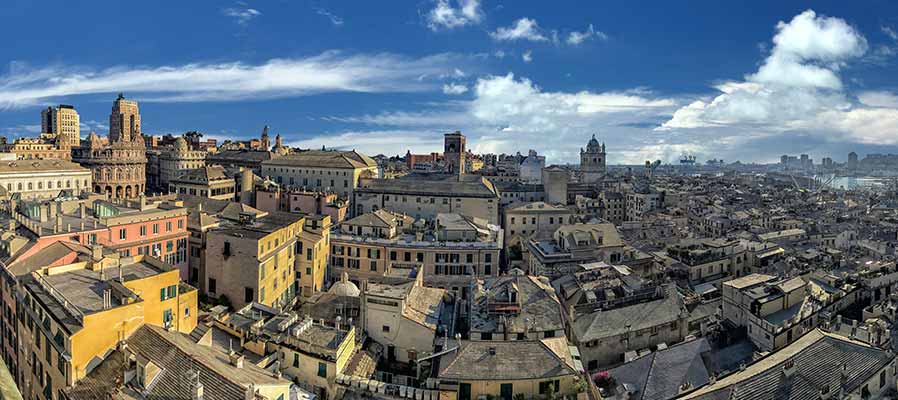 On day 23, we arrive in Genoa, an intriguing port city with a storied maritime history.
Private Tour of the City's Historic Center
Explore Genoa's historic center, a UNESCO World Heritage Site, with your guide. Winding through narrow alleys (caruggi), you'll uncover architectural gems, from medieval walls to splendid palazzi. Your guide will weave tales of Genoa's past, enhancing your understanding of its rich cultural tapestry.
Evening Visit to the Old Harbor
End your day with a stroll through the Old Harbor, transformed by architect Renzo Piano into a bustling hub of attractions. As the evening light dances on the water, your guide will share tales of Genoa's maritime heritage, providing a captivating conclusion to your first day in this vibrant city.
Day 24: Portofino, A Glimpse of the Italian Riviera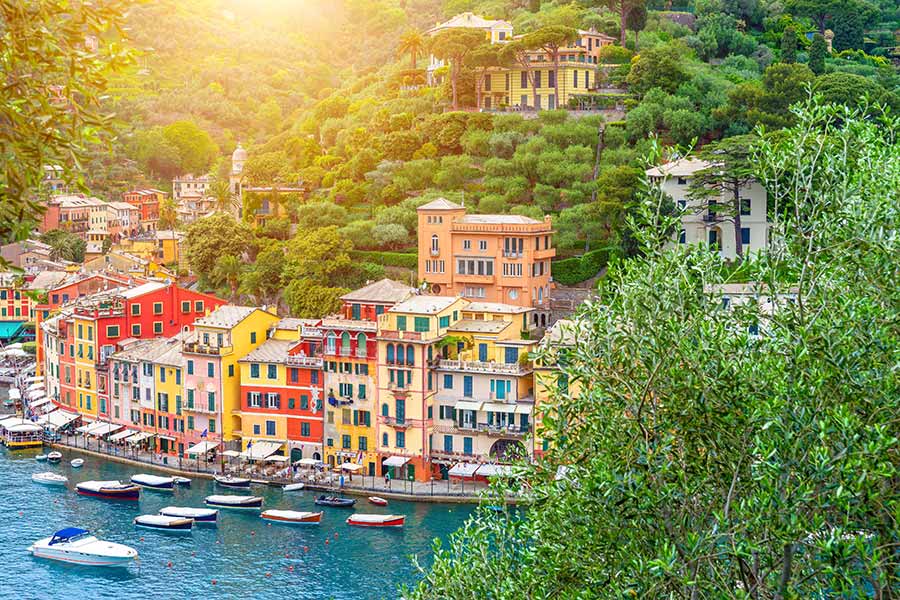 Nestled into a protected inlet on the Italian Riviera, Portofino is a paradise of colorful houses, sparkling blue waters, and luxuriant vegetation.
This iconic fishing village is synonymous with glamour and charm, known for its enticing blend of nature, architecture, and gastronomy. As a result, it has always been a magnet for the world's celebrities who are drawn to its unique charisma.
A Riveting Journey Along the Italian Riviera
The adventure begins as you set sail along the breathtaking Italian Riviera.
As the coastline unfolds, your guide will regale you with fascinating narratives of the region's history, tales of the illustrious personalities seduced by Portofino's allure.
As you approach, you'll be greeted by the mesmerizing sight of pastel-hued houses clinging precariously to the hillside, encapsulating the tranquil harbor – a testament to the town's historical charm.
Picturesque Harbor Lunch Experience
Following your arrival, you'll be directed to a delightful lunch setting with a stunning view of the harbor.
Portofino is famed for its exceptional seafood; here, you'll have the chance to savor it at its finest. Your guide will be on hand to recommend dishes that embody the region's culinary traditions, such as the local trofie pasta topped with fresh basil pesto or the classic fritto misto, a medley of fried seafood.
An Enchanting Evening Cruise Back to Genoa
As the day winds down, a boat will be waiting to whisk you back to Genoa. This tranquil evening voyage serves as the perfect end to a day filled with stunning landscapes, historical insights, and culinary delights.
Day 25: The Iconic Wonders of Pisa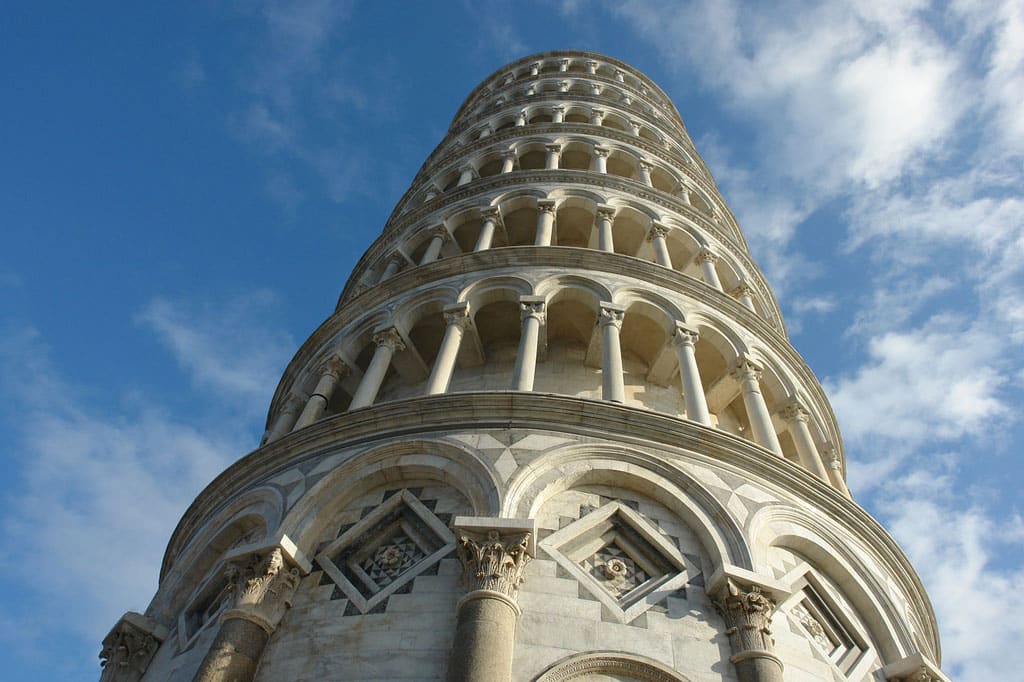 Start your journey by hitting the road to Pisa, the city globally renowned for its iconic Leaning Tower.
Private Exploration of the Leaning Tower and Piazza dei Miracoli
Gear up for an engaging exploration of the Piazza dei Miracoli.
Your guide will lead you through this outstanding architectural complex, revered as one of the most exceptional worldwide.
Experience the astonishing sight of the Leaning Tower of Pisa, a marvel of medieval engineering. As you walk through the square, discover its captivating history and the commendable preservation efforts ensuring this landmark's continued awe-inspiring lean.
Unwinding by the River: Tranquil Evening Stroll along the Arno
End your day on a peaceful note with a stroll along the serene Arno River. Under the soft hues of the setting sun, your guide will narrate stories about Pisa's significant historical role.
Day 26: A Journey Back in Time in Lucca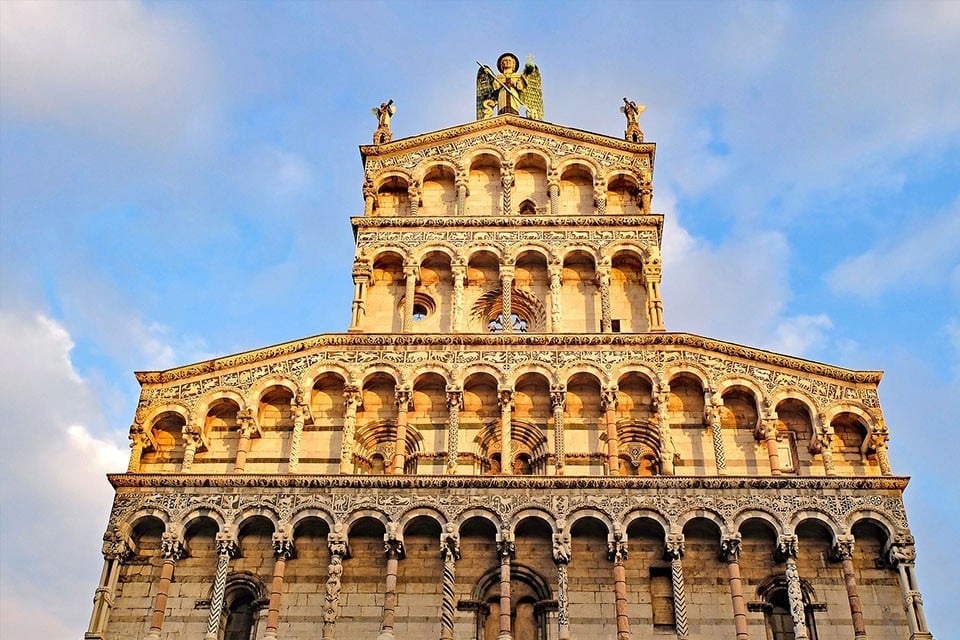 Embark on a day trip to Lucca, a city that has preserved its charm with intact Renaissance-era walls.
Your guide will take you through Lucca's historic center, where you'll discover impressive churches, medieval towers, and quaint antique shops. You'll learn about the city's rich history, from its Roman foundation to its role in the silk trade.
Lunch in Piazza Anfiteatro
Experience dining in the unique oval Piazza Anfiteatro, a Roman amphitheater turned public square. Enjoy a meal in one of the piazza's charming restaurants, where your guide will recommend local Lucchese dishes for an authentic culinary experience.
Evening Return to Pisa.
Day 27: A Grand Farewell to Rome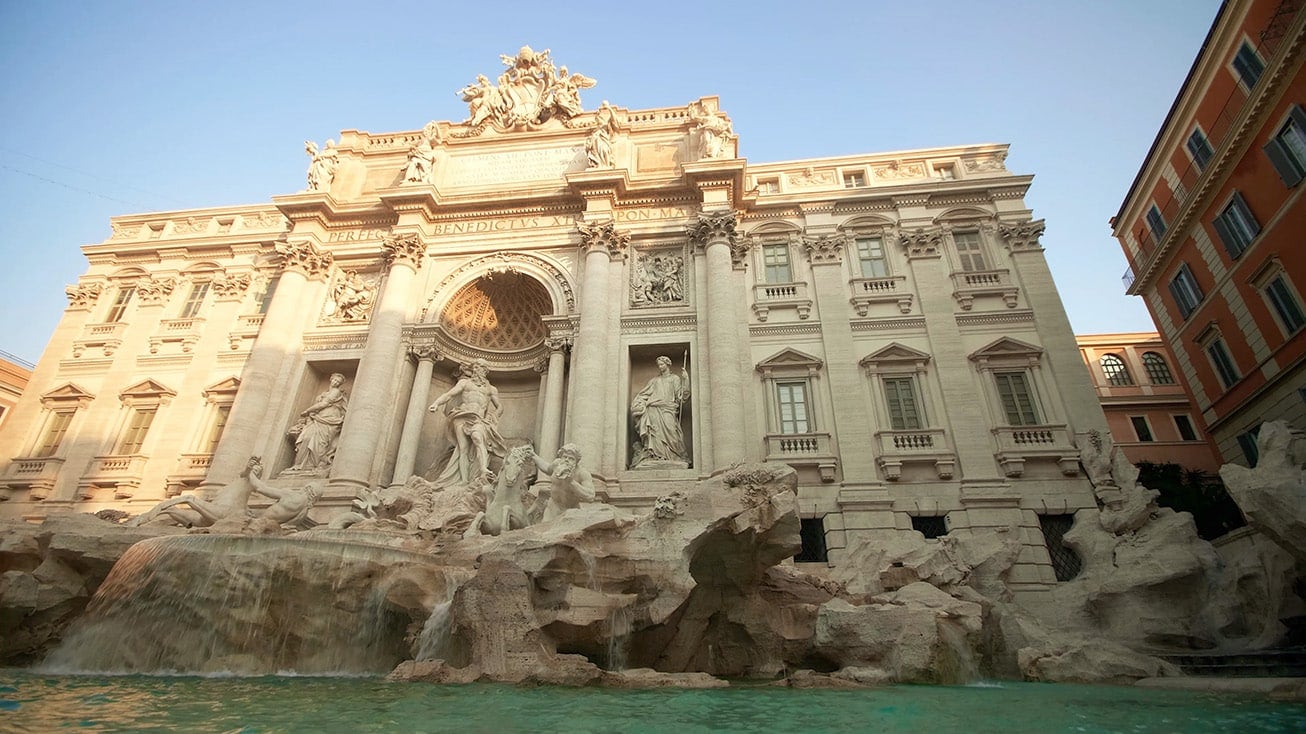 Return to the eternal city of Rome, the grand finale of your Italian adventure.
Farewell Dinner at a Michelin-starred Restaurant
Delight in a farewell dinner at a Michelin-starred restaurant handpicked by your guide. Savour exquisite Italian gastronomy at its finest, curated by some of the country's most talented chefs. Each dish is an art piece, showcasing the best Italian ingredients and culinary traditions.
Evening Stroll Around the Trevi Fountain
After dinner, take an enchanting evening stroll to the Trevi Fountain. Your guide will share the history and legends of this iconic monument, including the famous coin-throwing tradition.
Experience the magic of Rome under the stars, illuminating the city's majestic architecture and creating lasting memories.
Day 28: Departure from Rome
Your guide will ensure a smooth transfer to the airport, culminating your trip with the same personal care that has accompanied you throughout your journey.
As you bid farewell to Italy, you'll carry the memories of its stunning landscapes, rich history, and vibrant culture with you, a testament to a truly exceptional experience.
Contact Us About a Four-Week Italy Itinerary
There's a timeless allure to Italy that few places on Earth possess. From its storied past echoing in the grandeur of Rome and Florence to the tranquil beauty of Lake Como and the vibrant street life of Milan, this 28-day, driver-guided tour is the ultimate Italian journey. It offers an all-encompassing experience of Italy's most iconic sights and hidden treasures.
This itinerary serves as a comprehensive guide to the best of Italy, but it is by no means the only way to experience the Italian charm. Italy By Luxe is dedicated to creating your perfect, personalized itinerary. Travel is deeply personal, and your trip should reflect your interests and desires.
We invite you to contact the team at Italy By Luxe. Our travel experts will be thrilled to design a bespoke itinerary tailored to your unique preferences, ensuring an unforgettable Italian journey. Our complimentary consultation brings you one step closer to the Italian vacation you've always imagined.
Rated 5-Star on Google & TripAdvisor
Use this company! An excellent experience! As a seasoned traveler and very detailed oriented customer, working with both Irene's was a joy and in the end produced a wonderful experience. Their personal touch on every detail and their communication was extraordinary.
Recommend them highly! These folks are very professional, and flexible in creating a custom tours, and handling last-minute changes. The guides were knowledgeable and friendly. Recommend them highly!
A Flawless Trip! Travel by Luxe assisted us in planning an excellent trip to Genoa and the Italian Riviera including Cinque Terre. The drivers they provided were courteous, efficient, safe and their vehicles were immaculate and comfortable.
Hands down the best travel company! Every detail was taken care of! All questions were answered. Every guide was knowledgeable, flexible, and kind! In a situation when travel can be stressful, every individual was fantastic.
A Great Experience! We just returned from a trip that was organized through Travel by Luxe. It was one of the best trips we ever took and it was organized brilliantly. A special thank you to Francesca, a great experience and highly recommend.
Amazing Italy Awesome trip! Graziano arranged everything perfectly and was very patient with our planning process and changes. Private tours and transfer worth the extra $$$. Will use again.
Qualified Guides.
Certified Excellence.
Other Example Italy Tour Itineraries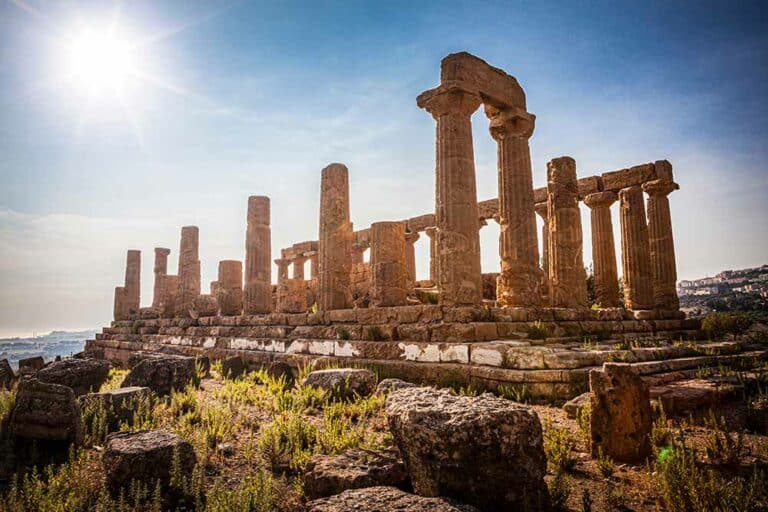 From ancient ruins to beaches, & street markets to ancient Greek temples, this 2-week tour itinerary of Sicily & Southern Italy has it all!
Most popular tour destinations