Barcelona In A Day Private Tour
Experience the Best of Barcelona in One Day
Immerse yourself in the vibrant city of Barcelona with our private full-day tour. Let your private guide lead you through the Gothic Quarter's captivating alleyways and uncover the best of Gaudi's Catalan Modernist masterpieces, including Sagrada Familia, Casa Mila, Casa Batllo, and Parc Guell, all while enjoying the convenience of skip-the-line access.
Our full-day tour of Barcelona allows you to indulge in the city's famed food and wine specialties on La Rambla, Barcelona's most renowned boulevard. Our private guide will share insider knowledge, including the city's hidden history and most iconic sites.
Join us for an unforgettable experience and discover why Barcelona is Spain's most popular destination with our full-day best of Barcelona private tour.
What's included on your Barcelona Full-Day Tour?
Barcelona Old Town Walking Tour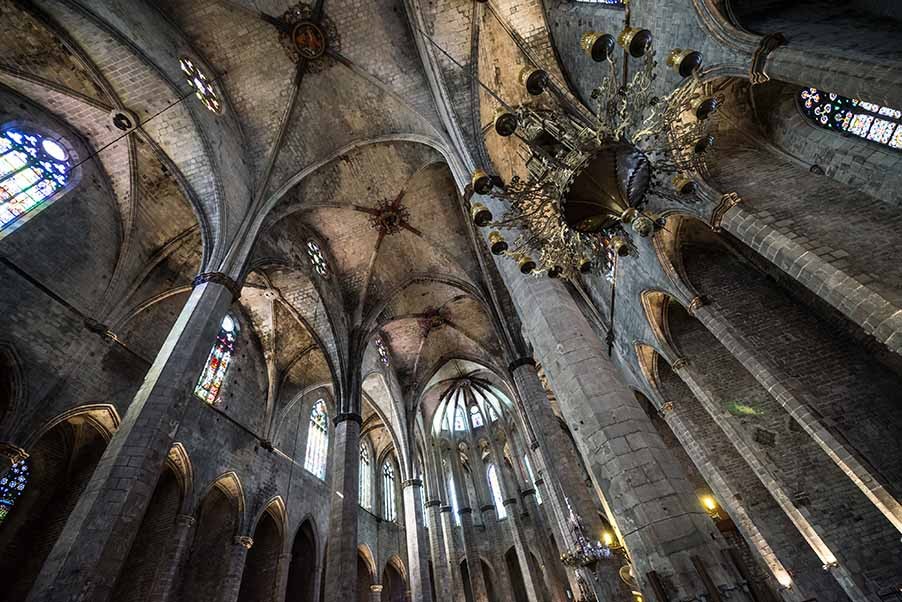 Discover the fascinating origins and history of Barcelona as your private guide takes you on a walking tour of the old town. From the mythical tales of Hercules to the city's war and trade as a Carthaginian outpost, you will get to know the real story behind this iconic destination.
As you walk the cobbled streets and visit ancient Roman and medieval artifacts, you will encounter some of the highlights of the tour, including:
The Roman City Wall from the time Barcelona was named Barcino

The Jewish quarter, home to one of Europe's oldest synagogues

Barcelona Cathedral, also known as the Cathedral of the Holy Cross, and Saint Eulalia, the seat of the Archbishop of Barcelona.

The Royal Palace, Palau Reial de Pedralbes, the former residence of the Spanish Royal Family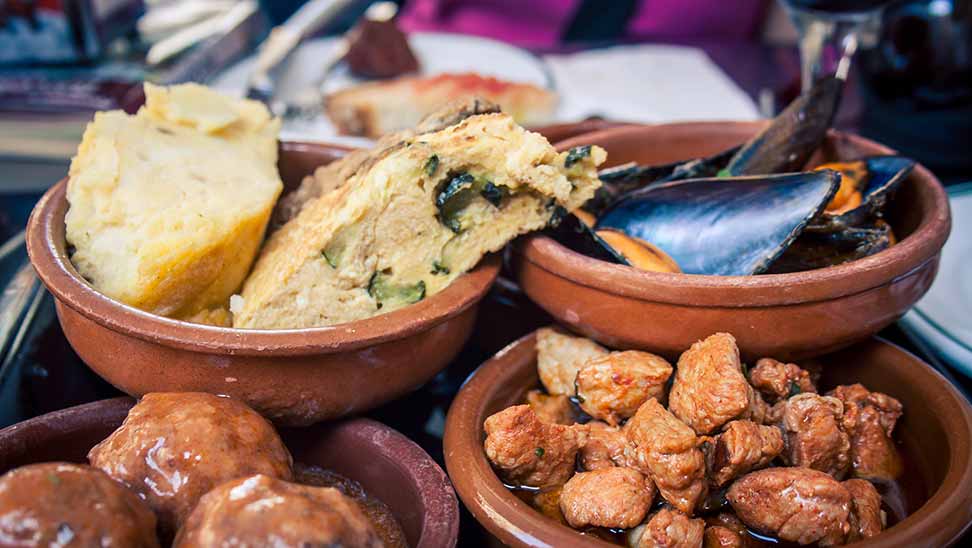 Barcelona is also known for its seafood, and several tapas dishes showcase the best of what the Mediterranean has to offer. One such dish is the classic Pulpo a la Gallega, a traditional octopus dish from Galicia. Grilled squid, or Calamares a la Plancha, is another seafood dish that is sure to impress.
Other popular tapas dishes in Barcelona include Pa amb Tomaquet, a simple dish of bread rubbed with tomato and olive oil and topped with ham or cheese. The city is also famous for its cured meats, such as Jamón Serrano and Fuet, which are often served on a platter with cheese and olives.
To enjoy a tapas lunch in Barcelona, head to a local bar or restaurant and order several dishes to share with friends or family.
Barcelona Gaudi & Architecture Private Tour
After a traditional Barcelona-style tapas lunch, your private driver-guide will take you on a tour of Barcelona's awe-inspiring Gaudi architecture. This includes skipping the line and enjoying a private tour of the Sagrada Familia, one of the most visited spots in Spain.
Private Tour of Sagrada Família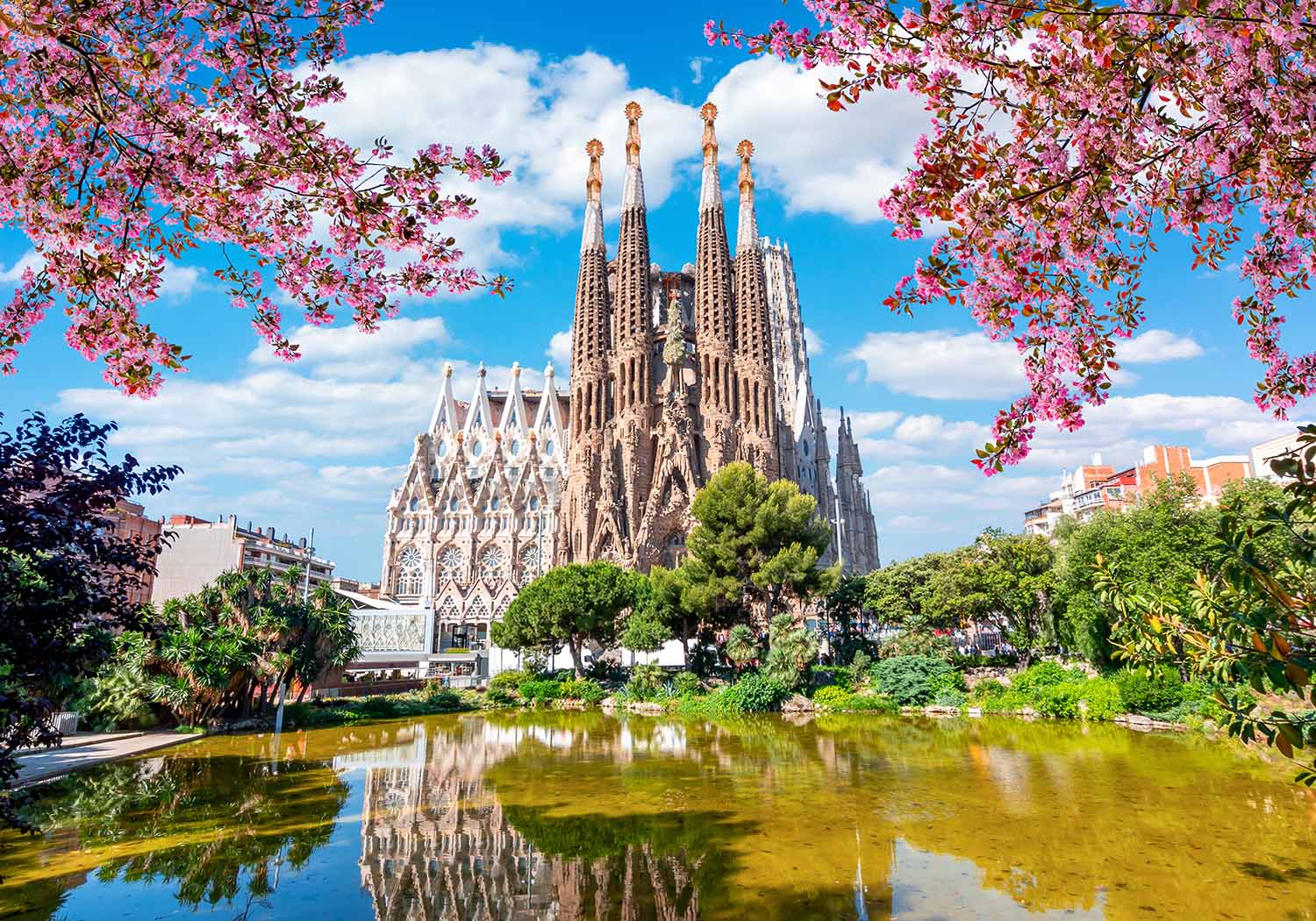 The Sagrada Familia is Gaudi's unfinished masterpiece, and it is a testament to his extraordinary architectural style. It's a magical moment to see the stained glass windows transform the cathedral into a kaleidoscope of colors. Skip the queue and enjoy a private tour with your guide to getting the full experience of this divine structure.
Private Tour of Park Guell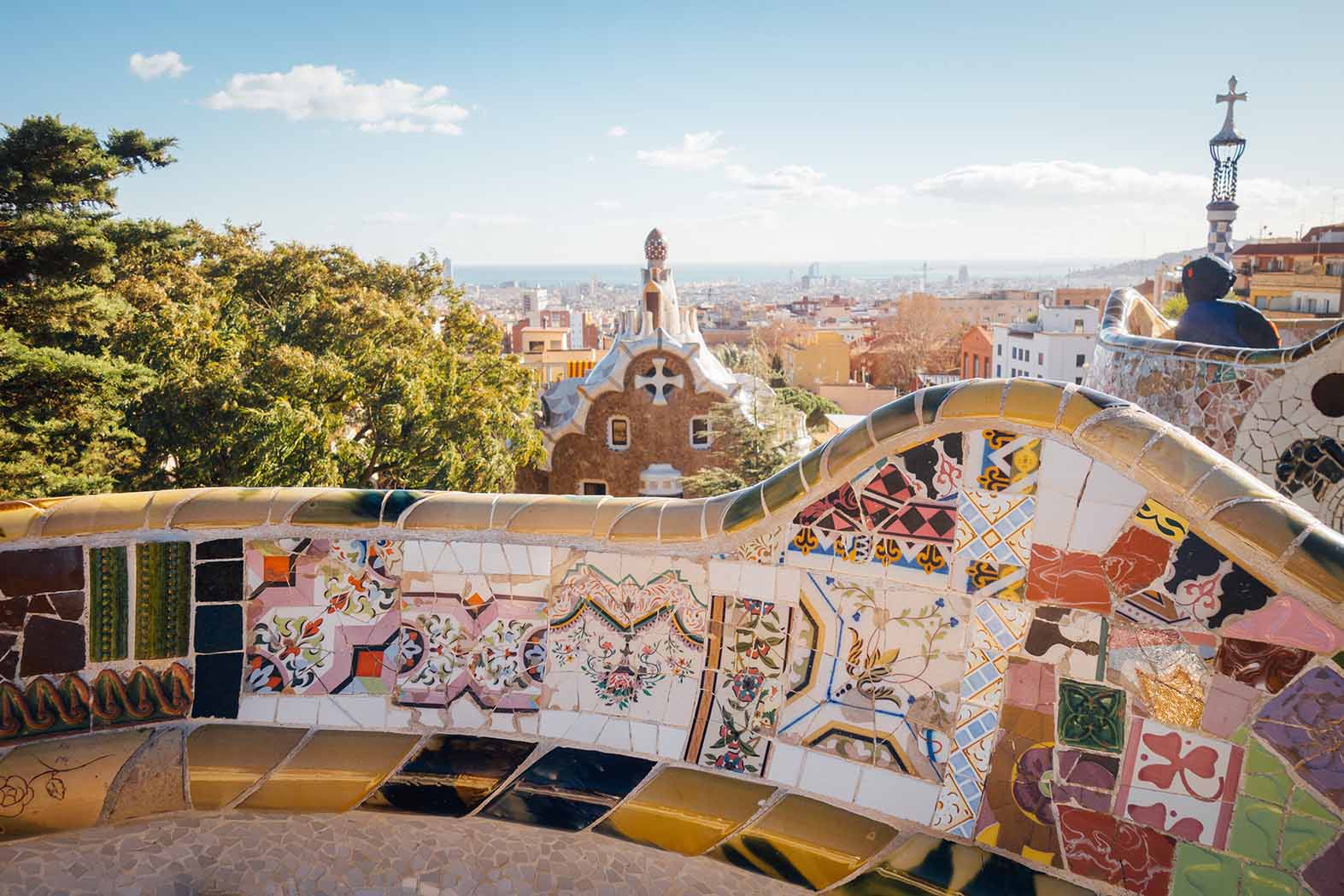 The tour continues to the enchanting Park Guell, which is considered one of Barcelona's greatest tourist attractions.
This park is a testament to Gaudi's vision and imagination. The buildings inside the park were designed to be the perfect synthesis between artistic vision, comfortable living space, and community building.
Your guide will discuss the rich symbolism on display and how elements of Catalanism, Gaudi's Catholicism, Spanish and historic mythology are sewn throughout the awe-inspiring designs.
Casa Milà and Casa Batlló
The tour also takes you to Passeig de Gràcia's façades and exteriors, including the main Gaudi houses, such as Casa Milà ("La Pedrera") and Casa Batlló, which contribute to making Barcelona the truly unique city it is.
Alongside your private guide, you will also visit other locations such as the UNESCO World Heritage Site Casa Batllo, El Drac de Gaudi: The Dragon Gate at The Guell Pavilions, Casa Mila – The last completed work of Gaudi before devoting himself to the Sagrada Cathedral, and the Monumento al Calvario, originally designed to be a chapel.
Barcelona Food and Wine Experience on La Rambla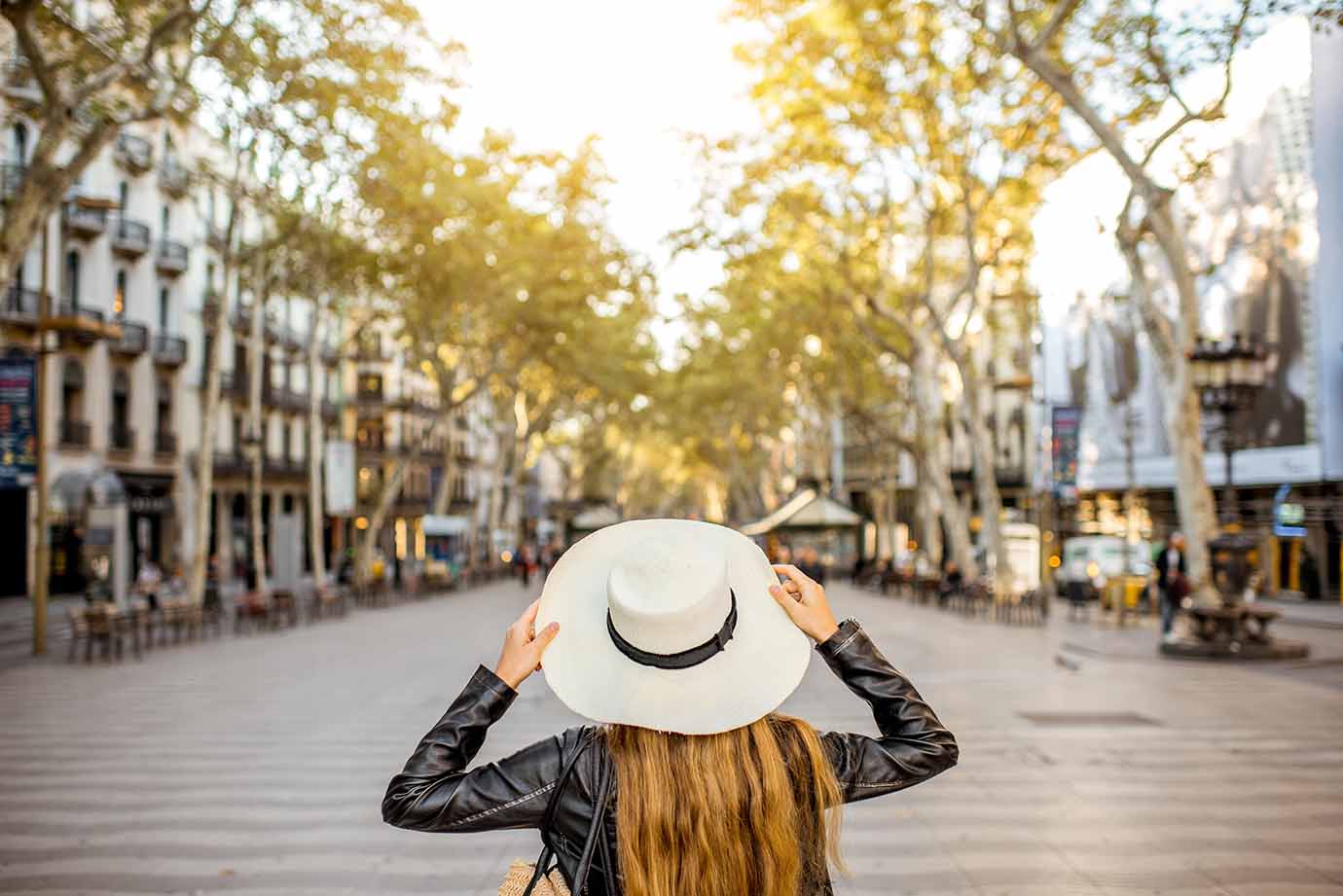 End your day in Barcelona with a curated food and wine tour of La Rambla, the city's most famous and vibrant street, with your private guide.
Market Tour and Cooking Class Options
Our tour planners will tailor the experience to your preferences, so you can eat like a local as you try a selection of classically Barcelona fresh meats, fish, and seafood on a guided market tour through Mercat De Sant Antoni, De La Boqueria or Mercat De La Barceloneta. Alternatively, enjoy a private cooking class with a local professional chef.
If you prefer to sit back and relax, ask us to reserve a table in one of the many 5-star restaurants on La Rambla. Whatever option you choose, prepare to indulge in the finest food and wine that Barcelona has to offer.
Additional VIP Add-Ons in Barcelona
We strive to provide personalized experiences that cater to your interests.
Before your Barcelona tour, we'll take the time to understand your preferences, so we can create an itinerary that's tailored to you. Drawing on our extensive local connections and years of experience, we're equipped to arrange any special request you may have. Whether you're looking to hike, bike, kayak, explore the Costa Brava, attend a VIP sports event, or enjoy a day trip to Montserrat, just let us know, and we'll make it happen.
Amazing Travel Agency! Marta helped us plan our whole trip and it was absolutely amazing! We did private walking tours, private winery tours, and everything was great! Marta made the itinerary with our interests in mind and was extremely helpful! The tour guides (Viola and Jessica to name two of the many) were outstanding! Marta also helped plan the perfect engagement! We highly recommend this company and will be using them again!
Get in Touch with Your Personal Barcelona Tour Organizer
Our tours are designed for intimate private groups to offer our customers an exceptional experience. Therefore, we can tailor our schedules to match your preferences, necessities, and demands.
To chat about this tour or any alterations you wish to introduce, please fill out the form provided below.
Rated 5-Star on Google & TripAdvisor
Use this company! An excellent experience! As a seasoned traveler and very detailed oriented customer, working with both Irene's was a joy and in the end produced a wonderful experience. Their personal touch on every detail and their communication was extraordinary.
Recommend them highly! These folks are very professional, and flexible in creating a custom tours, and handling last-minute changes. The guides were knowledgeable and friendly. Recommend them highly!
A Flawless Trip! Travel by Luxe assisted us in planning an excellent trip to Genoa and the Italian Riviera including Cinque Terre. The drivers they provided were courteous, efficient, safe and their vehicles were immaculate and comfortable.
Hands down the best travel company! Every detail was taken care of! All questions were answered. Every guide was knowledgeable, flexible, and kind! In a situation when travel can be stressful, every individual was fantastic.
A Great Experience! We just returned from a trip that was organized through Travel by Luxe. It was one of the best trips we ever took and it was organized brilliantly. A special thank you to Francesca, a great experience and highly recommend.
Amazing Italy Awesome trip! Graziano arranged everything perfectly and was very patient with our planning process and changes. Private tours and transfer worth the extra $$$. Will use again.
Qualified Guides.
Certified Excellence.
Explore More Luxe Private Tours in Spain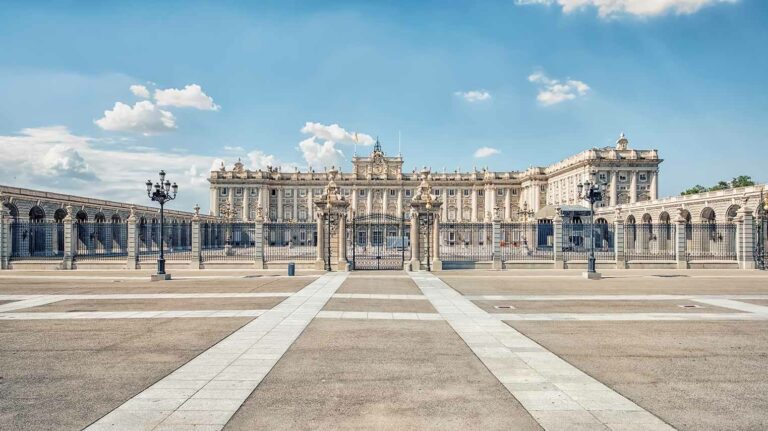 This private tour itinerary is designed to be the best way to experience two of Spain's most famous cities in just 5 short days!
Most popular tour destinations