21-Day Grand Tour of Spain Itinerary
Spending 3 Weeks Touring Spain
Join us on our thrilling 21-day itinerary through Spain! Our experienced tour planners have put together an itinerary showcasing the best this stunning country has to offer.
Explore the bustling cities of Madrid and Barcelona, immerse yourself in the rich culture of Andalusia, and much more. Get ready for an unforgettable journey of discovery.
Day 1: Introduction to Madrid Walking Tour
The Madrid Walking Tour is a guided excursion through the heart of Spain's vibrant capital, offering visitors an insightful introduction to its rich history, stunning architecture, and cultural landmarks.
Led by an experienced and knowledgeable local guide, this tour covers essential sites and hidden gems, giving you a taste of Madrid's unique charm and character. The tour is suitable for all ages and fitness levels, and provides ample opportunities for photographs and questions.
Introduction to Madrid Walking Tour Itinerary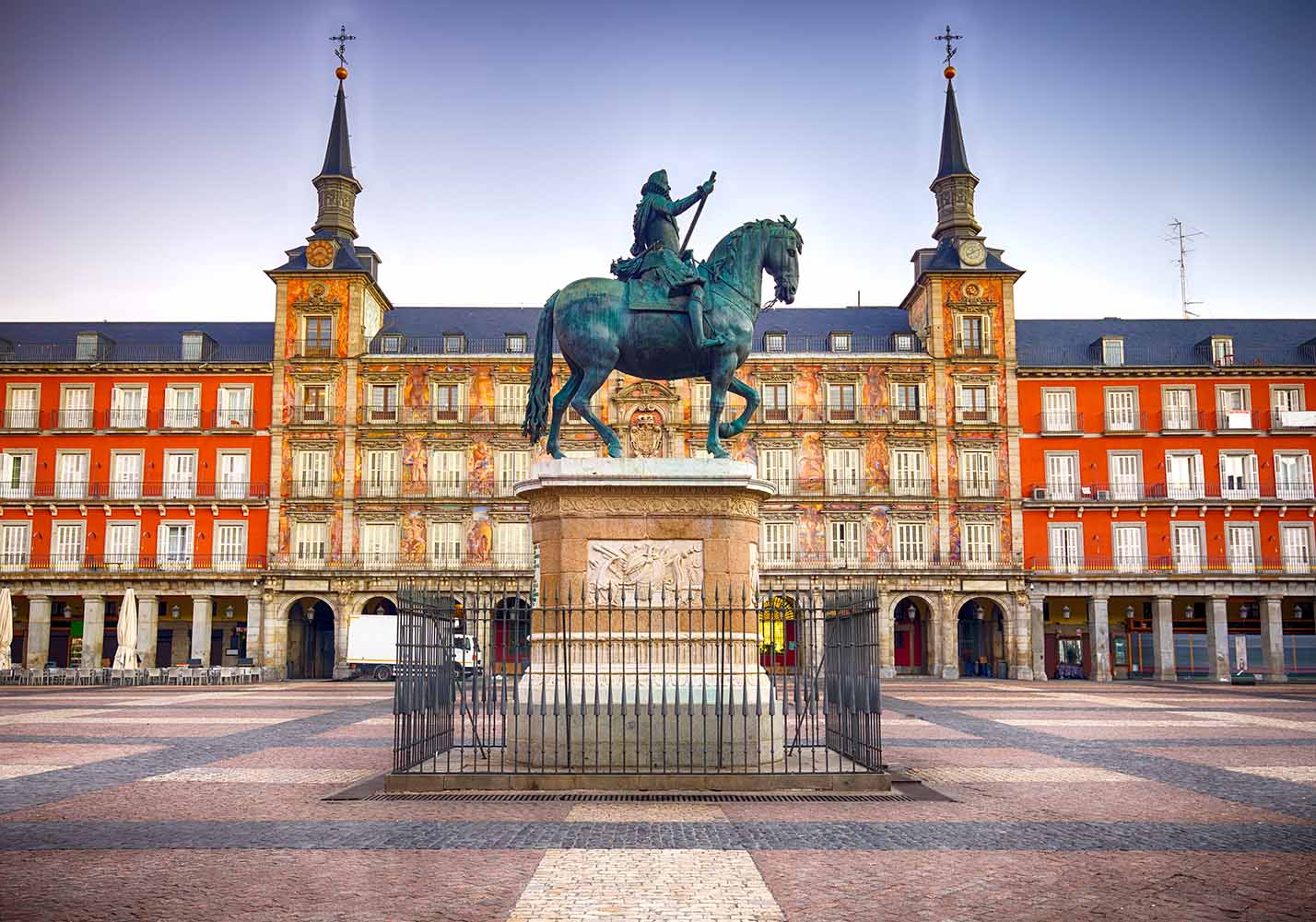 Meet your guide at Puerta del Sol, the bustling central square of Madrid. Learn about its history, the famous Tío Pepe sign, and the iconic statue of King Carlos III.
Walk to the nearby Plaza Mayor, a stunning enclosed square surrounded by historic buildings. Hear stories about its transformation from a medieval market to a venue for bullfights, executions, and royal ceremonies.
Continue to the historic Literary Quarter (Barrio de las Letras), where famous writers such as Cervantes and Lope de Vega once lived. Stroll along its charming streets and discover hidden courtyards, cafes, and art galleries.
Visit the impressive Congress of Deputies building, where the Spanish Parliament convenes, and learn about the country's political history.
Explore the picturesque Plaza de Santa Ana, a lively square lined with cafes, restaurants, and theaters. Learn about its historical significance and the prominent figures who frequented the area.
Venture to the Paseo del Prado, a beautiful tree-lined boulevard that houses some of Madrid's most important museums, including the Prado Museum, Reina Sofía, and Thyssen-Bornemisza.
Conclude the tour at the emblematic Cibeles Fountain, where you'll hear about the Goddess of Fertility and her importance to the city, as well as the iconic buildings surrounding the square, such as the Cybele Palace and Bank of Spain.
Throughout the tour, your guide will share intriguing anecdotes, historical facts, and local recommendations to enrich your understanding and appreciation of Madrid.
Day 2: Royal Palace of Madrid and Gran Vía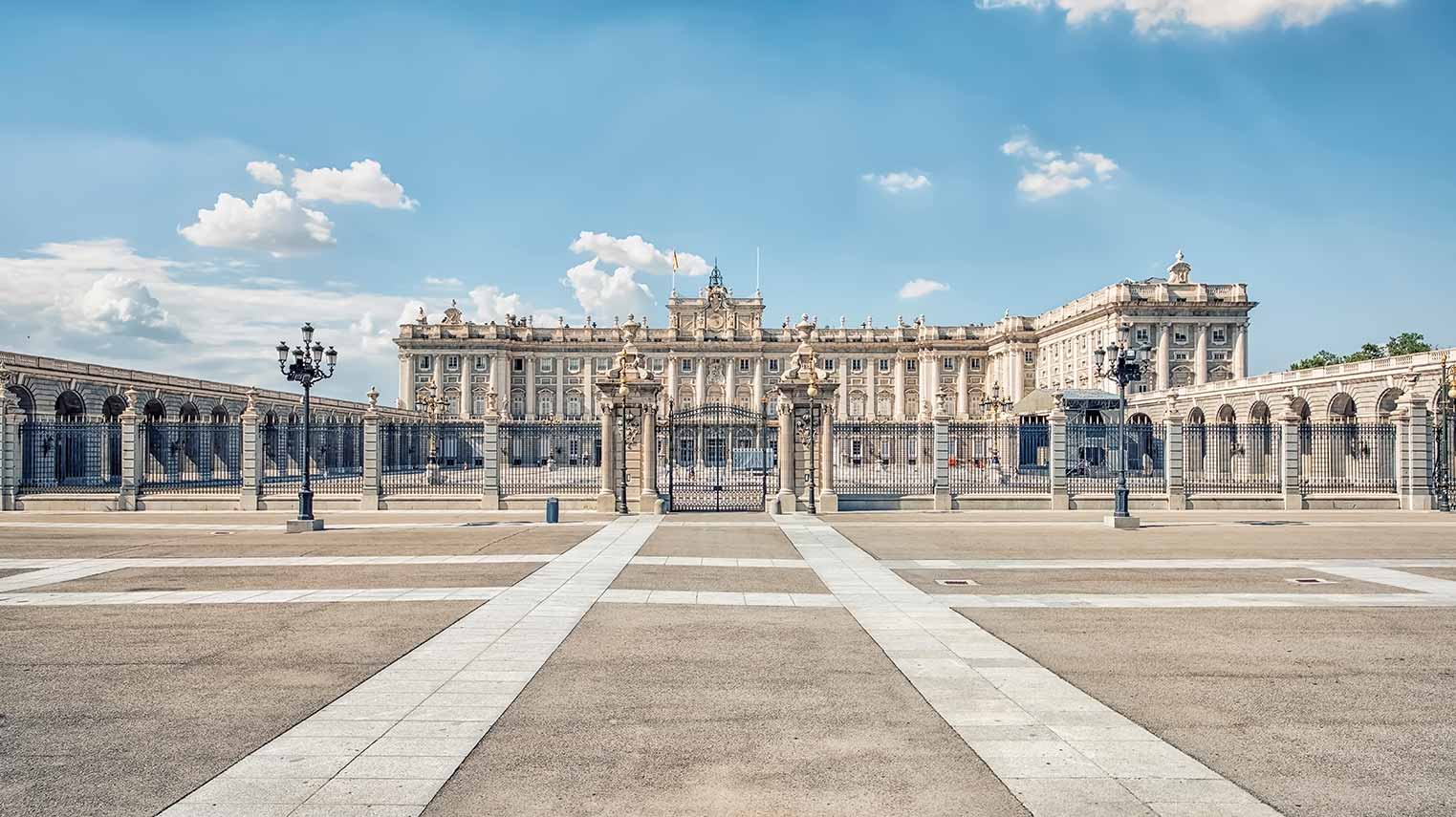 Embark on a guided morning tour of the Royal Palace of Madrid, the official residence of the Spanish Royal Family. This 2-hour journey with an expert local guide delves into the palace's history, architecture, and the monarchy's role in shaping Spain's past and present.
Meet your guide at the entrance of the Royal Palace and begin your exploration of the over 3,000 opulent rooms, each reflecting the grandeur of Spain's royal lineage. Marvel at the Throne Room, the Royal Chapel, and the Hall of Columns, where state banquets and official ceremonies take place.
Admire the exquisite collection of artwork, including pieces by Goya and Velázquez, and observe the intricate frescoes, tapestries, and chandeliers throughout the palace. Wander through the meticulously manicured gardens, such as the Campo del Moro and the Sabatini Gardens, offering stunning views of the palace façade.
Throughout the tour, your knowledgeable guide will reveal fascinating stories and lesser-known facts about the palace and the Spanish monarchy.
Stroll along Gran Vía, the city's main shopping and entertainment avenue. Admire the historic architecture and consider visiting one of its iconic theaters, such as the Telefónica Building or Edificio Metrópolis.
Evening Tapas Experience in Madrid
Savor a delicious Spanish meal at a local tapas bar, like Bodega de la Ardosa or El Sur. Afterward, experience Madrid's vibrant nightlife with a bar crawl in the trendy Malasaña or Chueca neighborhoods.
Day 3: Madrid's Prado Museum and Retiro Park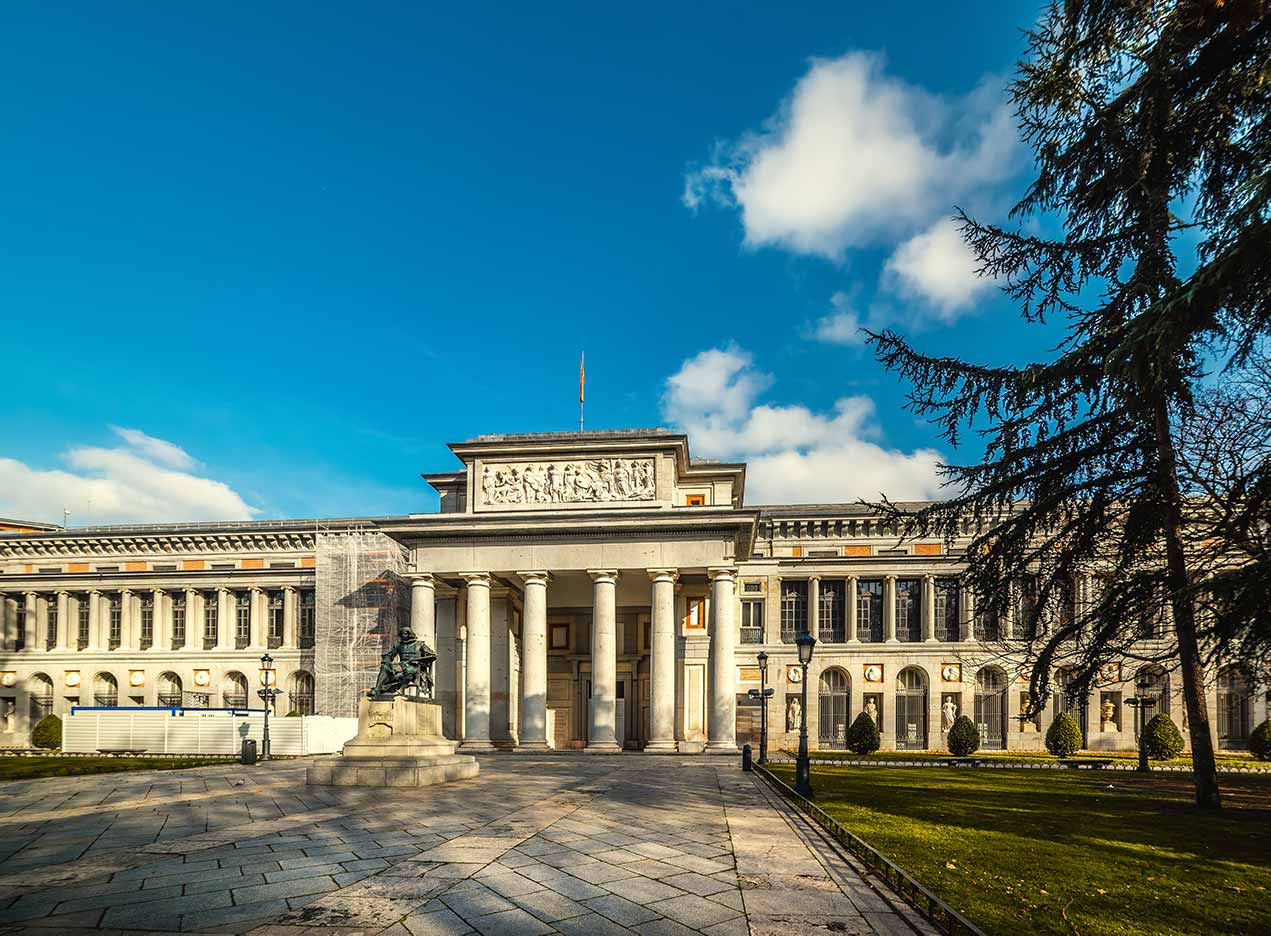 Discover the masterpieces of the Prado Museum on a private guided tour as your private guide introduces you to one of the world's most prestigious art collections.
Discover iconic works by Spanish masters, such as Velázquez's "Las Meninas," Goya's "The Third of May 1808," and El Greco's "The Nobleman with his Hand on his Chest."
Venture beyond Spanish art to admire pieces by European greats, including Bosch's "The Garden of Earthly Delights," Rubens' "The Three Graces," and Titian's "Charles V at Mühlberg."
Throughout the tour, your knowledgeable guide will provide context, anecdotes, and interpretation, helping you appreciate the nuances of each masterpiece.
Enjoy a leisurely lunch at a nearby restaurant, like Estado Puro or Café Murillo.
Strolling Through Retiro Park
Head to the expansive Retiro Park for a peaceful guided walk through its beautiful gardens, fountains, and monuments.
Visit the Crystal Palace, the Monument to Alfonso XII, and the peaceful Palacio de Velázquez.
Enjoying Madrid in the Evening
Indulge in an authentic Spanish dinner at Botín, the world's oldest operating restaurant, or try the innovative cuisine at DiverXO, a Michelin-starred establishment.
Conclude your evening with a nighttime stroll to admire the illuminated cityscape or catch a live music performance at Café Central or Sala Clamores.
Simply outstanding! We visited Italy in September & used Luxe for all our tours and we can honestly say, they were the best! Right from the start, communication was easy and professional. Amy and her guides were able to customize their tours to suit our interests! If you want bespoke tours, I wouldn't use anyone else. We would highly recommend Luxe & will definitely use them again when we next visit Italy!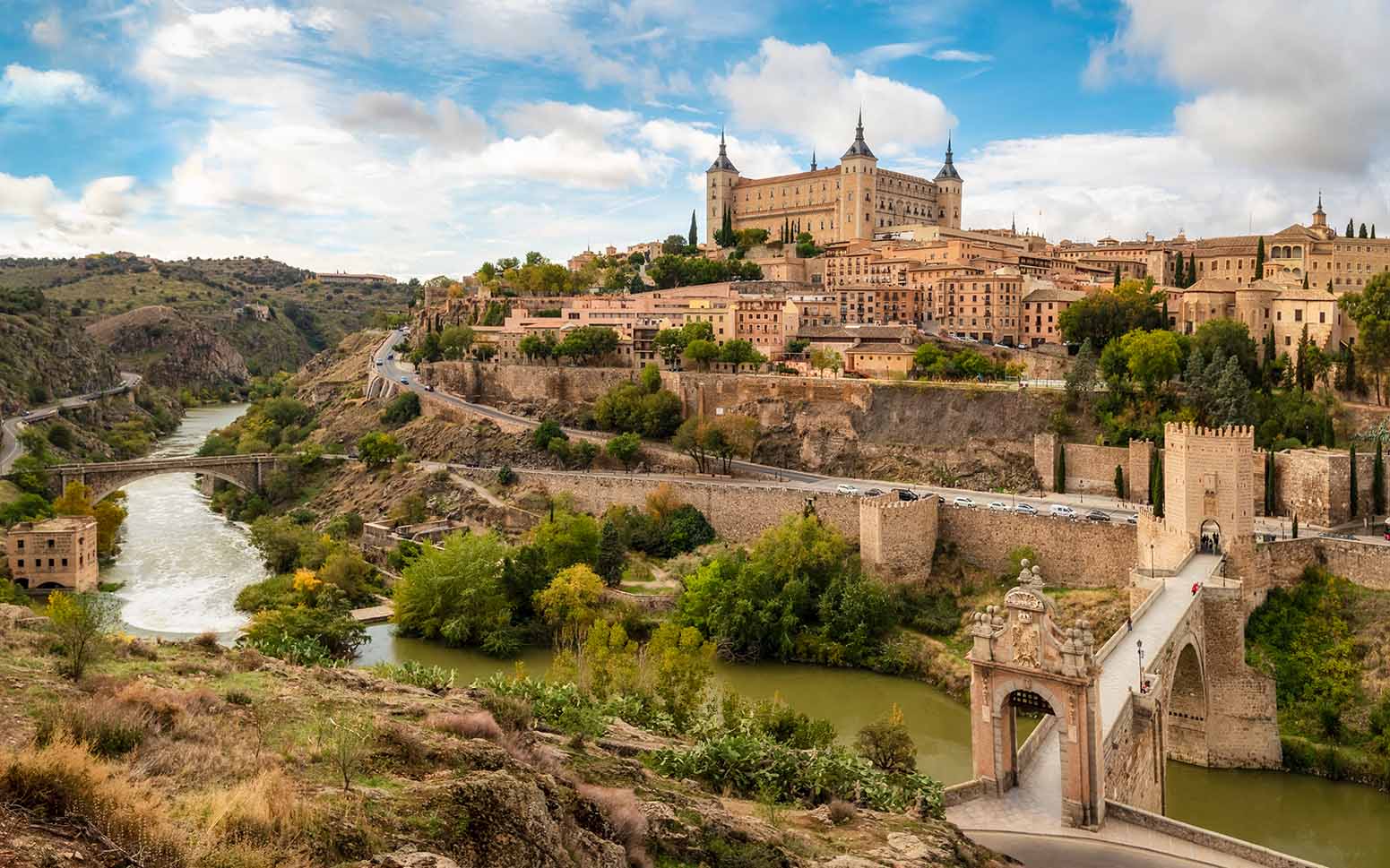 Begin your Toledo adventure with a comfortable 1-hour private transfer from Madrid. Take in the scenic landscapes as you approach the ancient city.
Morning: Toledo City Walking Tour
Start your guided tour at the impressive Puerta de Bisagra, a well-preserved city gate that once served as the main entrance to Toledo.
Next, move onto the Alcázar, a former Roman palace turned into a fortress, which now houses the Army Museum. Learn about its fascinating history from your guide.
Take some time out to Enjoy a traditional Spanish meal at a local restaurant, such as La Abadía or El Trébol.
After lunch, your guide will deliver you to Toledo Cathedral, where you can marvel at the impressive Gothic architecture of the Cathedral, which is also home to a remarkable collection of art and artifacts.
Conclude your walking tour at the 15th-century Monastery of San Juan de los Reyes, built to commemorate the Catholic Monarchs' victory in the Battle of Toro.
Overnight in Toledo.
Day 5: Toledo's Art and Jewish Heritage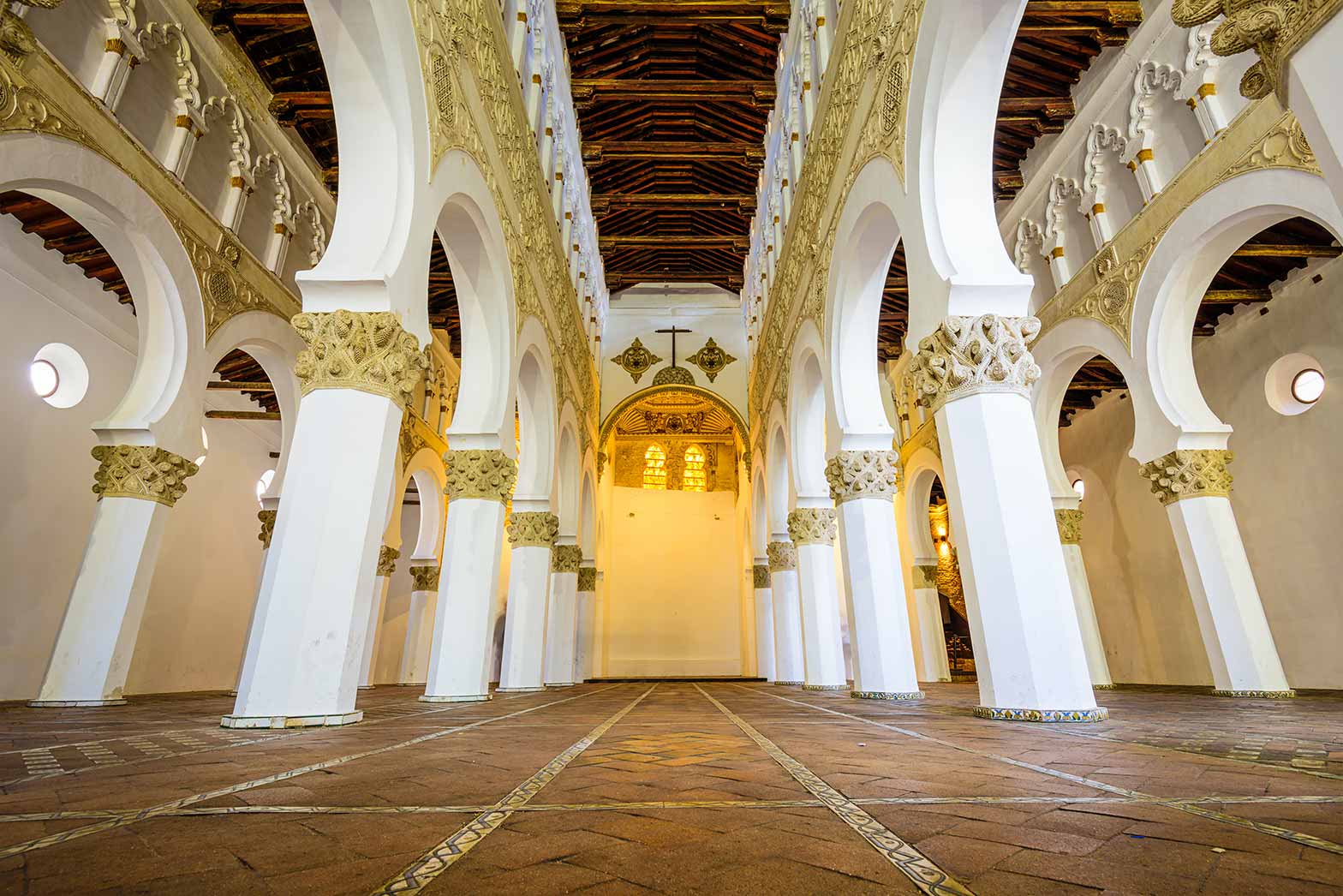 Spend the morning discovering El Greco's Masterpieces at the El Greco Museum.
El Greco, born Domenikos Theotokopoulos (1541-1614), was a prominent painter, sculptor, and architect of the Spanish Renaissance. Though he was born in Crete, then a part of the Republic of Venice, El Greco spent a significant portion of his life and career in Toledo, Spain.
His unique style, blending Byzantine and Western art elements, earned him a reputation as one of the most distinctive and innovative artists of his time.
The El Greco Museum, dedicated to his life and work, showcases his masterpieces and offers insights into the artistic environment of 16th-century Toledo.
Jewish Quarter Exploration
Next, visit the 12th-century Synagogue of Santa María la Blanca, known for its Mudéjar architecture, and enjoy a delicious lunch at a local restaurant.
Toledo is famous for its unique cuisine, blending Spanish and Mediterranean flavors. In addition, you will have the chance to taste local specialties, such as the region's famous marzipan.
Enjoy a final dinner in Toledo at a local restaurant, like Restaurant Alfileritos 24, before retiring to your hotel.
10 day trip to Italy Planned a 10 day trip in Italy with Travel by Luxe. The experience did not disappoint. We had wonderful guides and terrific drivers. Initially spoke to Amy but then dealt with Marta in planning trip. Best parts of the trip included trip to Pisa and Lucca with Viola. Luxe arranged for tickets to climb the leaning tower which my son said was the highlight of the trip. In Lucca we took a leisurely bike ride on the walls of the city and had one of our best lunches at restaurant Viola took us to. Also had Viola for a tour of Florence. She was very adaptive to our family that included two teenagers and made sure to include activities that kept their attention. Also great experience with Kylie in Rome who took us on a fantastic food tour. Finally, perhaps a bit off the beaten path but did a tour of a prosciutto factory near Parma and then had lunch cooked by our guide, Stefani, that our boys really enjoyed. Would also recommend the bike tour of Appian Way with Glenn- would suggest the e-bikes but we did with regular bikes and didn't feel it was too difficult. Marta was also very responsive to our questions while we were in Italy. Our hotel in Rome (Rome Life), in Venice (Sina Centurion Palace) and in Modena (Best Western) were all terrific. Wonderful trip which I would not have been able to plan without Luxe.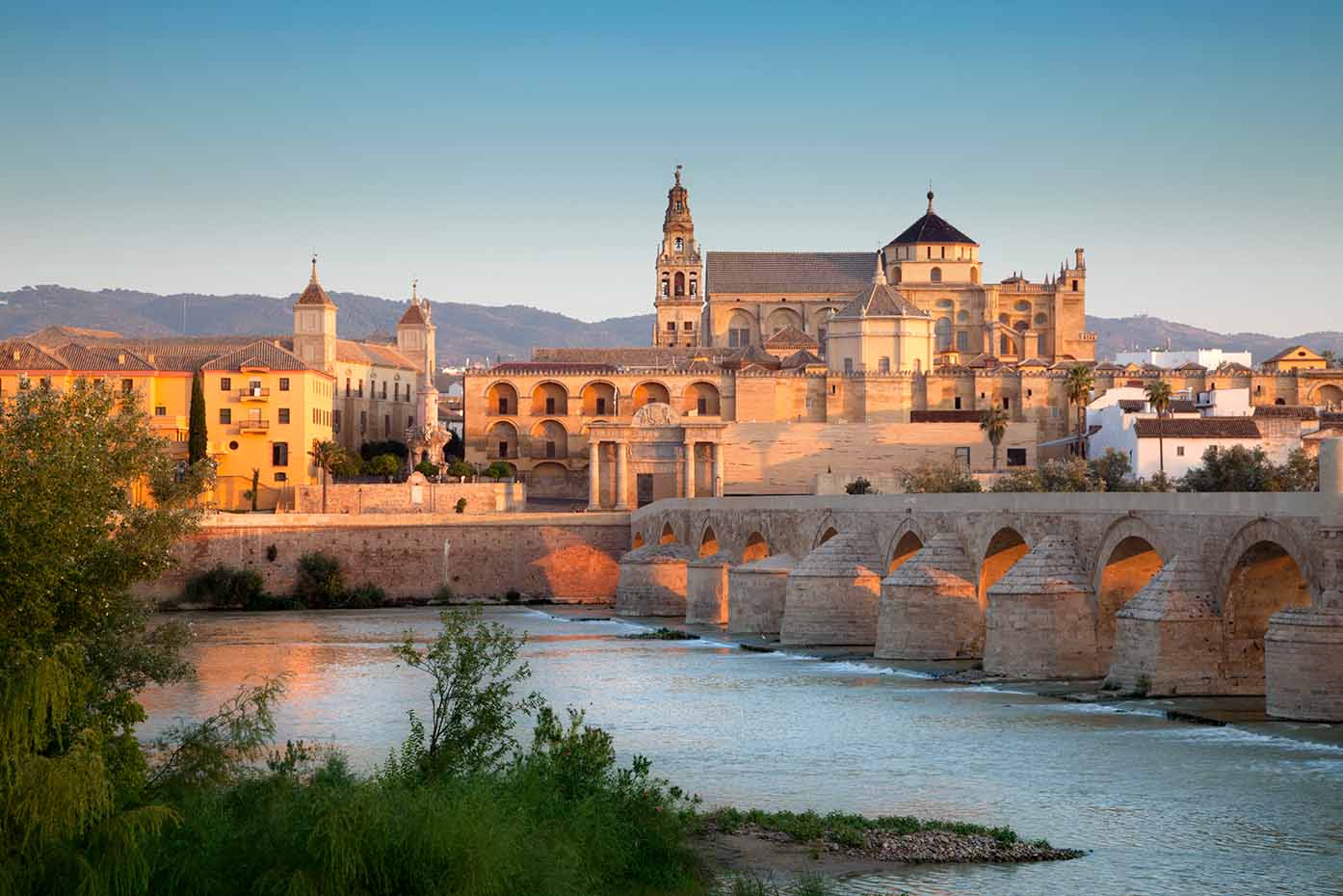 Enjoy a private transfer in a luxury vehicle for the 2-hour drive from Toledo to Córdoba, and embark on a 3-day journey to explore the city's major sites with your private guide.
Córdoba is an incredible city to visit due to its rich history, diverse cultural influences, and stunning architecture. Once the capital of the Umayyad Caliphate, Córdoba boasts an extraordinary blend of Roman, Islamic, Jewish, and Christian heritage, seen in its well-preserved monuments and charming streets.
Córdoba's Roman Bridge & Temple
On the first day of your guided tour in Córdoba, begin your exploration with a visit to the Roman Bridge in the morning. This impressive structure spans the Guadalquivir River and offers picturesque city views.
Next, discover the remains of a 1st-century Roman Temple with the help of your knowledgeable guide, who will provide insights into its history. Afterward, enjoy a lunch break at a local restaurant, where you can savor traditional Andalusian cuisine at establishments like Bodegas Campos or Casa Pepe de la Judería.
The Mezquita & Jewish Quarter
In the afternoon, immerse yourself in the breathtaking beauty of the Great Mosque-Cathedral, also known as the Mezquita.
This stunning example of Islamic architecture is a UNESCO World Heritage site and features mesmerizing arches, a mihrab, and a Christian cathedral built within the mosque.
As the day turns to evening, take a leisurely stroll through the historic Jewish Quarter, soaking in the atmosphere of its narrow, winding streets.
Conclude your day with a delightful dinner at a local restaurant, such as El Churrasco or La Boca, where you can continue to enjoy the flavors of Córdoba.
Day 7: Cordoba Alcázar, Jewish Quarter, and Synagogue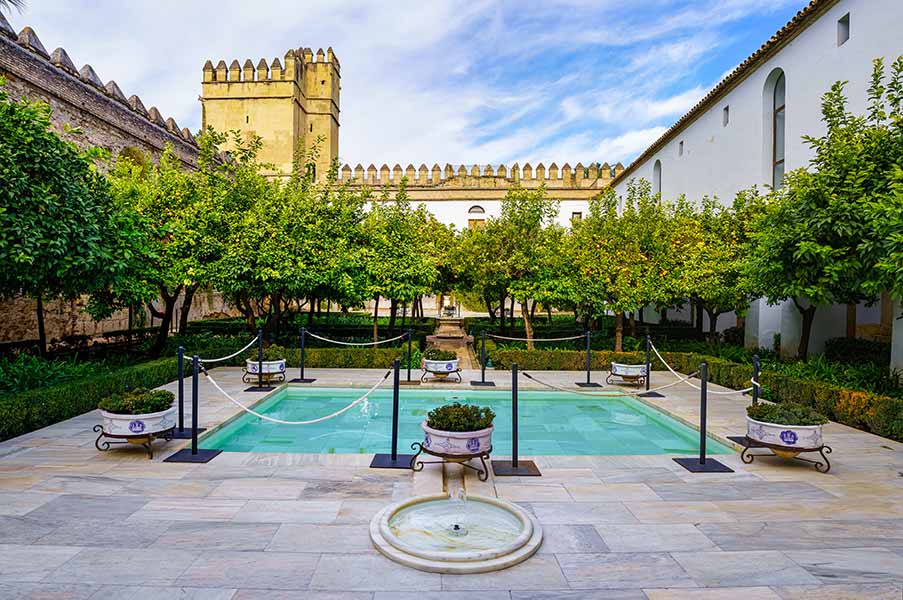 On the second day of your guided tour in Córdoba, start your morning with a visit to the Alcázar de los Reyes Cristianos, a medieval fortress and palace that once served as a residence for Christian monarchs. With your private guide, explore its beautiful gardens, courtyards, and towers. Afterward, take a leisurely lunch break at a nearby eatery, such as Taberna Sociedad Plateros de María Auxiliadora or El Paseo.
In the afternoon, immerse yourself in the history and charm of Córdoba's Jewish Quarter, with its narrow streets, whitewashed houses, and picturesque courtyards. Then, visit the 14th-century Synagogue of Córdoba, one of the few remaining synagogues in Spain, and learn about the city's Jewish history. As the evening approaches, relax at your hotel before enjoying a traditional Flamenco show at venues like Tablao El Cardenal or Tablao Flamenco Arte y Sabores de Córdoba, where you can witness the vibrant energy and passion of this iconic Spanish art form.
Trip to Italy We just returned from a trip that was organized through Travel by Luxe. It was one of the best trips we ever took and it was organized brilliantly. A special thank you to Francesca, she not only helped plan the itinerary, but was available throughout the trip to assist and make any tweaks and adjustments. Overall, a great experience and highly recommend.
Day 8: Medina Azahara and Córdoba's Palaces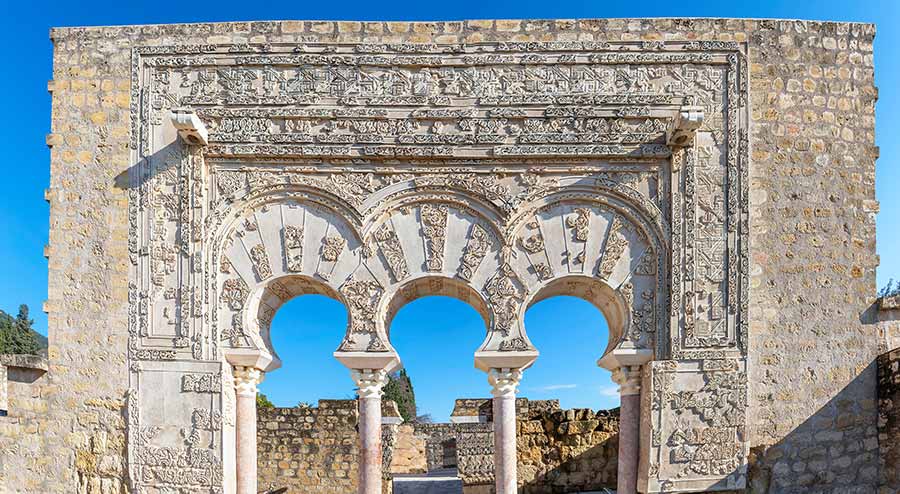 On the third day of your guided tour, start your morning with a visit to the ruins of Medina Azahara, a 10th-century palace-city built by the Umayyad Caliph Abd al-Rahman III. Travel to this fascinating site and learn about its history, significance, and eventual decline from your knowledgeable guide. After exploring Medina Azahara, indulge in a delicious meal at a local restaurant, such as La Posada del Caballo Andaluz or El Astronauta.
In the afternoon, delve into Córdoba's rich architectural heritage as you explore the magnificent Palacio de Viana, a 15th-century palace renowned for its exquisite architecture and luxurious gardens. With your guide, uncover the stories behind this captivating building and the aristocratic families who once called it home. This final day of exploration allows you to appreciate the incredible blend of history, art, and culture that makes Córdoba such a captivating destination.
Day 9, 10, and 11: Granada & Guided Alhambra Tour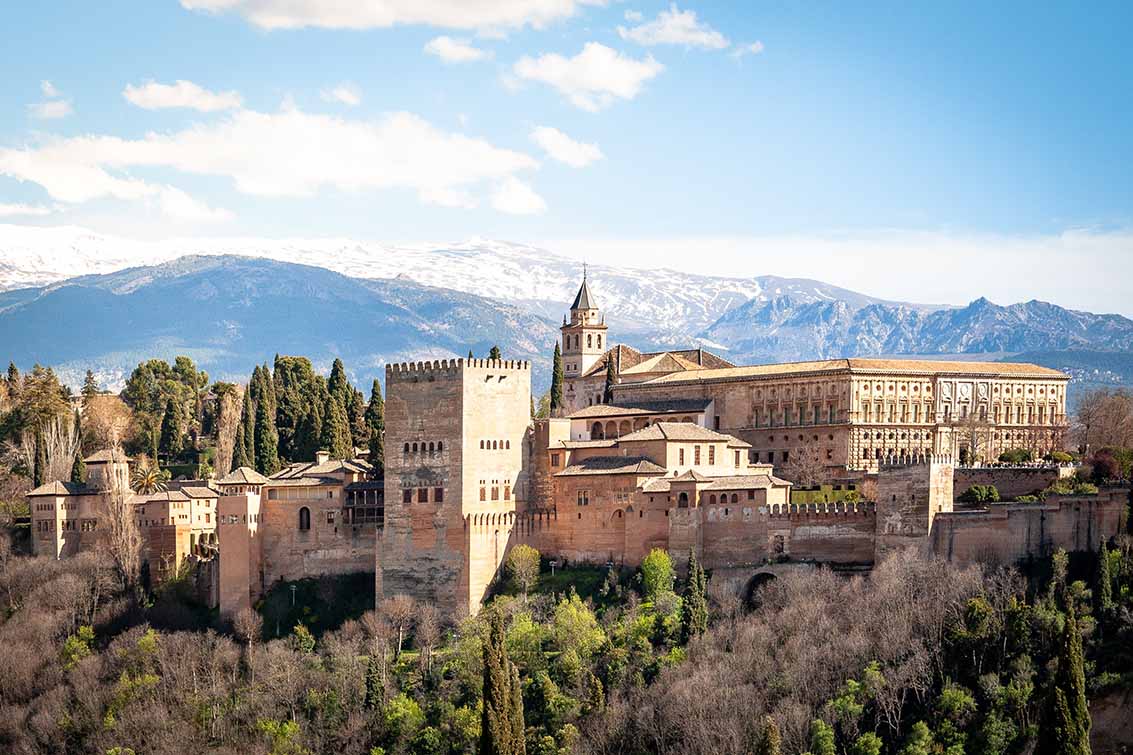 Embark on a journey through Granada's rich history and culture with a personal tour guide after making the 2-hour transfer from Cordoba in one of our luxurious executive class vehicles.
Visit the city's historic neighborhoods, such as the charming Albaycin, an ancient Arab quarter with winding cobblestone streets and charming squares. Take in the breathtaking view of the Alhambra and the Sierra Nevada from the San Nicolas viewpoint.
Discover the hill of Sacromonte, famous for its cave dwellings, lively gypsy community, and traditional flamenco.
Admire the Cathedral of Granada, a remarkable showcase of Spanish Renaissance architecture, with its single nave, eight-angled presbytery, and high choir. Pay homage to the former Spanish monarchs, including King Ferdinand and Queen Isabella, at the Royal Chapel's Royal Pantheon.
The Alhambra Private Tour
Gaze upon the magnificent Alhambra, perched on a rocky hill and surrounded by the Darro River and mountains. Marvel at the castle's impressive reddish stone ramparts, shielding the delicate beauty within from the outside world.
The Alhambra is a highly revered example of Islamic art, with its intricate carvings, stucco work, and mesmerizing mosaics. Originally built as a military fortress, it later became the royal court of Ferdinand and Isabella, where Christopher Columbus received support for his voyage. The complex includes the grand and ornate Nasrid palaces, the Renaissance-style Palace of King Charles V, the Alcazaba fortress, and the tranquil Palace of the Generalife.
This palace is surrounded by lush gardens, fountains, and orchards and is renowned for its serene beauty and cool atmosphere.
Day 12: Málaga Walking Tour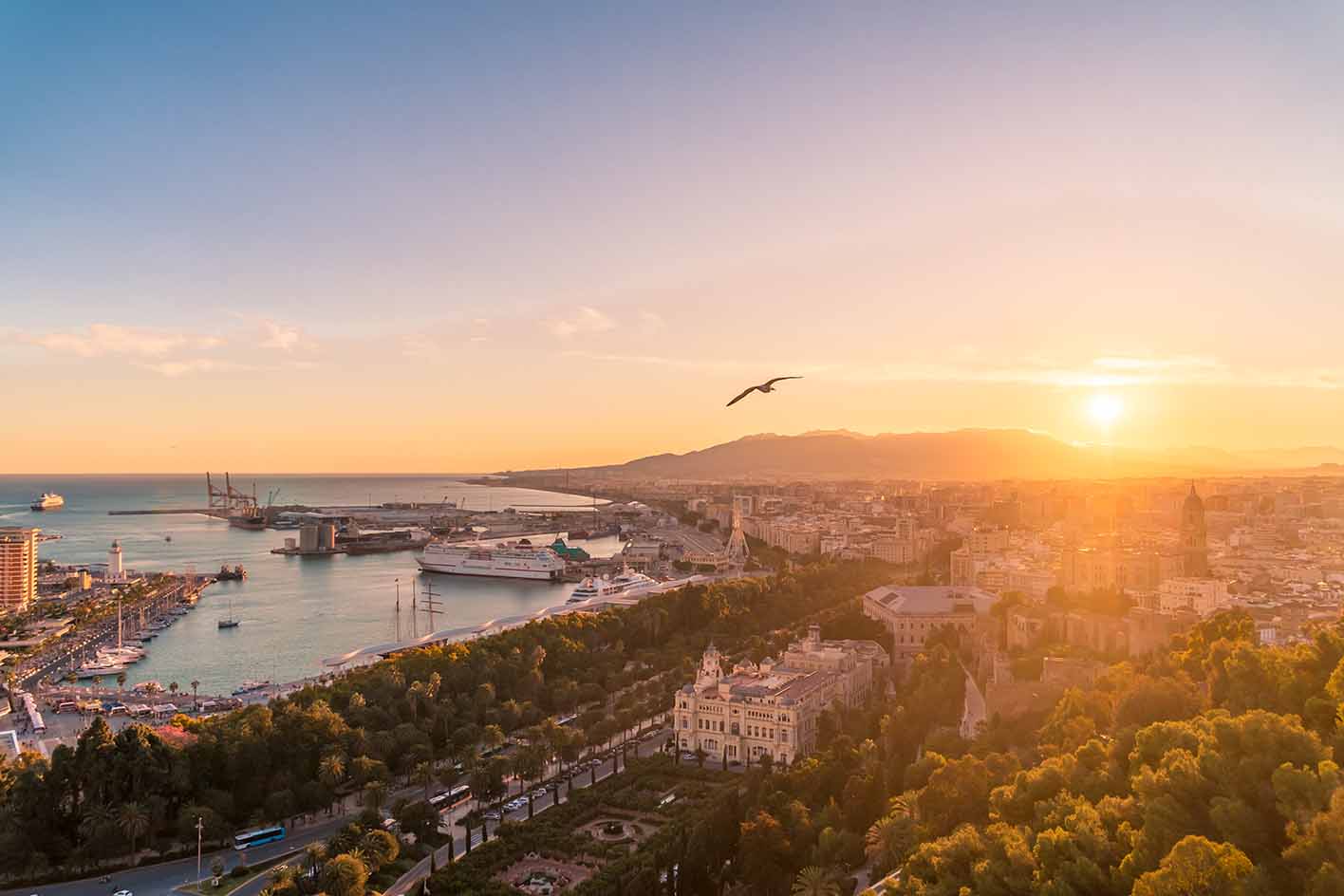 After making the 1.5-hour journey from Granada, explore the charming and vibrant city of Malaga with a half-day tour led by your private guide. 
Discover the unique Andalusian flavor of the city as you visit its most iconic landmarks, monuments, and museums. Some of the highlights of your tour include:
The Central Market (Atarazanas)

The Plaza de la Constitución

The Cathedral (also known as "La Manquita")

The Alcazaba, a magnificent fortress-palace

The Roman Theatre

Larios Street, the bustling heart of the city
After visiting these stunning locations, delve into the life and work of Pablo Picasso at the Picasso Museum of Malaga. You will have the chance to see some of his early academic paintings, his experimental Cubist works, his later mixed-style pieces from the seventies, and his ceramics, graphic art, and personal artifacts.
Round off your tour by visiting the Picasso Birthplace Museum, where you can admire an impressive collection of his paintings, ceramics, graphic art, and illustrated books, along with personal artifacts from the artist's family.
Recommend them highly! These folks are very professional, and flexible in creating a custom tours, and handling last-minute changes. The guides were knowledgeable and friendly. Recommend them highly!
Day 13: Alcazaba and Gibralfaro Castle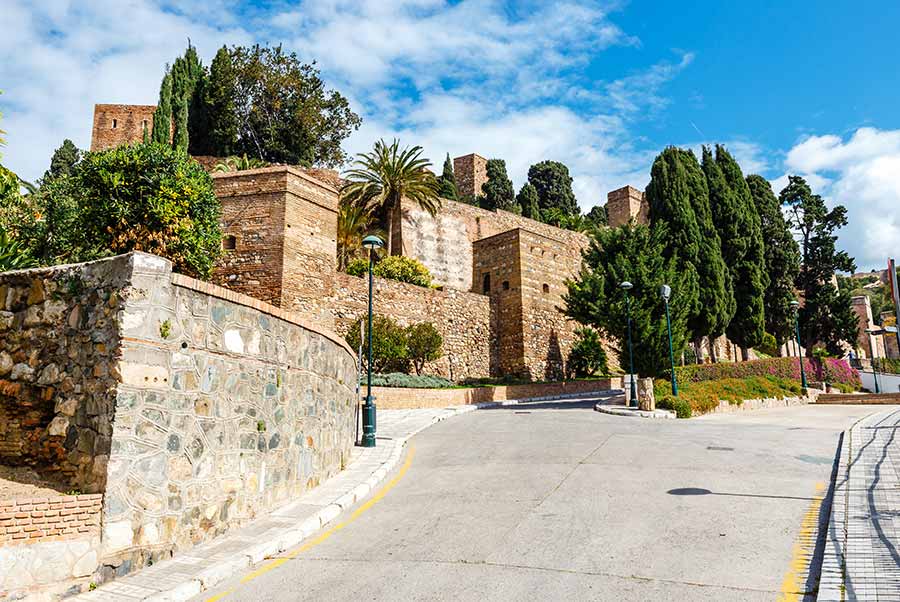 Begin your day of guided tour activities in Malaga with a visit to the Alcazaba, a Moorish fortress and palace that dates back to the 11th century. Explore the well-preserved ramparts, courtyards, and gardens as your guide shares the history of this remarkable structure.
Next, take a leisurely journey up to Gibralfaro Castle, which offers stunning panoramic views of Malaga and the Mediterranean Sea.
Treat yourself to a delicious Andalusian meal at a local restaurant like El Pimpi or Bodega Bar El Puento.
Carmen Thyssen Museum and Malaga Cathedral
In the afternoon, visit the Carmen Thyssen Museum, which houses an impressive collection of 19th-century Spanish art. Discover works by artists such as Joaquín Sorolla and Ignacio Zuloaga, as well as Andalusian artists like Julio Romero de Torres. Afterward, head to the Malaga Cathedral, a beautiful Renaissance and Baroque structure known as "La Manquita" (the one-armed lady) due to its unfinished second tower. Explore the Cathedral's intricate interior, including its impressive choir stalls and ornate chapels.
Port of Malaga and Dinner
As the sun begins to set, enjoy a relaxing stroll along the Port of Malaga, also known as Muelle Uno. This lively waterfront area is perfect for shopping, dining, or simply taking in the views of the harbor. Conclude your day with a scrumptious dinner at a nearby restaurant, such as José Carlos García Restaurant or Restaurante Amador, where you can savor local cuisine and fresh seafood.
Day 14: Ronda's Historic Buildings and Breathtaking Gorge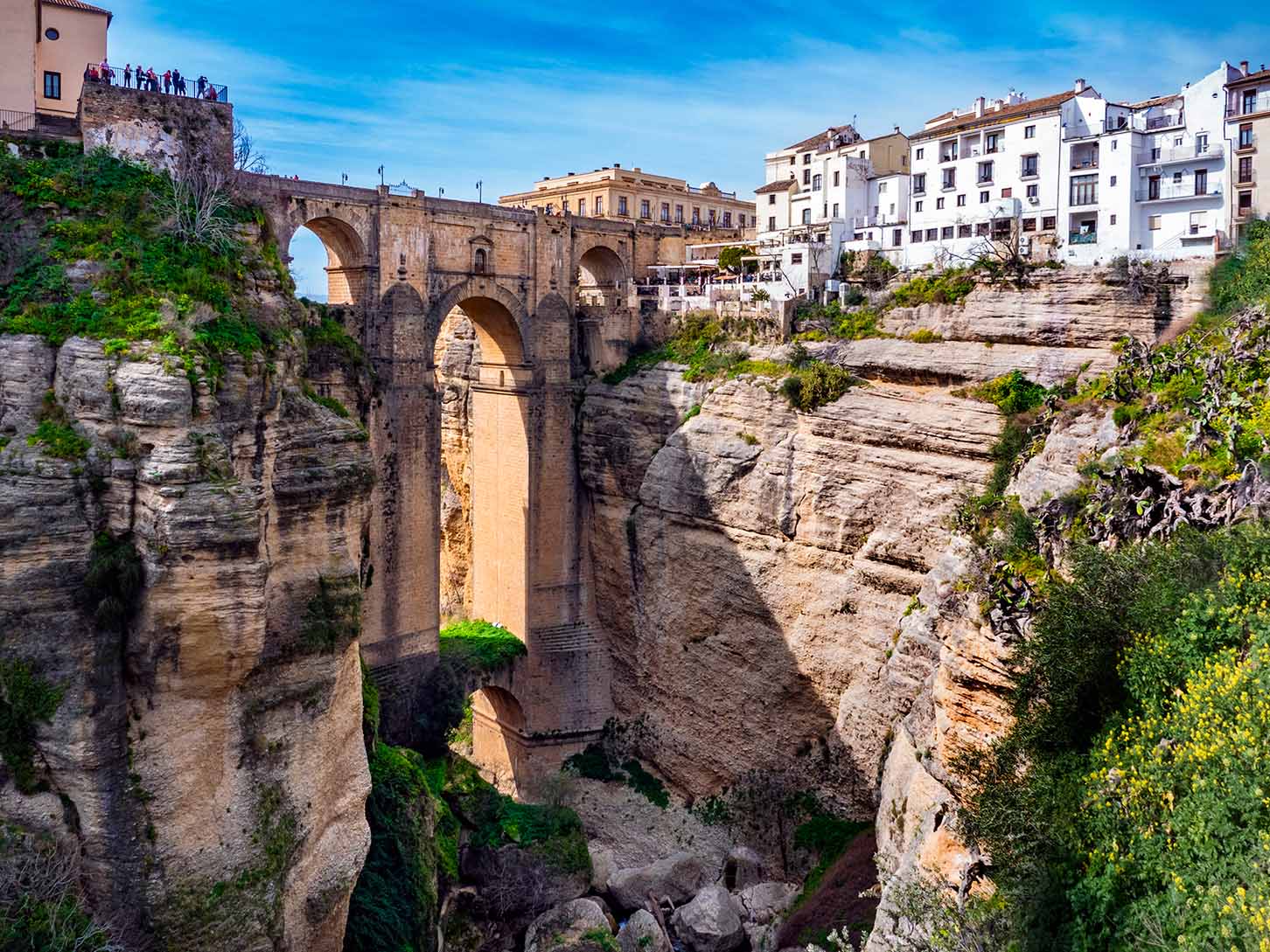 Arrive in Ronda with your private driver and guide, and begin your exploration of this historic city, which boasts a rich cultural heritage.
After getting dropped off at your Ronda hotel upon completion of the one-and-a-half-hour drive from Malaga, you will begin at the breathtaking Puente Nuevo Bridge, an 18th-century structure that connects the medieval Quarter to the modern city. Marvel at the stunning views of the gorge below, which dramatically separates the two areas of Ronda.
La Ciudad and Mondragon Palace
In the afternoon, stroll through the charming streets of La Ciudad, Ronda's old town, which is filled with historic buildings and picturesque squares. Visit the Mondragon Palace, a beautiful Moorish residence that houses the city's museum, where your guide will share fascinating insights into Ronda's history and culture.
Your guide will recommend some of the best restaurants in Ronda for dinner, such as Bardal or Casa Maria.
Enjoy a relaxing evening and stay overnight in Ronda at a local hotel, like Hotel Catalonia Reina Victoria or Parador de Ronda.
Day 14: Ronda's Natural Beauty and Bullring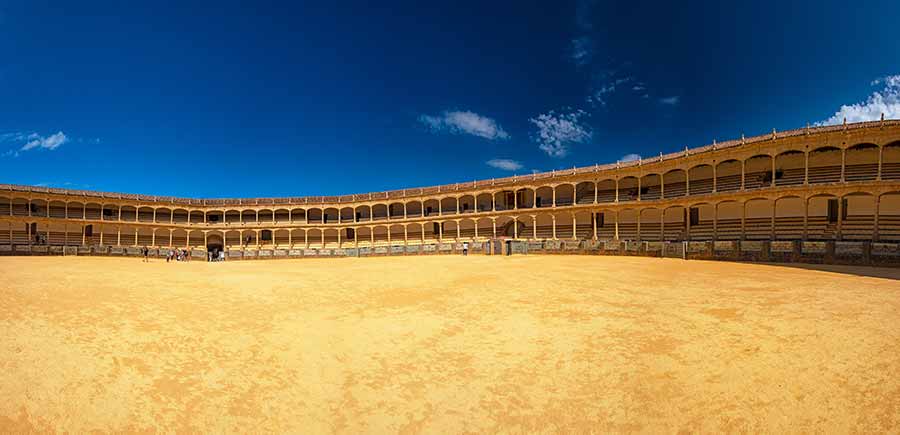 Begin your second day in Ronda with a visit to the El Tajo Gorge, taking in the stunning views from the bottom of the gorge. Don't miss the Mirador de Aldehuela, a famous viewpoint that offers breathtaking vistas of the surrounding landscape.
Plaza de Toros and Alameda del Tajo Park
In the afternoon, visit the historic Plaza de Toros, believed to be one of the oldest bullrings in Spain. Learn about Ronda's role in the development of modern bullfighting from your knowledgeable guide.
Afterward, take a relaxing stroll through Alameda del Tajo Park, a beautiful green space that offers more stunning views of the surrounding countryside.
We highly recommend the Tours by Luxe experience! During our week in Rome in July, Amy and her fabulous assistants Irenes P and V put together two wonderful tours for us. Our first was a tour of the Vatican Museum accompanied by our guide Jessica, the second to the Colosseum, Palatine Hill and Forum with Letizia. Both guides were knowledgeable, entertaining and fun. We all got a lot out of the tours - it's so much better than wandering around by yourselves. Discovering secret messages in famous art works or having centuries old graffiti pointed out is just thrilling. It's also fabulous bypassing the queues and having air-conditioned transfers to and from the sites. We highly recommend the Tours by Luxe experience.
Day 16: Arrival in Seville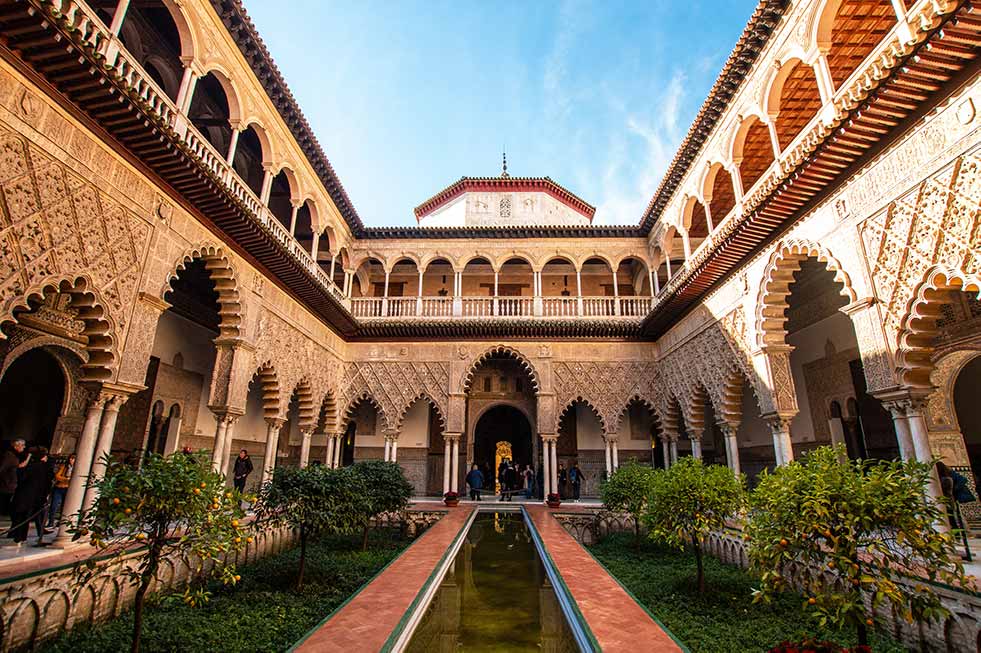 Depart Ronda and head to Seville, the Capital of Andalucia, with a luxurious private transfer in an executive class vehicle taking 2 hours.
Tour the two most iconic landmarks in the city with your personal guide: the Seville Cathedral and the Reales Alcazares.
Discover the Reales Alcazares, the oldest royal palace in use in Europe and a UNESCO World Heritage site. Explore its palaces from different eras and its gardens, reflecting its Moorish heritage. The complex boasts a mix of architectural styles, including Gothic, Mudéjar, Renaissance, and Baroque.
Admire the Seville Cathedral, the largest Gothic Cathedral in the world and home to a wooden main altar. Built-in the 12th century, the Cathedral was once a mosque, with only the minaret, now called "La Giralda," remaining. The bells are housed within La Giralda.
Embark on a panoramic tour of Seville with your guide, showcasing the city's iconic landmarks, including the University, the Plaza de España, the San Telmo Palace, the Tower of Gold, the Royal Maestranza Bullring, the Triana neighborhood with its charming character and pottery workshops, the Isabel II's Bridge, the Expo 1992 and its notable bridges, and the Basilica of the Macarena.
End the day with an overnight stay in Seville.
Day 17: Seville Cooking and Flamenco Adventure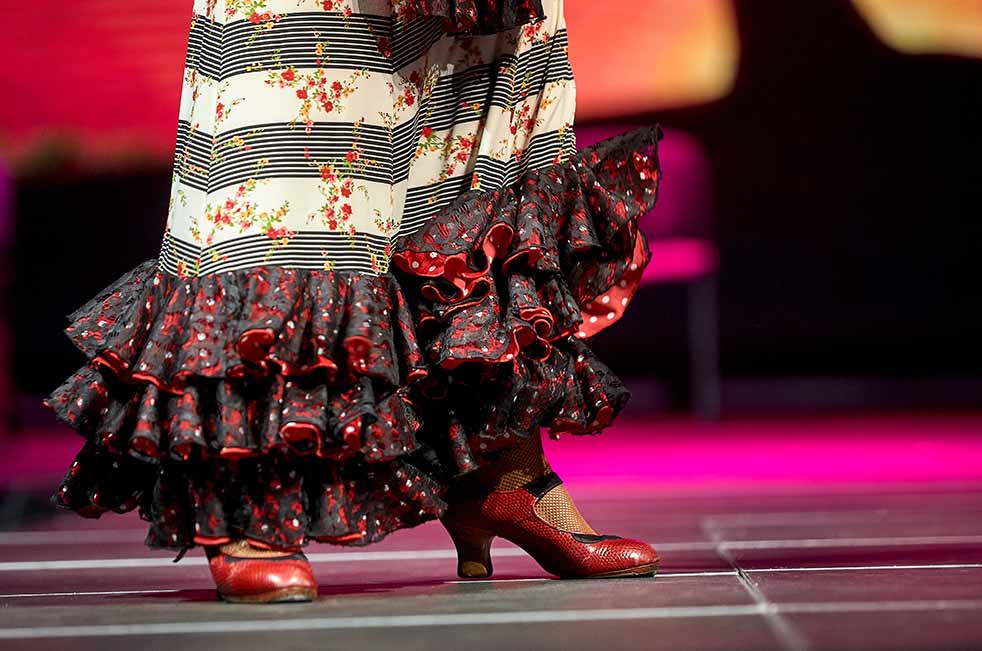 Today, immerse yourself in two of Seville's most distinctive and celebrated cultural experiences – a private cooking class to learn about the city's renowned cuisine and a flamenco performance filled with passion and color.
Indulge in Local Flavors with a Seville Market and Cooking Class
Today, savor the local flavors by visiting a market and participating in a private cooking class. Meet your chef and explore the market, where you'll come across a variety of seafood, meat, fruit, and vegetables. Afterwards, head to the cooking studio, where your chef will guide you in creating a delicious meal.
Get hands-on with the preparation of traditional Spanish recipes during the cooking class. Then, relish your culinary creations while enjoying lunch on the terrace with your chef. Sip on a glass of wine and take in the breathtaking views of the Seville Cathedral.
Savor Flamenco's Artistry in Seville
Immerse yourself in the captivating world of flamenco by visiting the Museo del Baile Flamenco and enjoying a mesmerizing performance. Arrive a little early to explore the museum's limited collection and gain insights into the cultural significance of flamenco, which has earned recognition as an intangible World Heritage by UNESCO.
End the evening with a romantic horse-drawn carriage ride through the romantic streets of Seville.
Stay overnight in Seville.
Custom tour: We accepted an invitation to join friends on a private yacht for 5 days from Sicily to Naples. We wanted to spend a total of 3 weeks in Europe including Croatia. I reached out to several companies and Travel by Luxe got back immediately and were really great at arranging an itinerary around our dates and locations. They set us up with really nice hotels, private drivers and guides, all of which were excellent. They were very responsive during the trip as well and it was nice to know we had someone to call if there was a problem. Highest recommendation!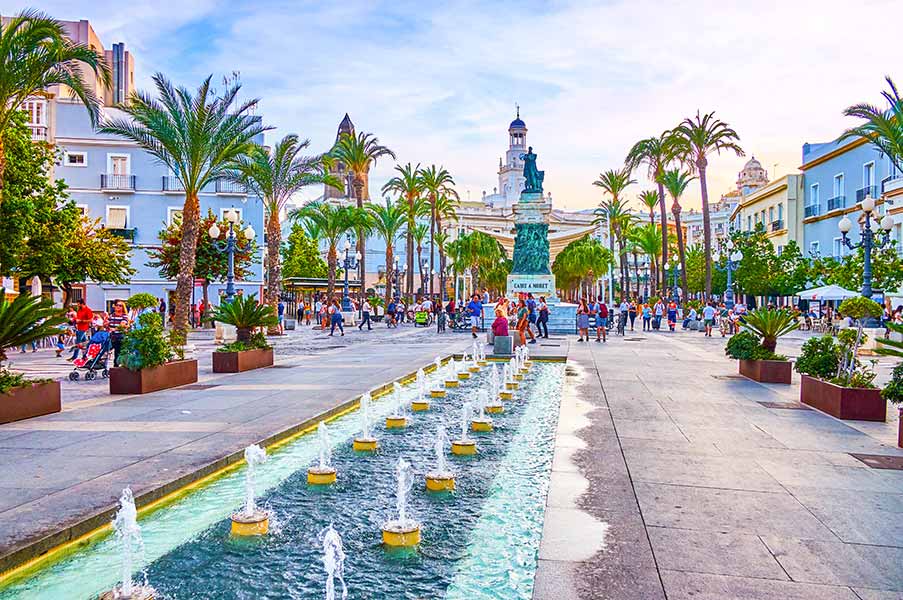 During the final leg of your 21-day driver-guided tour of Spain, spend two days exploring the enchanting coastal city of Cádiz, located in the Andalusian region.
After a 1.5-hour drive, you'll settle in at the Parador de Cádiz, a modern and luxurious hotel with stunning sea views and excellent amenities.
Cádiz Cathedral Guided Tour
Begin your Cádiz adventure by visiting the magnificent Cádiz Cathedral, an impressive 18th-century structure boasting a mix of Baroque and Neoclassical architectural styles.
As you wander through the Cathedral with your private guide, take in the awe-inspiring interiors, including the beautiful high altar, ornate chapels, and intricate choir stalls. Don't forget to climb the Cathedral's bell tower, where you'll be rewarded with panoramic vistas of the city and the sparkling Atlantic Ocean beyond.
Once you've soaked in the rich history of the Cathedral, make your way to La Caleta Beach, one of Cádiz's most popular and picturesque beaches.
Located between two historic castles, La Caleta offers golden sands and calm waters, making it the perfect spot to unwind and soak up the Andalusian sun. If you're feeling adventurous, you can also explore the nearby San Sebastian and Santa Catalina castles, which stand as historic sentinels guarding the entrance to the beach.
Next, visit Torre Tavira, an 18th-century watchtower that is now one of Cádiz's most intriguing attractions. Climb the tower and discover the Camera Obscura. This unique optical device projects live images of the city onto a concave screen, offering a fascinating perspective of Cádiz's bustling streets, stunning architecture, and glistening coastline.
Throughout your two-day stay in Cádiz, take the time to wander through the city's atmospheric streets, where you'll discover charming plazas, bustling markets, and a thriving tapas scene. Sample local delicacies at traditional eateries, such as El Faro de Cádiz or Casa Manteca, and be sure to try the region's famous fried fish, known as "pescaíto frito."
As your journey comes to an end, you'll leave Cádiz with a deep appreciation for its rich history, vibrant culture, and breathtaking coastal beauty, rounding off your unforgettable 21-day tour of Spain.
Day 21: Transfer to Airport
On the last day of your 21-day Spanish adventure, your exclusive chauffeur will collect you from your hotel and escort you to the airport.
During your drive, you'll have time to reminisce about all the incredible experiences you've had throughout the trip.
When you reach the airport, your driver will drop you off at the terminal and bid you farewell. You'll then proceed through security and board your flight, eager to return home and share your stories with loved ones.
Get Your Bespoke Spain Tour Itinerary
Our expert travel planners would be thrilled to craft a complimentary tailored 21-day itinerary catering to your interests and requirements.
If you wish to wander through the bustling streets of Madrid and Barcelona, bask in the sun at the Costa del Sol's sandy beaches, or unearth the cultural richness of Andalusia, we're here to help you plan the ideal trip to Spain.
Just let us know your preferences, and we'll assemble a comprehensive itinerary encompassing all the must-see destinations and activities, along with hotel, restaurant, and travel suggestions. We eagerly anticipate the opportunity to help plan your ultimate Spanish vacation!
Rated 5-Star on Google & TripAdvisor
Use this company! An excellent experience! As a seasoned traveler and very detailed oriented customer, working with both Irene's was a joy and in the end produced a wonderful experience. Their personal touch on every detail and their communication was extraordinary.
Recommend them highly! These folks are very professional, and flexible in creating a custom tours, and handling last-minute changes. The guides were knowledgeable and friendly. Recommend them highly!
A Flawless Trip! Travel by Luxe assisted us in planning an excellent trip to Genoa and the Italian Riviera including Cinque Terre. The drivers they provided were courteous, efficient, safe and their vehicles were immaculate and comfortable.
Hands down the best travel company! Every detail was taken care of! All questions were answered. Every guide was knowledgeable, flexible, and kind! In a situation when travel can be stressful, every individual was fantastic.
A Great Experience! We just returned from a trip that was organized through Travel by Luxe. It was one of the best trips we ever took and it was organized brilliantly. A special thank you to Francesca, a great experience and highly recommend.
Amazing Italy Awesome trip! Graziano arranged everything perfectly and was very patient with our planning process and changes. Private tours and transfer worth the extra $$$. Will use again.
Qualified Guides.
Certified Excellence.
Explore More Luxe Private Tours in Spain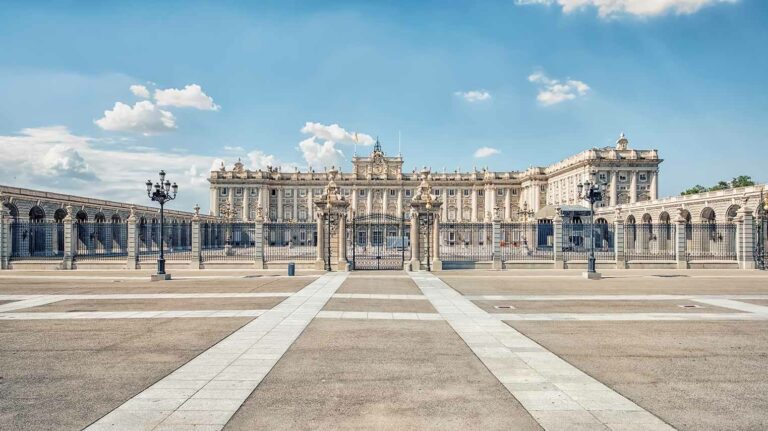 This private tour itinerary is designed to be the best way to experience two of Spain's most famous cities in just 5 short days!
Most popular tour destinations