Windsor Castle & Hampton Court Private Driver Tour
Windsor Castle and Hampton Court Tour
When people think of England, two of the first images that come to mind are historic medieval castles and Royal Palaces. Our magical Windsor Castle and Hampton Court private driver-guided tour brings together two of the finest examples of each by combining these fascinating locations in one incredible day trip from London.
Read on to find out more about how your private driver-guide will bring to life all the centuries of tradition, the enthralling role the buildings played in history, and of course the royal characters both past and present who have called these magnificent locations home over the years.
What Is Included In Our Windsor Castle & Hampton Court Private Driver Tour?
Windsor Castle: See the State Apartments used for official state visits and events with its amazing collection of art, armory, tapestries, and furniture. 
St George's Chapel: one of the finest examples of English Gothic architecture where Prince Harry married Meghan Markle. 
Visit Hampton Court Palace and see two palaces in one. 
Tudor Palace: Home to Henry VIII 
The Baroque Palace built in the 17th century by Christopher Wren, England's most prominent architect, home to William III and Mary II and later the Hanoverian Kings. 
Hampton Court also has the stellar Cumberland Art Gallery with works by Holbein, Rembrandt, Rubens, Caravaggio, Mantegna, and other great masters of European painting.
Windsor Castle & Hampton Court Driver-Guided Itinerary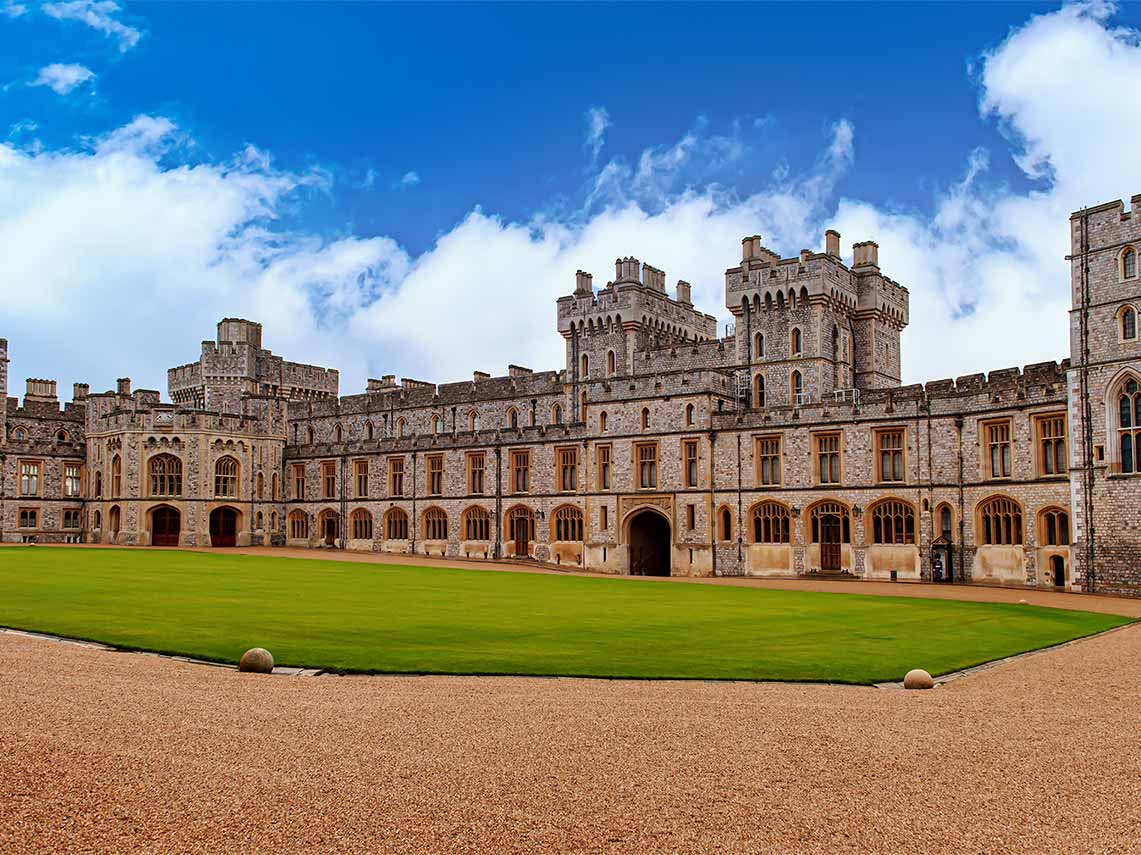 The tour begins in the morning when your private driver-guide for the day will arrive in one of our luxury Mercedes vehicles to pick you up from your accommodation in London or any other location of your choosing.
The drive to Windsor Castle will take approximately 50 minutes and as you make your way there your driver will begin recanting tales from the oldest and largest continually inhabited Royal Castle in the world to build the anticipation before the towers of Windsor castle come into view and you arrive on-site.
Stepping inside Windsor Castle with your private guide actually means that you will be entering one of the Queen's private residences, and the home where Her Royal Highness usually spends her weekends! Windsor Castle has been a home for the Monarchy and a functioning fortress for almost a thousand years.
Walk Through Windsor Castle's State Apartments With Your Guide
Our private tour allows you to explore the Castle's grand State Apartments, where the Queen hosts Heads of States on official visits, ceremonies take place, and honors are awarded.
The State Apartments can also be considered works of art in themselves, gilded as they are with artwork from the Royal Collections, including paintings by Rembrandt and Rubens.
Guided Tour of St George's Chapel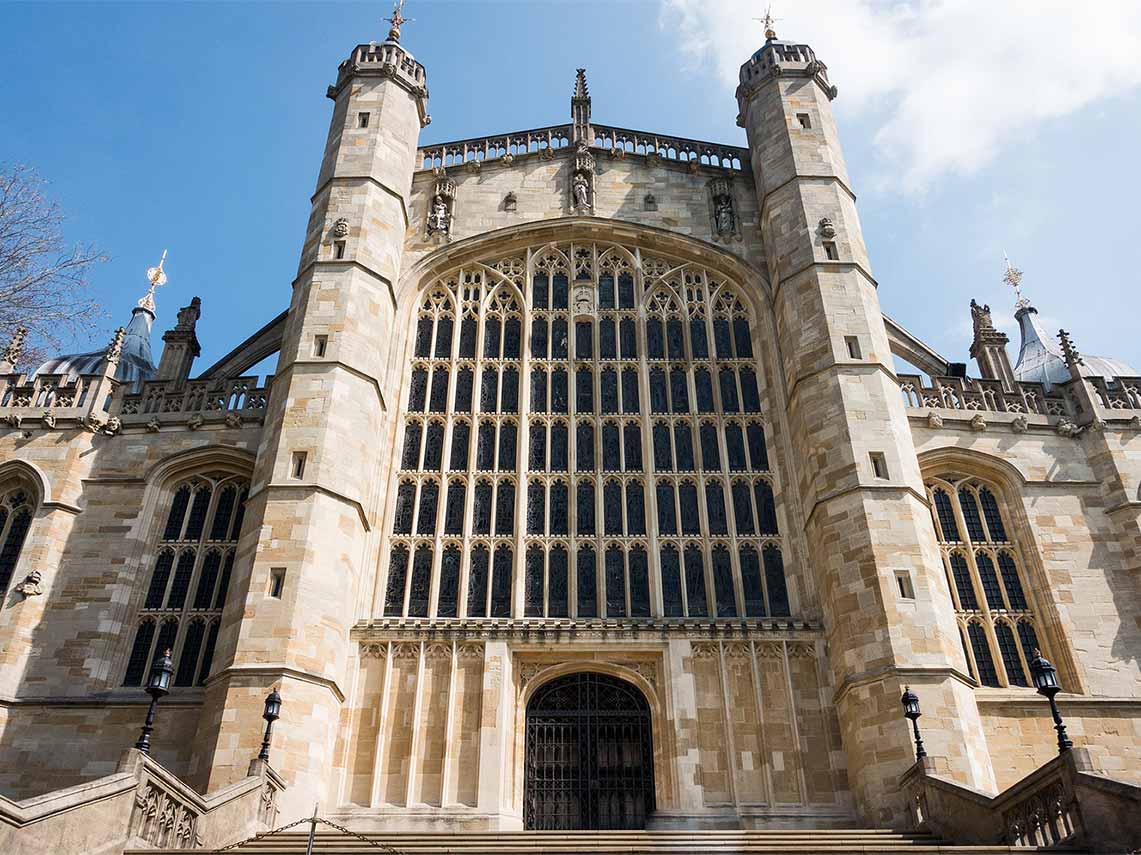 You will likely have already seen images from inside St George's chapel even if you have never set foot on England's shores! Pictures of the many important royal weddings that have taken place here are famous worldwide, and your private guide will walk with you to the altar where the most recent Royal wedding, that between Prince Harry and Meghan Markle took place.
Alongside that, the chapel is a 15th-century masterpiece that deserves to be admired in its own right, started in 1475 by Edward IV and completed by Henry VIII in 1528, the chapel is heralded as perhaps the finest example of Georgian architecture in the country.
Drive To Hampton Court For Your Guided Tour
Once you have completed your tour of Windsor castle, your guide will chauffeur you to Hampton Court Palace in East Surrey. Once the home of King Henry VIII, your guide will take you to explore both the Tudor palace and the Baroque palace of William III at Hampton Court.
Hampton Court Tour With Your Private Guide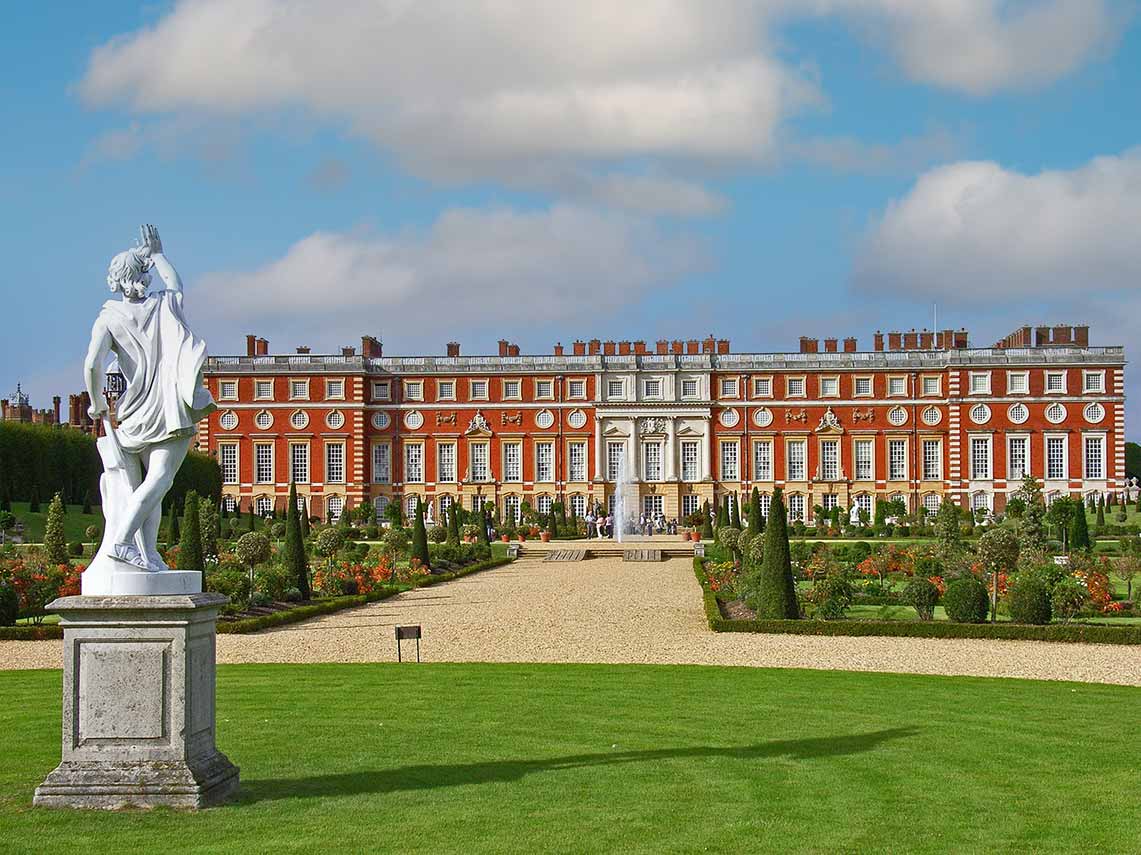 Henry the 8th and the Tudors were known for their extravagance, and on your private tour of Hampton Court this will be on full display as you visit:
The huge Tudor Kitchens where luxurious feasts were prepared
The Great Hall: As you may imagine they are draped with fantastically intricate and storied tapestries, and served as the location of many magnificent Tudor feasts – which created some fabulous tales that your guide will reveal to you.
See and hear the story of the wives of Henry the 8th, including the tales of Anne Boleyn and Catherine of Aragon
The Chapel Royal, where Henry VIII was married… on several occasions!
The Apartments of King William the 2nd which provide valuable insight into court life centuries ago.
The 16th Century Astronomical clock
Exploring The Grounds & Exhibitions at Hampton Court
It is also worth saying that Hampton Court Palace is a fantastic, fun venue for all the family with actors and performers, a maze, playground, great exhibits, and some of the finest gardens in the country, and we can schedule as much time to dedicate to each of these activities as you desire.
Once you and your private group have finished exploring Hampton Court with your private guide, they will then deliver you back to your accommodation in London, or the destination of your choice for the evening in our luxury Mercedes vehicle.
Why Choose Luxe For Your Driver-Guided Tour of Windsor Castle & Hampton Court?
As time served, experienced, and officially licensed private tour operators, we sincerely believe that our driver-guided tour of Windsor Castle and Hampton Court is the finest, most enjoyable, informative, and entertaining way for guests staying in London to experience these magnificent and historic sites.
Both of these locations are not to be missed on any vacation to England, and a private guided tour allows you the time and attention of your guide so they can provide that additional local insight, knowledge, and attention to detail that will truly elevate the tour above what the competition can offer.
Furthermore, we are so dedicated to providing the perfect tour for our clients that we make every detail of the tour customizable to your requirements. If you want to change any aspect above, or would like us to cater to a member of your party's dietary or mobility issues, just let us know by completing our online contact form and we will tailor the tour to your needs.
Contact Us About The Windsor Castle & Hampton Court Private Driver Tour
If you are totally satisfied with our Windsor castle and Hampton court tour as outlined above then you can reserve your preferred dates right away using our online booking platform. If there is a particular issue you would like to discuss with us beforehand or you require any aspect of the tour to be customized to your requirements then please complete our online inquiry form below.
Rated 5-Star on Google & TripAdvisor
Use this company! An excellent experience! As a seasoned traveler and very detailed oriented customer, working with both Irene's was a joy and in the end produced a wonderful experience. Their personal touch on every detail and their communication was extraordinary.
Recommend them highly! These folks are very professional, and flexible in creating a custom tours, and handling last-minute changes. The guides were knowledgeable and friendly. Recommend them highly!
A Flawless Trip! Travel by Luxe assisted us in planning an excellent trip to Genoa and the Italian Riviera including Cinque Terre. The drivers they provided were courteous, efficient, safe and their vehicles were immaculate and comfortable.
Hands down the best travel company! Every detail was taken care of! All questions were answered. Every guide was knowledgeable, flexible, and kind! In a situation when travel can be stressful, every individual was fantastic.
A Great Experience! We just returned from a trip that was organized through Travel by Luxe. It was one of the best trips we ever took and it was organized brilliantly. A special thank you to Francesca, a great experience and highly recommend.
Amazing Italy Awesome trip! Graziano arranged everything perfectly and was very patient with our planning process and changes. Private tours and transfer worth the extra $$$. Will use again.
Qualified Guides.
Certified Excellence.