6 Day Game of Thrones Itinerary
Customize Your Game of Thrones Tour To Suit You
Before we look at the following itinerary, remember that all our custom tours and itineraries can be completely customized to suit you and your group!
The itineraries we offer on our site are a template, where we hope you can find out more about what you'd like to do and see in Ireland, before getting in touch with our expert travel planners to design you a fully customized and truly unforgettable, private tour!
Day 1: Arrival in Dublin - Transfer to Belfast - City Tour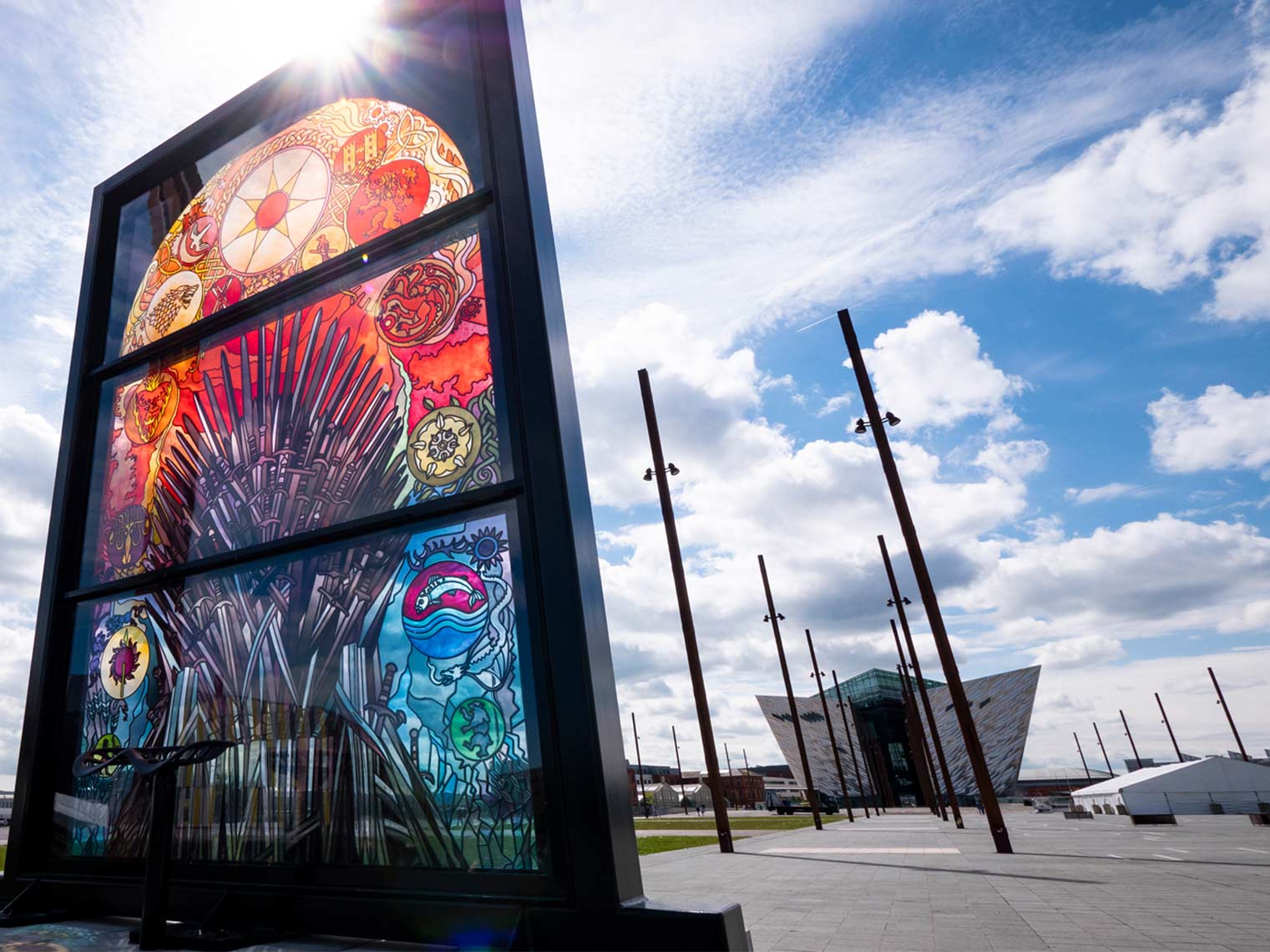 Your six-day Game of Thrones tour starts with your personal driver-guide collecting you off your flight from Dublin airport, before traveling to the North of Ireland and to the land of the 'Known World'. 
On the drive through the country, you'll see the rolling hills and beautiful scenery which inspired and was featured in much of the Game of Thrones cinematography. 
When we reach Belfast, your driver-guide will take you on a short city tour, including the Game of Thrones-themed stained glass windows scattered throughout the numerous tourist hotspots in the city. ​
You'll spend the night in Belfast – let your driver-guide know if you'd like any hotel recommendations – where you'll be able to take advantage of the city's excellent range of restaurants and bars.
Day 2: Tollymore Forest Park - Castle Ward (Winterfell) - Belfast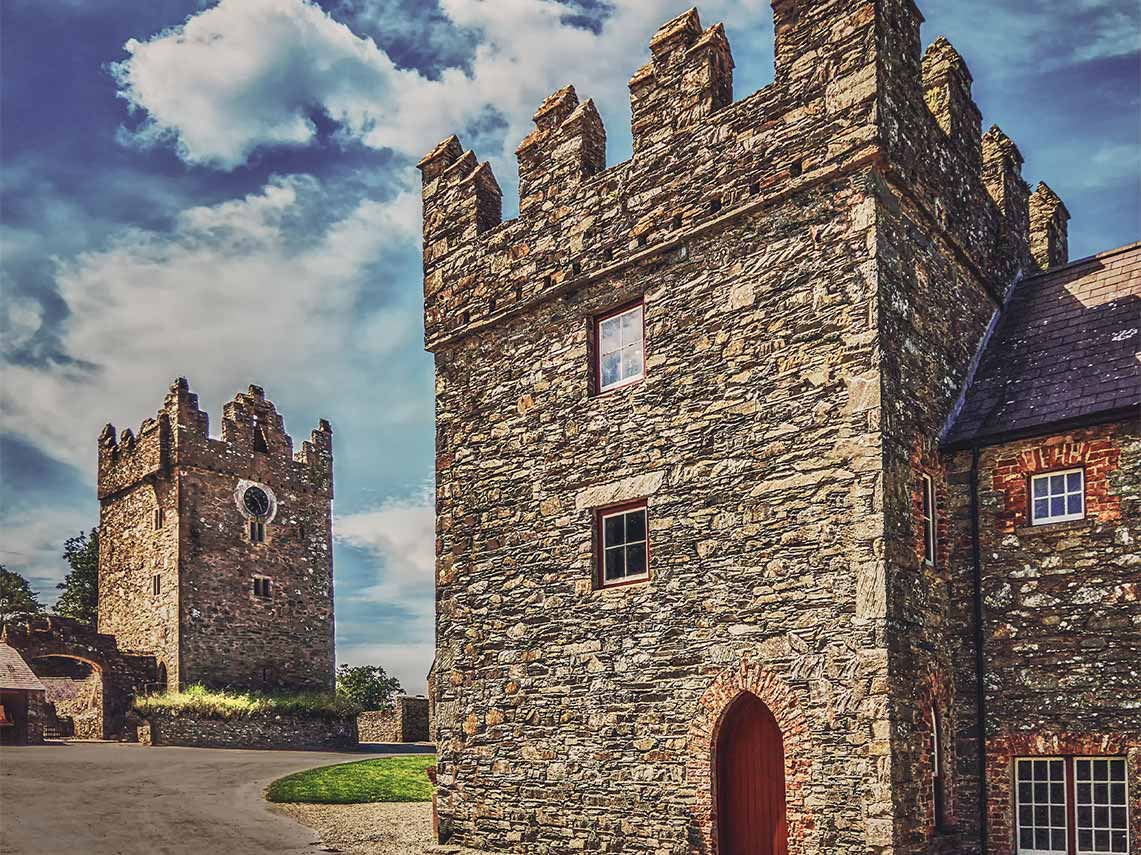 We waste no time in Day Two of your tour of Ireland, starting off our morning in 'The Haunted Forest', known locally as Tollymore Forest Park. 
Based in County Down, Tollymore Forest Park is the destination for numerous Game of Thrones scenes including the first time we're introduced to the White Walkers, where Ramsey 'The Bastard of Bolton' hunts Theon Greyjoy and where the Starks first find their beloved Direwolves!
After a spot of lunch, we'll continue our Game of Thrones exploration by traveling to Castle Ward (Winterfell) and Inch Abbey. 
Castle Ward was featured heavily in the filming of Game of Thrones and now offers numerous themed experiences for visitors, including archery lessons and themed reenactments.
You and your driver-guide will later return to Belfast, where you will get a chance to take advantage of our wide range of restaurants and bars. 
We just returned from a trip that was organized through Travel by Luxe. It was one of the best trips we ever took and it was organized brilliantly. A special thank you to Francesca, she not only helped plan the itinerary, but was available throughout the trip to assist and make any tweaks and adjustments. Overall, a great experience and highly recommend.
Day 3: St Georges Market - Titanic Quarter - Lough Neagh & Shane's Castle - Belfast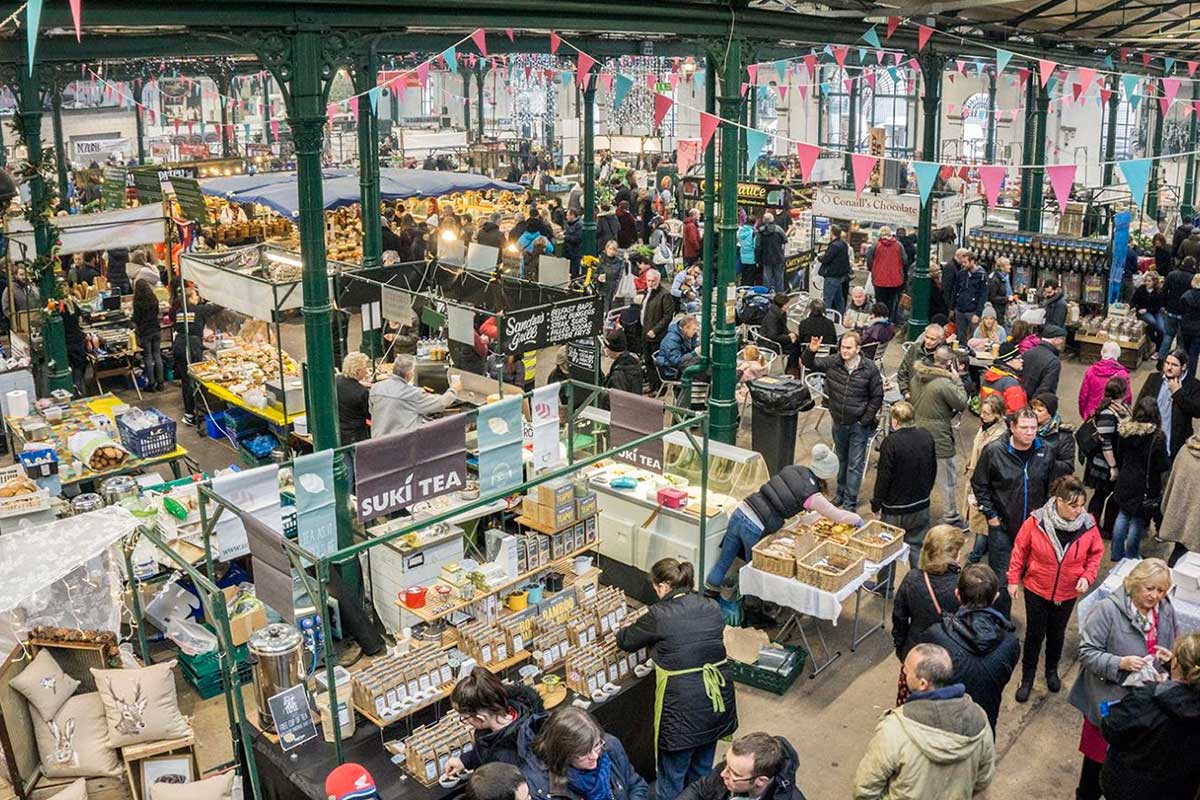 In the morning, we'll head to St Georges Market for breakfast, where you will get the chance to try some local Irish delights before driving to the Titanic Quarter. Here we'll see Titanic Studios – where Game of Thrones was mainly filmed. Many of the most significant indoor scenes from Game of Thrones were shot here, including the Throne Room scenes, the Sept of Baelor, and the Red Wedding. Unfortunately, the studios are not open to the public, however, depending on the time of year you are visiting, they may have exhibits available at the studios.
In the afternoon, you and your personal driver-guide will travel to Lough Neagh and Shane's Castle. These destinations were used extensively throughout filming – it is here where Gregor Clegane kills his horse with one strike and where Hand's Tourney takes place. You'll also find the crypts underneath Winterfell, The Black Cells of King's Landing, and Dragonstone's dungeons in the caverns beneath!
Finally, you might get a chance to see the bridge where Brienne of Tarth and Jamie Lannister have their epic fight before being captured. You'll then return to Belfast for the night and prepare for your trip to the Iron Island on Day Four!
Day 4: Castle Dunluce - Carrick-A-Rede & Giant's Causeway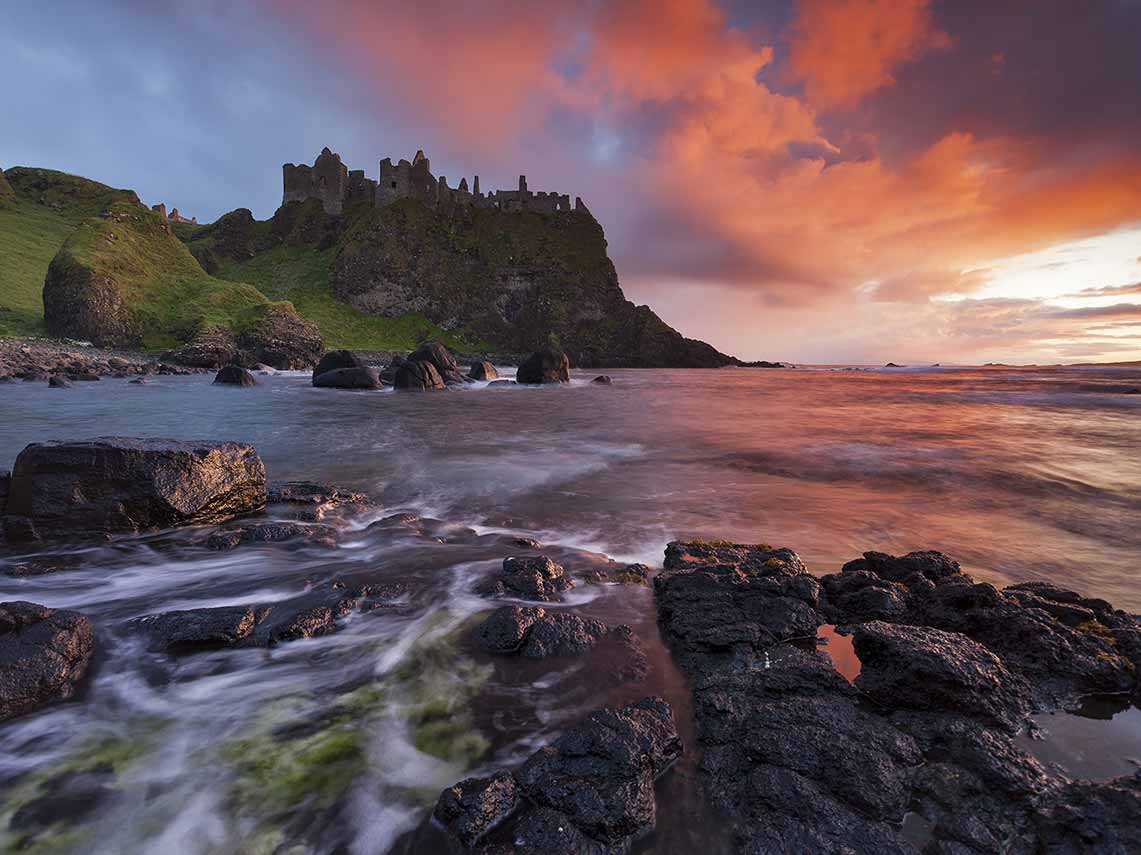 Today we'll visit and explore the incredible Castle Dunluce: the main filming location and inspiration for the Iron Islands. This is where Theron first came ashore on Pyke Island and is one of the most significant filming locations in the country. 
In the afternoon, we'll travel to two popular tourist destinations which are said to have inspired the image of Pyke Island: Carrick-a-Rede and Giant's Causeway. 
In the evening, we'll travel back to Belfast and your accommodation.
Amazing Travel Agency! Marta helped us plan our whole trip and it was absolutely amazing! We did private walking tours, private winery tours, and everything was great! Marta made the itinerary with our interests in mind and was extremely helpful! The tour guides (Viola and Jessica to name two of the many) were outstanding! Marta also helped plan the perfect engagement! We highly recommend this company and will be using them again!
Day 5: Murlough Bay - The Dark Hedges - Cushenden Caves - Cairncastle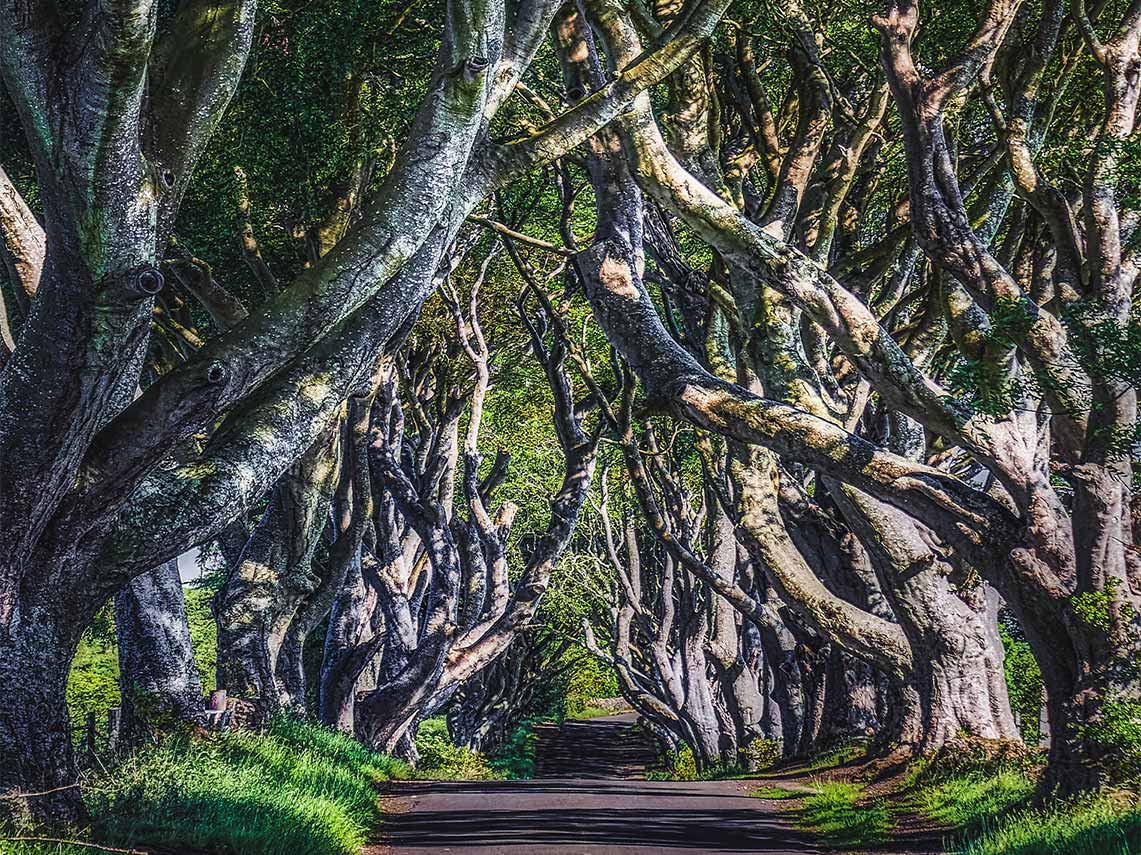 Today you and your driver-guide will travel to Murlough Bay – known in the seven kingdoms as 'Slaver's Bay'. It is here where Tyrion and Ser Jorah were discovered and captured by the slavers. 
After a short walk around the location to try and spot areas used in the series, we'll grab lunch at a nearby village before driving to the Dark Hedges. This stretch of road is a significant tourist destination in Ireland and was used in the Game of Thrones series at the end of Season One, Arya Stark on the King's Road from King's Landing to Winterfell. 
Next, we'll travel to Cushenden Caves, where Ser Davos brought the Red Women ashore and where she eventually gave birth to the Shadow baby that would go on to murder Renly Baratheon. 
Finally, we'll head to Cairncastle – where Ned Stark 'dealt with' the Night's Watch deserter in the first episode of the series. 
You and your driver-guide will then return to Belfast and your accommodation for a well-deserved rest.
Day 6: Transfer To Dublin Airport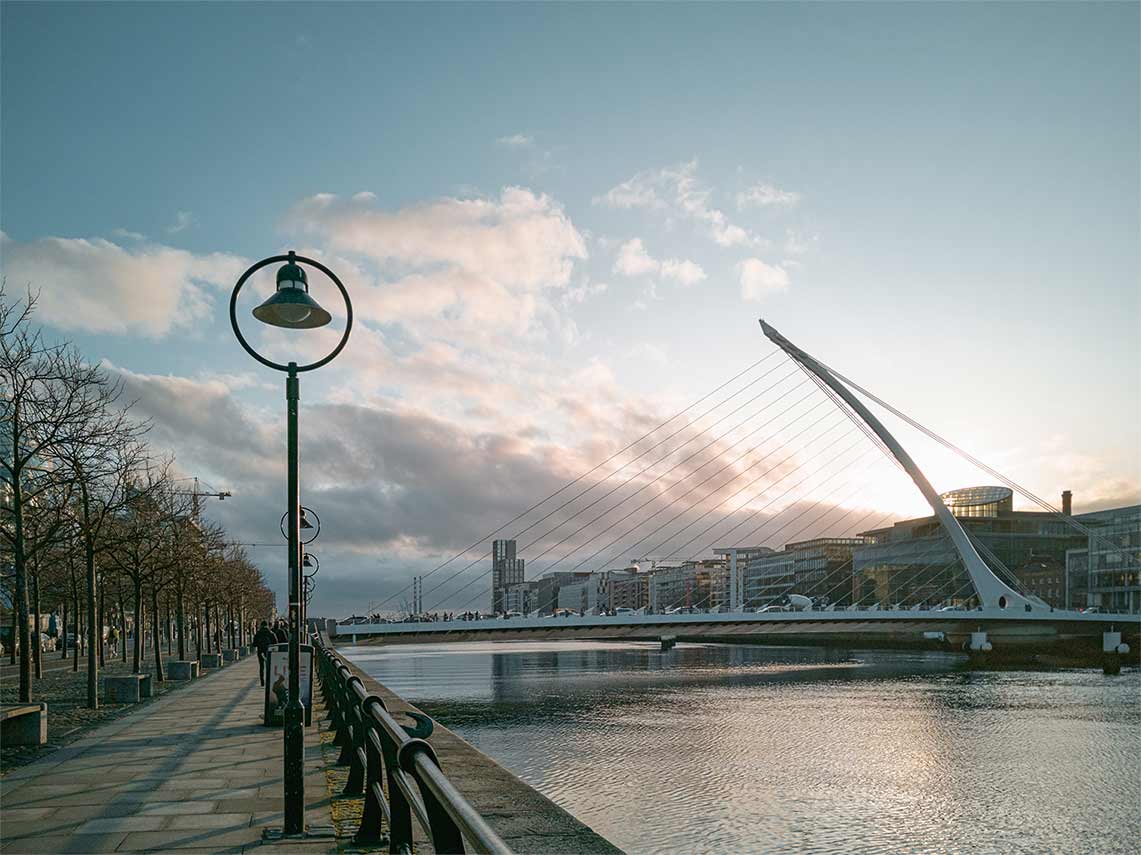 And finally, we reach the last day of your tour in Ireland as we set a route for Dublin Airport. As we'll be driving from Belfast there is a number of sites you may wish to visit on your journey to Dublin (time permitting), including Slane Castle & Distillery or perhaps the prehistoric Newgrange – your driver-guide would be happy to recommend sites suitable to visit and still make it to the airport in time for your onwards flight.
Hands down the best travel company! Every detail was taken care of! All questions were answered. Every guide was knowledgeable, flexible, and kind! In a situation when travel can be stressful, every individual was fantastic. I can not stress enough how much they added to our trip. I would be happy to answer any questions someone would have about my experience with this company. Will use their services in the future for sure.
Request Your Custom Tour Itinerary Here
Our experts understand that no two clients are the same, so whether you want to personalize one of our private tours, or have us design an itinerary from scratch for you, fill out our inquiry form below to get started:
Rated 5-Star on Google & TripAdvisor
Qualified Guides.
Certified Excellence.
Example Ireland Tour Itineraries You Might Like
Most popular tour destinations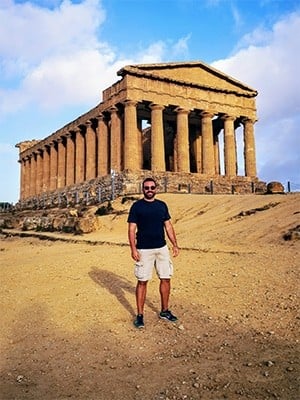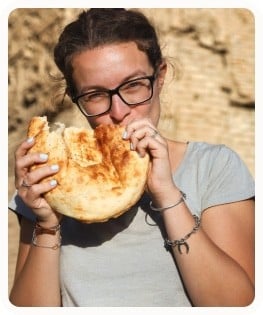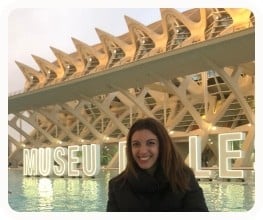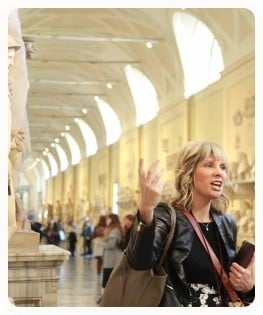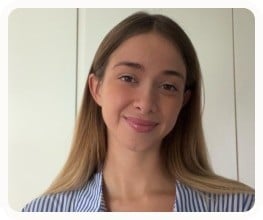 Our ethos is centered around creating the ultimate vacation experience for our guests, that is why we have specialist tour planners across Europe ready to provide you with the low down on the best times to arrive, local specialties and events, and armed with a Rolodex of the finest English speaking private guides in the country.
Get in touch with your local expert today by completing the contact form below and they will get started tailoring any of our tour experiences exactly to your tastes and requirements… all on a completely complimentary basis!