Rome in a Day: Full Day Walking Tour
Rome Full Day Walking Tour
Only got one day in Rome and want to see it all? We have the perfect nine-hour guided walking and driving tour experience for you.
Your official licensed guide will provide you with skip-the-line tickets for all of the biggest attractions in Rome so you don't have to spend any time waiting in queues. Just look at all the incredible locations we have lined up for you:
Vatican Museums
Sistine Chapel
St. Peter's Basilica
Private transfer from St. Peter's Cathedral to the city center
Colosseum
Roman Forum
Spanish Steps
Trevi Fountain
Piazza Navona
Pantheon


Don't believe we can do it all just on a one-day walking tour? Then read on to see our Rome in a day tour description!
The Ultimate One Day Guided Tour of Rome
Your expert guide will discuss the political, artistic, and religious history of Rome with you as we visit ancient locations, modern sites, and everything in between.
You will begin your guided tour at your central Rome accommodation where your private guide and driver will meet you to transfer to the Vatican Museums: where an art lover's paradise is waiting to be explored. Of course your Skip the line ticket will be invaluable here otherwise you might spend the entire nine hours waiting in the queue to get in!
Marvel at the splendor of St. Peter's Basilica and Michelangelo's fresco masterpiece in the Sistine Chapel.
Your expert guide will help you navigate the corridors and galleries of the Vatican Museums to see famous works and little known-gems while disclosing papal secrets!
After you leave the Vatican City you will be picked up in your private Mercedes Benz vehicle and driver to visit the famous Piazza Navona. Once the athletics stadium of Emperor Domitian, it is today home to Bernini's baroque fountain masterpiece, the Fountain of the Four Rivers, which you may recognize from the movie Angels & Demons!
Our epic journey continues rather fittingly at a place where many legends were made, by entering Rome's most enduring monument – the Colosseum. Your private guide will reveal all the scandals, passions, and intrigue, and Gladiatorial glory that occurred within its walls.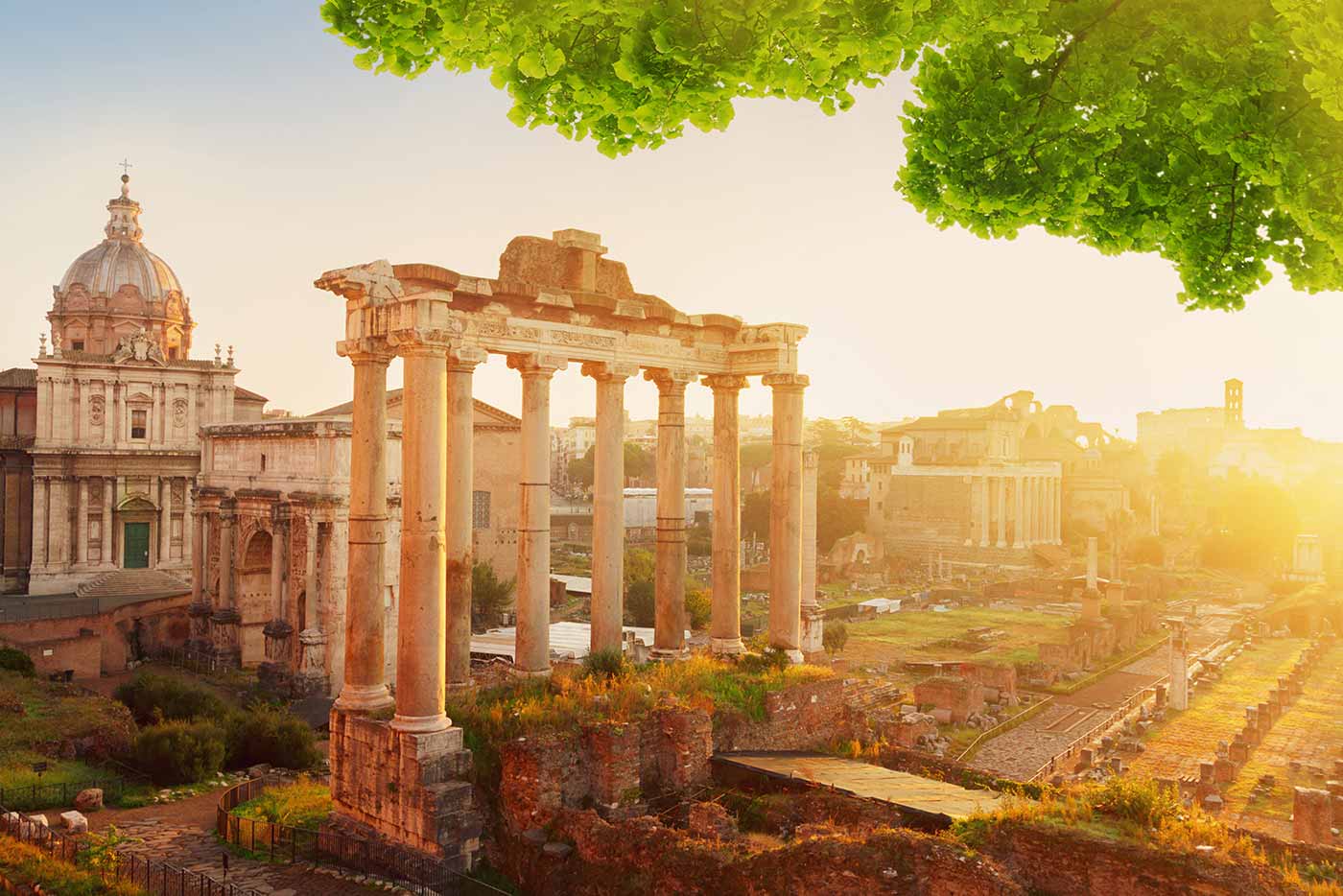 Our walking tour will then take us to the nearby Roman Forum. As we wander through what was the heart of the Roman Empire, you will be able to imagine the urban center full of life as it was in ancient times.
After this, we will be picked up by our private Mercedes Benz driver to head into the city. You will see more of Rome's ancient past juxtaposed by modern history as you gaze through the Oculus of the Pantheon, hear the plop of coins falling into the Trevi Fountain, admire the architecture of the Spanish Steps, and wander down the famous Via dei Condotti.
What Makes Our Rome in a Day Tour Different From The Rest?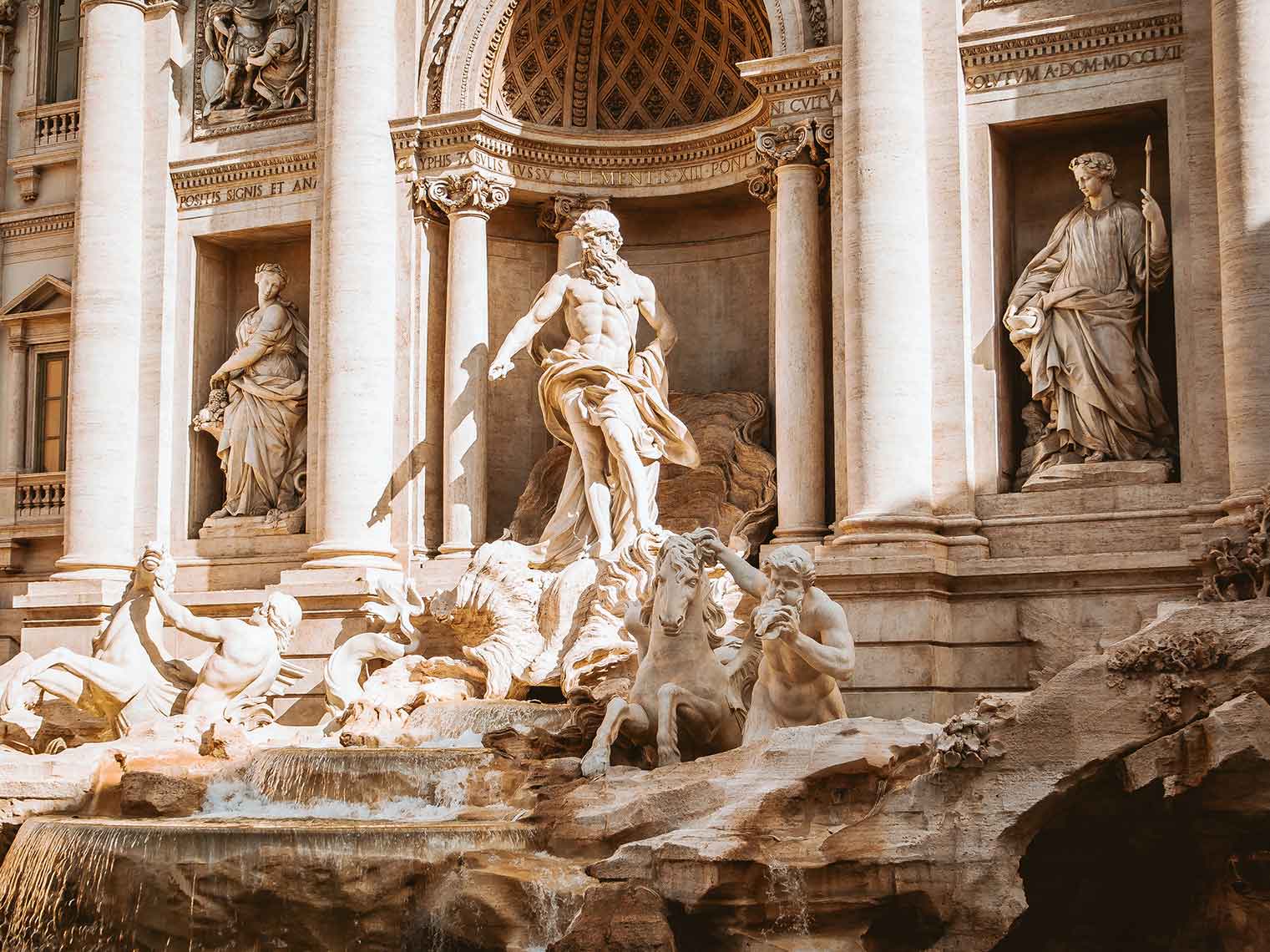 Quite simply the passion, humor, energy, and unsurpassed knowledge of our officially licensed guides truly are the difference makers between simply admiring the beauty of the city or leaving feeling like you have made a connection to this incredible place.
We aren't just history buffs, we are expert storytellers and the private group setting of our tours means that all your questions will be answered in a full and detailed way.
Moreover, as official licensed guides, booking with us ensures you can maximize your time by skipping the line at all the attractions. If you only have one day in Rome and you want to see it all, then you know that is a must!
Rome in a Day from Civitavecchia: If your visit to the Eternal City begins on the docks of Civitavecchia, we can arrange your transportation from Civitavecchia to Rome and customize visits to the above sites according to your arrival and departure times. Please contact us for further information.
*Please note that churches included in our tour are operational churches. There are occasions in which churches close unexpectedly without prior notice. Luxe will seek to provide an alternative in-situ art experience on these occasions.
*The Pantheon is closed Sunday afternoons so will be viewed and explained from the outside only. If you wish to enter the Roman Forum with your guide rather than view it from the outside, then we can arrange this, however we would need to remove Piazza Navona from the itinerary due to time restrictions.
This tour doesn't run on Sundays, 1st May, 29th June, 15th August, 1st November, 8th December, Christmas Day, and New Year's Day.
We highly recommend the Tours by Luxe experience! During our week in Rome in July, Amy and her fabulous assistants Irenes P and V put together two wonderful tours for us. Our first was a tour of the Vatican Museum accompanied by our guide Jessica, the second to the Colosseum, Palatine Hill and Forum with Letizia. Both guides were knowledgeable, entertaining and fun. We all got a lot out of the tours - it's so much better than wandering around by yourselves. Discovering secret messages in famous art works or having centuries old graffiti pointed out is just thrilling. It's also fabulous bypassing the queues and having air-conditioned transfers to and from the sites. We highly recommend the Tours by Luxe experience.
Request Your Private Rome in a Day Tour Here
Our tours are kept to small private groups to provide the best possible experience for our clients. As such we are able to customize our itineraries to suit your interests, needs and requirements.
To discuss this tour or any changes you would like to make simply complete the form below.
Rated 5-Star on Google & TripAdvisor
Use this company! An excellent experience! As a seasoned traveler and very detailed oriented customer, working with both Irene's was a joy and in the end produced a wonderful experience. Their personal touch on every detail and their communication was extraordinary.
Recommend them highly! These folks are very professional, and flexible in creating a custom tours, and handling last-minute changes. The guides were knowledgeable and friendly. Recommend them highly!
A Flawless Trip! Travel by Luxe assisted us in planning an excellent trip to Genoa and the Italian Riviera including Cinque Terre. The drivers they provided were courteous, efficient, safe and their vehicles were immaculate and comfortable.
Hands down the best travel company! Every detail was taken care of! All questions were answered. Every guide was knowledgeable, flexible, and kind! In a situation when travel can be stressful, every individual was fantastic.
A Great Experience! We just returned from a trip that was organized through Travel by Luxe. It was one of the best trips we ever took and it was organized brilliantly. A special thank you to Francesca, a great experience and highly recommend.
Amazing Italy Awesome trip! Graziano arranged everything perfectly and was very patient with our planning process and changes. Private tours and transfer worth the extra $$$. Will use again.
Qualified Guides.
Certified Excellence.
Explore More Luxe Day Tours in Rome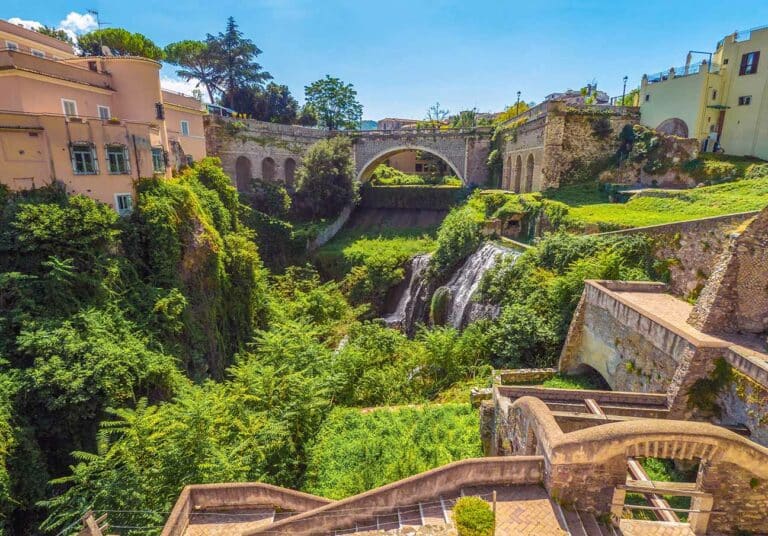 Take a chauffeur-driven trip out of Rome to Hadrian's Villa and Villa d'Este in Tivoli, where your expert guide will take you through the sites and gardens.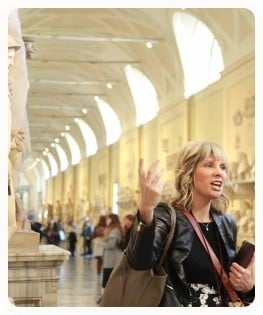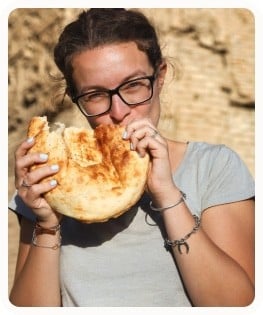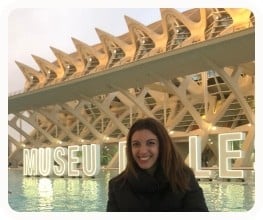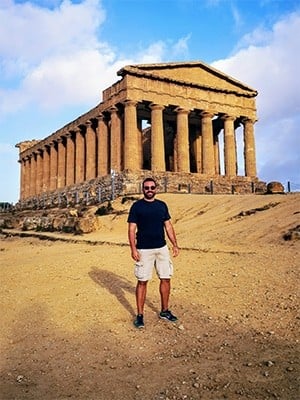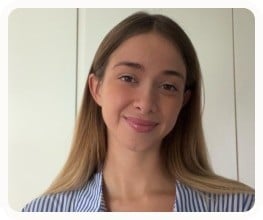 Local Italian Tour Planners
At Italy by Luxe, our team of specialist tour planners use their intimate knowledge of local specialties, festivals, and hidden gems to customize your itinerary with exclusive events or off-the-beaten-track experiences that other providers just cannot match, alongside ensuring you enjoy Italy's most famous and iconic monuments and attractions of course!
We love sharing our passion for Italy with our guests and can't wait to customize any of our Italian day tours for you to ensure you enjoy an absolutely perfect vacation in Italy. Contact us using the form below and we can get started designing your complimentary itinerary today.
Multi-Day Italy Tour Itineraries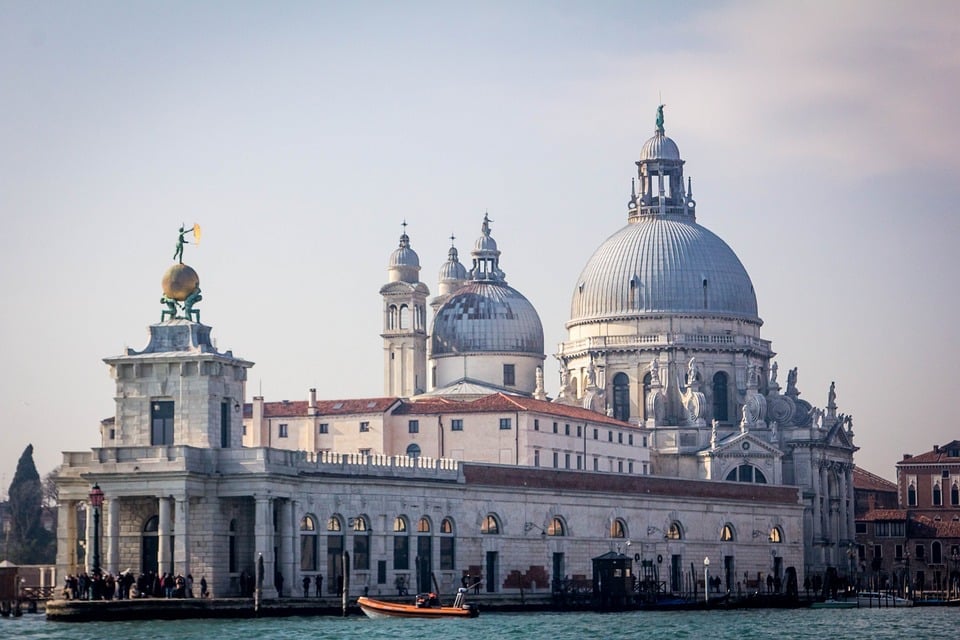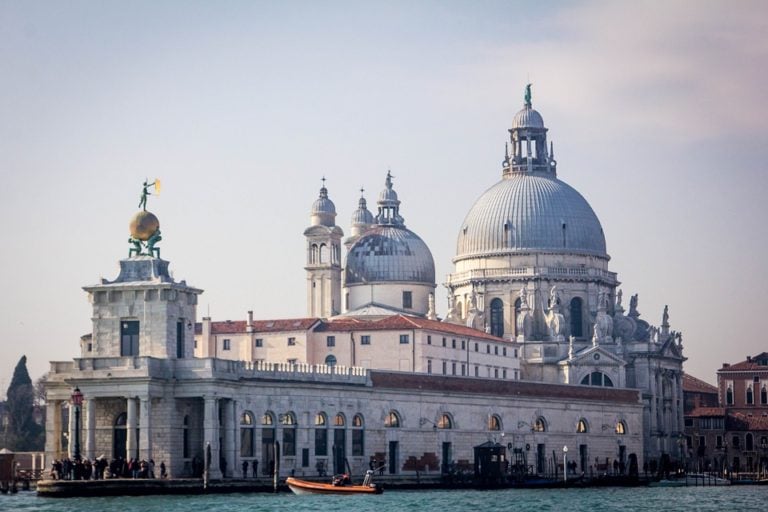 On our spectacular 6 days in Venice itinerary, you will have the opportunity to explore all that Venice has to offer, from its iconic landmarks to its hidden gems!
Most popular tour destinations